Verified Air Conditioners Coupons,Offers and Promo Codes For Today | Jan 2021
| Category | Air Conditioners Coupons | Online Store |
| --- | --- | --- |
| Air Conditioners | Up To 36% Off | Infibeam |
| Air Conditioners | Up to Rs 15000 Off | TataCliq |
| Air Conditioners | Grab 6% Off | Bazaarcart |
| Air Conditioners | Up to 19% Off | Emibazaar |
| Air Conditioners | Up to 35% Off | Whirlpool |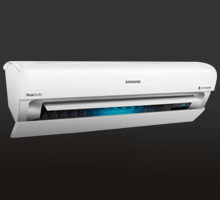 Shop online for Air Conditioners
Being in a war with the heat in your home is a thing of past! With high-efficiency air conditioners available in the market, technology helps you combat better with a wide range of air conditioners. Additionally, you don't have to go hunting in the real from store to store, while you listen to salesmen with half-baked opinions and ulterior motives. Today, the internet houses air conditioners from all popular brands like LG AC, Samsung AC, Voltas AC, Panasonic AC, Godrej AC, Blue Star AC, Videocon AC, Whirlpool AC, Hitachi AC and Lloyd AC! With capacities ranging from 0.75 ton to greater than 2 tons, From split and window style ACs to inverter ACs, and there are air conditioners of all capacities and different kinds at various platforms you can shop for an Ac online, like Amazon, Flipkart air conditioner, Snapdeal, Chroma, Tata Cliq, etc. under one roof, choose from different styles of air conditioners based on your room's size and stay comfortable year round.
Window AC
In case of bedrooms, study areas, etc., where space is at a premium, you could opt for a window AC. You will find a range of compact window air conditioners that are the best pick for small homes and rooms. From brands like LG, Whirlpool, Hitachi, and Panasonic, there is a wide selection of window AC units once you decide to buy AC online. Models like Haier 0.8 Ton HW-09CH1N, Voltas 1-ton 123 LY, and Blue Star 0.75-ton 2WAE081YB that take up very little space in your room as they are compact window air conditioner units. As the compressor, condenser, valve, and other components are designed to be contained in a single compact profile, these units tend to occupy little of the vertical space. Window air conditioners are perfect for rooms with floor space less than 300 square feet like apartments and small offices.
Split AC
Window - mounting AC's sure have their advatanges, especially in terms of the space they occupy. However, if you're looking for far more aesthetically pleasing designs combined with new age technology, you could check out the range of contemporary split air conditioners. You cd explore air conditioning units that are perfect for small to large sized rooms from brands like Samsung, Haier, Voltas, and Godrej. Strong on cooling capacity, these ACs are ideal for larger spaces. Brands like Voltas AC offer split air conditioners that can do more than just keeping the temperature of the room lower. Additionally, they filter the air to leave it clean, leaving your room pristine and healthier. Most models have the Auto Clean feature that helps keep germ dispersal to a minimum. Units with integrated power protection ensure long life to the AC and fresh air to the user.
If you want an AC unit that can double as a home décor item, split air conditions like Purista Pattern AR12HC5TDUR, Dawk Crystal Gloss AR18HC3EXLW, L-Energia and Godrej GSC 12 FV 5 KRLH are your best bets. With cool colours, patterns & designs, they add an alement of styles in addition to serving their basic purpose flawlessly.
Portable AC
Do you move a lot? Does that leave you unable to invest in the kind of AC you would like or costing you a bomb for every installation, uninstallation and move? What you will need, are portable air conditioners like Lloyd 1-ton LP12HC and Samsung AF28FSSDADFNNA that provide cooling on the go. Along with features and functions of a window or split air conditioner including auto-restart, energy saving mode and visual appeal, these floor standing ACs are easily portable. Invest in a single AC you could move from room to room instead of spending large amounts of money on ACs for different rooms.
Inverter AC
Style, capacity, brand, size are all factors people buying an AC consider in varying orders of priority. However, we've all been concerned about our utility bills shooting up through hot summer skies. Models like Panasonic 1.50-ton CS/CU-YS18PKY, Samsung AR18HV5DAWK, LG 1.5 Ton Inverter BS-Q186C8A4 and Daikin 1.5-ton FTKD50 are all Inverter ACs, that can help you reduce your electricity or energy bills.
Offers on Air Conditioner with GrabOn
Air conditioner prices are high enough for it to be carefully calculated purchase. They are also high enough for a tiny proportion of a discount to make a huge difference to your pocket. GrabOn curates the best of ac offers online for you that are verified. Explore coupons for first time users, specific bank offers, regional discounts, etc., and save on your AC purchase. Shop more, and save more on everything with GrabOn on your side.