With increased dust pollution in metropolitan cities, vacuum cleaners are not just a luxury option but a necessity to keep the home tidy. Cleaning with brooms doesn't eliminate fine particles as they travel and settle in corners. The Central Pollution Control Board (CPCB) survey reveals that indoor pollution can lead to skin allergies and respiratory disorders.
Having a vacuum cleaner takes away 80% of your workload by removing 99.7% of dust in 10 minutes. Of all the types, robot vacuum cleaners are the perfect partners as they suck the debris and trap it in a dust bag. Furthermore, it is easy to maneuver under furniture, beds, carpets, pet hair, and other hard-to-reach places, which is impractical with broomsticks.
But the real challenge is which branded model you should purchase online. Without the proper knowledge, you may end up making the wrong choice and wasting money as well. So, you need to consider the parameters like type, capacity, power, filters, durable materials, and smartphone (Android/iPhone) compatibility that we have mentioned in our Robot Vacuum Cleaner Buying Guide.
Our Top Picks
Best Robot Vacuum Cleaners for Home and Commercial Places
We have extensively researched and compiled the list of best robot vacuum cleaners in India by considering the online reviews, ratings, and customer feedback. Scroll down to know more!
Last update was on: March 21, 2023 3:39 pm
Top 10 Robot Vacuum Cleaners
ILIFE Robot Vacuum Cleaner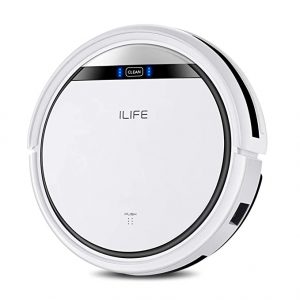 Next one on the list of best robot vacuum cleaners is from ILIFE. The ILIFE robot vacuum cleaner is ergonomically designed to reach every hook and corner of the house. It has a strong suction power that can suck only dry waste. The auto-clean function lets you choose different cleaning modes, edges, and spaces.
Moreover, the 3 in-built IR sensors can detect obstacles and keep the device safe. The extra large road rover wheels can move quickly on rigid surfaces. Wrapping up, this ILIFE Robotic Vacuum Cleaner is an excellent choice for those looking for high-quality yet affordable models online.
What We Like
Made of aluminium material
Affordable to buy online
Remote control robot vacuum cleaner
Ideal for carpets and hard surfaces at home
Proscenic Robot Vacuum Cleaner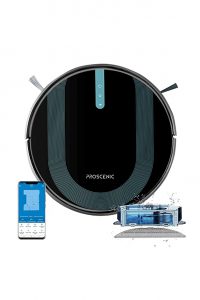 The Proscenic Robot Vacuum Cleaner is available in compact and flat designs to reach under the beds, sofas, and corners easily. The presence of magnetic tape prevents this machine from entering the restricted area. What we liked is the Vboost carpet detection that automatically recognises carpet and switches to maximum suction power.
If the battery is low, it returns to the charging station, charges, and prepares for the next cleaning process. On purchasing this robot vacuuming machine, you will get a HEPA filter, side brushes, mop, remote control, dust container, charging station, magnetic tape, and a charger. On the whole, it uses 3000 Pa suction power to deter dust, pet hair, and other contaminants.
What We Like
3 adjustable cleaning modes
500 ml of large dust container
Control using Alexa and Google Home
S-wave cleaning route patterns
Irobot Roomba Robot Vacuum Cleaner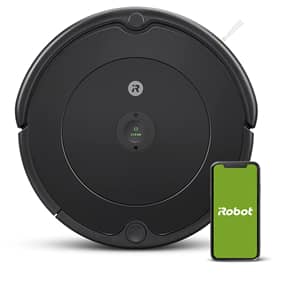 Are you looking for a robotic vacuum cleaner that can be operated using a smartphone? You should shop from the brand Irobot which has 30 years of experience in deploying essential items at reasonable prices. We are also impressed with the warranty and support services that minimise the repairing costs.
This device comes with all the features, and internally it is equipped with brushes and a dust can for smooth functioning. The dual multi-surface brushes grab everything from debris, and advanced sensors allow them to function under or around the furniture. You can even make it work with simple voice commands connected through the Wi-Fi network.
What we like
Backed with 2-years manufacturing warranty
Multi-surface brushes for fine cleansing
Operate from outside of home with smartphone
Voice control with Google Assistant and Alexa
ECOVACS DEEBOT 2-in-1 Robotic Vacuum Cleaner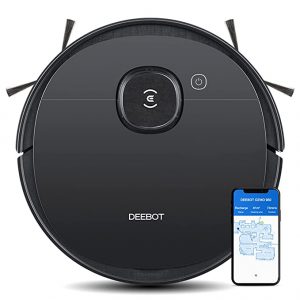 For more than two decades, ECOVACS has been delivering cutting-edge technology to 60 countries globally. One such fantastic innovation is the Deebot 2 in 1 robot vacuum cleaner. With 2300 Pa strong suction power, this device can effectively capture the debris at every room corner.
The carpet detection sensor identifies and does not wet the carpets while mopping, and the HEPA filter minimises airborne particulates. While operating the device through the smart app, you can select 4 water flow levels per the requirement.  While shopping from the reputed online stores, look at the Ecovacs coupons and start using them to get the desired vacuuming machine at a discounted rate.
What we like
Features smart navy 3.0 technology
5200mAh of battery capacity
Compatible with Alexa and Google Home
High-speed brushless motor
NOISZ Robot Vacuum Cleaner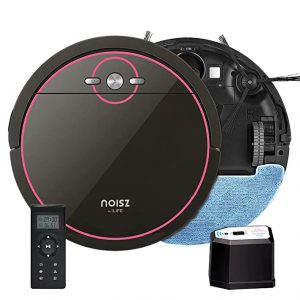 NOISZ robot vacuum has a powerful cleaning system that wipes out the debris, dust, and other wastages. This device is suitable for cleaning both hard floors and carpets. Moreover, it is compatible with Alexa and Google Assistant so that you can operate the vacuuming machine through a smartphone. You can even schedule the cleaning process at home at your convenience.
The 4 cleaning modes let you adjust to different cleaning needs, and a 300 ml water tank helps to mop the floor. You can even detach the water tank and replace it with a dust collector to switch from vacuuming mode to mopping mode.
What We Like
2-in-1 sweeping and mopping functions
Comes with anti-collision sensors
110 minutes runtime per full charge
Easy to use and maintain
Viomi Robot Vacuum Cleaner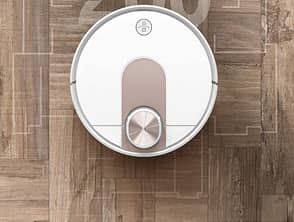 Viomi is an international brand that redefines the future home with IoT devices to make daily household activities enjoyable. Unlike other brands, this model has 2200 Pa suction to suck the debris in one go. Hence we have listed among the top 10 robot vacuum cleaners in 2023.
What is included?
Viomi robot
Charging dock
Power adaptor
Side brushes and 2-in-1 tank
Cleaning tool
Product manual
The 200 ml water tank helps to mop the floor without leaving stains. The S-pattern is used for cleaning and the Y-pattern for mopping by utilizing low battery power. Moreover, 12 precision sensors help in analyzing the surrounding areas accurately.
What we like
30 liters of storage tank capacity
Connect with Xiaomi Mi Home app
15000 RPM of air blower speed
Saves your time and energy
Reduce the mental stress on household chores
Mi Robot Vacuum Cleaner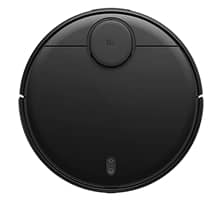 Sit comfortably on the sofa by allowing the  MI robot vacuum cleaner to deter stains on the floor, tiles, and wooden surfaces. Simply download the Mi Home app on your smartphone and connect using Wi-Fi for hassle-free operation.
If you are buying for the first time, read the user manual to let you know how to install, charge, and detach the attachments. You will also be given a warranty card that is valid for 1 year. During this tenure, if there is any damage to the product or a specific feature is not functioning, you can get it repaired for free of cost by contacting the manufacturer's support team.
What we like
High-end brushless motor
Keeps the indoor environment hygiene
3200mAh battery power supports 130 minutes runtime
2 in 1 sweeping and mopping function
Anti-collision and anti-drop sensors
Eureka Forbes Robotic Vacuum Cleaner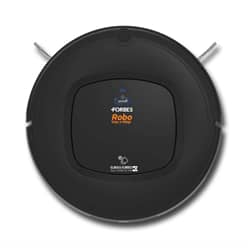 Do you have back pain and worry about well-maintaining the house? Not anymore! Eureka Forbes comes as a one-stop solution by featuring robotic models within your budget range. It even curates the products like water purifiers, air purifiers, and air conditioners with a best-in-class design.
What's so unique is it offers 90-minutes of runtime on a full charge. The dual brushes provide a better experience and are suitable for different floor surfaces like marble, tiles, and wood. Auto-cleaning mode allows the device to adjust according to the room dimensions.
What we like
Wipes out the dust around corners
Smart sensors that help detect obstacles
Can be used on wood, tiles, and carpets
Features dry suction, mop, and UV action
Eufy Robot Vacuum Cleaner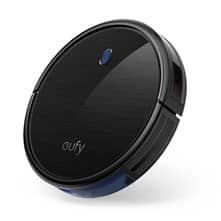 Eufy home comes with simple and smart solutions that light up your life by bringing healthcare and cleaning products. This robot vacuum cleaner runs with a power booster technology that automatically increases the suction power. It has a lithium battery that constantly delivers 110 minutes of power and works effectively.
The anti-scratch tempered glass cover provides superior protection, and the triple-layer filter achieves a better cleaning for your home. The large dust nin capacity of 0.6 liters is enough for the entire house without emptying in the middle. On the whole, the performance is satisfactory.
What we like
Cost-effective nature
6 liters of inner tank capacity
10-days or replacement guarantee
Triple filter system delivers high performance
BoostIQ technology with quiet operation
Milagrow Robotic Vacuum Cleaner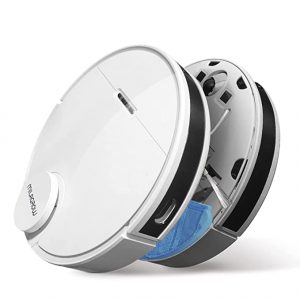 Milagrow is an Indian brand launched in 2011 and now offers the finest range of robot vacuuming machines for lawn mowers, surveillance, and more. It has a built-in technology to support smart wireless connectivity options to pair with smartphones. Moreover, it is possible to control the machine via Amazon Alexa and Google Assistant.
You can keep the floor clean by performing either dry vacuuming or wet mopping. The NIDEC brushless motor offers a strong suction power of 3000 Pa to keep the indoor environment hygienic. Also, you can pick from the 4 cleaning modes to effectively tackle the debris in one go.
What We Like  
Removes stubborn dirt and stains
Triple filtration with HEPA filter
6 hours of wet mopping
Ideal to use on the hard floor, wood, carpets, titles
iBELL Robot Vacuum Cleaner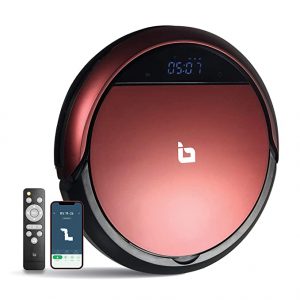 iBELL Robot Vacuum Cleaner comes with sweep and mop functionality to keep the home interiors dirt-free. It has an anti-fall sensor that detects the surrounding environment and prevents damage. Whereas, anti-collision technology avoids hitting furniture and other objects.
Apart from these, it also has an auto-charging feature where the device returns to the charging station through intelligent sensing technology. The multiple cleaning  modes like auto, edge, spot, manual, and full go, let you adjust as per the requirement.
What We Like
Works with Alexa and Google Home
120 minutes of battery life
1300 Pa dynamic suction power
Suitable for home and commercial use
Lightweight and ergonomic design body
iRobot Braava M6 Mopping Robot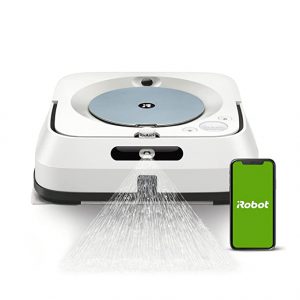 The iRobot Braava M6 Mopping Robot Vacuum Cleaner has  wet mopping pads with wicking fibres to capture the debris. The Imprint smart mapping technology allows you to select the rooms for cleaning and set the timings accordingly. To suck the contaminants, it uses electrostatic force.
With the help of back and forth patterns, you can clean the house effectively. You can even control the device by downloading the iRobot HOME app on your smartphone. In a nutshell, this iRobot vacuum cleaner is a great choice to use for medium and large-sized rooms.
What We Like
24 Months of manufacturing warranty
Stylish and maximised-edge design
10-days of replacement guarantee
Smartphone integration
Tangle-free operation with suction nozzle
ILIFE V5s Pro 2-in-1 Robotic Vacuum Cleaner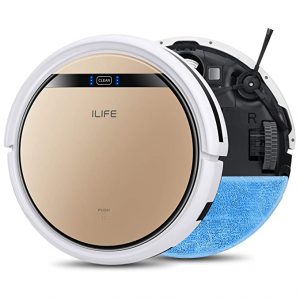 ILIFE V5s Pro robotic vacuum cleaner is the best option if you do not wish to clean the home manually. It comes in 2-in-1 functionality, which means it can sweep and mop on hard floors, wooden floors, and carpet flooring.
Compared to other popular robotic vacuuming systems, it features distance and fall protection sensors to safeguard from damage. When the battery power is low, the machine will be recharged automatically. On the whole, the ILIFE robot vacuum cleaner operates quietly without producing too much noise.
What We Like

Backed with 12 months warranty
120 minutes of battery life
Uses HEPA filter
Easy to store and carry to different places
Controller type: Remote
ECOVACS Robotic Vacuum Cleaner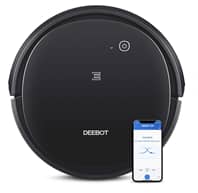 ECOVACS is a famous brand well-known for delivering cutting-edge innovations for more than two decades across 60 countries globally. This amazing product gives your home a deep cleaning with max mode suction. You can set the modes like auto, edge, and spot for efficient cleansing.
The anti-collision sensors safeguard the device by avoiding obstacles during the specific operation. The high-efficiency filter minimizes airborne particulates while vacuuming. You can monitor this machine's activities with voice assistance and an app. It is possible to schedule as per your convenience and charge automatically when the battery is low. Overall, it is worth purchasing online due to the reasonable cost and 1-year warranty from the manufacturer.
What we like
Excellent to gift for parents
Lithium-ion battery composition
Voice control with Alexa and ECOVACS app
Time scheduling and automatic charging
3-stage cleaning and suction power modes
Milagrow Robot Vacuum Cleaner with Remote Control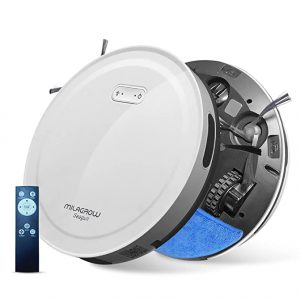 Next one on the list of best robot vacuum cleaners in India is from Milagrow. The main advantage of using this product is that it features 3 modes – auto, spot, and edge, that you can switch according to your home needs.
This wonderful cleaning device uses Gyro mapping technology to adjust its position and move accordingly. To deter large particles, the NIDEC brushless motor features a strong suction power of 1500pa. And the HEPA 6 filter detects up to 0.3 microns. Summing up, Milagrow robot vacuum cleaner is a perfect option to buy online for asthma patients.
What We Like
Thin and slim design vacuuming machine
Keeps you away from allergy-causing pollutants
Microfiber mop for wet mopping
650 ml of large dustbin
Anti-collision and anti-drop sensors
How To Choose Robot Vacuum Cleaners
Choosing the right robot vacuum cleaner may be time-consuming and confusing sometimes as you come across hundreds of brands in the online market. There are certain parameters like type, filters, storage capacity, noise interference, and smart options like blower, variable suction power option, and turbo head. In this section, you will learn about the factors that help make the right decision as per your requirement.
Bagged Vs Bagless Robot Vacuum Cleaners
The first important thing to consider is whether you want to buy a bag or a bagless model. It depends on where and how the dirt is stored after cleaning. Have a look:
Bagged Robot Vacuum Cleaners
Bagged robot vacuum cleaners come with a dust bag inside the main compartment that stores all the dust, and hair and can be emptied once they are full. They support 2 types of bags depending on their usability, i.e., reusable bags and disposable bags.
Disposable bags can be used once and thrown away, whereas reusable bags can be used again. You can also wash the reusable bin when it is full of stains. It even saves your money for purchasing the bags. Although bagged models are more hygienic and easy to use, they tend to be costlier than bagless types.
Pros
Provides better filtration
Doesn't expose to dust
Low maintenance cost
Highly recommended for allergy patients
Bagless Robot Vacuum Cleaners
Bagless robot vacuum cleaners come with a plastic container to store the debris. When the trash can is full of dust, unmount and dump it into a dustbin. Some models are designed without an inbuilt bag. They either have a filter within the dust canister to capture dust or a cyclonic action to separate dirt from the air.
Bagless models are comparatively cheaper, but cleaning can turn out to be a messy affair. The main advantage is that you don't have to purchase trash bags and also have a strong suction power to capture the pollutants.
Pros
Economical to buy
Easy to operate and maintain
Provides stable suction power
If you are looking for corded or stick models, do check out the top-rated vacuum cleaners to keep the indoors hygiene.
Know Your Priority
Vacuum cleaners are not available in all stores and shopping malls. They're available in a few places and consume time in choosing the right one. So, my advice is to know your preference first, and then you can select the one that matches your requirement. Your choice of preference can be listed as follows:
Vacuum cleaners for asthma
Vacuum cleaners for pet hair
Vacuum cleaners for car interiors
Vacuum cleaners for sofa and curtains
Filters
Filtration indicates the ability of a vacuuming device to retain particulates that it picks up. As we all know that HEPA (High-Efficiency Particulate Air) filters lower pollutants moving back into the room space. This feature is helpful if anyone in your family suffers from allergies or asthma. Hence, it uses a HEPA filter that removes 99.97% of particles of 0.3 microns from the air.
Variable Suction Power
As we know that power is measured in Volts (V), a high voltage machine delivers more suction to suck the dust particles in a room. Some of the prototypes have come with the adjustable suction power feature, which is helpful for cleaning delicate items like curtains, glasses, etc.
Storage Capacity
Storage capacity indicates the size of the dust bag or a bowl. The higher the capacity of the dust bag, the less often you need to change it. A big-sized robot model is suitable for large homes or if you have kids and pets.
Noise Level
When it comes to choosing online, the noise level is yet another vital factor. While some machines produce unbearable noise during operation, which frustrates you a lot. But, most top-class models operate at a comfortable noise level, allowing you to hear the surround sound. Adding up, the level of noise produced is measured in decibels (dB). Ideal 40-50dB while the rest may emit the sound between 55-70dB or even more.
Material Quality
Quality of the material is what you need to look into while purchasing a robotic vacuum cleaner for home or other purposes. Usually, it makes use of plastic and aluminum materials to ensure the long-lasting performance of the device.
Look for Price and Warranty Details
The cost may depend on several factors like the type, bag or bagless model, filters, and performance. Most reputed brands offer products at high prices, which doesn't mean that they're offering top quality. It's better to check other brands that provide the same features, and warranty services at a low price. Now shortlist the models according to your preferences and then make a final decision.
Performance
The performance explains how effectively the device is working without any disturbances. It also depends on the cleaning function, suction power, and frequency of usage. Using it regularly loses suction power, and thereby the performance diminishes. To maintain stability, you must clean after usage, and change filters and dust bags. It may not guarantee high-end performance, but you will notice drastic changes within a short time.
Do you have a luxury car and want to keep it clean during travel hours? You need to buy premium quality car vacuum cleaners that tend to offer top-notch performance throughout their usage and deter bad odors in car interiors.
Additional Features in Robot Vacuum Cleaners
Battery
If you are purchasing a cordless type, consider the battery charging time and runtime. It is because the charging time explains how long it takes to charge and runtime will let you know how long it can last while performing the cleaning operation.
Blower
The robot vacuum cleaners come with a blower feature that functions as reverse airflow to blow air on unsettled particles.
Brushes
Brush on/off function will allow you to decide when to use the brush on certain types of medium like floors, carpets, car interiors, velvet curtains, mats, and pet furs.  You can turn it on and off when required. As a matter of fact, there are different brushes that it can support. They are as follows:
Turbo Brush
Electric Brush
Round Brush
Rigid Oval Brush
Bristle Brush
Upholstery brush
All of these brushes and other accessories extend the utility of the appliance and enhance its performance.
Smart App Control
Now you can operate the vacuuming device from home comfort with a single tap on the smartphone, be it Android or iPhone. You can download the application from the respective brand and connect with the Wi-Fi technology (which should support 2.4G) to deter unwanted stains on floors. The app-controlled machines are a bit more expensive than the remotely accessed models.
FAQs on Robot Vacuum Cleaners
Which are the best robot vacuum cleaner brands in India?
Inalsa, Ecovacs, Dyson, Eureka Forbes, and iRobot are some of the popular robotic vacuum cleaners in India due to their durable construction and long-lasting performance.
What factors should be considered while buying a robot vacuum cleaner?
Bag or bagless type, suction power, material quality, dustbin capacity, blower, and filters should be considered while shopping online.
How does a robot vacuum cleaner work?
The robot vacuum machine uses 2 spinning brushes to capture the small particles using the filters and hold them in a trash can. When the bin is full of debris, you can detach from the system, throw the waste, and wash it every week for optimum performance.
Where can I use robot vacuum cleaners?
The Wi-Fi supported robot vacuum cleaners can be used at home and in commercial places like offices, restaurants, hospitals, etc., to suck dirt on mats,  and wooden surfaces.
Which material is used for making robot vacuum cleaners?
The robot vacuuming devices are made with polycarbonate and ABS (Acrylonitrile Butadiene Styrene) plastic material which helps for smooth functioning in the long run.
How long does a robot vacuum cleaner last?
The lifespan of a robot vacuum cleaner is 3-5years. With proper maintenance, you can use it for 8-years and save money buying new products. 
Final Verdict
Before you select a device, you need to know the purpose of using robot vacuum cleaners. How much time can you spend cleaning? Do you want to use it for carpets, stairs, floors, or pet hair? Once you know the requirement, you can shortlist based on the price, warranty, and smart features.
Our top pick is ILIFE robotic vacuum cleaner from the given list that is available right now in India. It is because of the robust design, self-charging, time schedule, 3 IR sensors, and smartphone integration.
Do you manually clean the house, or are you willing to purchase a robot cleaner? Did we miss any of the top-selling brands on the list? Please share your doubts and suggestions with us in the comment section given below. We are happier to clarify your doubts and update the products list as soon as possible.