I remember the chilled winter mornings in Varanasi when I was forced to part ways with my quilt and cover myself with six layers of woolen clothes before going to school. All that I looked forward to was 3 PM when I would come back, switch on the room heater and get inside my blanket once again. With no sign of the Sun, cuts from the cold wind made me and most of us stay indoors. The winter is coming, warm quilts, some soup, and the best room heaters in India are all that people are looking forward to.
Before we jump onto the list, let us first understand what the product is all about. Like water heaters, a room heater is a portable heating device that provides external heat using gas or electricity. It is placed in the living room or any room to provide relief during the chilled winter days. Various types of room heaters are available in the market.
But before you settle for the best room heater, there are a plethora of things to consider. To help you with that, we have come up with a list of the Best Room Heaters in India. Read on to find the most suitable one for your home and get the best offers and discounts to help you save maximum.
Top 10 Best Room Heaters In India for the year 2022
Last update was on: August 7, 2022 4:54 am
Morphy Richards OFR 09 Oil Filled Heater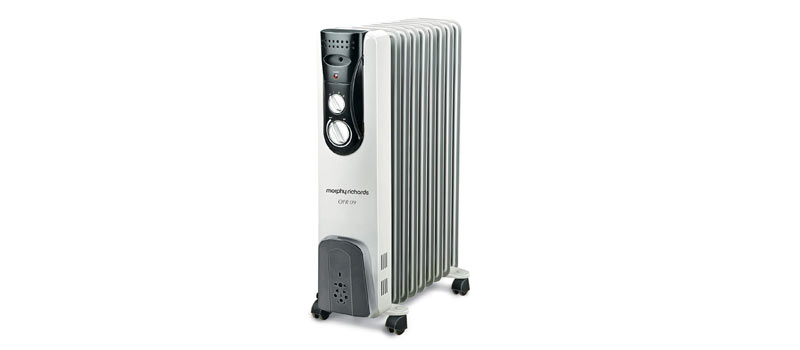 Morphy Richards has been impressing customers with its products for decades. When it comes to room heaters, Morphy Richards OFR 09 Oil Filled Room Heater has to be on the list. The product boasts about the 9 fins that help in quick room warming.
You can easily keep this on the floor as well as mount it on the walls. This one comes with an automatic shut-down technology that switches off the appliance if it tilts beyond the set angle.
Advantage of Morphy Richards OFR 09 Oil Filled
Comes with Power Selection Knob
Automatic Thermal Cut
Castor wheels with plate mounting
Easy Cord Winder
Warranty: 2 years
USHA OFR – 3209 Room Heater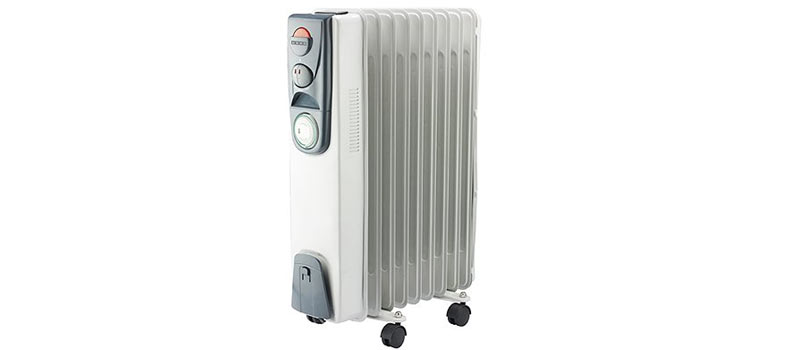 The second on the list is USHA OFR 3209 that manages to impress users with its ultimate features. It comes with 3 heating selection options and an automatic overheat protection technology. You can choose this room heater as it's good for a normal sized room and comes with safety features to prevent electrical accidents.
Advantages of USHA OFR 3209
3 Heat Setting
Minimum power consumption
9 oil-filled radiators
Quick Heating
Portable
Warranty: 1-year
Orpat OPH-1240 1800 Watt-PTC Heater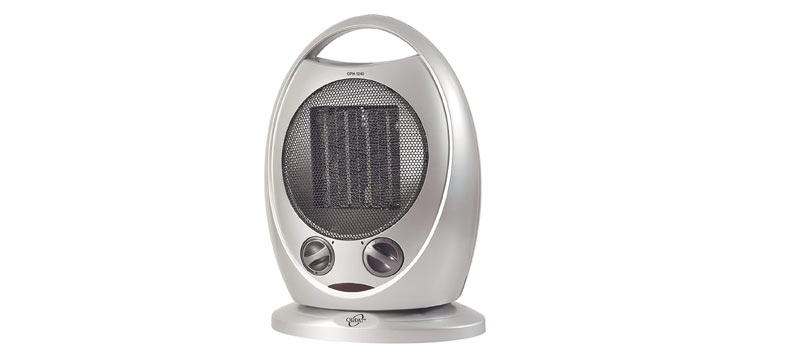 This one comes with ceramic heating elements that automatically controls temperature without any external regulation. Orpat's ORH 1240 heater is a small appliance that can be easily handled and kept anywhere according to the need. You can easily keep it close to yourself without worrying about the noise levels as this heater doesn't cause a noise disturbance.
Advantages of Orpat OPH-1240 1800-W PTC Heater
Weighs just 2kg
Provides auto-rotation
Automatic power cut and temperature regulation
Can be kept anywhere
Ceramic heating element
Warranty: 2 years
Havells Calido PTC Fan Heater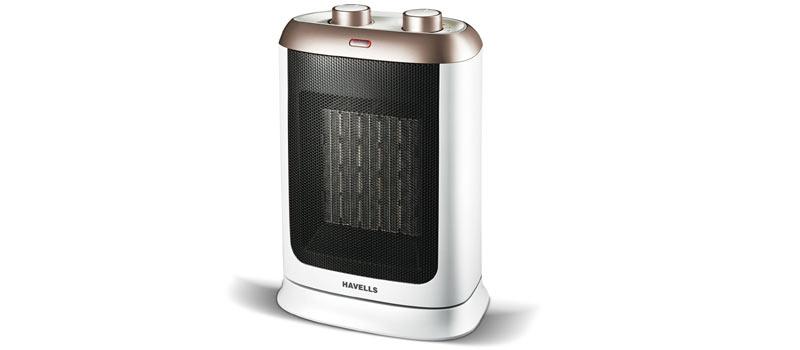 Stylish, affordable, and convenient, that's how Havells' Calido PTC Fan Heater can be best described. This one is a great buy as it's not just economical but also provides thermostat heating control to prevent overheating of the room. You can easily regulate the temperature according to your needs and save your electricity bills from inflation.
Havells Calido PTC Fan Heater has an aesthetic design with a tinge of gold on the top. It can easily add charm to your room and will most certainly go well with all kinds of decor.
Advantages of Havells Calido PTC Fan Heater
Budget-friendly cost
Adjustable Thermostat
Portable and Light-weighted
Perfect for large rooms
2 heat settings – 1300 and 2000 Watts
Automatic Switch off in case of tipping over or falling
Warranty: 1-year
Lasko 5309 Oscillating Ceramic 1500W Room Heater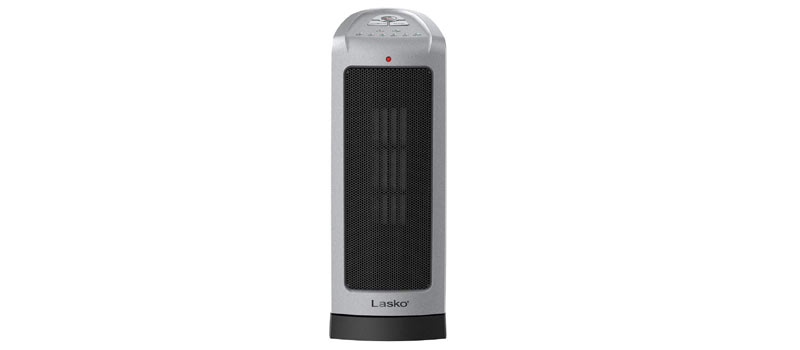 Lasko 5309 is a sleek yet powerful product. The 9-fins oil-filled heaters in this appliance power spot and comfortable heating within minutes. This oscillating room heater provides even hot air distribution in the room, making it cozy from every corner.
Advantages of Lasko 5309 Oscillating Ceramic 1500W
Electronic Oscillating for best results
Ceramic Heating
Budget-friendly
Easy to move
Sleek Heater
Warranty: 1-year
Bajaj Blow Hot 2000-W Room Heater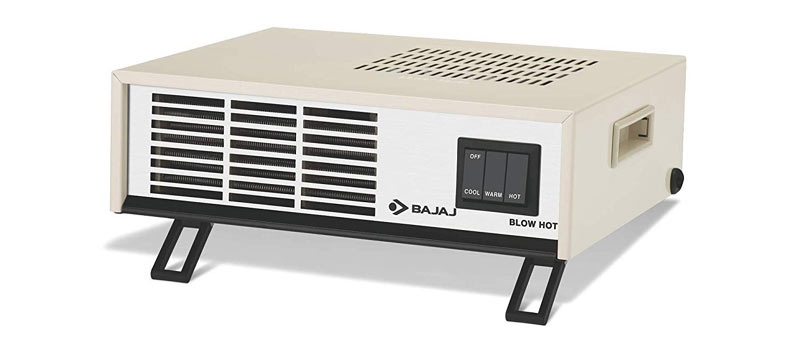 This conventional heater by Bajaj is a durable room heater with awesome results. You can convert this machine into a fan during the summers and a room heater in winters. The thermal cutoff in this heater automatically cuts the power even if the thermostat in the heater fails. Not just this, this awesome product restarts if the temperature falls back to normal. Cool, isn't it?
Advantages of Bajaj Blow Hot 2000-W
Dual-use machine
Low power consumption
Thermal cut-off
2 heating elements
Warranty: 2 years
USHA FH-3628 PTC 1800-W Fan Heater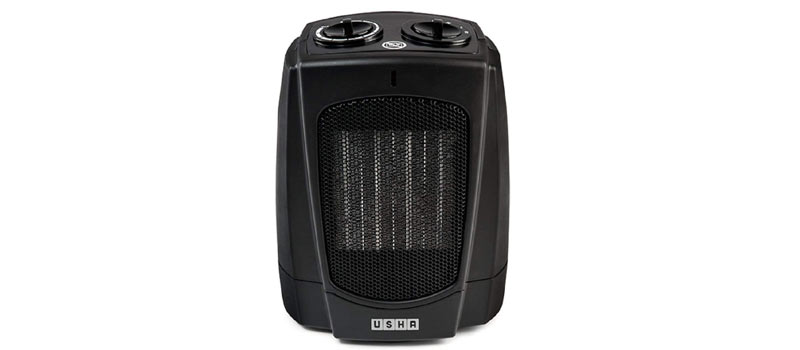 Another stunner in the list is this brilliant product from Usha. when it comes to durability and performance, there's barely any product that can surpass Usha FH 3628 PTW Fan Heater's performance. It is equipped with power optimization technology to help you add comfort without playing inflated electricity bills.
Advantages of Usha FH 3628 PTC Heater
Automatic thermal cut-off
Low power consumption
Affordable price
Advanced safety protection
Warranty: No warranty
Morphy Richard Aristo PTC Room Heater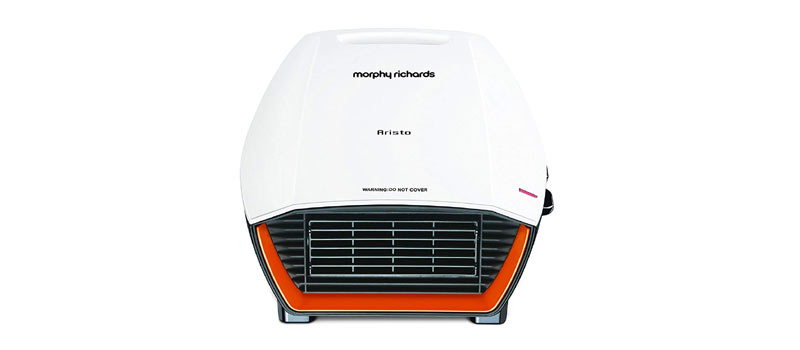 Another option for a compact room heating product is Morphy Richard's Aristo PTC. You can easily place this one on your bed and create a cozy environment to live in. Just like most other heaters, this also comes with temperature and power control knobs so that you can set the temperature according to your needs.
Advantages of Morphy Richards Aristo
Easy to carry
Light-weight
Less power consumption
Aesthetic design
Warranty: 2 years
Bajaj Minor 1000 Watt Room Heater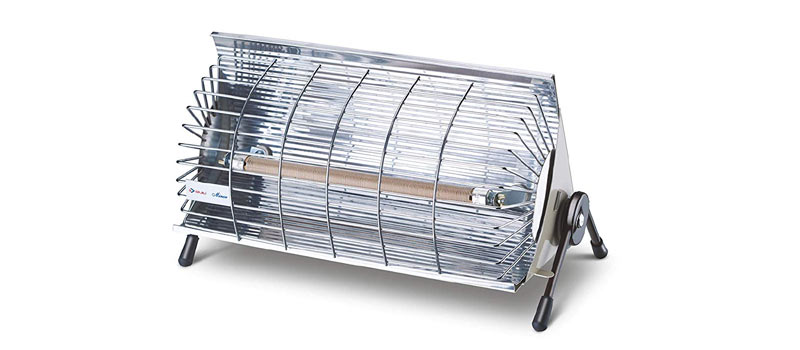 Though a basic heater, this one has been in almost every home in India for ages. Bajaj Minor 1000 Watts Room Heater is perfect for low power consumption heating. It is trusted for its impeccable performance even during harsh winters.
It's compact and can be kept anywhere you want. The only drawback of this product is that it's not safe with kids as it gets hot very easily.
Advantages of Bajaj Minor 1000W
ISI approved
Even heat spreading due to Nickel Chrome Plated Reflector
Light Weight
Tilted legs for even heat distribution
Budget-friendly heater
Warranty: 2 years
USHA Fan Heater 1212 PTC 1500-W With Adjustable Thermostat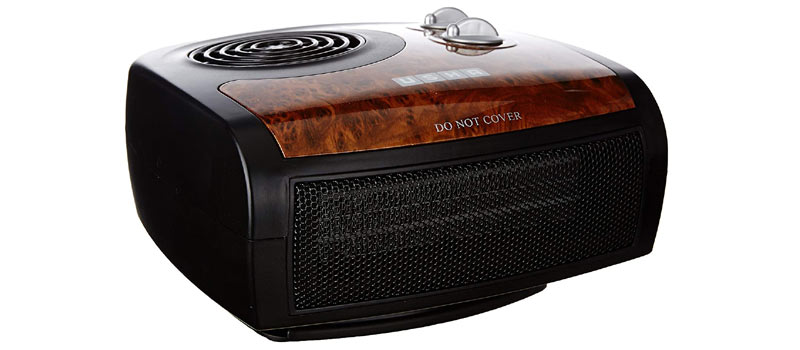 This fan heater is another great option for people looking for affordable heaters for small rooms. One of the biggest benefits of using USHA 1212 PTC Fan Heater is that it can be used even in a closed room unlike most other heaters as it doesn't burn any oxygen in the room.
Though you can control the temperature according to your needs, you cannot adjust the fan speed.
Advantages of USHA 1212 PTC Fan Heater
Low power consumption
2 stage overheating protection
Long power cord
2 heating elements
BIS approved
Warranty: 1 year