If Transformers decided to get into Indian cuisine, they'd undoubtedly morph into electric choppers, the tiny-yet-mighty kitchen allies that have become an essential ingredient in cooking finesse.
Designed to whisk, chop, mince, blend, and pulverize anything from aromatic spices to nippy veggies, these mechanical magicians have the power to transform any bland dish into a culinary tour de force. In a land of rich flavors and diverse aromas, the race is on to find out which of these cybernetic chefs reign supreme among the best electric choppers in India.
From the innovative feature-packed models boasting an impressive repertoire of functions to the versatile and aesthetically pleasing kitchen companions, each contender offers unique upgrades to the traditional cooking experience. Stay tuned as we slice and dice our way through this electrifying competition.
Our Top Picks:
| | |
| --- | --- |
| Best Overall | Borosil |
| Best for Home Use | Inalsa |
| Most Spacious | Skytone |
| Most Cost Efficient | Home Plus |
Top 10 Electric Vegetable Choppers in India for 2023
Are you tired of chopping veggies by hand? Say hello to the electric vegetable choppers. These handy gadgets can save you time and effort in the kitchen. But with so many options on the market, it can be tough to decide which one to buy. That's why we've rounded up the best electric vegetable choppers in India, so you can say goodbye to sore arms and hello to perfectly chopped veggies in no time.

Borosil Vegetable Chopper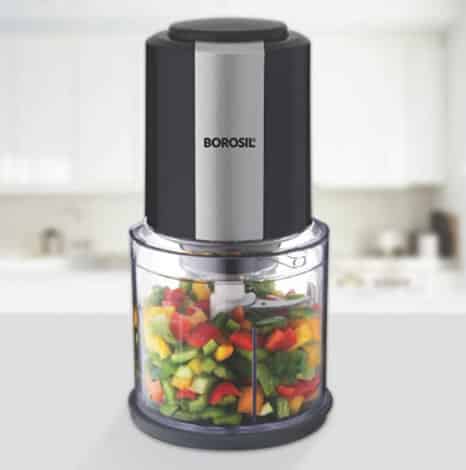 Borosil is a popular brand in India for offering premium quality kitchen appliances like dinner sets, mixers, sandwich makers, and more. Compared to other brands, it comes with 2 years of manufacturing warranty, so you do not have to spend more on repairing costs.
The inbuilt thermal auto cut-off feature safeguards the motor when power fluctuations occur. Its lightweight and portable nature makes it easy to carry during vacations, trips, and other tourist places. To avoid damaging the blades, do not blend frozen items like ice, frozen fruits and vegetables.
Key Features
Durable and easy to maintain
Stainless steel twin blades
Break-resistant polycarbonate bowl
Anti-skid base design
High-quality ABS plastic outer body
Drawbacks
Poor packaging
Blades aren't sturdy
Inalsa Bullet Chopper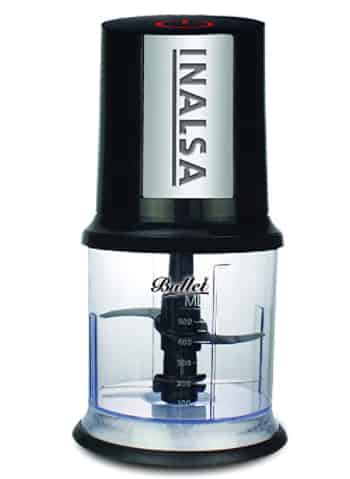 Inalsa Bullet Chopper has an impressive 400-watt powerful motor encapsulated with a copper winding for seamless operation.
The stainless steel finish at the front enhances the overall look in the kitchen counter space. Anti-slip feet base and press down button allows its convenient usage We are also amazed by the chopper's 1-minute runtime while chopping  fruits and other food items. You can also use this wonderful device for grinding and blending when preparing delicious recipes, smoothies, etc. Overall, it is considered one of the best electric vegetable choppers for home use.
Key Features
Lightweight and easy to carry
Motor with copper winding
Detachable double layer stainless steel system
Multi-splash guard bowl lid
Grind, chop, and blend the ingredients
Drawbacks
Motor stops functioning at times
Produces loud noise while operating
Orpat Express Chopper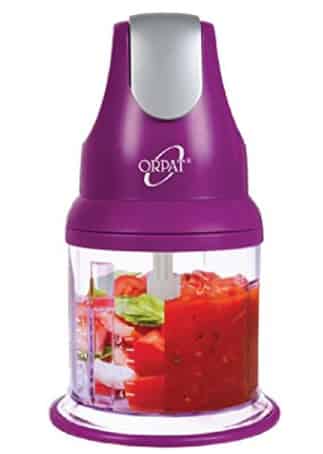 Give a modern look to your kitchen with the Orpat electric vegetable cutter. To talk about the brand, it is well-known for offering hand blenders, fan heaters, etc., at a reasonable price.
With  its one-touch operation, you can chop the food items without any trouble. The device can be used for multiple purposes, i.e., as a container after chopping the ingredients. The powerful blade technology ensures smooth blending and tends to have a long life. The 360° anti-slippery base ensures smooth functioning.
Key Features
700 ml of bowl capacity
Multi-purpose splash guard cover
2-years of manufacturing warranty
250-watts of powerful noiseless motor
10 days of replacement guarantee
Drawbacks
Poor manufacturing services
Damages after a couple of months' usage
InstaCuppa Mini Electric Chopper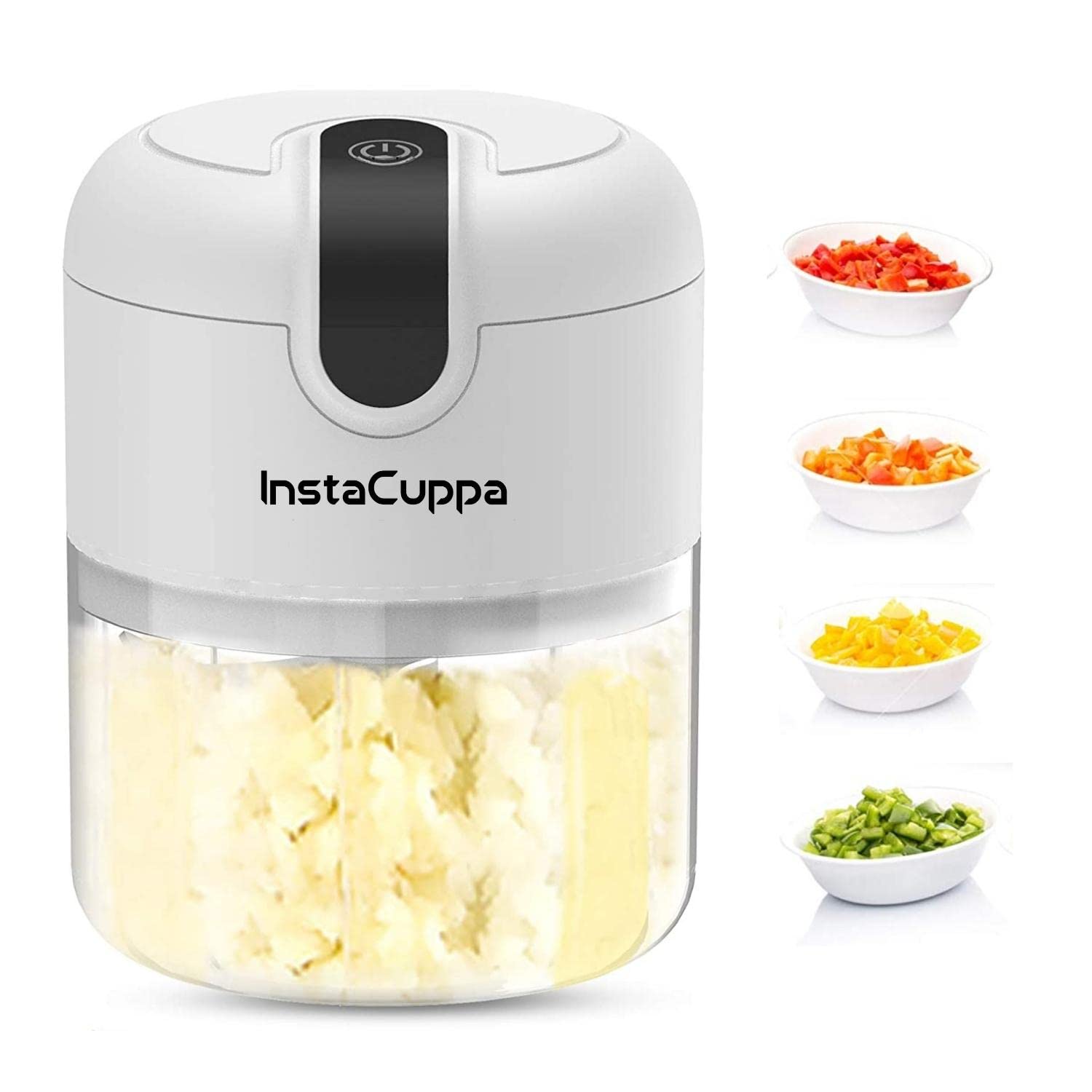 InstaCuppa Mini Electric Chopper is your perfect companion for quick and efficient food processing on the go. Equipped with a powerful 45W motor and razor-sharp stainless steel blades, this compact chopper can handle a wide range of ingredients in just 30-60 seconds.
Designed with your convenience in mind, this lightweight and travel-friendly chopper is easy to assemble, disassemble, and clean, with dishwasher-safe components for quick maintenance.
Key Features
Long-lasting 1300mAh battery with fast 3–4-hour charging time.
Powerful 45W motor with sharp stainless steel blades
Compact, lightweight design makes it perfect for travel.
Easy to assemble, disassemble, and clean
Capable of processing a wide range of ingredients in 30-60 seconds.
Drawbacks
Not suitable for heavy-duty chopping tasks and larger quantities.
May require occasional re-sharpening of blades to maintain optimal performance.
Skytone Stainless Steel Electric Chopper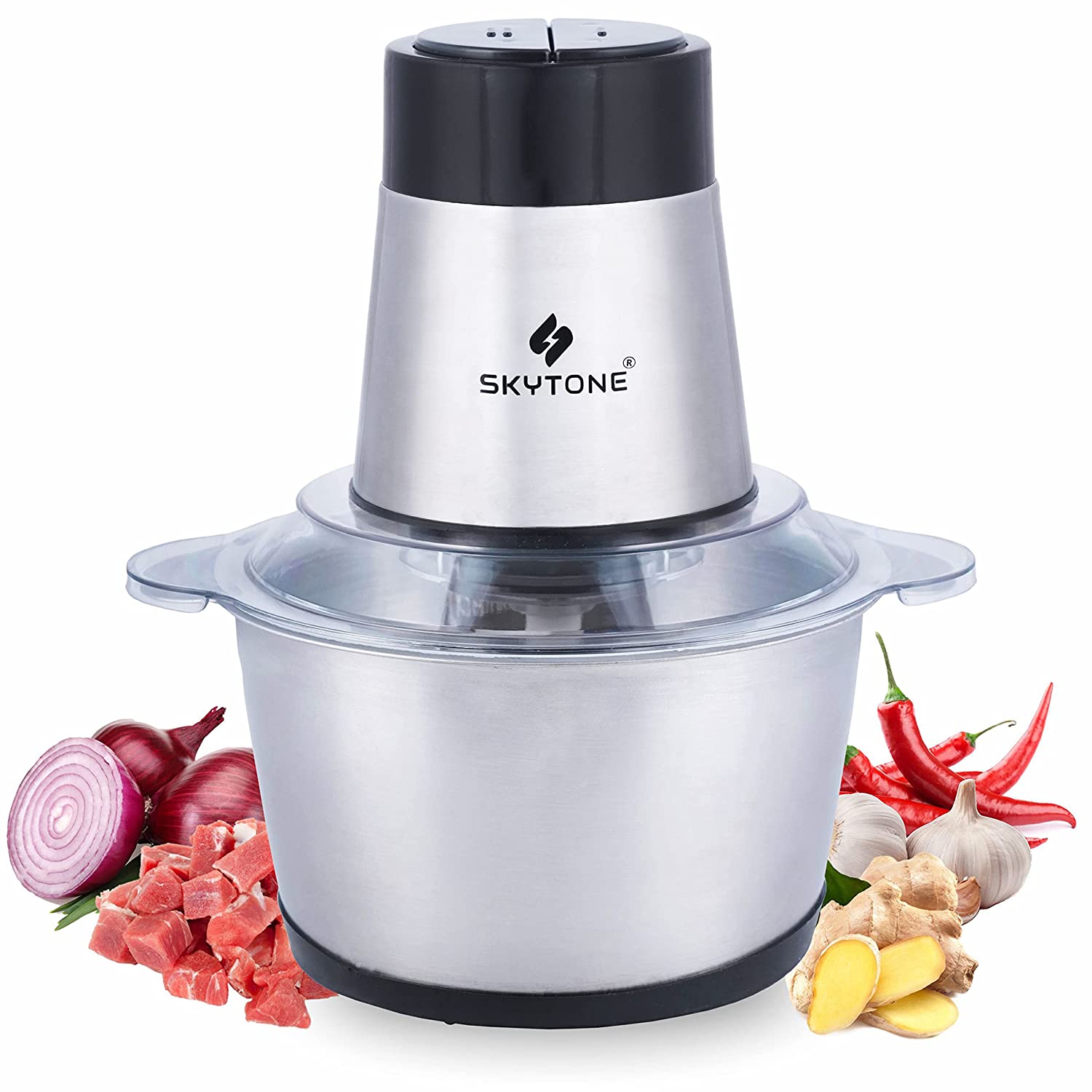 This reliable and durable chopper from Skytone is equipped with a 700W motor that effortlessly chops, grinds, and minces a variety of ingredients, from vegetables and herbs to meat and ham. It's innovative 4D design employs 4 stainless steel blades, enabling evenly-chopped ingredients at every 360-degree angle.
Engineered with a 2-liter stainless steel bowl, the chopper offers large-capacity convenience and resists shock for long-lasting performance. It is also easy-to-disassemble structure ensures effortless cleaning, making it an indispensable addition to your kitchen arsenal. Skytone Stainless Steel Electric Chopper is truly a powerful and versatile kitchen companion designed to make your food preparation faster and more efficient.
Key Features
Powerful 700W motor for efficient and fast chopping
Versatile 2-mode operation for various ingredients
4D stainless steel blade system for uniform chopping
2-liter stainless steel bowl for large capacity and increased durability
Easy-to-disassemble design promotes effortless cleaning
Drawbacks
Might be a bit noisy during operation
May not be suitable for chopping extremely hard items or crushing ice.
Brayden Chopro Electric Vegetable Chopper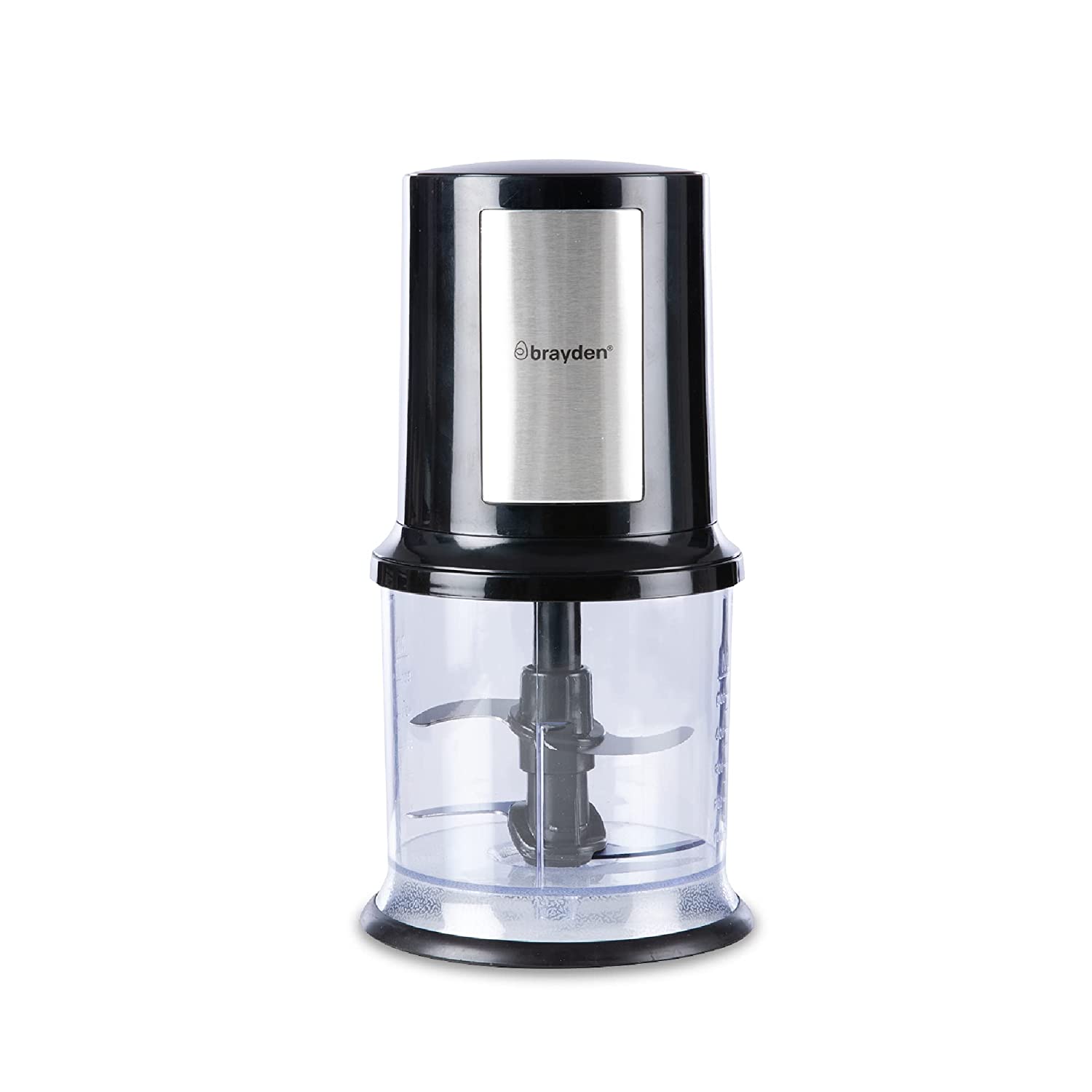 With its 400-Watt Pure Copper motor, the powerful Brayden Chopro electric vegetable chopper can effortlessly chop, blend, and grind a variety of ingredients ranging from vegetables and fruits to herbs and ice cubes. Its bi-level stainless steel blades feature sharp edges, ensuring precision and even chopping every time.
The 500ml BPA-free chopping bowl offers a generous capacity and clear visibility throughout the process. This stylish and functional chopper is also backed by a 1-year warranty, giving you peace of mind with each delicious meal you create.
Key Features
High-performance 400 Watts Pure Copper motor
Chops a wide range of ingredients including vegetables, fruits, herbs, and nuts.
Multi-functional design allows for puréeing, juicing, and even meat mincing.
Bi-level Stainless Steel blades ensure a perfectly even chop
1-year warranty provides reliability and peace of mind.
Drawbacks
Motor may produce noise during operation as compared to other choppers.
Relatively small capacity of 500ml may require multiple batches for large recipes.
Glen Mini Chopper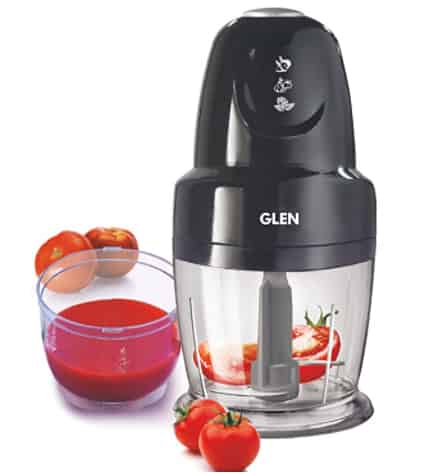 Make your cooking experience enjoyable with the Glens! They offer an extensive collection of products like premium quality electric kettles, food processors, induction cookers, at decent prices.
The 400 ml food grade polycarbonate bowl can be used to store the ingredients for long-term usage. The motor is made using a high-quality ABS body to ensure durability. When you want to chop onions, garlic, or beat eggs, there is an extra bowl to prevent mixing of flavors. In a nutshell, it is best for small families consisting of 3-4 members.
Key Features
Instant electric vegetable slicer
Suitable to chop small quantities of food items
Whisker disc, measuring bowl, and blades
Lightweight and compact size
Drawbacks
Made of cheap quality plastic
Not dishwasher safe
Home Plus Vegetable Chopper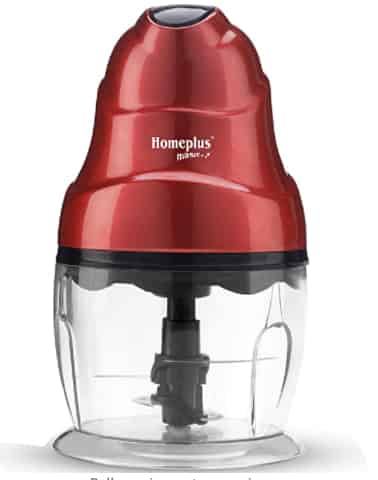 Home Plus emerged as the kitchen appliance brand that satisfies the needs of homemakers. It has 3 decades of experience in delivering products like blenders, atta dough maker machines, processors, and more.
Unlike other electric vegetable choppers, it usually takes 3 minutes to chop tomatoes, onions in the desired shape. The whisking blade is used for preparing butter milk, lassi, curd, butter, beating eggs, and coffee beans. Start the device using a push button and then stop after chopping the ingredients, which can be clearly seen through the transparent outer body.
Key Features
Budget-friendly electric cutter
14000 RPM motor speed
4 stainless steel blades
UV coated scratch proof body
Perfect for vegetable chopping and meat mincing
Drawbacks
Not a dishwasher friendly device
Design quality is not up to the mark
Bajaj Pro Chopper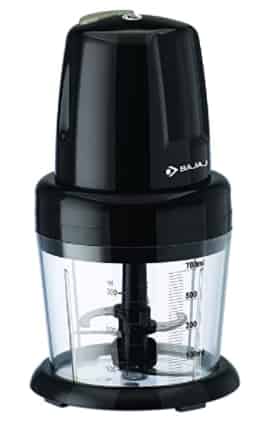 Bajaj is known to offer a wide range of products from fans, lights, coolers, room heaters, electric kettles for hot water, grinders, and whatnot.
One such amazing creation from their long list is the electric vegetable chopper. Bajaj vegetable cutters are becoming popular now-a-days due to their energy-saving and flexible usability at homes and offices. Apart from installing them indoors, the rust-resistant feature allows you to use them outdoors as well.
The 800 ml bowl capacity ensures fine grinding of fruits, and the whisking blade helps to prepare smoothies, cold coffee, etc.
Key Features

300 watts DC motor power
80 ml bowl storage capacity
Suitable for small families
Comes with whisking and chopping blades
Drawbacks

Poor packaging
Motor might stop working
Support services can be improved
AGARO Elegant Electric Chopper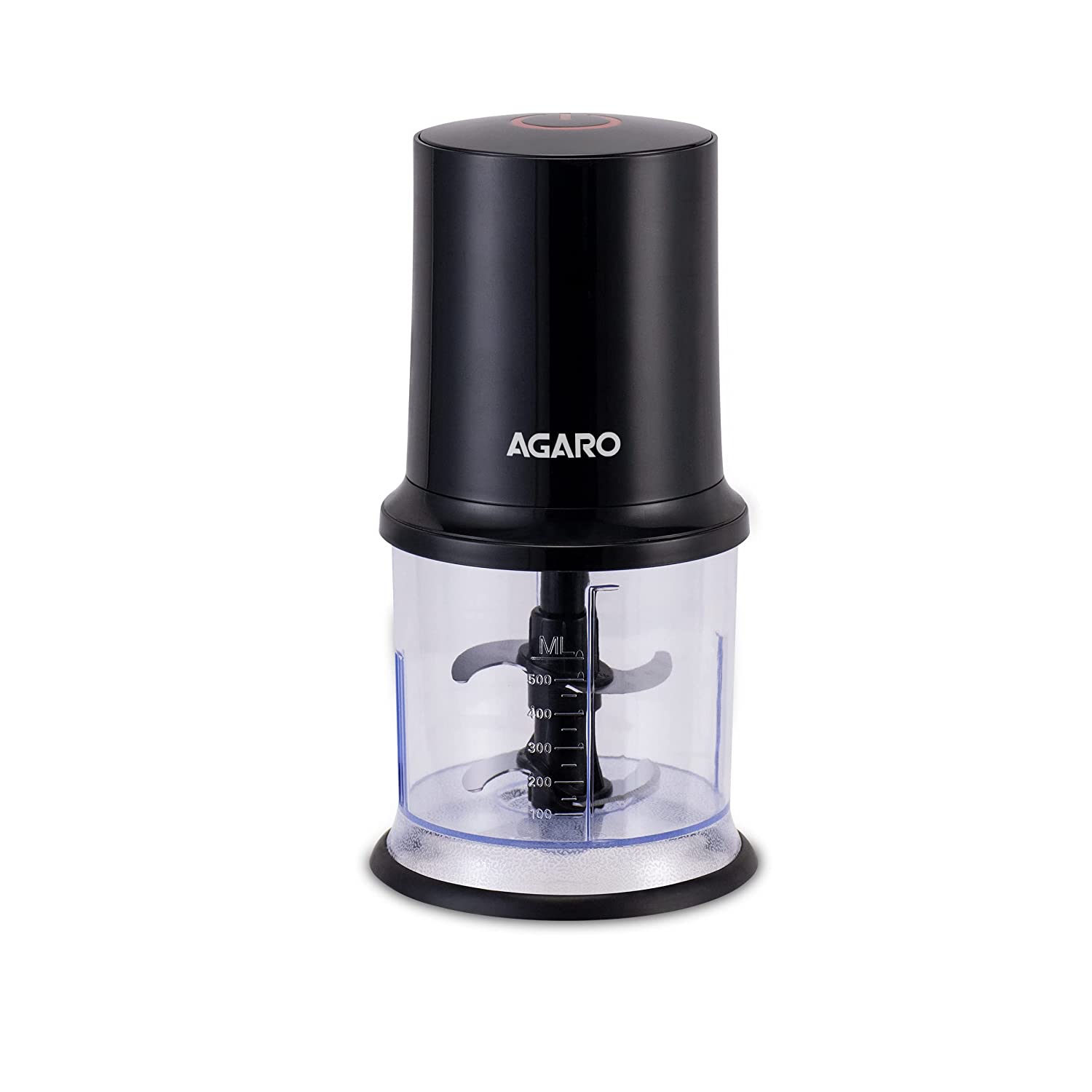 Agaro Elegant Electric Chopper is the perfect addition to your kitchen arsenal for quick and efficient chopping tasks. This multipurpose chopper is specifically designed with a 500 ml capacity transparent plastic bowl, ideal for holding vegetables intact and providing clear visibility during the chopping process.
Equipped with stainless steel twin blades powered by a robust copper-winded motor, the chopper ensures precise chopping and dicing in various sizes as per your needs. The user-friendly design features an easy press down button for hassle-free operation, while the anti-slip base ensures stability during use. It also comes with a 1-year warranty for your peace of mind.
Key Features

500 ml capacity transparent plastic bowl for clear visibility
Stainless steel twin blades for versatile chopping and dicing.
Powerful copper-winded motor for efficient performance.
Easy press down button for user-friendly operation.
Drawbacks
Limited to 500 ml capacity, not suitable for large quantities.
Detachable blades may require extra care during cleaning and storage.
Types of Vegetable Choppers in India
When purchasing the vegetable chopper online, consider its types based on the mode of operation – Manual, and Electric. Each of the specific types has its unique way of blending the food items with ease. Have a glimpse:
Manual Choppers
Manual chopping tools need human effort and use knives, peelers to cut the fruits and vegetables. Also, keep in mind that you should be cautious while dealing with sharp blades as you may be prone to cuts and injuries. Although it involves a traditional approach, it is highly recommended to keep away from kids.
Electric Choppers
In contrast with the manual mode of operation, the electric chopper requires a connection to the power supply using a cord. It is safe to use due to the ergonomic design of the outer body that prevents accidental shocks. Also, you can gently press the button on the top of the cutter to perform the task of chopping in a couple of minutes. To make it happen, it uses high-efficiency motors.
Buying Guide To Electric Vegetable Choppers
Vegetable chopper minimizes the chopping time by featuring premium quality attachments. While buying an electric chopper for home use, you need to keep a few parameters like type, bowl capacity, blades, materials, easy cleaning,  and noise interference in mind.Let's delve in a few of them, shall we?
Jar Capacity
Look for jar capacity while buying the vegetable cutter from the reputed online stores. Usually, they range from 200 ml to 1 liter to cut the large quantities of food ingredients in one go.
Stainless Steel Blades
 Choose a vegetable chopper with robust stainless steel blades that are not prone to rust and stains when used for a long time. Also, they generally require low-maintenance and contributes to efficient chopping of herbs, fruits, and veggies. Few models have detachable blades which are better for the easy cleaning of the appliance
BPA-free Plastic Body
In contrast with other materials, the BPA-free plastic material is highly durable and hence are widely used for kitchen appliances
Dishwasher Safe
You need to opt for a device that is easy to clean and makes the chopping process much more manageable. Consider getting a device that is optimised for both cleaning by hand in the sink and in the dishwasher as well to make your life a lot easier
Easy to Clean and Maintain
As the chopper works using electricity, cleaning and maintenance can be a  bit tricky. It is best to clean the chopper after every use. Before you start cleaning the device, follow the simple steps given below to ensure smooth operation:
Firstly, detach all the attachments and remove food particles.
Now use a liquid detergent solution and damp cloth.
Gently wipe out the stains on blades, container, and the transparent lid.
Online Reviews and Ratings
The online reviews and ratings play a major role when buying electric products online. Most people are used to reading reviews online and they might find it much easier to evaluate products based on these and their personal preference. It is always good to pick choppers that have a 4-star rating or more. As these models are liked by most of the buyers, the quality and performance will most likely be be top-notch.
Price and Warranty
Finally, we end up with the price and warranty information. In this article, we've mentioned different chopper models to match the requirements of different users. Choose the appropriate model that suits your home and check whether you can afford it or not. Apart from the price, you should also look for the warranty services provided by the manufacturer. It may be around 1 or 2 years, depending on the type, model, and brand. If the product gets damaged within the specified time, get it repaired free of cost by visiting the nearest service centers.
Electric Vegetable Chopper – FAQs
1) How to use an electric vegetable chopper?
Firstly, assemble all the attachments of the chopper by following the instructions provided in the user manual.
After placing everything properly, add vegetables into the chopper. You can chop them into small pieces or leave them whole.
Select the desired speed setting for your model by turning the knob located at the front.
Push the button and wait for the chopping blade in the device to cut the veggies into small chunks.
You can turn off the device by releasing the top button once it is done.
2) Which brand of electric vegetable chopper is best in India?
Bajaj, Prestige, and Inalsa are the popular brands that have durable attachments and offer superior performance throughout their usage period.
3) Which is better: a manual or electric vegetable chopper?
The electric model saves your time and requires a gentle press to perform chopping than the manual devices.
4) What attachments do I get with an electric chopper?
Blade, chopping container, motor unit, and rubber lid are included in the kit when you shop online.
5) What are the benefits of electric vegetable choppers?
Here are some of the possible benefits of using an electric vegetable chopper at home or for commercial purpose:
Saves your valuable time
Makes the cooking process easier
Free from germs and bacteria
Can be used for a long time
Minimises injuries that are common while chopping ingredients
Multifunctional and can help you chop a variety of things
Conclusion
To recapitulate, chopping the vegetables isn't so easy unless you have the right cutter in your home. Of all, Borosil Vegetable Chopper is our top pick from the list because of its quality and affordable pricing. This item features a powerful 300 Watt motor that can chop the ingredients using high-quality SS blades. It has a 600 ml capacity jar made from BPA-free material, which makes it safe to use. It  is also backed by a 2-year warranty from the manufacturer.