In your hectic daily work schedules, monthly targets, and deadlines, it is impossible to allocate several hours to take care of those sore joints and the overworked muscles to stay relaxed. A good massage with a personal massager can relieve your stress and release the painful knots by improving blood circulation.
Why should you break the bank on spa sessions when it is possible to ease the muscle aches and eliminate stress at the comfort of your home using a handheld body massager? Electric massagers are godsend devices that can help in alleviating tight muscles, joint pain, improve mobility, and promote sleep. We present to you the list containing the ten best electric massagers, which can make a great addition to healthy living.
Top 10 Best Electric Massager For Home Use in 2023
Last update was on: January 27, 2023 11:36 pm
Dr. Trust Physio Electric Full Body Massager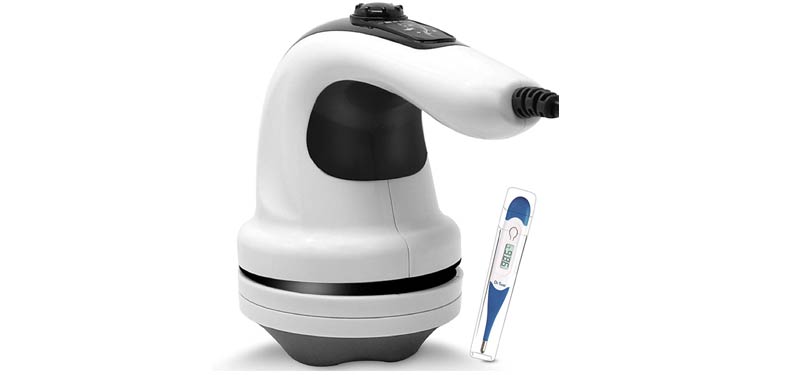 Be it a full body massage, burning extra body fat or skin tightening, this electric body massager from the world's best brand, Dr. Trust can handle it all.
This handheld device is based on the Japanese Shiatsu massage technique for relieving body pain, muscle tension, fatigue and stress.
It is offered with four twists and replaces massage heads for offering deep tissue massage, remove dead skin through mild scrubbing, scraper effect massage and for removing muscle fatigue.
The massager powered by a copper motor comes with a protective mesh cover to prevent hair and skin damage during a massage session.
The sturdy body has a grip handle and an ergonomic design to reach all the areas of your body easily.
Dr. Physio Eva Personal Body Wand Massager Machine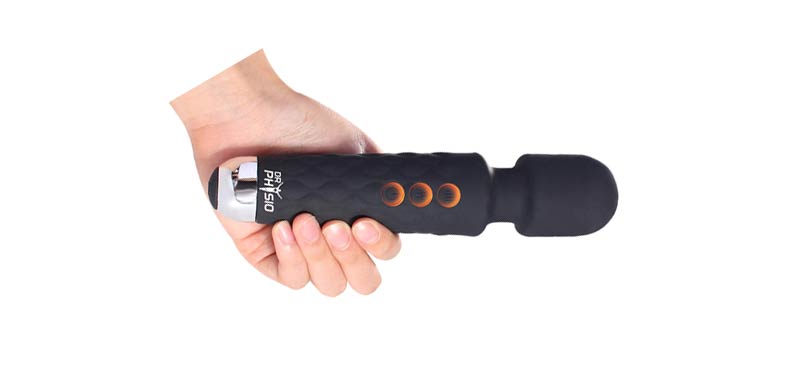 The Eva cordless personal electric massager by Dr. Physio is specially designed to perform very intense massage to relieve the muscle tension and pain after a workout.
The wand type massager body has eight intense speed patterns and 20 vibration modes to enjoy personalized massage experience.
This lightweight handheld device flaunts a water-resistant body cover in silicon with honeycomb grip, which makes it easier to use in the shower and has a noiseless operation.
The massager is designed with a flexible neck to use it for massages effectively and has a portable, cordless design.
The USB port with a watertight seal of this massager helps in charging it fully.
HealthSense Toner-Pro HM 210 Electric Percussion Massager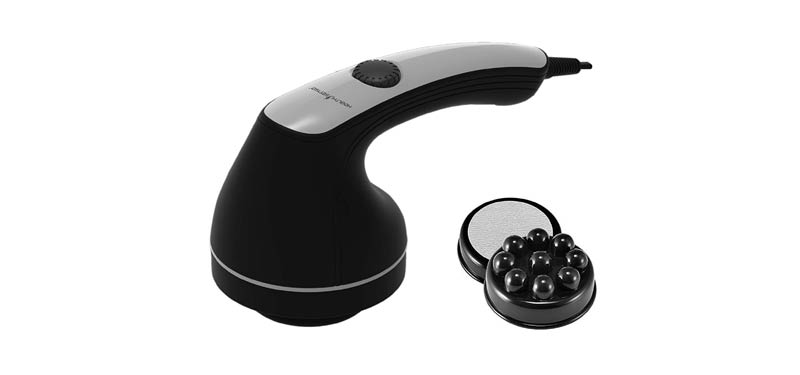 The HealthSense electric body massager is the perfect choice to soothe those workout knots, tone your muscles, and feel rejuvenated.
It is powered with a powerful energy-efficient motor made from pure copper to deliver long-lasting service.
The massager is designed with a simple all-in-one knob that can be set from gentle to deep massage from 1300 to 2700 rpm and has four massage heads.
This heat resistant device with premium TPR material and ABS plastic body have 8 LED lights in red for enhancing blood circulation during a massage.
The handle with a non-slip design offers a good grip while the protective mesh cover prevents hair entangling and offers comfort.
NutriGlow Wine Facial Kit With 5 In 1 Face Massager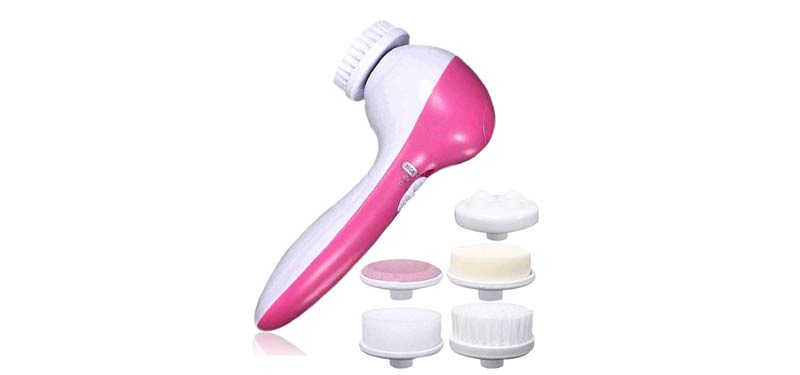 The NutriGlow 5-in-1 face massager is offered as a part of the NutriGlow Wine Facial kit that contains a serum, face pack, cleanser, face cream, gel and scrub to make your skin glow.
The facial massager comes with five attachment heads to cleanse the skin, remove makeup, massage facial skin, promote muscle tone, and refine the texture of your skin.
The products in this facial kit contain the goodness of grape extracts, which is the major ingredient of the red wine known for reversing the signs of aging.
The 5 in 1 face massager and the red wine facial kit is an excellent choice to reverse the signs of aging.
The other key ingredients in this combo pack are red rose extract, patchouli extract, and vetiver grass extract to fight acne, hydrate, rejuvenate, and calm your skin.
Dr. Physio Active Hammer Electric Powerful Body Massager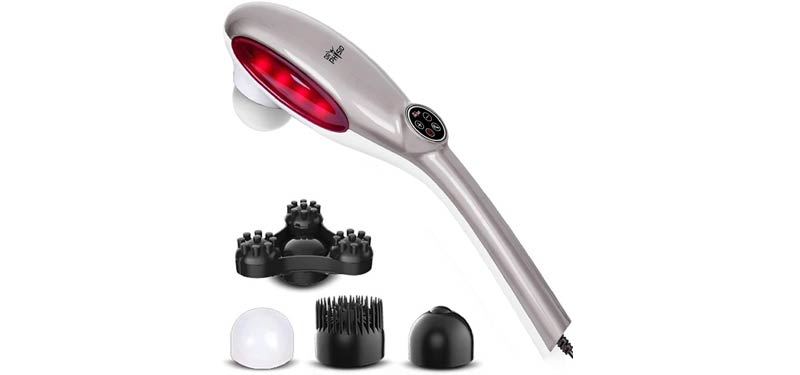 This body massager from Dr. Physio is an infrared body massager that treats an array of issues like muscle ache, spinal pain, joint pain, skin problems, etc. by producing infrared heat.
The intelligent digital display on the hammer massager offers excellent control over its functions, and the plus and minus buttons help in adjusting the intensity of massage pressure.
It has four interchangeable massaging attachments to enjoy massage time to the fullest.
This compact massager with a long grip handle is based on the popular Japanese Shiatsu massage therapy.
The massager has a high-performing motor to run at a customizable speed of 3350 pulses per minute.
Lifelong LLM27 Powerful Electric Handheld Full Body Massager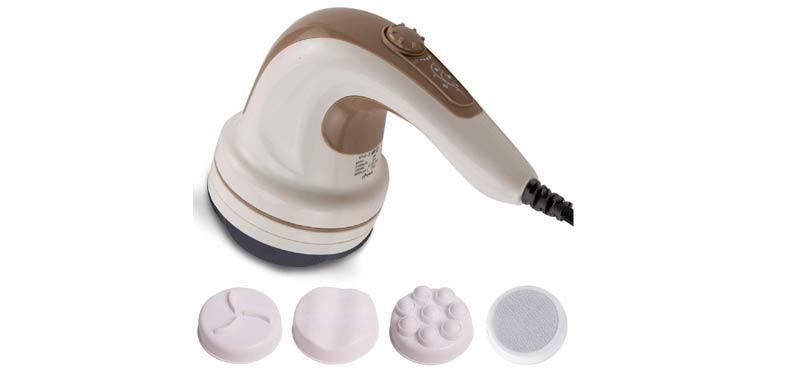 The Lifelong body massager is an excellent choice to alleviate pain from body parts like abdomen, legs, hips, shoulder, neck, back, and arms.
This versatile massager comes with four attachments. A frosting head to remove callus from the feet, wavy head for increasing blood circulation through deep tissue stimulation, scraping head to remove the dead skin and ball head for massaging specific areas for better relaxation.
This massage device is built with ABS and TPR material to exhibit heat resistant properties, and the copper motor assures unparalleled performance.
It has simple button control, mesh cover to protect the skin, long wire and grip handle for added convenience.
HealthSense Magic-Vibe HM 250 Cordless Handheld Personal Body Massager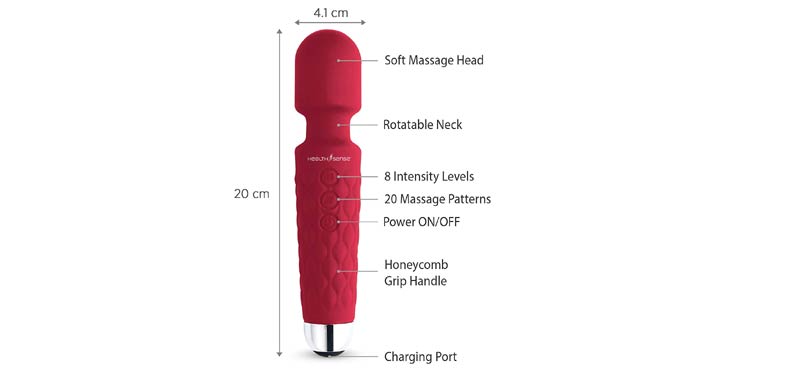 The HealthSense personal massager flaunts a cordless design and is made from skin-friendly medical grade silicone material to assure long-lasting service.
The IPX7 waterproof body featuring a 360-degree rotatable flexible head and a powerful motor to deliver excellent performance.
It houses a powerful 500 mAh rechargeable battery that can maintain a run time up to 2 hours with a single charge of 2 hours.
It has multiple mode selections that let you choose from 8 speeds and 20 vibration modes to enjoy a customized massage.
This massager has a USB charging port at the bottom and works with low noise (less than 40 decibels).
HomeFast Dolphin Handheld Body Massager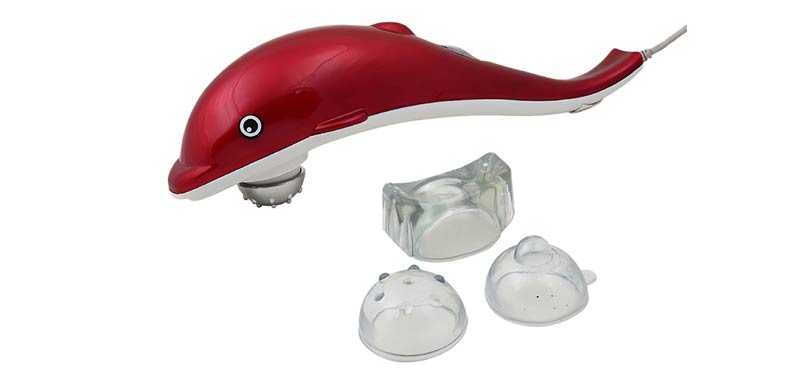 Don't be fooled by the toy-like appearance of the HomeFast handheld massager that is shaped like a dolphin in funky and glossy red color.
This electric massager comes with a long chord, has infrared light for effective massage, and an open/close button on top to change attachments.
It comes with four different attachments to relieve muscle aches, joint pain, and neck stiffness.
The unique design of this personal massager makes it easy to massage any part of the body to get relief from sore muscles and body pain.
This product is useful to enjoy magnetic massage therapy as well as hammering massage therapy.
Ozomax BL-182-PR Pro 17-in-1 Body Massager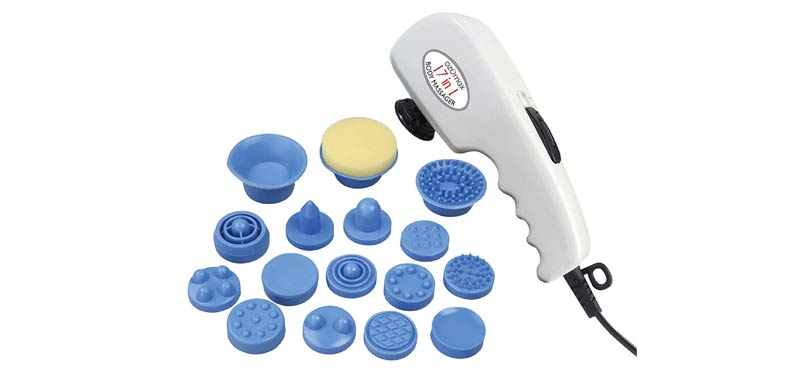 The Ozomax Body Massager is a best-seller product in the Indian market, as it comes with 17 types of massage head attachments to experience a relaxing massage time.
It is designed with a magnetic head that can perform with two different massage speeds.
This 17 in 1 massager has special attachments to perform face massage, cleanse the skin, relieve cervical pain, full body massage, promote blood circulation, knee, and elbow massage, relax tensed muscles, headache, neck massage, deep tissue massage, scalp massage, breast massage and oil massage for your head.
The massager looks sleek in white and has a long handle with finger grip design and long power cord to reach all body parts easily.
Unique Rechargeable Cordless Personal Body Massager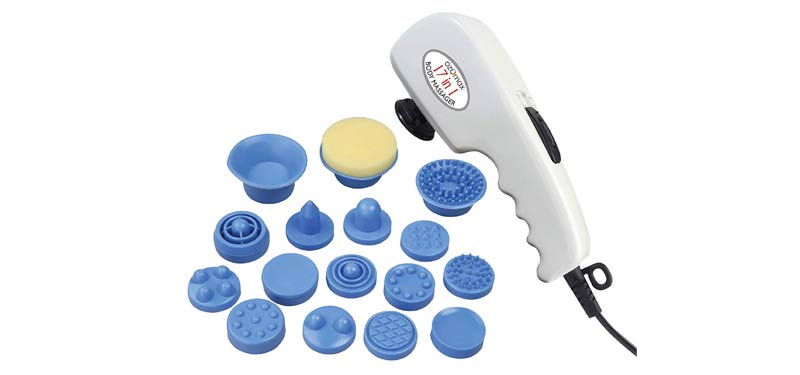 The Unique body massaging device flaunts a cordless design to make it a convenient choice to carry it wherever you go.
It is crafted out of odorless, phthalate-free, and toxic-free silicon material of medical-grade to stay soft on your skin.
This massager comes with a flexible massage head with 360-degree rotation to massage those hard to reach body parts.
The water-resistant body makes it easy to maintain and can be used while taking a bath too.
The honeycomb design on the body provides a good grip to hold, and it has 20 vibration settings and eight-speed levels.
Charging is easy with the USB port at the end that lets you connect with your laptop and other mobile devices.
The electric massagers that we have put together here are made from high-quality materials and are fitted with copper motor for best performance. Our experts have shortlisted these ten products from renowned brands to provide you the right type of massage. We have considered factors like the number of massage head attachments, speed levels, vibration modes, infrared light, and portability to keep you relaxed and free from pain and stress.