Photography isn't just a pastime anymore but has become a viable career option for those having a strong visual sense and passion for capturing everydayness in all its glorious beauty. However, surfing through the myriad lenses on the internet could leave you confused and puzzled. But this isn't an issue anymore as we are here to bring you the best camera lenses in India to pick from.
Our top picks:
Best Overall – Canon EF 50mm Lens
Best Budget – Yongnuo YN50 mm F1.8 Lens
Best Features – Tamron 18-200 F/3.5-6.3
Last update was on: January 23, 2023 4:30 pm
Top 11 Camera Lenses in India
Buckle up all the budding and experienced photographers out there! Below is our exhaustive and well-researched guide to picking the best camera lens for yourself.
Canon EF 50mm Lens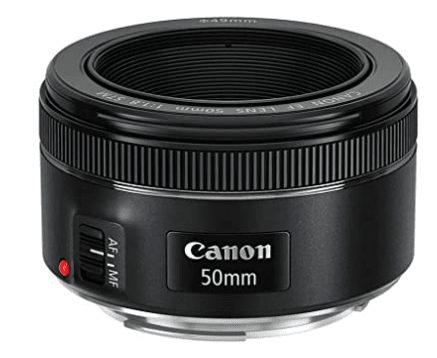 The Canon EF 50mmf lens has topped our list, and with good reason. Though the market is cluttered with several big names, the Japanese juggernaut has consistently lived up to customers' expectations. Their EF 50mmf lens comes with a series of features that are sure to leave photography enthusiasts with amazement. On top of that, you can also use these Canon discount coupons to make all your purchases economical.
What makes Cannon EF 50mm Lens stand out?
There are several reasons that this Canon lens is one of the best in India, none more so than its 50mm focal length and a maximum aperture of f/1.8, which also enables you to shoot at nighttime.
The product is part of Canon's L-Series, a category that includes the company's best professional lenses.
It has an ultrasonic motor (USM) that ensures instant autofocus when you're in the mood for capturing something!
Nikon AF-S DX Nikkor Lens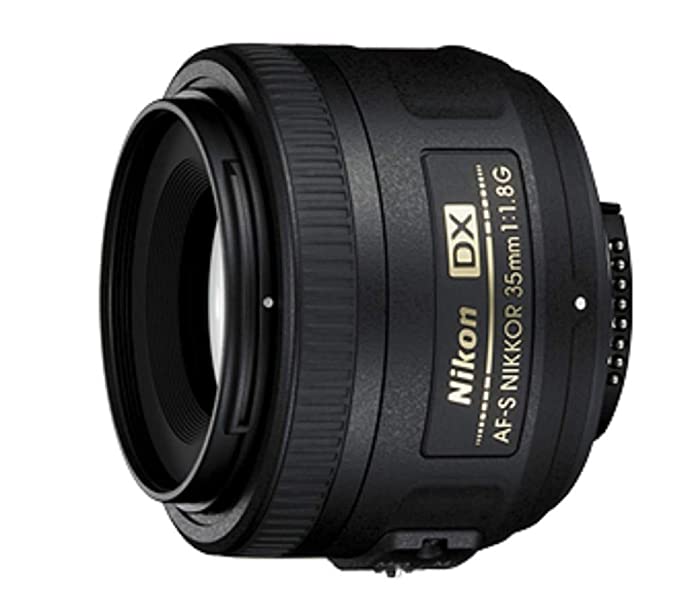 Another market leader in the camera industry, Nikon, has been around for decades and has always been at the forefront of delivering cutting-edge products. The Japanese company has a range of impressive lenses to choose from, one of which has made it to our list. Their AF-S DX Nikkor Lens is easily one of their finest creations, boasting of some kickass features. From its 35 mm focal length to plenty of free accessories, there's so much to admire about this lens from Nikon.
What makes Nikon AF-S DX Nikkor Lens stand out?
This wide-angle lens has an SWM (Silent Wave Motor) that ensures picture quality is top-notch with a clear focus.
Aspherical lens that helps clear out all deviations and enhances the overall look and feel of the image.
Cost-effective and economical when compared to other lenses in the list.
Sony SEL50F18F E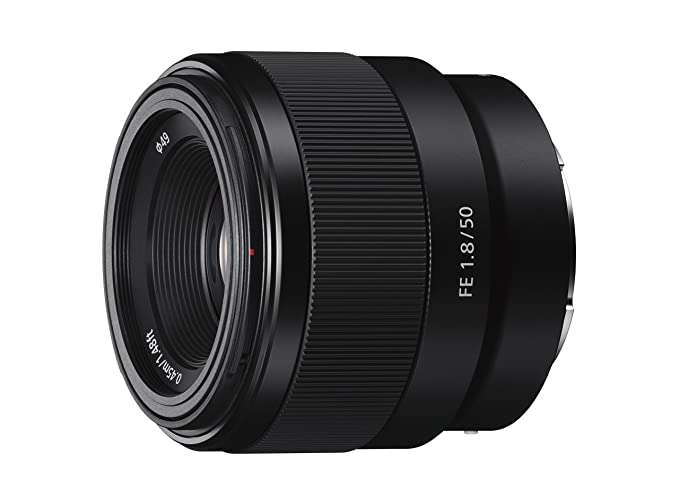 The Japanese electronics giant has dominated the marketplace for years now owing to its technologically savvy and up-to-date products. Their SEL50F18F E is one of the most advanced and consumer-friendly lenses out there.
Thanks to its host of cutting-edge features, it has become the go-to choice for amateurs as well as seasoned professionals. Moreover, shopping has become easier on pockets as these Sony coupons will ensure you make some handsome savings on all your purchases.
What makes Sony SEL50F118F E stand out?
The lens has a large F1.8 aperture that enhances defocusing effects, helping you click images with stunning and deep backgrounds.
The Sony SEL50F18F, with a 50mm focal length, is ideal for nighttime shooting or in dimly-lit interiors.
Ensures sharp picture quality owing to double-gauss optical configuration.
Sigma 30 mm f/1.4 DC DN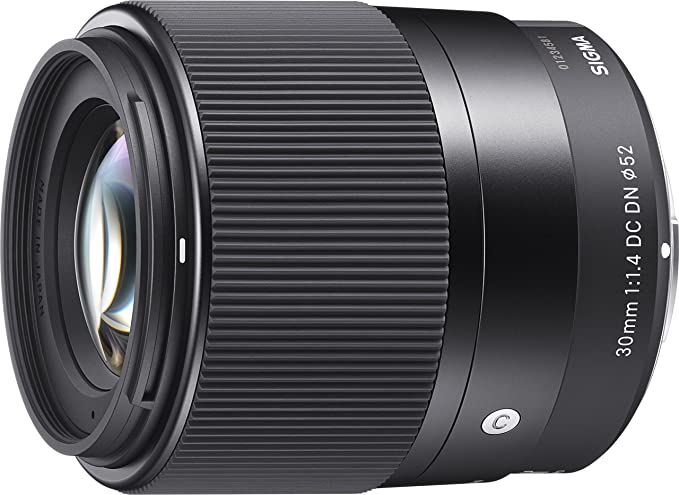 The Japan-based electronics company is well-established and trustworthy, primarily known for manufacturing cameras and lenses. Founded almost six decades back, Sigma has an assortment of great lenses that are sure to catch the attention of DSLR lovers across the globe. One of their best-selling lenses is the Sigma 30 mm f/1.4 DC DN. Though the wide-angle lens is slightly costly compared to previous products on the list, it is nonetheless very efficient and effective.
What makes Sigma 30mm f/1.4 DC DN lens stand out?
Designed for APS-C Mirrorless cameras like the Sony E mount.
The product comes with loads of accessories, including a lens hood, rear, front cap, and diaphragm blades.
It is portable and easy to carry owing to its lightweight and small size.
Panasonic Lumix G Lens
Unsurprisingly, another lens from another big Japanese electronics juggernaut has made it to our list. Panasonic is one of the biggest and most popular global brands that has successfully made inroads into the Indian market. One of their finest offerings is their Lumix G lens which comes with a plethora of features. The lens is just the right fit for you if you have recently gotten into photography. And guess what, you can get some big discounts by using exclusive Panasonic coupons.
What makes Panasonic Lumix G Lens stand out?
Apt for both HD photo and video recording thanks to its seamless and fast-action stepping motor.
Large F1.7 aperture and 25mm focal length to ensure your images have a deep and stunning background.
Lightweight and small in size; making the lens perfect for taking it to outdoor shoots at faraway destinations.
 Tamron 18-200 F/3.5-6.3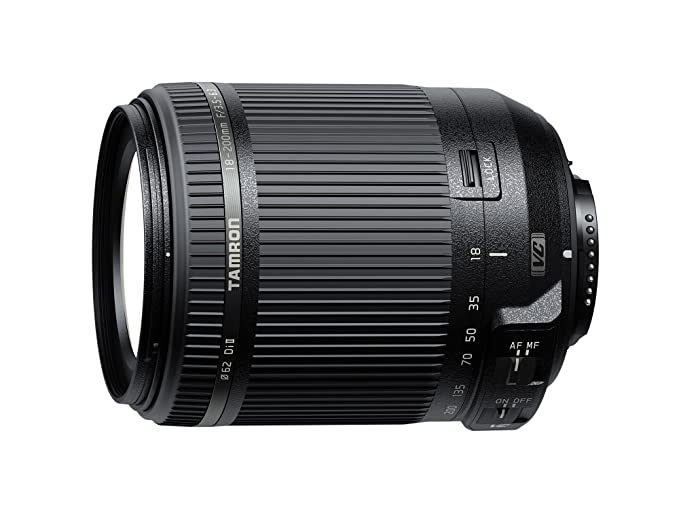 There's no stopping Japanese brands from again making it to our list of best camera lenses in India. This time it's Tamron and its BO18N lens that has impressed us with its barrage of impressive features. The lens is compatible with all Nikon DSLR cameras. It's safe to say the combination of these two brands is sure to elevate and heighten your photography experience, helping you translate your strong visual sense into perfectly-captured stills.
What makes Tamron 18-200 F/3.5-6.3 stand out?
A multi-purpose all-in-one zoom lens that works for all cameras, whether it is a wide-angle one or a long telephoto one.
It can make distant objects appear closer and clear while also giving amazing output for photos taken in a tight space.
Perfect for casual photographers and beginners as it's lightweight.
Olympus M. 40-150mm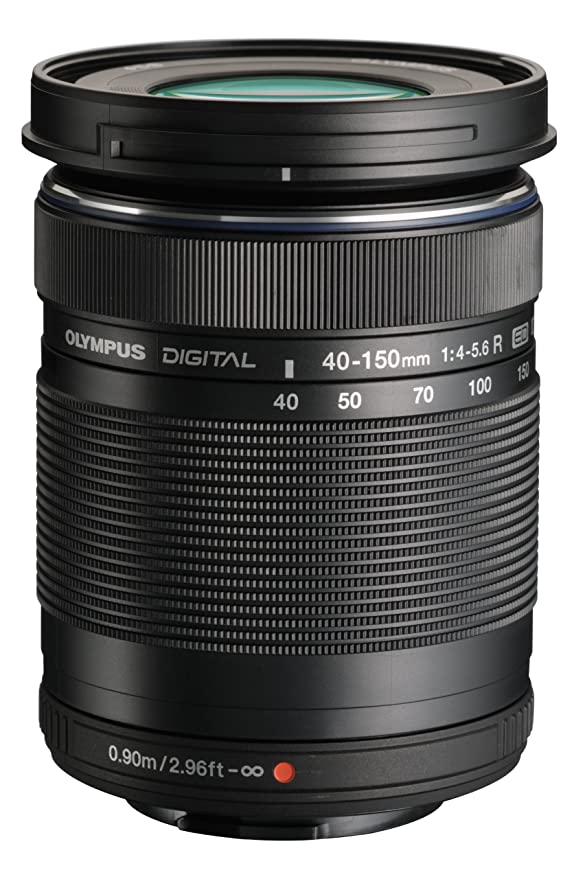 Established almost a century back in 1919 in Tokyo, Japan, of course, Olympus is one of the oldest and arguably, one of the best optics brands today. While it is a leader in the endoscope market, it also has a range of top-notch lenses that can make the photographer inside you sit up and take notice. The M. 40-150mm lens is one of the finest products Olympus has come up with that has quickly, and deservingly so, become a top-seller on e-commerce platforms.
What makes Olympus M. 40-150mm stand out?
Flexible and compact enough for you to easily carry it to whichever scenic location you're heading next to.
The high-power zoom allows you to take pictures in both indoor and outdoor locations as well as close-up or wide-angle stills.
Compatible auto-focus that ensures a quick and smooth process of capturing the best of clicks.
Samyang 12mm F2.0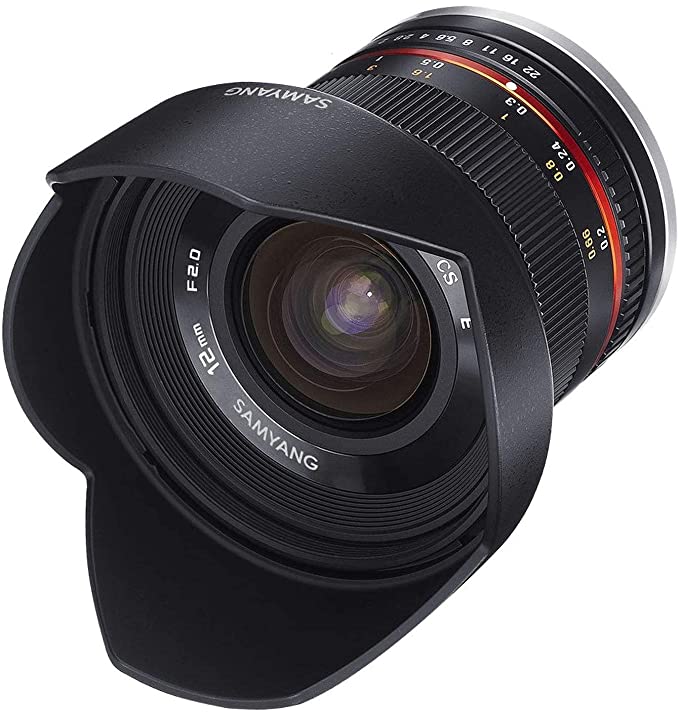 The South-Korean company is a world-renowned manufacturer of camera lenses that has been around for close to five decades. Though they don't build cameras themselves, their range of lenses perfectly combines with those manufactured by every other reputable brand in the market. Among Samyang's range of lenses, the 12mm F2.0 has made it to our list owing to a myriad of reasons, most of all being the positive customer feedback to it on Amazon and other platforms.
What makes Samyang 12mm F2.0 stand out?
The lens' F2 aperture ensures faster shutter speed, thus ensuring you can take focused images with a blurred background.
Six rounded blades that create a rich and soft dimension for street and nighttime photography.
Aspherical lens allows you to click pictures with minimal distortion.
Fujifilm Fujinon XC 35mm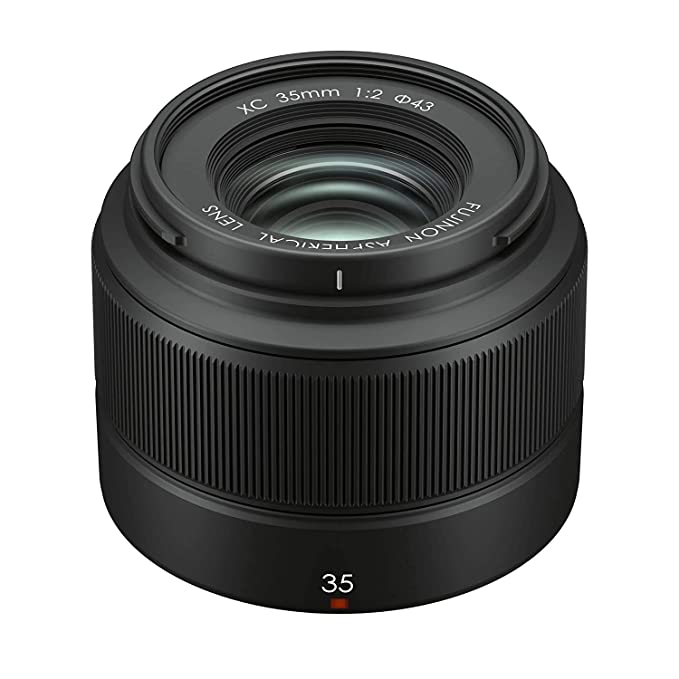 The Japanese conglomerate is a market leader in numerous sectors, having spread its wings globally in multiple companies. Be it health, chemicals, finance, or, most relevant to this article, photography, Fujifilm has conquered it all. The Fujinon XC 35mm lens is another home run by the company, as it comes with loads of features that can give other brands a run for their money.
What makes Fujifilm Fujinon XC 35mm stand out? 
53mm equivalent focal length that allows you to click pictures that come as close to capturing exactly what the eyes see.
Rotates only at a fixed angle, ensuring your clicks are precise and clear.
Comparatively cheaper when compared to other Fujifilm lenses.
Tokina 11-16mm f/2.8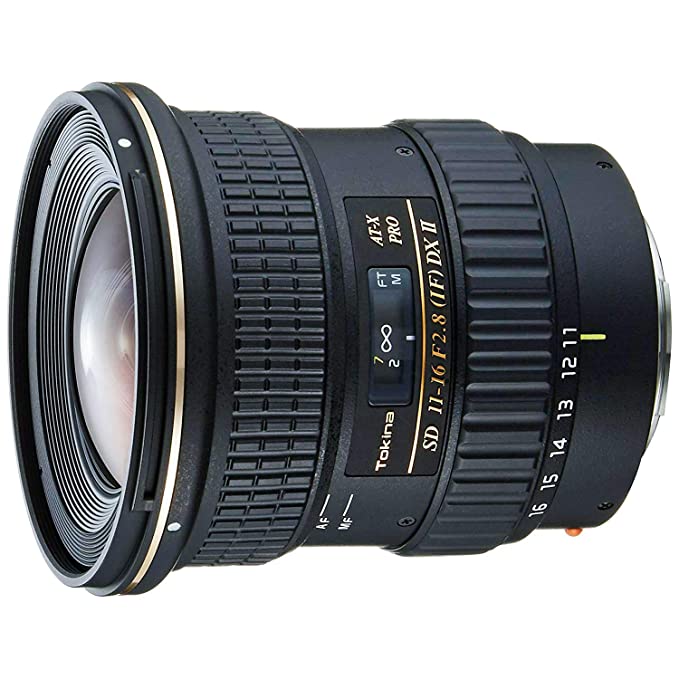 The Japanese manufacturer has made a place for itself in the lenses market owing to its assortment of high-end, quality products. Having served people for more than half a century, Tokina has earned the customers' trust when it comes to delivering nothing but the best. The 11-16mm f/2.8 is another excellent addition to their catalog of popular camera lenses.
Though the sharp prices could be a slight deterrent, the product more than makes up for it through its sheer quality and amazing features.
What makes Tokina 11-16mm f/2.8 stand out?
Ultra-wide lens for sharper and denser picture quality.
The product's F2.8 aperture makes it perfectly suitable for high-resolution astrophotography of constellations, meteors, and more.
Yongnuo YN50 mm Lens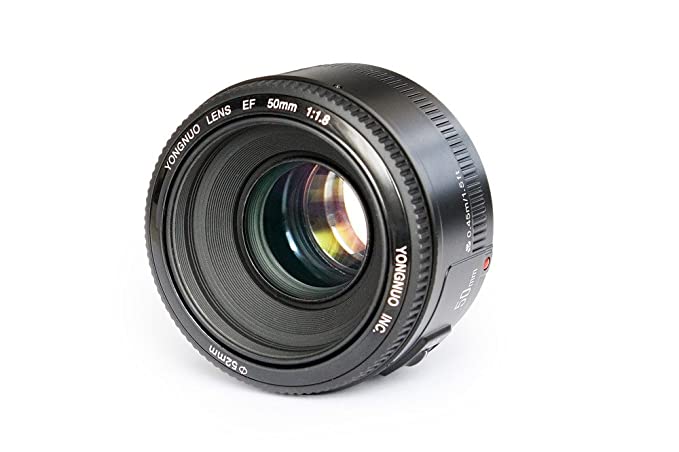 The Chinese brand, which is now under the ownership of Canon, is your go-to option if you're looking for affordable lenses but without having to compromise on quality. The YN50 mm F1.8 Lens is one of their finest products that can fulfil all your needs while, at the same time, ensuring you don't have to shell out massive amounts, unlike what you'll have to do when going for other brands. The product is compatible with Canon's EF (Electronic Focus) range of lenses.
What makes Yongnuo_YN50mm stand out?
The lens supports both autofocus and manual focus mode cameras.
F/1.8 maximum aperture ensures you have control over the depth of field and allows you to click stunning images in all lighting conditions.
Gold-glass coating reduces chances of the lens getting corroded easily.
Buying Guide For The Perfect Camera Lens
Since every buyer has a different set of needs and wants when purchasing a product, it's virtually impossible to suggest something that'll suit all. However, there are certain parameters, irrespective of features, that must be kept in mind before heading to a nearby store to make the purchase.
Focal length: The most essential thing to know before purchasing a lens for your camera is whether you want it for wide angles, I.e., you want to fit in as much as possible in the frame or click shots from a close range. If your requirement calls for taking wide-angle shots, you should go for lenses with a focal length of 35mm, which is considered the ideal length, or lesser than that. On the contrary, if you want your subjects to be in close range, you can go for lenses with focal lengths ranging from 50 mm to 100 mm.
Aperture: Aperture refers to the opening in your camera lens through which the light enters your camera. For those unaware, higher apertures don't mean it'll give a better picture quality, nor does it mean having lower apertures in your camera would lead to poor image quality. Both higher and lower apertures serve their purposes.
For example, if you want a group image with every object in focus, it's ideal to go for a lens with a lower aperture, which means less light would enter your camera. On the other hand, if you want to click images with a clear focus, it's better to go for a lens with a higher aperture as the light coming in would blur the background.
Pricing: Well, if not everyone, pricing can still be a major parameter for many of those who are looking to enhance their photography skills while also ensuring it doesn't make a hole in their pockets. There are camera lenses of all price ranges in the market; however, it's not easy to look for something that meets all your requirements and falls into your budget. As such, it's crucial to spend some time looking for the camera lens that meets all your criteria, something we hope our article might help you with.
While we have come to the end of our article, we hope things have become much more clearer for you now! Go get the best camera lens and capture the surroundings around you in all its messiness and beauty.
If you aren't a photographer already, we hope this article might have given you some great and deep insights into this unexplored field. Also, since you're here, do check out this article about the Best DSLR Cameras for Beginners. Keep clicking (both are articles and pictures!) and keep reading. Cheers!