The one trend that does not really go out of fashion for men is the beard. Well-groomed, bearded men have a rustic rugged appeal that is quite irresistible when it comes to women. However, having a well-groomed sharp-edged beard is no cakewalk, and that is why you need to own a classy and efficient beard trimmer to make that perfect beard impression. Maintaining a beard requires a lot of time, patience, care, and of course the best trimmer.
Trimmers do a lot more than just cutting the extra hair off the beard. If done well, they shape your face, create a jawline, and improve your overall look. Having a well-done beard can make you stand out. Beard is very much dependent on your style. If you want a distinct look, a rugged look, or want to appear messy. Based on your need, having more than one trimmer in your grooming closet is cool.
Your search for the best trimmer for men must have left you confused now – there are so many brands and models to choose from! Investing in a quality beard trimmer in India requires some careful understanding of the machine and some research basis your personal preferences.
There are various factors to look for when buying a trimer. Not only technical aspects like charge time, settings available, but also other features like the quality of blades, and so on. But we won't let you do the hard work. We've done it for you and have brought a list of the coolest trimmers that you can find online. Even better, you can compare features and choose the one that best fits your requirements.
Have a Look at Top 10 Best Beard Trimmers For Men In India for 2021
1. Philips Beard Trimmer Cordless and Corded for Men QT4011/15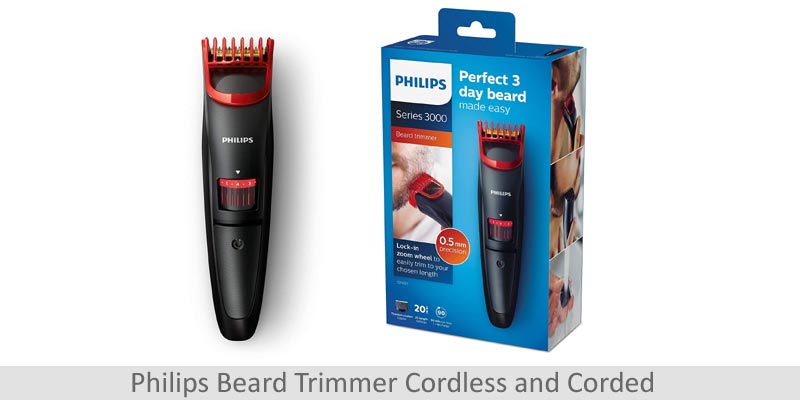 Philips has been a market leader in personal appliances, so starting our list of best trimmers for men with Philips is a given. The Philips Beard Trimmer for Men QT4011/15 comes loaded with the below features –
You can use it corded or plugged in when you don't have time to wait for it to charge
One of the best trimmers for men, it takes just 1 hour to charge fully
When charged fully, it gives a cordless performance of 90 minutes
Self-sharpening blades with rounded tips and combs for a skin-friendly experience
Has 27 easy to select lock in settings with the precision of 0.5 mm
Comes with a battery LED light indicator
Detachable head makes it easy to clean
Ergonomically designed, it comes with a travel and storage pouch
Buy it at Amazon here.
2. Philips DuraPower Beard Trimmer BT3221/15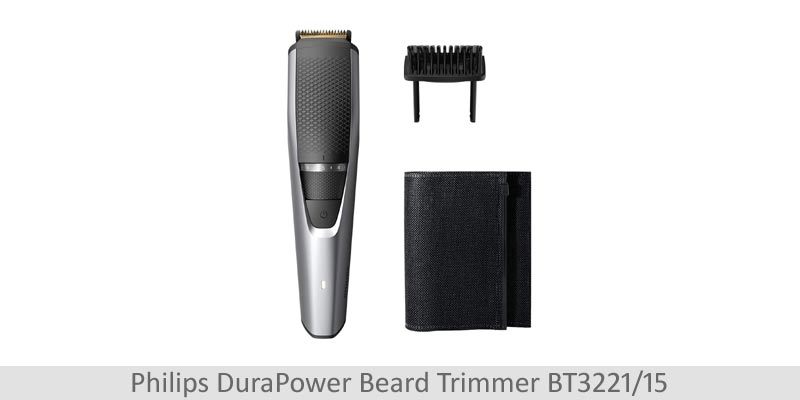 The second best trimmer in India, Philips Dura Power BT3221/15 Beard Trimmer has the following features –
Charging time of just 1 hour for 90 minutes cordless use, can also be used while charging
Dura power technology optimizes the power consumption to ensure that your trimmer lasts longer
20 lock-in settings in an easy adjust dial that offer 0.5 mm precision for styles ranging from 0.5-10 mm
Titanium coated self sharpening blades for ultimate performance everytime
Detachable head for easy cleaning
Indicator light when charging or low battery
Comes with a travel and storage pouch
Available at Amazon here.
3. Panasonic ER-GB37 Men's Trimmer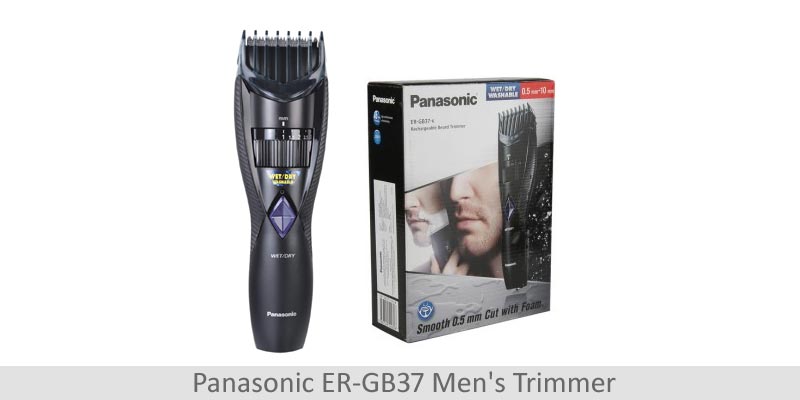 If you are looking for a wet-dry hair and beard trimmer, then you can check out Panasonic ER-GB37 Wet & Dry Hair/Beard Trimmer that offers the following features –
Cordless use of about 50 minutes after an 8 hour charge
You can trim wet and dry hair with equal finesse and ease, this trimmer has a drain which allows the water to flow through it
Easy and quick adjust dial for 19 settings ranging from 1-10 mm with a precision of 1mm
Easily washable so you don't have to worry about hygiene
Stainless steel blades with sharp cutting edges and an acute 45-degree angle for protection with precision
Comes with 2 year warranty
The product is available at Amazon.
4. Philips Beard Trimmer Cordless for Men QT4001/15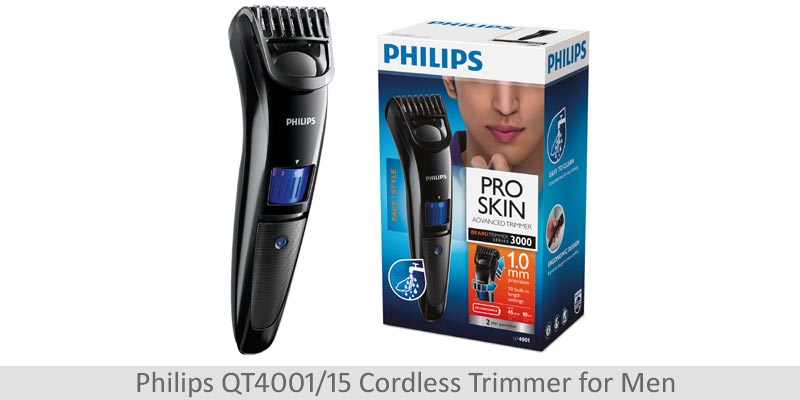 Effortless, even beard trimming at affordable cost can be yours with the Philips QT4001/15 Beard trimmer for men.
Dura Power technology that makes it longer lasting and also optimises power consumption
10 hours of charging for 45 minutes of cordless use, not suitable as a plug and play device
10 lock in settings ranging from 1 – 10mm with 1mm precision.
Self sharpening stainless steel blades with rounded edges do that trimming experience is smooth
Washable attachments make cleaning an easy job
Has a charging indicator as well.
5. Panasonic ER-207-WK-44B Men's Beard and Hair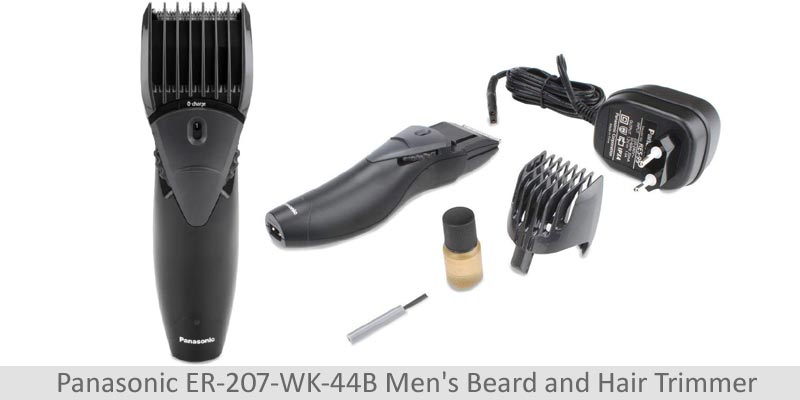 Panasonic's ER-207 WK 44B Beard Trimmer is another great product that you would like to own. It offers the below features –
Easy cord and cordless operation with 12 hours charging time and 40 minutes cordless usage
Blades are made of stainless steel with a Japanese technology that ensures high performance for precision trimming
12 grooming settings in a quick adjust dial to adjust the comb offering precision of 0.2 to 1.8 mm
The blades can be detached and washed, the body is not waterproof
Comes with a charge indicator lamp
2 years warranty on the product
6. Nova NHT-1071 Titanium Coated USB Trimmer for Men
Your search for a powerful, compact and less noisy beard trimmer ends with Nova's NHT 1071 Trimmer. It is loaded with the below features –
Turbo-power technology ensures the product has a long life and optimises power usage
Charge the product for 8 hours for upto 45 minutes of cordless use, not suitable as a plug and use device
Comes with a USB cable so that you can charge it anywhere anytime. Does not include the adaptor though
You get 9 length settings with precision range of 2 mm to 18 mm
Self-sharpening titanium blades for ultimate precision
Easy to clean as all attachments are washable
A safety lock feature is another plus
Related Read: Best Beard Oil Brands
7. Philips Beard Trimmer Cordless for Men QT4006/15
Technology and design come together beautifully with the Philips QT4006/15 beard trimmer for men.
Loaded with Dura power technology for long lasting performance
10 hours of charging for a 45 minutes cordless use
Self sharpening stainless steel blades with rounded tips for precision without skin irritation
Offers 20 different length settings ranging from 0.5 mm to 10 mm with 0.5 mm precision
Easily clean by detaching the head and putting it back when dry
Easy to hold ergonomic design so that trimming is a comfortable affair
8. Philips DuraPower Beard Trimmer BT3203/15
The right grooming solution to look your best comes to you with the Philips Dura Power Beard Trimmer BT3203/15 – Cordless that offers the below features –
10 hours charge time gives you upto 45 minutes of cordless use
With Dura power technology, be assured this trimmer will last very long
Offers 10 lock-in settings, get 0.5 mm stubble or beard style upto 10 mm with 1 mm precision
Self-sharpening stainless steel blades with rounded tips give you effective yet protective trim everytime
The head can be detached and cleaned under running water
Comes with a charging indication button
9. Havells BT5151C Li-ion Cord and Cordless Beard Trimmer
A quality product from the house of Havells, this one is going to be your favourite once you buy it.
After charging for just 60 minutes, you can use Havells BT5151C Li-ion Cord and Cordless Beard Trimmer for 50 minutes in one go- thanks to the Li-ion in-built battery
Can be used cordless and corded – for the times when you forget to charge
Comes with a detachable head for easy cleaning
Get a zero trim look with 0.5 precision or a long beard that is 10 mm
U shaped stainless steel blades for a cut free shaving experience
Also has a battery indicator LED and is ergonomically designed
2 year guarantee on the product
10. Braun BT3020 Beard Trimmer for Men
A premium product from a premier brand, Braun has carved quite a niche for itself when it comes to personal appliances. Braun BT3020 Beard Trimmer for men comes with the below features –
Offers 40 minutes of precision beard trimming experience with a charge time of 10 hours
Maintain a stubble, short or a medium beard, or just contour edging with 0.5 mm step sizes for maximum precision
A hair comb that is 11-20mm long is suitable for longer beards as well
The head and the comb are fully washable and you don't have to worry about cleaning
Comes with lifetime lasting ultra-sharp stainless steel blades
The product has a 2 year warranty as well
It all starts with investing small. A few things to understand to decide the best trimmer: skin type, beard hair growth, face shape, the styles you want to try. Al this might not come to you the moment you begin, but trying out trimmers and seeing what works best for you will surely help.
How to Choose a Trimmer for Beard
Advancement in trimmers over the last few years, History of Trimmers
Trimmers are far descendants of hair clippers which were made in the 19th century. The first hair clipper was created by Nikola Bizumic while he worked at a barbershop in Ruma, Serbia. These manual clippers had rather big teeth as they were made to cut hair on the head. Though manual hair clippers are still used in some rural parts of the nation, they have been tremendously revolutionary since then.
Leo Wahl came up with the concept of electromagnetic motors for massagers while he was still in college which was then produced on a large scale in a factory and sold to barbers. He later combined this technology with hair clippers and it was not until 1921 when he introduced the world with what we know now as electric clippers.
The electric hair clippers found their way to compact beard trimmers that soon became every man's need and a barber's friend. Since then, trimmers have constantly been updated into much convenient, efficient and good-looking instruments. The advancements in trimmers do not seem to be stopping. 1 or 2 setting trimmers evolved into trimmers up to 20 length settings. Many brilliant features have been introduced like vacuum suction for stray hair, water resistance, and even self-sharpening technique.
Why Use A Beard Trimmer Instead Of Conventional Razor?
Simply put, to save time, get chic looks and tidy sideburns and avoid cutting the facial skin with a razor. A trimmer is technologically much advanced and you don't need to be a clean-shaven lad every time you run it on your beard.
Trimming or grooming a beard with a beard trimmer is easier, less time consuming, and does not leave cuts. Moreover, the precision is unbeatable and the convenience unmatchable. You can groom yourself within the comfort of your home with ease and messy hair and uneven beard will not be a concern for you anymore.
While trimmers for men have so many advantages, purchasing one is not so easy. It can be a daunting task to buy the best trimmer for yourself and more so if you plan to buy the best trimmer for men as a gift. So to make it easier for you, we have chalked out a few points that must be considered when buying a trimmer for men.
Points To Consider When Buying A Beard Trimmer
If only buying the best trimmer for men was so easy then we wouldn't have you reading this and haven't had worked on compiling the list of features that you must look for when planning to invest in one. Don't forget to consider-
Charge time – Trimmers for men need to be changed so that they can be used. Longer charging times could mean you need to plan in advance if you intend to use the trimmer. To escape situations where you keep on waiting, opt for minimum charge times. Best trimmers for men can be charged fully in just one hour.
Runtime – After charging fully, the time that a trimmer can be used is known as its run time. Whilst there may be days when you are groomed in just 15 minutes, there will be days when it will take longer. Opt for trimmers that have a runtime of at least 45-60 minutes so that you don't need to charge between operation.
Precision power – For accurate trimming experience, opt for trimmers that have locking length settings that have higher precision. The best trimmers for men can have up to 0.5 mm precision
Blades – Since you invest in a trimmer, you don't want to bother changing the blades again and again. Plus, you want them to be safe. Stainless steel blades are quite common, but those coated with titanium last even more. To avoid cuts and irritation on the skin, make sure you opt for round-edged, non-scratching combs and rounded tips. Some trimmers for men come with self-sharpening blades, saving you the hassle of changing them again and again.
Usability while charging – While it is understood that a trimmer will have a charge time, some trimmers can be used whilst they are plugged in as well. Especially good for those last-minute decisions of shaving or trimming.
How to know when it's time to change your trimmer?
Trimmers usually come with a warranty of about 1 to 3 years. Although you will find them working well during that time, they can function for much longer if taken proper care of. However, when should you change your trimmer and get a new one from the market? Let's find out.
If it takes longer for you to trim your beard than before, your blades might have gone dull. Sometimes dull blades also cause pulling and tugging of hair that you won't enjoy.
You can still continue to use a trimmer if the LED stops working. But what if the batteries wear out and you have no clue about how it charges and how long it's going to stay. That's when you could upgrade.
You know you need a new trimmer when you are stuck with old blades and new trimmers drop in the market all the time. Latest technology trimmers can save your time and give you a better experience using them.
New players in the trimmer business
The grooming industry is a $29 billion out of which almost 20% is made up of hair clippers and trimmers. While there are giants like Panasonic, Philips, Wahl that rule the game of beard trimmers, new companies are finding their share in the multi billion dollar industry. Some brands that started manufacturing trimmers in the recent years that you can try are as follows:
Xiaomi Mi
Flipkart
Syska
Manscaped
Ustraa
Bombay Shaving Company
LetsShave
We hope the list of the best trimmers for men helps you decide to invest in one that gives you the best grooming experience to look your best every time.