Hey beard-lovers! In this post, we'll review some of the best beard trimmers on the Indian market, and help you choose the perfect one for your needs. From cordless trimmers to wet/dry electric models, the best run-time to the best in warranty, we've got everything covered. Let's get started!
Our Top Picks:
Best Overall: Philips BT3231/15 Smart Beard Trimmer – Highly rated for its durability, ergonomic design, battery life, features, and the only beard trimmer on our list to offer 3 years warranty.
Best Budget-friendly: Mi corded and cordless waterproof trimmer is the highest-rated beard trimmer on the market for its high performance and pocket-friendly pricing.
Best Fast-charge Time: VGR Professional Rechargeable Cordless Beard Hair Trimmer – Offers a run time of 90 minutes for 90 minutes of charge time.
Last update was on: September 26, 2022 2:43 am
Top Beard Trimmers For Men In India
The list of the best beard trimmer for men, along with their features, specification, and pros is provided below:
Mi Corded & Cordless Waterproof Beard Trimmer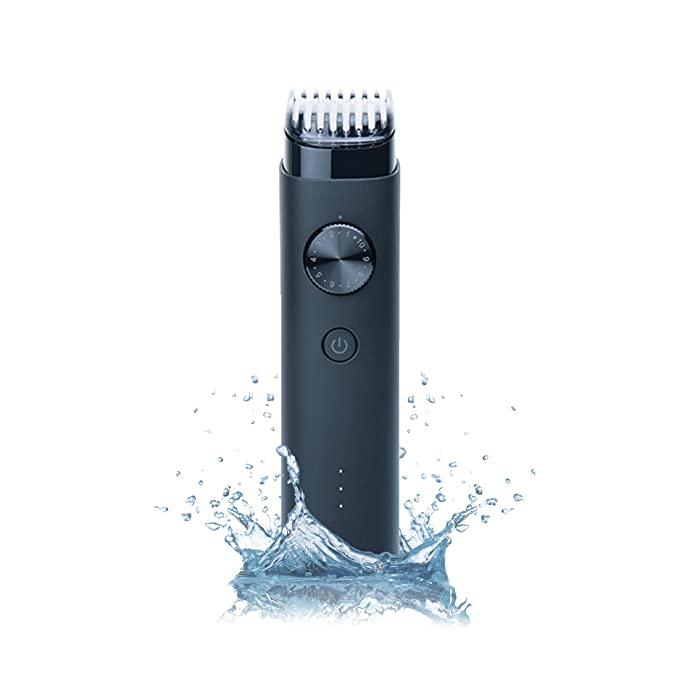 The Mi corded & cordless beard trimmer with fast charging capabilities is a great choice for those who want an easy-to-use and high-quality trimmer. It has a waterproof design that makes it perfect for use in wet or dry environments, and the fast charging allows you to trim your beard quickly and easily. The ergonomic design ensures comfortable handling, while the precision blades provide accurate cutting.
Pros, Features, and Specifications
Comes with stainless steel blades with self-sharpening features and is best for any type of skin.
The trimmer has a fast-charging time that lets you get the most out of your trimming experience.
Offers 40 length settings from 0.5 to 20 mm.
The battery is powerful and lasts for a long time. You can be confident that up to 90 minutes of uninterrupted cordless use is possible.
It is corded and battery-powered, making it easy to move around.
It has a travel lock feature to keep it safe while you're on the go.
The blames of the trimmer in the offering are coated with lubricants for the best shaving experience.
It has an IPX7 rating, making it resistant to water and dust.
Key Highlights
Stainless steel blade material.
One-year warranty.
Box contains trimmer, long and small comb, clearing brush, charging cable, and travel pouch.
Item Dimensions (LxWxH): 48 x 38 x 154 Millimeters
Philips BT3231/15 Smart Beard Trimmer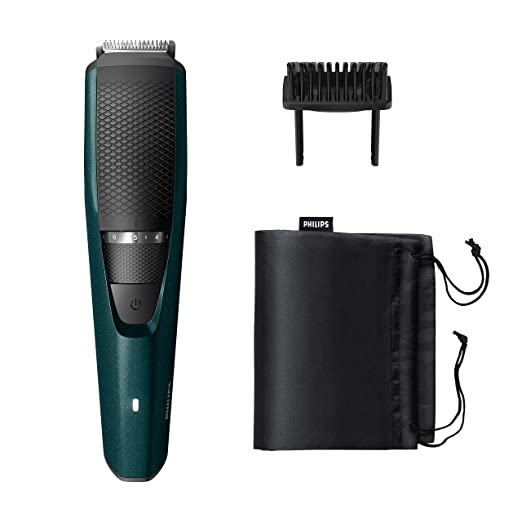 Phillips' top-selling and highly acclaimed beard trimmer for guys should be on your list of things to buy. Several consumers have praised this product for its simple-to-use design and ability to offer the greatest shaving experience. It's best known for its fast-charging abilities, and it includes the finest power adapt technologies for precise trimming. This smart beard trimmer stands out from the rest with 20 settings and 60-minute runtime.
Pros, Features, and Specifications
20 lock-in settings for the best precision ranging between 0.5 to 10 mm.
Comes with self-sharpening steel blades that are coated with titanium for maximum performance.
Uses power adapt sensors to measure the density of your beard at 125 times per second.
The trimmer is quick to charge up, so you won't have to wait long between charges.
It has a detachable head that makes it easy to clean
It also comes with an indicator light that will let you know when it's time to recharge the device.
Can be used for 4 weeks without having to be recharged again. This means that you'll have plenty of time to use it multiple times each week before needing to charge it again.
Key Highlights
Stainless steel blades for superior cutting.
3-year warranty (2-year+1-year extended on registration)
Box contains a trimmer set, warranty card, and product manual.
Item Dimensions (LxWxH): 10 x 19.1 x 6.1 Centimeters
SYSKA Beard Pro Trimmer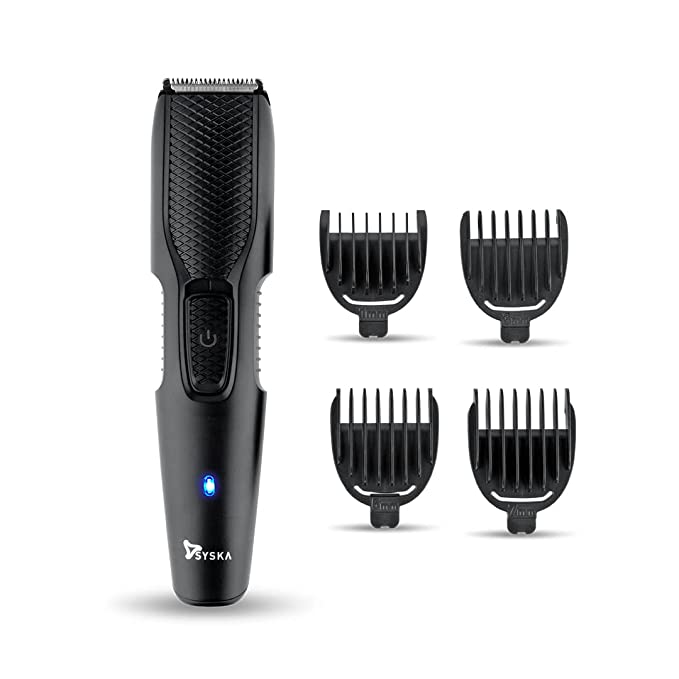 For anyone who wants a simple and comfortable way to get a clean shave, the SYSKA HT200U beard pro trimmer is the ideal option. The stainless steel body and blade of this cordless trimmer make it resistant to corrosion and simple to maintain. Since the head is washable, you may clean it any time you want. In addition, this beard pro has a 40-minute runtime, which means you can trim your beard without the need for extension cords or power outlets.
Pros, Features, and Specifications
It has 5 length settings with 2mm precision, making it perfect for various facial hair lengths.
The trimmer supports USB charging functions which makes it easy to take with you wherever you go.
The lightweight and compact design make it easy to store and carry around.
Is equipped with advanced roto-tech technology that helps prevent injuries.
The SYSKA HT200U has a washable trimmer head that makes it easy to keep your trimmer clean.
The anti-slip grip ensures that you have a firm grip on the trimmer, even when it's wet.
It has an anti-slip grip that keeps your hand safe while you are trimming your beard.
The trimmer also has a charging indicator that lets you know when it is ready to use.
Key Highlights
Stainless steel metal blade with one of the industry's best technology – roto-tech.
2-year warranty
Box contains a trimmer, charging cable, cleaning brush, user manual, warranty card, and 4N stubble comb.
Item Dimensions (LxWxH): 20 x 11 x 15 Millimeters
Braun 6-in-1 All-in-one Beard Trimmer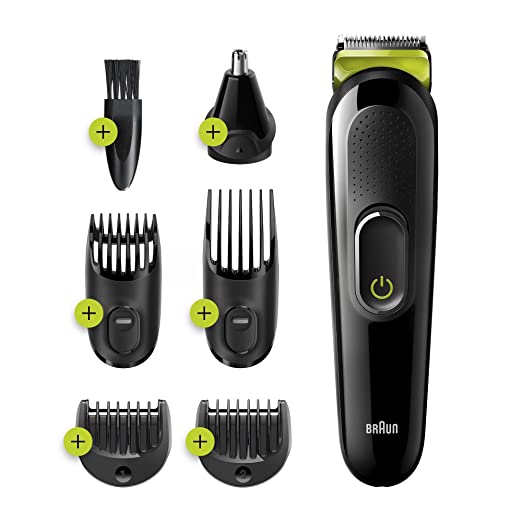 This versatile 6-in1 (all-in-one trimmer) can handle different hair types and lengths with ease. It comes with five attachments that allow you to trim various parts of your body, including your beard, hair, ears, nose, etc. And has a 50-minute runtime which means that you can get the job done quickly and without waiting long periods of time. it is available in black or volt green colors.
Pros, Features, and Specifications
The NiMH battery ensures that your trimmer will remain operational for a long time.
Lifetime sharp blades that will stay sharp even after many uses.
An ergonomic grip that will make it easy to hold and use.
13 length settings that will let you tailor the trimming to your needs
Comes with four adjustable combs.
With the two dual-purpose adjustable combs, you can cut hair to the precise length you need – from 0.5 to 21 mm.
The trimmer is also durable and easy to use, making it perfect for those who are new to the world of grooming.
Key Highlights
Stainless steel lifetime blade material.
3-year warranty
Box contains a beard and hair trimmer, nose trimmer, ear trimmer, 4 combs, and a smart plug charger.
Item Dimensions (LxWxH): 13.7 x 5.7 x 28.2 Centimeters
VGR Professional Rechargeable Cordless Beard Hair Trimmer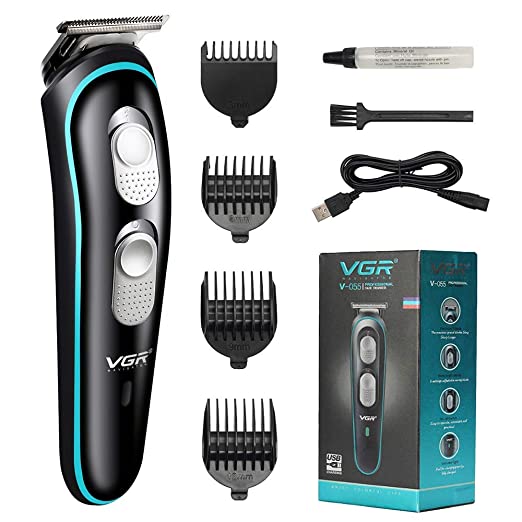 With the VGR beard hair trimmer, you can finally ditch the razor and enjoy a smooth, well-groomed beard with little effort. The device is well-designed and comes with four guide combs (3mm/6mm/9mm/12mm) that help you line up your beard perfectly for a fast and safe trim. Plus, the kit comes with everything you need to get started, including combs, brush, USB cord, and user manual. Order now and start feeling dapper than ever!
Pros, Features, and Specifications
It is easy to use and is specially designed to give you a close and precise shave.
A long-lasting battery of about 120 minutes of working time.
The blades are made from high-quality steel that is durable and easy to clean. And they are skin-friendly.
The soft grip and easy control make it easy to trim even the most stubborn beards.
The LED indicator also lets you know when the battery is running low, so you can make a quick recharge.
Compared to the top beard trimmers on the market today, VGR's cordless trimmer has the best charging time of just 1.5 hours.
Has a blade length adjustment feature (3-level cutter) that allows you to customize the length of your beard hair.
Comes with its patented pin-core motor offering the best performance, speed, and low tone.
This trimmer is also pet-friendly.
Key Highlights
High-quality wear-resistant sharp angle blades.
1-year warranty
Box contains a trimmer, clearing brush, oil, product manual, guide combs, and a USB charging cable.
Item Dimensions (LxWxH): 18.5 x 8.2 x 5.9 Centimeters
Lifelong Cordless Beard Trimmer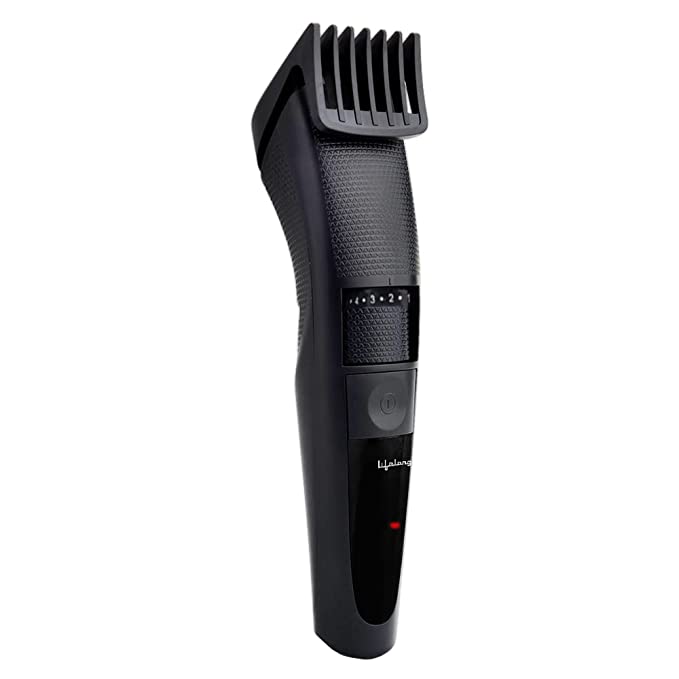 With the Lifelong trimmer, you'll get the perfect grooming solution at your fingertips. This cordless beard trimmer features 50 minutes of runtime and 20-length settings that let you trim your beard exactly how you want it. Plus, the charging indicator tells you when it's ready to be used again. So, ditch the trouble of messing with a dull blade and give the Lifelong trimmer a go today!
Pros, Features, and Specifications
It is easy to use and has a comfortable grip.
The trimmer is also durable and lasts long.
It is very lightweight and comfortable to hold.
This trimmer has a long battery life that allows you to use it for a long time.
The trimmer is easy to clean and comes with a detachable head.
The adjustable comb settings from 0.4 to 10 mm make it suitable for a variety of beard lengths.
It operates on battery power which means that you won't have to constantly charge it in between uses. There is even an indicator light that tells you when the trimmer needs charging so that you can keep track of its status at all times.
Key Highlights
Top-notch washable stainless steel blade.
1-year warranty
Box contains a trimmer, USB charging cable, etc.
Item Dimensions (LxWxH): 12.4 x 4.5 x 18.5 Centimeters
Nova Rechargeable and Cordless Beard Trimmer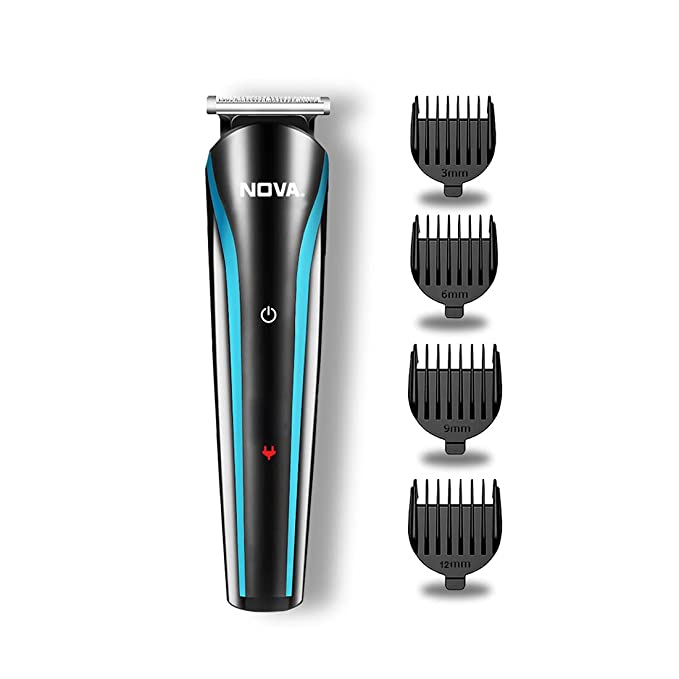 With Nova's cordless beard trimmer, you'll be able to style and trim your facial hair in minutes. The trimmer uses powerful, yet gentle, rotary blades to trim even the shortest of beards. Whether you have a full beard or just a few stray hairs, this trimmer will take care of everything. Plus, its ergonomic design makes it easy to hold and control, making it a great choice for those with sensitive skin. It is equipped with a quick-charge battery that gives you an hour of runtime. Just hold down the power button and let the trimmer do its thing.
Pros, Features, and Specifications
It's easy to clean and has a sleek and modern design.
It is lightweight and easy to use, perfect for those with a busy lifestyle.
The blades are sharp and adjustable, making it possible to trim even the most stubborn beard.
It has 5 length settings, a precision of 0.5 to 12 mm, and 4 guide combs.
The blades come with advanced lubricant coating for a smooth trimming experience.
It has a rechargeable battery that can be used multiple times.
The head can be easily detached for easy maintenance.
This trimmer comes with a USB cable and offers flexible charging options via computer, USB adaptor, etc.
Key Highlights
Best in-class stainless steel blade
1-year warranty
Box contains a trimmer, warranty manual, USB charging cable, etc.
Item Dimensions (LxWxH): 5.5 x 15 x 14 Centimeters
Kubra Ultra Sleek Beard Trimmer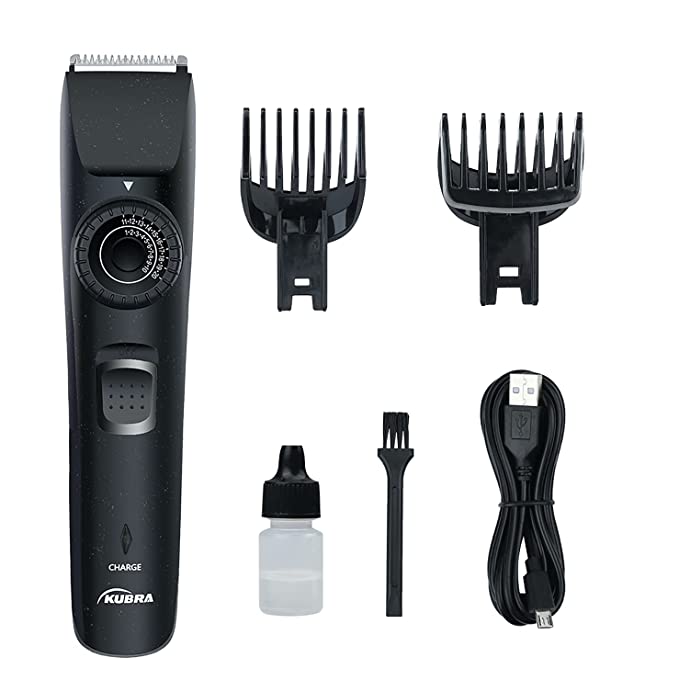 With a sleek design and high-quality construction, the Kubra Ultra Sleek Beard Trimmer promises to give you a clean, smooth shave every time. With a length adjustment dial and an easy-to-use blade, this trimmer is perfect for anyone who wants a close, comfortable shave. This trimmer is equipped with a powerful UBS charging port, and can be used cord (while charging) or cordless, so you can move around freely while you are trimming. The design is minimalistic and sleek and can be one of the best add-ons to your grooming kit. Plus, the soft-grip handle makes it comfortable to hold and control.
Pros, Features, and Specifications
This trimmer features precision edges that reduce irritation by slicing through hair instead of grabbing on as traditional clippers do.
It has a runtime of 90 minutes on a single charge, which gives you enough time to trim your beard evenly.
The Kubra trimmer has 40 length settings to cater to everyone's beard needs.
Offers a detachable and washable blade and is suitable for any age group.
It features technology for low noise during operation, so you can comfortably trim your beard without distractions.
It has a long life due to its high-quality materials and durable stainless steel blades.
Key Highlights
Sharp lifetime lasting stainless steel blades
1-year warranty
Box contains a trimmer, cleaning brush, USB charging cable, etc.
Item Dimensions (LxWxH): 14.5 x 4.5 x 18.5 Centimeters
Panasonic Corded/Cordless Rechargeable Trimmer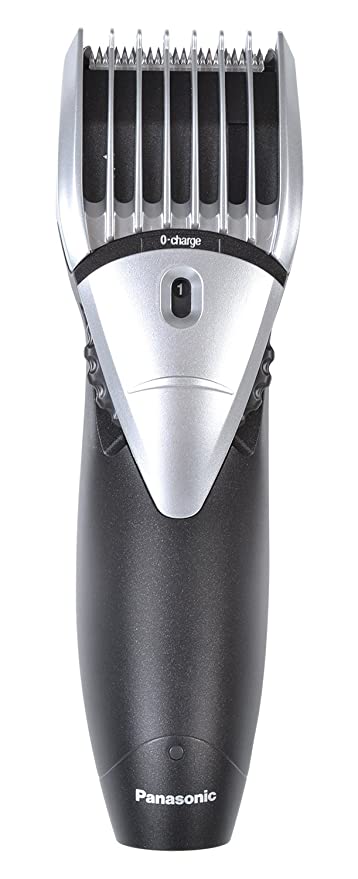 Panasonic's corded/cordless rechargeable trimmer is the ideal choice for those who need an easy-to-use trimmer that can handle a wide variety of styling needs. With its quick-adjust dial, it is easy to customize your trimming length to ensure precisely and even cutting. While its cordless design makes it convenient to use anywhere you want. This multi-purpose trimmer is capable of taking on all sorts of hair types and is known for its high efficient Japanese blade technology.
Pros, Features, and Specifications
Offers 12 grooming settings in a quick-adjust dial to adjust the comb offering a precision of 0.2 to 1.8 cm.
The charge indicator lamp lets you know when the battery is fully charged, so you can use the trimmer uninterrupted.
The blades can be detached and washed easily, which helps to maintain cleanliness and precision.
It has an easy cord and cordless operation with 12 hours of charging time and 40 minutes of cordless usage. This makes it convenient to use anywhere you want.
This trimmer features high-performance cutting blades that are designed to tackle even the most stubborn hair.
The blades are water resistant which means that they can be used in wet or damp conditions without any issue.
The blade guard ensures safe to use by preventing accidental cuts while you're trimming.
Key Highlights
Top-class durable grade stainless steel blades
2-year warranty
Box contains a trimmer, warranty card, etc.
Item Dimensions (LxWxH): 48 x 43 x 159 Millimeters
VEGA Beard Trimmer For Men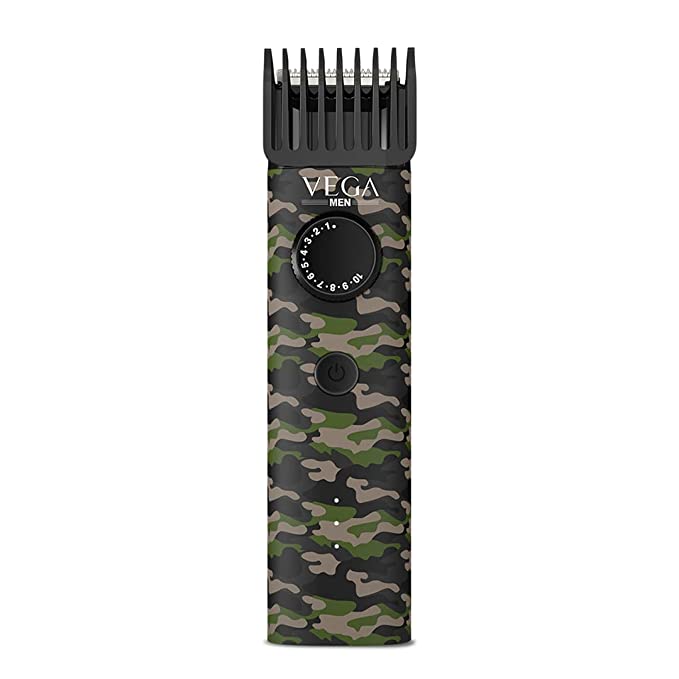 Are you tired of always having to charge your beard trimmer? Well, stop fussing and pick up the VEGA X1 Beard Trimmer! With its quick charge, you'll be able to trim your beard quickly and effortlessly. The 90 minutes run-time ensures that you won't have to wait long for your next trim. And, because it's waterproof, you can take it anywhere – even on the go! Plus, with 40-length settings, you'll be able to perfectly trim your beard no matter how big or small it is. So, are you ready to ditch the frustrating old beard trimmer for good? Get yourself a VEGA today!
Pros, Features, and Specifications
It has skin-friendly, and corrosion-free stainless steel blades, so you don't have to worry about any irritation or skin damage.
You can easily change the length settings from 0.5 mm to 20 mm by simply revolving the wheel.
One of the unique features is its quick charge capabilities. A single 5-minute charge lasts up to 10 minutes or more.
Comes with a 600mAh lithium battery, offering a run time of 90 minutes.
Has a stylish designer print body that makes it unique and easy to identify.
This product has an IPX 7 rating, which means it is resistant to water and dust particles.
Key Highlights
Stainless-steel blades
1-year warranty
Box contains a trimmer, etc
Item Dimensions (LxWxH): 16.7 x 9.2 x 4.5 Centimeters
Havells Cord & Cordless Adjustable Beard Trimmer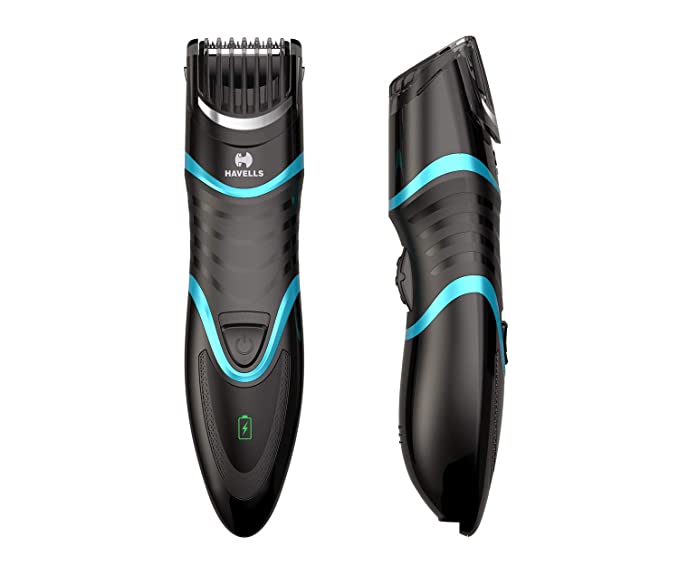 Achieve a sleek, tailored beard with the Havells Cord & Cordless Adjustable Beard Trimmer. This device has a wide blade that makes quick work of your beard, and a fast charge allows you to take on a lot of trimming in one go. The 19 built-in precision lengths make it easy to get the look you want, while the extra-wide blade ensures that even the thickest beards are cut evenly.
Pros, Features, and Specifications
After charging for just 60 minutes, you can use Havells beard trimmer for 50 minutes in one go – thanks to the Li-ion in-built battery.
Can be used cordless and corded – for the times when you forget to charge.
Comes with a detachable head for easy cleaning
Get a zero trim look with 0.5 precision or a long beard that is 10 mm
U-shaped stainless steel blades for a cut-free shaving experience
Also has a battery indicator LED and is ergonomically designed.
Quick charge feature. Charge for a minute and enjoy up to 3 minutes of run time.
Key Highlights
Stainless-steel washable blades
2-year warranty
Box contains a trimmer, power adapter, lubricating oil, length setting comb, cleaning brush, lubricating oil,, instruction manual, etc.
Item Dimensions (LxWxH): 43 x 40 x 178 Millimeters
It all starts with investing small. A few things to understand to decide on the best trimmer: skin type, beard hair growth, face shape, and the styles you want to try. All this might not come to you the moment you begin, but trying out trimmers and seeing what works best for you will surely help. If you are concerned about just using the trimmer, do check the list of best shaving creams for men for a smooth shaving experience. However, if you consider doing this, opt for a trimmer that supports both dry, and moist skin.
How to Choose a Trimmer for Beard
Advancement in trimmers over the last few years, History of Trimmers
Trimmers are far descendants of hair clippers which were made in the 19th century. The first hair clipper was created by Nikola Bizumic while he worked at a barbershop in Ruma, Serbia. These manual clippers had rather big teeth as they were made to cut hair on the head. Though manual hair clippers are still used in some rural parts of the nation, they have been tremendously revolutionary since then.
Leo Wahl came up with the concept of electromagnetic motors for massagers while he was still in college which was then produced on a large scale in a factory and sold to barbers. He later combined this technology with hair clippers and it was not until 1921 that he introduced the world to what we know now as electric clippers.
The electric hair clippers found their way to compact beard trimmers that soon became every man's need and a barber's friend. Since then, trimmers have constantly been updated into much more convenient, efficient, and good-looking instruments. The advancements in trimmers do not seem to be stopping. 1 or 2 setting trimmers evolved into trimmers up to 20-length settings. Many brilliant features have been introduced like vacuum suction for stray hair, water resistance, and even a self-sharpening technique.
Why Use A Beard Trimmer Instead Of a Conventional Razor?
Simply put, to save time, get chic looks and tidy sideburns and avoid cutting the facial skin with a razor. A trimmer is technologically advanced and you don't need to be a clean-shaven lad every time you run it on your beard.
Trimming or grooming a beard with a beard trimmer is easier, less time-consuming, and does not leave cuts. Moreover, the precision is unbeatable and the convenience unmatchable. You can groom yourself within the comfort of your home with ease and messy hair and uneven beard will not be a concern for you anymore.
While trimmers for men have so many advantages, purchasing one is not so easy. It can be a daunting task to buy the best trimmer for yourself and more so if you plan to buy the best trimmer for men as a gift. So to make it easier for you, we have chalked out a few points that must be considered when buying a trimmer for men. We've also curated a list of top grooming tips every man should know for perfect grooming. Do give it a read.
Points To Consider When Buying A Beard Trimmer
If only buying the best trimmer for men was so easy then we wouldn't have you reading this and haven't worked on compiling the list of features that you must look for when planning to invest in one. Don't forget to consider-
Charge time – Trimmers for men need to be changed so that they can be used. Longer charging times could mean you need to plan in advance if you intend to use the trimmer. To escape situations where you keep on waiting, opt for minimum charge times. Best trimmers for men can be charged fully in just one hour.
Runtime – After charging fully, the time that a trimmer can be used is known as its run time. Whilst there may be days when you are groomed in just 15 minutes, there will be days when it will take longer. Opt for trimmers that have a runtime of at least 45-60 minutes so that you don't need to charge between operations.
Precision power – For an accurate trimming experience, opt for trimmers that have locking length settings that have higher precision. The best trimmers for men can have up to 0.5 mm precision.
Blades – Since you invest in a trimmer, you don't want to bother changing the blades again and again. Plus, you want them to be safe. Stainless steel blades are quite common, but those coated with titanium last even more.
To avoid cuts and irritation on the skin, make sure you opt for round-edged, non-scratching combs and rounded tips. Some trimmers for men come with self-sharpening blades, saving you the hassle of changing them again and again.
Usability while charging – While it is understood that a trimmer will have a charge time, some trimmers can be used whilst they are plugged in as well. Especially good for those last-minute decisions of shaving or trimming.
How to know when it's time to change your trimmer?
Trimmers usually come with a warranty of about 1 to 3 years. Although you will find them working well during that time, they can function for much longer if taken proper care of. However, when should you change your trimmer and get a new one from the market? Let's find out.
If it takes longer for you to trim your beard than before, your blades might have gone dull. Sometimes dull blades also cause pulling and tugging of hair that you won't enjoy.
You can still continue to use a trimmer if the LED stops working. But what if the batteries wear out and you have no clue about how it charges and how long it's going to stay? That's when you could upgrade.
You know you need a new trimmer when you are stuck with old blades and new trimmers drop in the market all the time. Latest technology trimmers can save your time and give you a better experience using them.
FAQs
Which is the best beard trimmer for men?
The Philips BT3231/15 Smart Beard Trimmer is the best trimmer for men as it has a variety of features that make it perfect for a variety of needs. It comes with a range of attachments that make it perfect for trimming beards, sideburns, and other areas. The next to consider is Mi's XXQ01HM cordless trimmer.
Are beard trimmers better than shavers?
Beard trimmers are better than shavers for two reasons. They have more flexible blades that are better at cutting close to the skin, and they have a wide range of cutting lengths that are perfect for different beard styles.
Are beard trimmers the same as clippers?
Clippers aren't suited for extremely precise skin trimming on vast surfaces, but they're ideal for bulk hair removal. The opposite is true with a trimmer, which is intended for edge trimming and accuracy.
Which is the best beard trimmer brand in India?
Mi is the best beard trimmer brand in India because of its high quality and durability. Phillips is second because of its wide range of products and uniqueness. While VGR is third because it provides quality trimmers at affordable prices.
Does the use of a trimmer darken skin?
Some people believe that using trimmers to shave their skin darkens it. However, this has not been proven and there is no scientific evidence to support this claim. Additionally, the use of these products can lead to irritation and razor burn, which are not healthy for your skin.
Do trimmers remove hair from the root?
When it comes to hair trimmers, the answer is a little bit complicated. Some trimmers are designed specifically for cutting hair at the root, while others may not be as effective. Ultimately, you should always check the specs of the product before purchasing it in order to make sure that it will work well for your needs.
What are the top beard trimmers under Rs 1500?
MI Cordless Beard Trimmer 1C
Philips BT3203/15 cordless rechargeable beard trimmer
Swiss Military 5 in 1 trimmer
Zebronics ZEB-HT105 corded/cordless trimmer
Nova NG 1151 all-in-one trimmer