Editors' Choice
ASICS Men's Running Shoes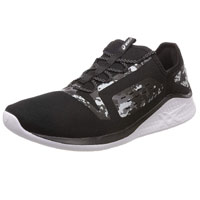 Rs. 1199
Reebok Xtreme Running Shoes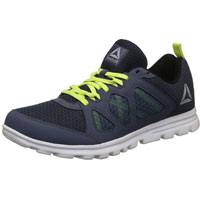 Rs. 2,399
Puma Comet Running Shoes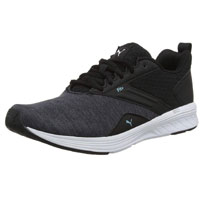 Rs. 2,019
Indians have never been into fitness as they are now – and the most common way to be fit and athletic is running. The first step towards this is choosing the best running shoes! Yes, the best running shoes because they play a significant role when it comes to running. It can be quite a tough task to pick up a perfect pair of running shoes for yourself. The market has millions of options and the men behind the sales counters seem so convincing.
Whether it is fitness, sports, or general well being – if you are running, you need to do it right. That's because everyone's feet are different; everyone's pace is different. There is a style quotient involved when it comes to buying running shoes. Moreover, a pair of good running shoes will prevent injuries such as an ankle getting twisted while on the run. It is essential to do your research and know about the various brands of running shoes. This will help in picking the best pair for yourself, suiting your requirements.
Have a Look at Top 10 and Best Running Shoes for Men in India for 2023
Last update was on: January 30, 2023 12:48 pm
Best Running Shoes for Men
Skechers Men Go Run Strada Running Shoes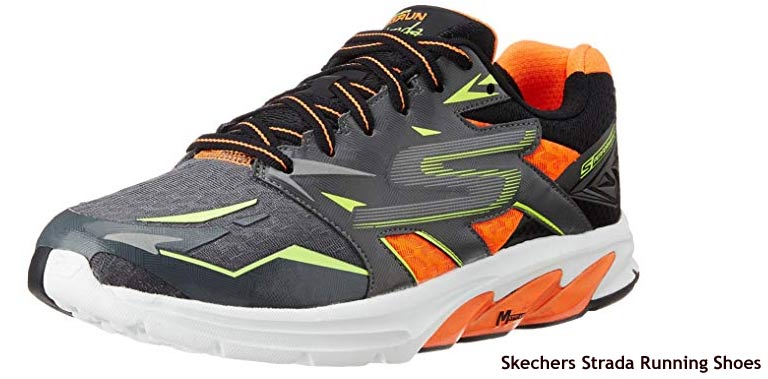 Comfortable, stable, and highly durable are some of the positive features of this shoe. If you are planning to run a marathon and are training at varying speeds daily, then Skechers black go run Strada running shoes are the perfect pick. Dubbed as one of the top running shoes in India, this one has some great reviews and ups the style quotient too. The pair is quite light, though the rubber sole is thick to enable proper shock absorption and keeps you on the ground. The style is excellent, the padded linings offer a great sense of comfort, and the material lets your feet breathe in fresh air.
These shoes boast of a shape-up technology, making you tone your calf muscles. It further helps in improving your posture, tighten the abdominal muscles, and encourages blood circulation. The more you run with these shoes, the more easily will you end up losing weight. They can be bought in-store as well as online. Skechers go run Strada running shoes have been rated quite high on many e-commerce websites too.
Pros
Provides arch support for individuals
Lace-up closure type running shoes
Available in sizes of all age groups
Made of mesh layer and memory foam materials
Suitable for gyms, walking, and running
Cons
Can damage after few months
Puma Faas 500/ 900 Running Shoes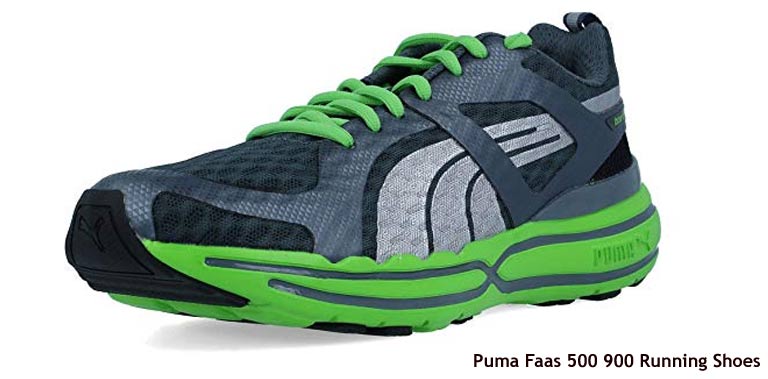 Talking about top running shoes for men in India and you cannot just ignore the sports brand Puma. Whether you opt for Faas 500 or a Faas 900 pair, you are on the right side of the bargain. Smartly designed with mesh on the upper part and a lining that is not leather, these come in brilliant colours like blue, black, and silver. Get the benefit of style and looks with the German brand Puma. The Puma running shoes also claim to provide you a smooth take-off and a secure fir for making your running experience a pleasant and rewarding.
Tough, durable, and excellent cushioning are some key attributes of the Puma Faas series. If you prefer trail running on hardened and rough terrains, then these should be on your buy list. The pairs are flexible and ease any discomfort that usually accompanies when running on rough terrains. These factors make Puma Faas 500/500TR and 900 one of the best sports running shoes for men.
Pros
Combination of mesh, panel, and stitch styles
Lightweight nature
Best for treating bad knee problems
Highly durable running shoes
Available in multiple colors
Cons
Reebok ZQuick 2.0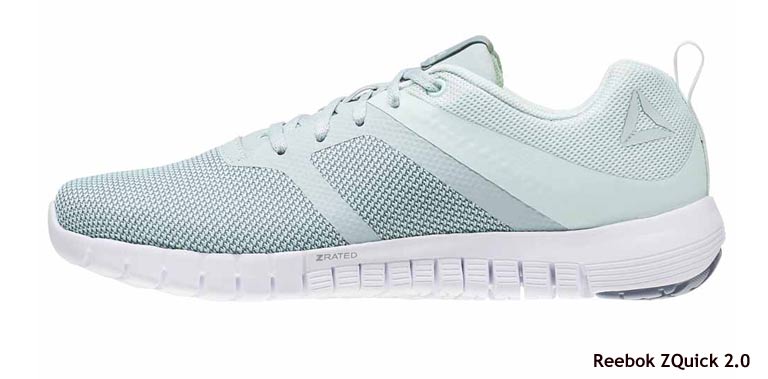 Have you ever wanted to have the speed of car tyres? When then the Reebok ZQuick 2.0 running shoes for men are your pick. The sole of the shoe is inspired by car tyres and rightly so. The bottom does provide an excellent grip on the road, making it suitable for someone who likes to jog or run on high speeds in rough terrains. You may as well want to use them in your gym for strenuous cardio training since these will not make your trip.
Reebok ZQuick 2.0 is ideal for those who run on the country's rugged roads or highland terrains. They are lightweight and help to increase speed as you run. You can get them from Reebok store or if you like to shop online, get them from Amazon.
Pros
Suitable for sports personalities
Closed toe and lace-up style
Easy to wash and maintain
90-days of warranty for manufacturing defects
Cons
Adidas Adizero Adios Boost 2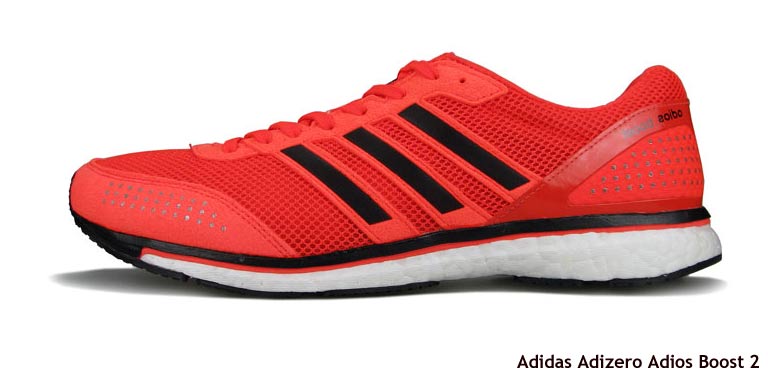 One can rarely go wrong with Adidas, right? Simple colour schemes, rubber material outer sole, breathable mesh material to keep your feet breathing fresh. Lightweight and not stiff, the Adidas Adizero Adios Boost 2 is a perfect fit for men runners who wish to get the most out of their running sessions.
The additional benefit of Adidas Adizero Adios Boost 2 running shoes for men are the full toe style that helps wide footed runners run better without getting blisters. This pair comes with trademarked boost™ technology that provides responsiveness and additional lift with every step. The cushioning may be lacking just a bit but is comfortable enough to keep you walking marathons. Mostly it runs incredibly smooth, and the brand holds its promise of durability.
Pros
Ideal choice for flat feet
Ultra-stylish and ergonomic design shoes
Textured and patterned sole for comfortable walking
Soft cushioned and textile upper material for breathability
Cons
Packing is not upto the mark
Nike Zoom Vomero 9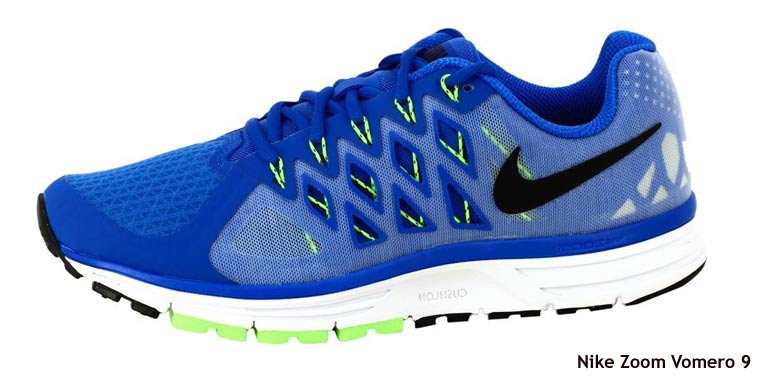 Running is associated with many benefits, and if you are starting to make it regular, we'd say make it count with Nike Zoom Vomero 9. Nike has made its mark as a distinctive brand of running shoes in India, and Nike Zoom Vomero 9 is no exception. It comes with a dynamic fit technology that offers an adaptive and supportive fit allowing it to rest on your foot like a glove. An abrasion-resistant BRS 1000 carbon rubber under the crash pad reduces the impact as you practice and run – making you love running!
If you are someone already into running, grab a pair of Nike Zoom Vomero 9 running shoes for the experience and comfort they offer, making running much easier than ever. The mesh is breathable, you get full-length cushion midsole providing responsive cushioning, and the shoes are more durable than you think. One of the best running shoes for men to start on a wonderful journey of fitness. You might want to check out our page for Nike coupons for best deals.
Pros
Improves posture and tone your muscles
Features anti-skid sole design
Suitable for daily wear and running
Available in multiple color combinations
Best nike running shoes for flat feet
Cons
Not durable
Comes with single-mesh layer
Under Armour Charged lightening Running Shoes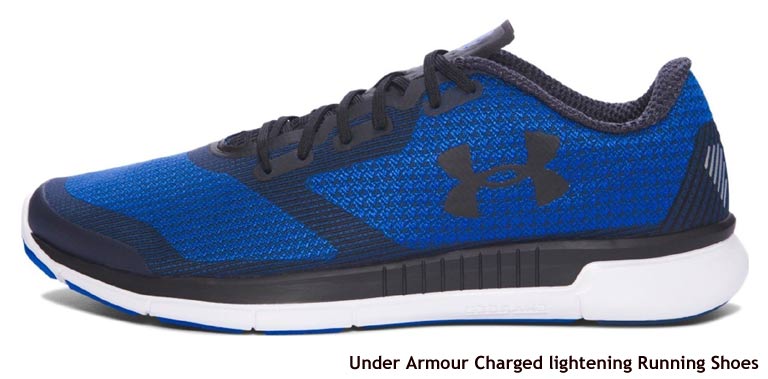 Crafted in a sleek design, the Under Armour Charged lightening Running Shoes for men are quite popular. The shoe can be used for other sports activities besides running as well. The colorways are recognizable, the shoe offers excellent grip and is comfortable even if worn whole of a day. If you have issues with sizes all the time, then you must try this shoe which has been reviewed to be true to size.
The Under Armour Charged lightening running shoes for men have a lower midsole that makes them very comfortable to take off for running anytime. The shoes are lightweight and durable and provide just the right amount of cushioning to the feet. You may feel much more comfortable wearing these running shoes because they come with a sock liner as well. Not very expensive, and not from the top shoe brands, yet Under Armour Charged Lightning shoes are one of the best running shoes that will fit in your budget. If online shopping is not bothersome, do check them out!
Pros
Stylish footwear for men
Made of synthetic material
Thread borne mid-foot panel
Highly responsive and durable
Enhances your mood and motivation
Cons
Poor quality than other brands
Experience blisters at the initial days
Adidas Response Boost 2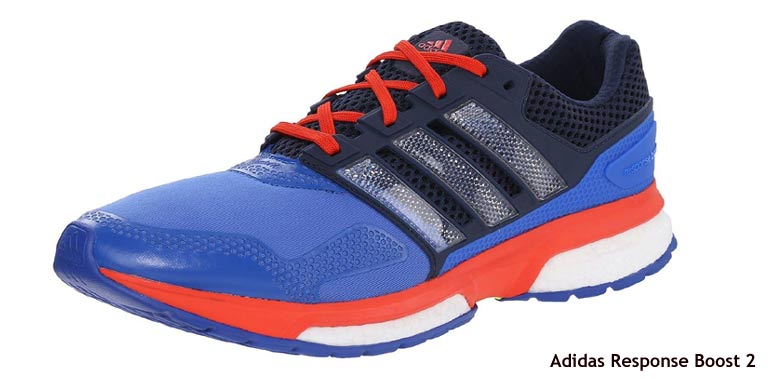 If you are looking for running shoes for various other activities, such as long casual walks, then Adidas Response Boost 2 is your perfect pick. Highly comfortable, very light and flexible and made with excellent material makes it apt for being dubbed as a multipurpose shoe. The soles are smooth, mid-soles are soft, with a responsive boost of energy makes the runners feel great while on the run. Fit for all terrains, the Adidas Response Boost 2 is also quite durable and comes in nice colour combinations.
Sizing may be a bit off for some people, but the upper foot is flexible and adapts better to the runners' feet. It has a lot of mesh, making it quite a breathable shoe. The toe box has enough room, so do check it out carefully when shopping for running shoes for men.
Pros
Protects feet from injuries
Round toe style with lace-up pattern
90-days of manufacturing warranty
Soft cushioning and durable outsole
Breathable upper mesh layer to keep feet cool
Cons
Lack of color options
Bit expensive to buy
Nike Air VaporMax Flyknit Utility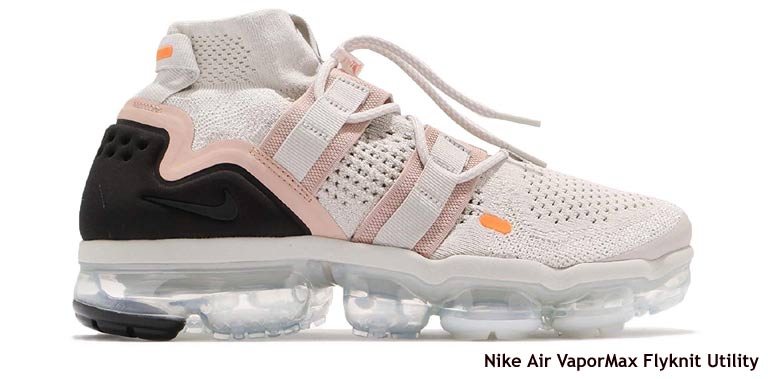 Stylish, comfortable and highly durable, the Nike Air VaporMax Flyknit Utility running shoes for men also boast of sleek design and stylish looks. The shoe has added cushioning – providing you a softer and supportable feel and fit as if you are wearing a glove. The design is such that you can easily and quickly cinch and lock the laces. Max Air cushioning technique supports during impact on the foot while running and your foot stays stable thanks to the supportive overlap on the heels.
However, it is an expensive buy, and some of you may not be completely happy with the tight mid-cut collar. Though the mid-cut collar helps in keeping your foot stable, it may not be ideal for everyone. Nevertheless, the Nike Air VaporMax Flyknit Utility remains one of the best running shoes in India, and despite the cost, they are quite popular.
Pros
Easy to wash and maintain
Made of synthetic material
Best running shoe for athletes
Flat heel-type and lace up closure
Cons
Available in light colors
Puma Mobium Elite v2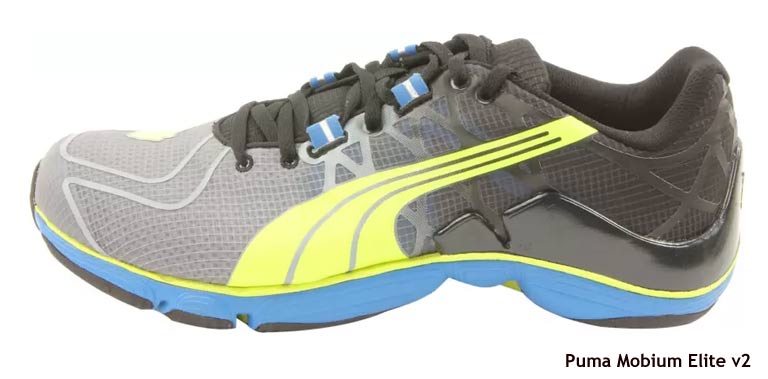 The Puma Mobium Elite v2 is a highly flexible shoe and offers maximum breathability thanks to the mesh material on the upper side of the shoe. The stylish design and the warm colour combinations are some other factors that make Puma Mobium Elite v2 a popular choice for neutral runners. It delivers you an experience of enhanced running performance, and the shoe is made lightweight. You can easily use it for your gym sessions as well as casual walking times.
The size may be an issue with the Puma Mobium Elite v2 running shoe in India, but the comfort is unmatched. EverTrack technology makes it ideal to be worn when running on rough terrains or our Indian roads. This show is not just a fashion statement with the attractive design and colours but also makes for being nice running shoes in India. Do check out some of the top Puma offers on GrabOn before you buy it online.
Pros
Very economical to buy
Best running shoes for marathon
Comes in unique styles and design patterns
Easy to wipe with a dry cloth
Improved athletic performance
Cons
Poor color combinations
Not suitable for overweight people
Adidas Solar Glide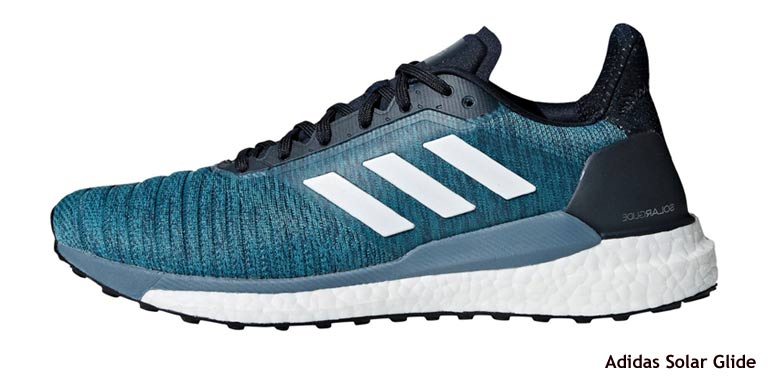 For people with medium foot sizing, the Adidas Solar Glide might just as well be the perfect fit. It is easy on the pocket as well. The underfoot cushioning is responsive and comfortable and does not wear the foot off. You can be assured that speed and performance will be on your side with the Adidas Solar Glide. Thanks to its lightweight manufacturing and racing car grade material that makes up the outsole unit.
Adidias as a brand has understood our terrain quite well, and these shoes are ideal to be used for comfortable running on the roads. The materials used are good quality, the aesthetics are appealing, and the shoe is dependable and durable. You can even shop for it online on many e-commerce websites and may get some discounts too.
Pros
Budget-friendly running shoes
Flexible stretchweb outsole
Best trail shoe for supinators
Upper mesh with forefoot ribbing
Cushioned tongue and responsive midsole
Suitable to wear in wet and dry weather conditions
Cons
Not suitable for people with flat feet
Buying Guide For Running Shoes | How to Choose Running Shoes?
Buying shoes is an investment. It is imperative that you take your time and decide on the shoes that you want to buy. But how do you choose the best shoes? With online sales of shoes increasing like other products, it is possible that the looks mesmerise you so much that you pay little attention to other details. But while selecting the shoes, you must also consider your running needs like how often you run, where you run, your price limit and so on. Shoes that you like could be expensive. Thus you can use offers and coupons to save and not compromise on its quality.
As soon as you start looking for shoes, you will see many options and you might like them all. But take a second and use the following points before buying.
I. Where do you run?
1. Road-running shoes
Those who run on roads and pavements must go for road-running shoes. These shoes have flatter souls and are designed to stabilize your feet in small and medium irregularities.
2. Trail-running shoes
If you run by a walkway of a national park, or any other surface that is muddy, rocky and uneven, buy Trail-running shoes. These are stiffer at the midsoles and are also sometimes fitted with plates near the sole so sharp objects or rocks wouldn't harm your feet.
3. Cross training shoes
These shoes usually have a thin platform that allows more contact of your feet with the ground. The shoes are preferred for physical training and gyn activities.
II. Based on cushioning
1. Barefoot shoes
How soft do you like your feet to feel when wearing shoes? The softness of the soul differs for everyone. For example, athletes and professional runners prefer to go for Barefoot shoes as that has minimum clearance between the ground and the feet (3.5 mm). This also works because the track for professional runners is smooth and there's no danger of any unwanted obstacles or unevenness.
2. Moderate cushioning
Then there are moderate cushioning shoes that runners prefer when they like to feel the ground while they run. This provides a better gait and helps knee muscles while running. Moderate cushioning shoes are plenty. The cushioning in these lie in between maximum cushioning and thinner. The shoes are good for beginners as it gives a feel of the ground while running, and also is not extremely soft.
3. Maximum cushioning
When the cousining is heavy, the shoe becomes very soft. These shoes, with maximum cushioning, are good for expert runners, especially those who run in marathons. These minimise injury and cause less strain on the knees as compared to other shoes.
What is Heel drop?
The difference between the cushioning at the toe and the heel is called heel drop. A bigger drop mens less padding at the bottom and can support the feet well while running. Lower running shoes will create a more midfoot stride and thus lower impact stride as considered by many than a 'heel strike'. Mostly traditional shoes have a heel drop of about 10mm and up. Thus if you are switching to a low drop shoe from a traditional shoe, you might need time to adjust.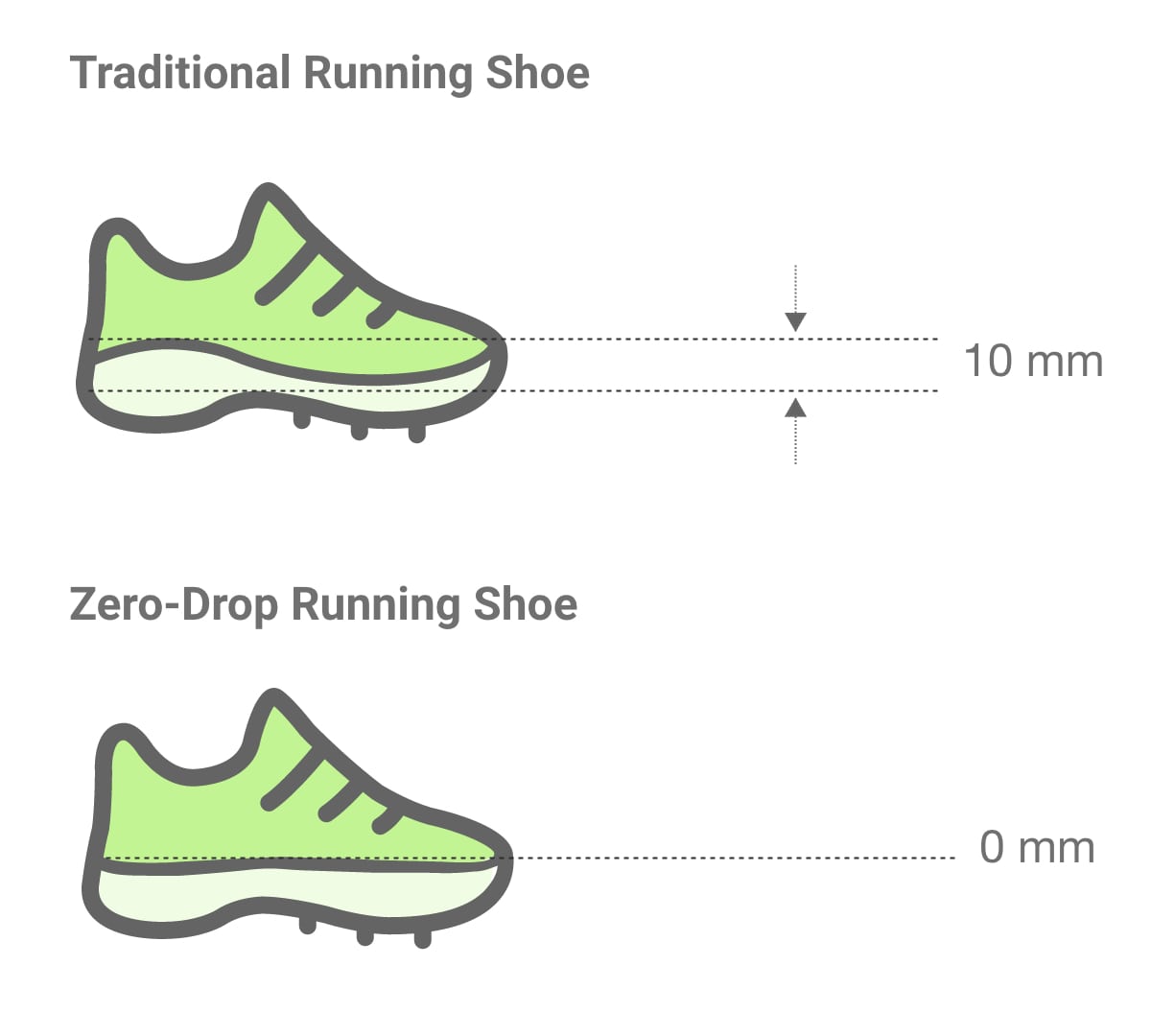 III. Level of support
How your legs rool while you run is another factor to consider while selecting shoes. Depending on if your legs roll inward, outwards, or very much inwards, you can find different shoes to suit your needs. The rolling of your legs while running is called pronation.
Pronation type
Suitable Shoes
Basic pronation

It is when the feel rolls inward in a typical amount. If you want to check your old shoes that are worn with constant running, you will find the wear mostly at the center part of the front side of the soul and at the outer side of your heels.

Neutral shoes

These are best for people with basic pronation and supination. These shoes do not have any special stability features.

Supination is covered later in this table.

Overpronation 

It is when your feet roll in too much while running. Old shoes will wear towards the inside edge of the shoes.

Stability Shoes

If you experience overpronation, Stability shoes are good for you. These shoes have guide rails that support your feet in extreme motion cases. They also have stability features built in.

Motion Control shoes: These are the most rigid of all shoes. They are suitable in severe cases of overpronation. They have a special construction that includes stiffer heels, and arch towards the midsole. They provide extreme support in cases of overpronation. Not everyone will need motion Control shoes though. Moreover these shoes are available in speciality running shoe stores only.

Supination 

It is when your feet tend to roll a huge amount outwards. This creates a wear on the extreme outer edge of the bottom of your old shoes.

Go for Neutral shoes if you suffer from supination.
Feel free to ask the salesman about the type of the shoes. Don't hesitate to use the names mentioned in this article. It is important to try and buy. If you are going online to shop for shoes, you can still avail the try and buy options in shops like Myntra and other stores. Check out the policies beforehand.
Tips to get the right shoes.
Now that you have figured out which shoes are the best for you, there's still some work left. Here are a few tips for ensuring you get the right product.
Your feet swell over the day time and hence are bigger at night. Thus try buying shoes at night to avoid getting smaller shoes.
Measure both your feet before you buy. In some cases, you might have different sized feet.
Try out both the shoes.
Also check your old shoes to identify your pronation type. We've covered pronation up in this article.
Get your both the laces secured tightly. Not as tight as your feet have no space to wiggle. Techniques like runner's loop, window's lacing can help you improve the fit of your shoes by relieving pressure points.
So that was our pick of the best running shoes for men in India from top brands. Look for them in the stores or get them online. Grab-on a pair of running shoes soon and begin your journey to being fit and fabulous!
Running Shoes – Frequently Asked Questions

How long do running shoes last?
A good quality running shoe typically lasts for 4-6months and also depends on the frequency of usage. It can even last for a year when used barely for activities like trips and other occasional events.
What are running shoes made of?
Running shoes are a perfect blend of high-quality fabric materials like Nylon and Polyester, Synthetic, Memory Foam to offer smooth and comfortable options when on the go. The weather resistance and breathability keep the feet away from bad odors.
What are the best running shoe brands?
Here is the list of best running shoe brands designed for kids, teenagers, adults, and elders to perform the activities like walking, jogging, gym, and sports games. Check it out!
Puma
Adidas
Nike
Reebok
Woodland
Are running shoes waterproof in nature?
Yes, running shoes have the flexibility to resist moisture and small quantities of water to some extent. But it cannot prevent water from entering into the shoe due to the presence of a single-mesh layer and low-cut design.