Indians have never been into fitness as they are now and the most common way to be fit and athletic is running. The first step towards this is choosing the best running shoes! Yes, the best running shoes because they play a significant role when it comes to running. It can be quite a tough task to pick up a perfect pair of running shoes for yourself. The market has millions of options and the men behind the sales counters seem so convincing.
Whether it is fitness, sports, or general well being if you are running, you need to do it right. That's because everyone's feet are different; everyone's pace is different. There is a style quotient involved when it comes to buying running shoes. Moreover, a pair of good running shoes will prevent injuries such as an ankle getting twisted while on the run. It is essential to do your research and know about the various best shoe brands. This will help in picking the best pair for yourself, suiting your requirements.
Top 10 Running Shoes In India
Discover the ultimate selection of top running shoes in India, featuring cutting-edge technology for exceptional comfort and performance. Experience unparalleled support and superior traction with our expertly curated list of esteemed brands and the latest innovations.
Top 10 and Best Running Shoes for Men in India for 2023
Skechers Men's Go Run Elevate-Accelerate Shoes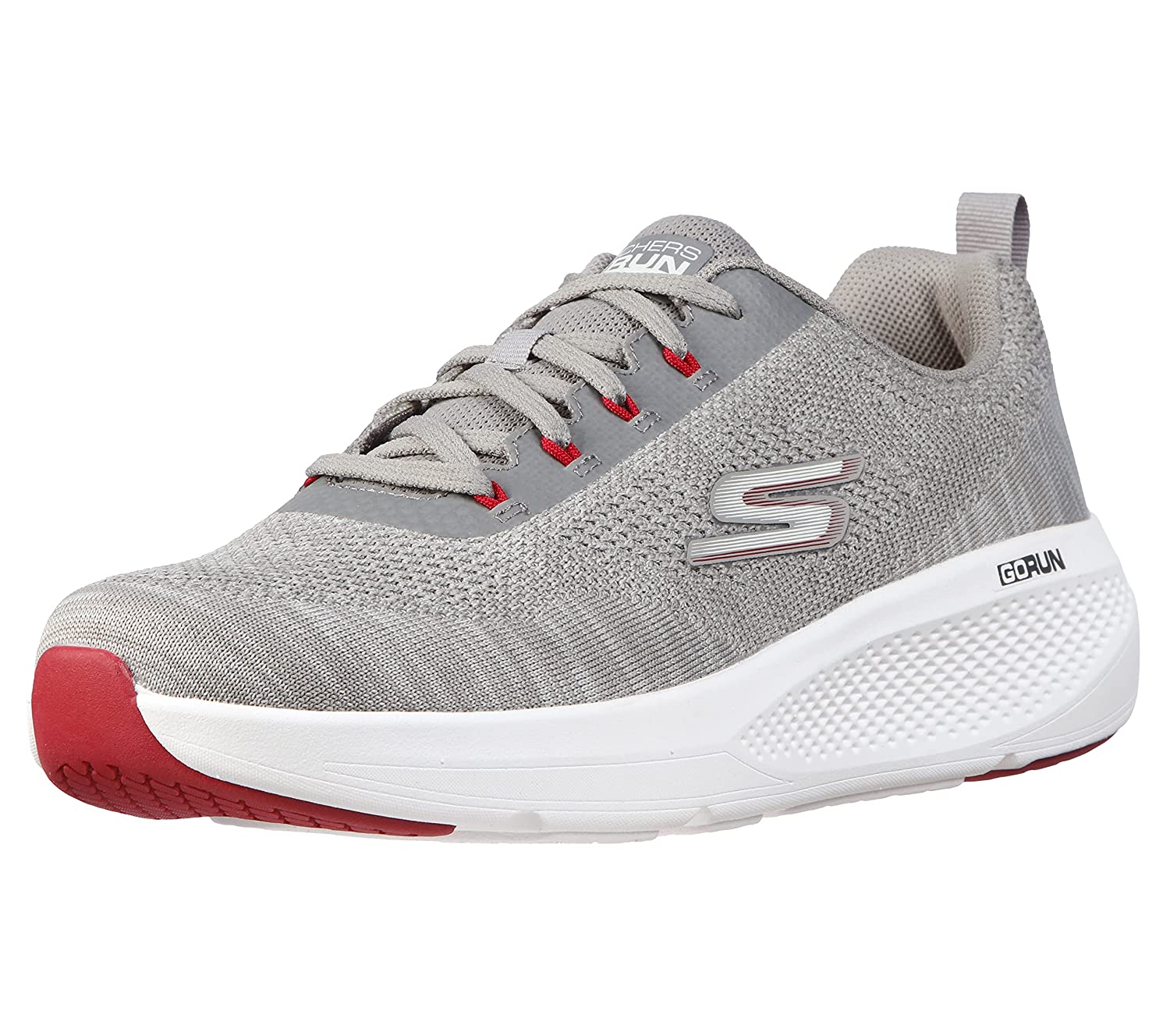 Sprint, jog, or simply stroll in style with these cutting-edge shoes, the Go Run Elevate-Accelerate from Skechers that are designed to elevate your performance and accelerate your pace.
Experience the perfect fusion of comfort and stability in a pair of trainers that will have you conquering every terrain with ease. Tailor-made for those who are gearing up for a marathon or seeking a reliable partner for their daily exercise regimen, these shoes cater to diverse fitness enthusiasts who want to make their mark with each step they take.
Discover a robust and supportive shoe that embraces today's innovative technology in footwear. Finely crafted, these shoes feature exceptional cushioning that rivals other popular brands, coupled with a flexible and breathable mesh upper that keeps your feet cool by allowing for proper ventilation. With their overall lightweight build, they become the ultimate companion for all your workout and training sessions.
Highlights:
Expertly crafted for an optimal combination of comfort and stability
Exceptional cushioning and a breathable mesh upper for superior performance
Lightweight build for versatility in various training and workout sessions
Puma Mens Trackracer IDP Closed Shoe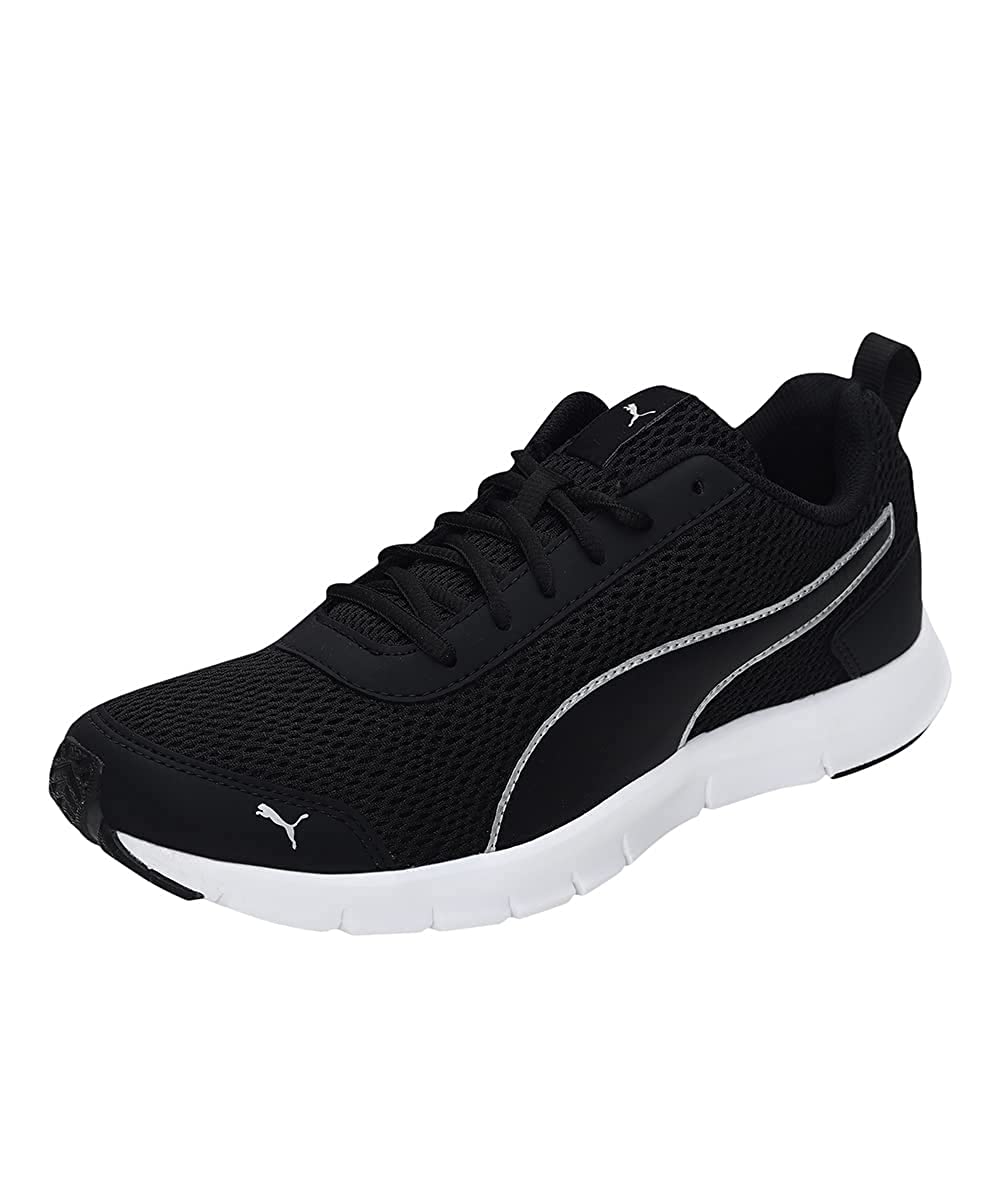 The Trackracer shoes from Purma are meticulously crafted with a blend of synthetic leather upper material and a durable rubber sole for robust support and long-lasting wear. The sleek look and incredible features make these sneakers an ideal choice for fitness enthusiasts and fashion-forward individuals alike. Say goodbye to uncomfortable and clunky footwear and elevate your style with these head-turning Puma shoes!
The rapid runner IDP technology used in these shoes ensures a perfect fit while the lace-up closure provides extra security and support during extensive physical activities, be it running or merely walking. The shoe width is medium, making it suitable for a wide range of foot sizes and profiles.
The name speaks for itselfit's built for those who push themselves to the limits and desire a versatile shoe that looks fantastic in every situation. You'll experience unbelievable comfort and tremendous functionality with Puma's Trackracer shoe, for it's truly the epitome of style and performance.
Highlights:
Designed with high-performance synthetic leather for superior support and durability
Rubber sole provides excellent traction and stability to keep you grounded and in control
Lace-up closure ensures a secure, customizable fit for optimal performance and comfor
Reebok Runner LP Running Shoes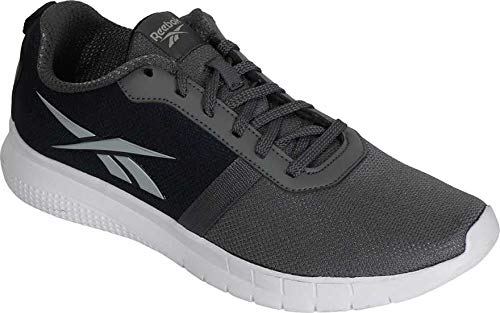 Experience the perfect blend of style, functionality, and comfort with the Reebok Runner LP running shoes. These high-performance sneakers boast a sleek design and powerful features to help you elevate your running game to new heights. Strap yourself into a pair and watch as others marvel at your speed, endurance, and fashionable choice in athletic footwear.
Constructed with a durable rubber sole, the Reebok Runner LP ensures reliable grip, stability, and traction on various surfaces. The shoes' flexibility and support come from the synthetic upper, which molds to your feet like a second skin. A comfortable fit is guaranteed with the lace-up closure, while the medium shoe width caters to an array of foot shapes, giving you the perfect fit and utmost ease as you conquer mile after mile. These running shoes are a must-have addition to any athlete's arsenal.
Highlights:
Exceptional grip and stability with a durable rubber sole
Enhanced flexibility and support from the synthetic upper
Personalized and secure fit with the lace-up closure
Adidas Throb M Running Shoe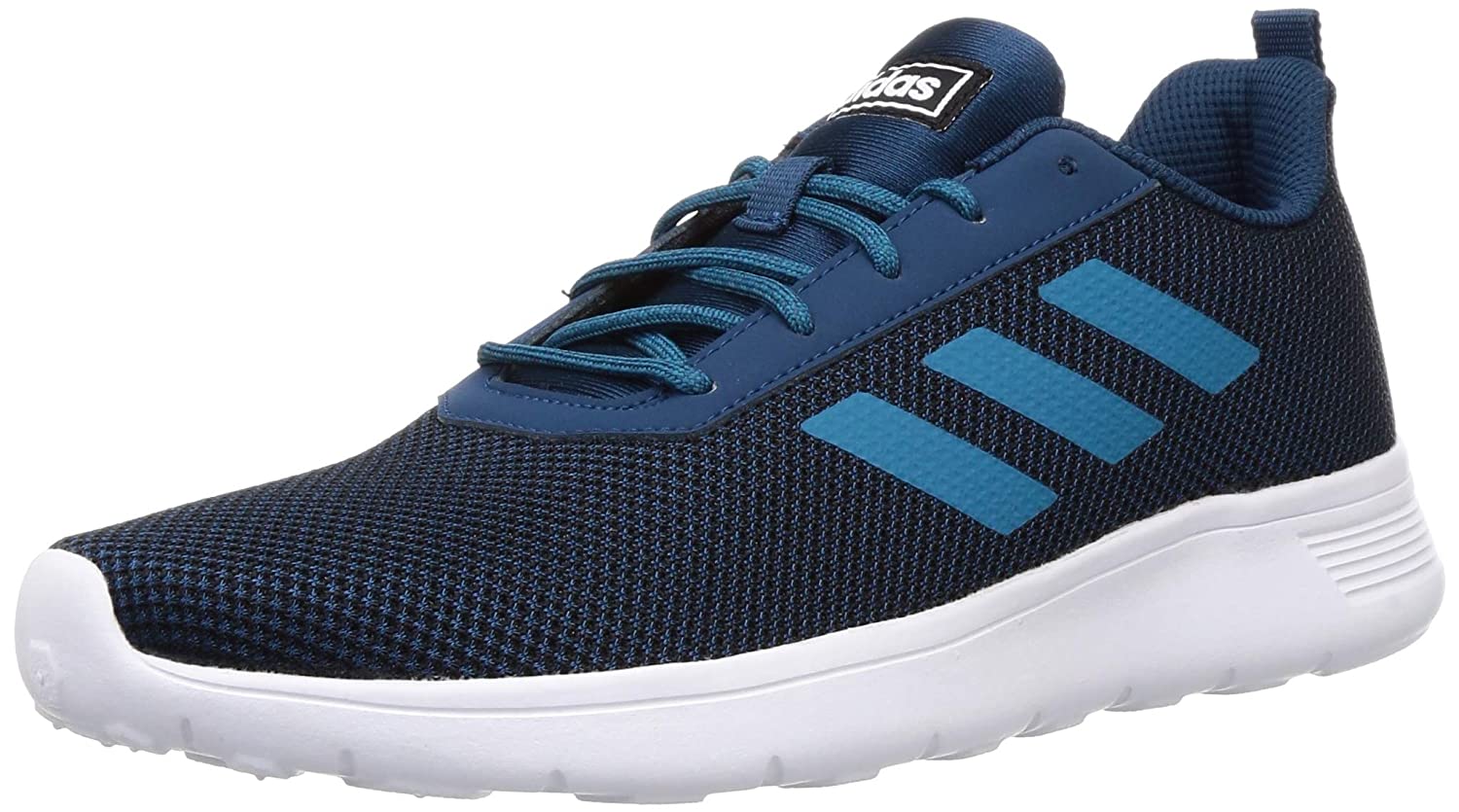 The Throb M running shoe from Adidas is an exceptional lace-up shoe expertly designed for those who crave style, comfort, and high performance when hitting the pavement. Elevate your fitness experience in the Throb M, as its cutting-edge synthetic material expertly molds to the precise contours of your feet for maximum support. Built to last, this stunning masterpiece ensures durability and quality from the first wear.
A perfect balance of aesthetics and function, the round-toe design adds a touch of sophistication to your workout wardrobe while offering optimal flexibility for enhanced responsiveness during vigorous runs. These shoes are expertly designed for individuals who desire a fit of a medium shoe width, promising unfaltering comfort to accommodate a wide range of foot shapes.
Highlights:
Unparalleled comfort with Adidas' signature synthetic outer material
Ideal medium shoe width to accommodate various foot shapes
Round-toe style for ultimate flexibility and refined aesthetics
Nike Revolution 6 Nn Running Shoe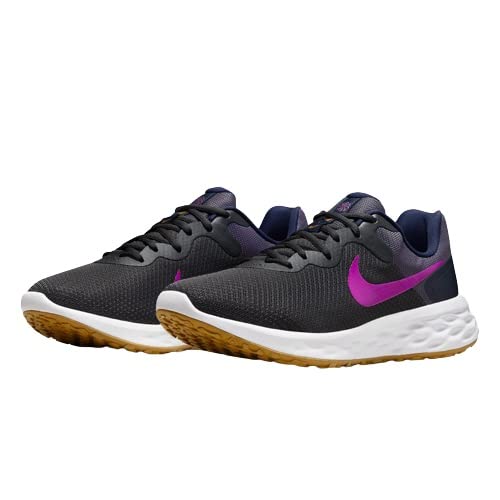 Designed for athletes and casual wearers alike, this versatile shoe from Nike features a sleek leather sole and lace-up closure, ensuring a snug and secure fit for all-day comfort. Engineered for optimal breathability, the shoe's leather lining keeps your feet fresh and free from discomfort, allowing you to focus solely on your performance. So get ready to level up your style game and experience a revolution in footwear designed to match and enhance your active lifestyle.
Crafted to perfection, the Revolution 6 Nn Running Shoe boasts a formidable combination of function and style. The medium shoe width guarantees a comfortable fit while also streamlining the shoe's overall silhouette, achieving the perfect balance between performance and aesthetics. Furthermore, the lace-up closure system allows for easy adjustment, providing a custom fit tailored to your unique foot shape. Run, walk, or simply lounge around with confidence, knowing that the Revolution 6 Nn Running Shoe will keep you comfortably supported and effortlessly chic.
Highlights:
Superior breathability due to its leather lining
Streamlined design with a medium shoe width for optimal comfort and style
Customizable fit via the lace-up closure system
Under Armour Assert 9 Marble Running Shoe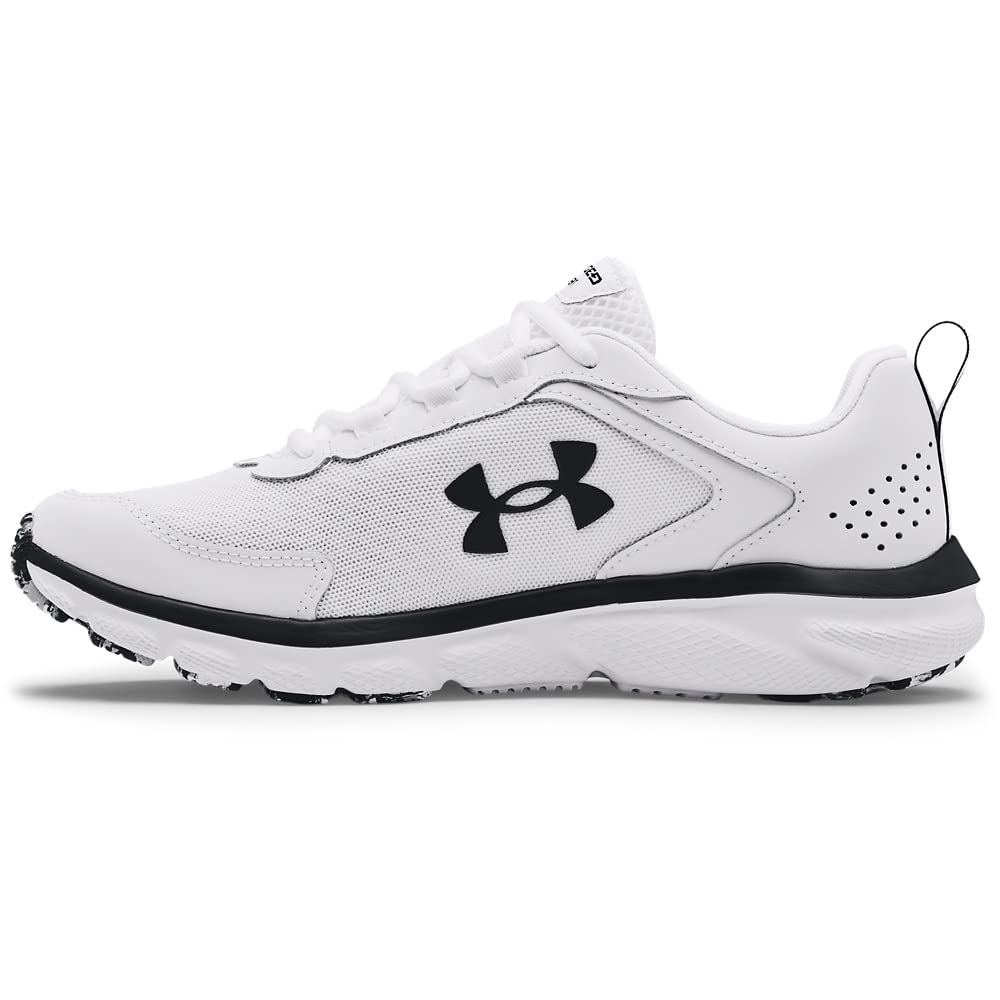 A product birthed from the relentless pursuit of innovation, this shoe is designed to elevate your running experience to new heights. The Assert 9 Marble Running Shoe is a testament to Under Armour's commitment to producing premium footwear that not only meets the demands of elite athletes but fitness enthusiasts alike.
Boasting a rubber sole for optimal grip and stability, a lace-up closure for a secure and customizable fit, and a medium shoe width that affords ample room for all foot types, the Assert 9 Marble Running Shoe delivers exceptional performance without sacrificing style.
Designed with versatility in mind, the shoe is well-equipped to handle varied terrains and weather conditions, allowing you to push your limits whether you're challenging yourself to a personal best or tackling longer distances.
Highlights:
Cutting-edge design that caters to men, women, and youth athletes
Unbeatable support and flexibility for enhanced performance and comfort
Outfitted with a premium rubber sole, these shoes provide outstanding traction, grip, and longevity while navigating a variety of surfaces.
Sparx Running Shoes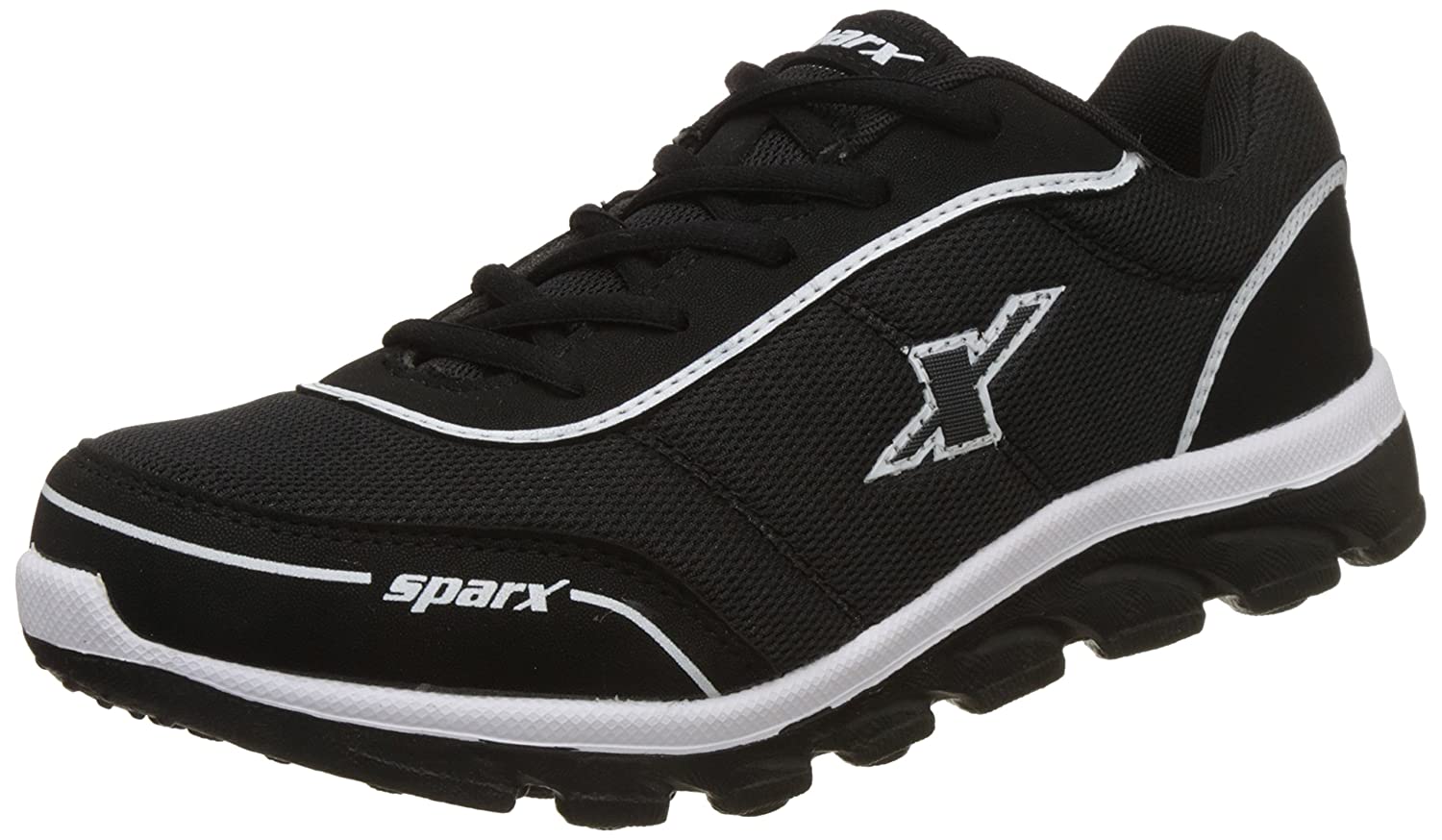 This running shoe from Sparx is meticulously crafted using high-quality mesh material, ensuring optimum breathability and a lightweight experience. Designed for the fast-paced urban lifestyle, these running shoes seamlessly complement your casual look while offering superior functionality. The manmade sole promises an unwavering grip on any surface, making your runs more secure and enjoyable.
Whether you are hitting the gym or running trails, these shoes provide the perfect support with their Lace-up closure system and medium shoe width. The flats heel type guarantees a comfortable experience, reducing the risk of strain on the feet or legs.The elegant design, combined with the crowd-pleasing Sparx brand, will make these your go-to pair. Experience the seamless fusion of fashion and performance in Sparx Men's Running Shoes.
Highlights:
High-quality mesh material for optimum breathability and lightweight comfort
Manmade sole for superior grip and durability
Lace-up closure system and medium shoe width for a secure and comfortable fit
Nivia Marathon Running Shoe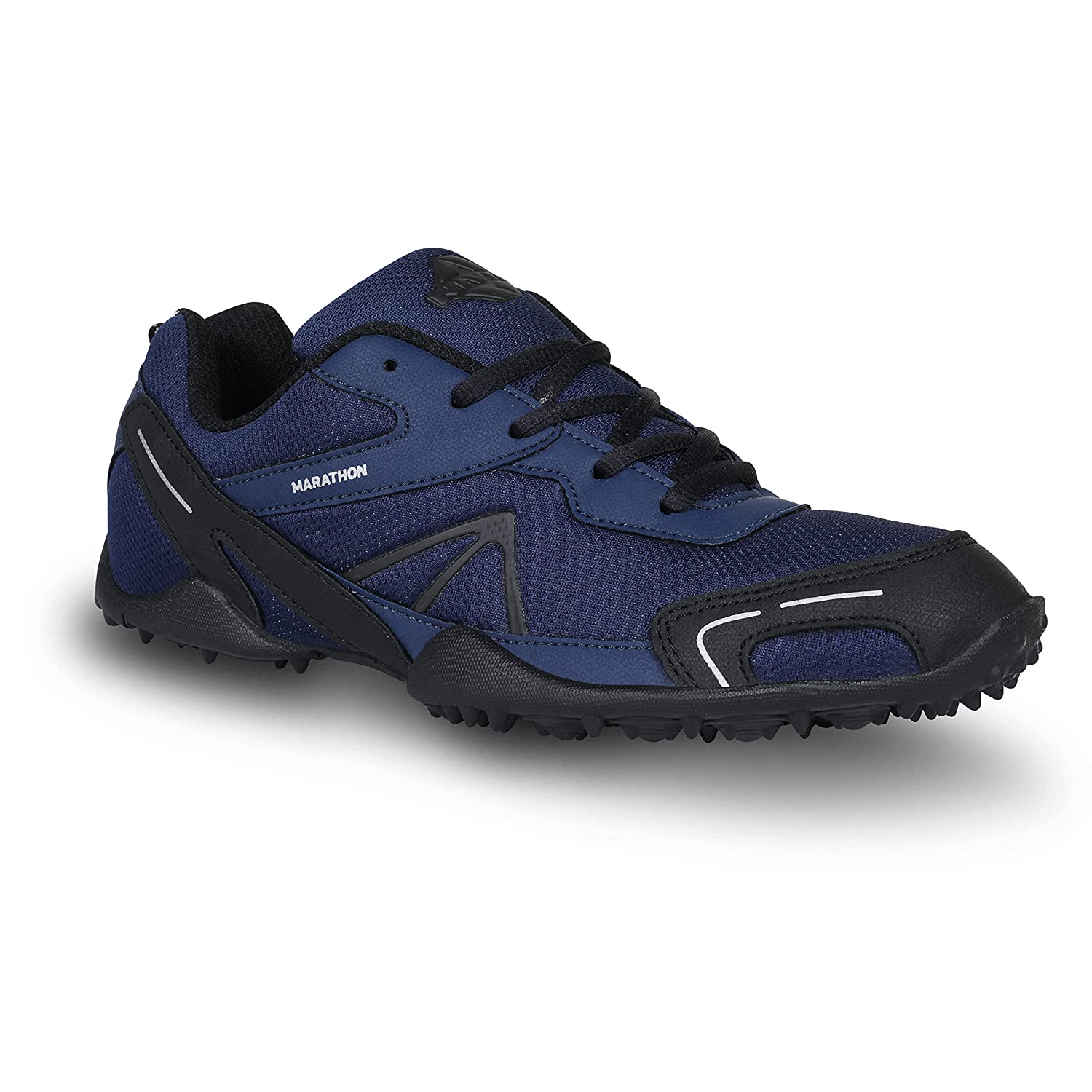 These shoes are meticulously designed to cater to your feet's needs, ensuring ample support for your long runs or casual strolls. With its aesthetically pleasing design, the Nivia Marathon Running Shoe is an excellent investment to elevate your running experience and revamp your athletic wardrobe simultaneously.
Crafted with a breathable mesh material, the Nivia Marathon Running Shoe keeps your feet fresh and reduces the chance of blisters, allowing you to train harder and longer. The shoe's lace-up closure guarantees that it fits snugly around your feet, providing maximum support when you are on the move. With a flat heel type, the shoe is geared towards reducing the risk of injury, making it an ideal choice for those prioritizing safety and comfort during their runs.
Highlights:
Breathable mesh material for improved air circulation and ultimate comfort.
Lace-up closure ensures a secure and snug fit.
Flat heel type for added stability and reduced injury risk.
Lotto Vertigo Running Shoes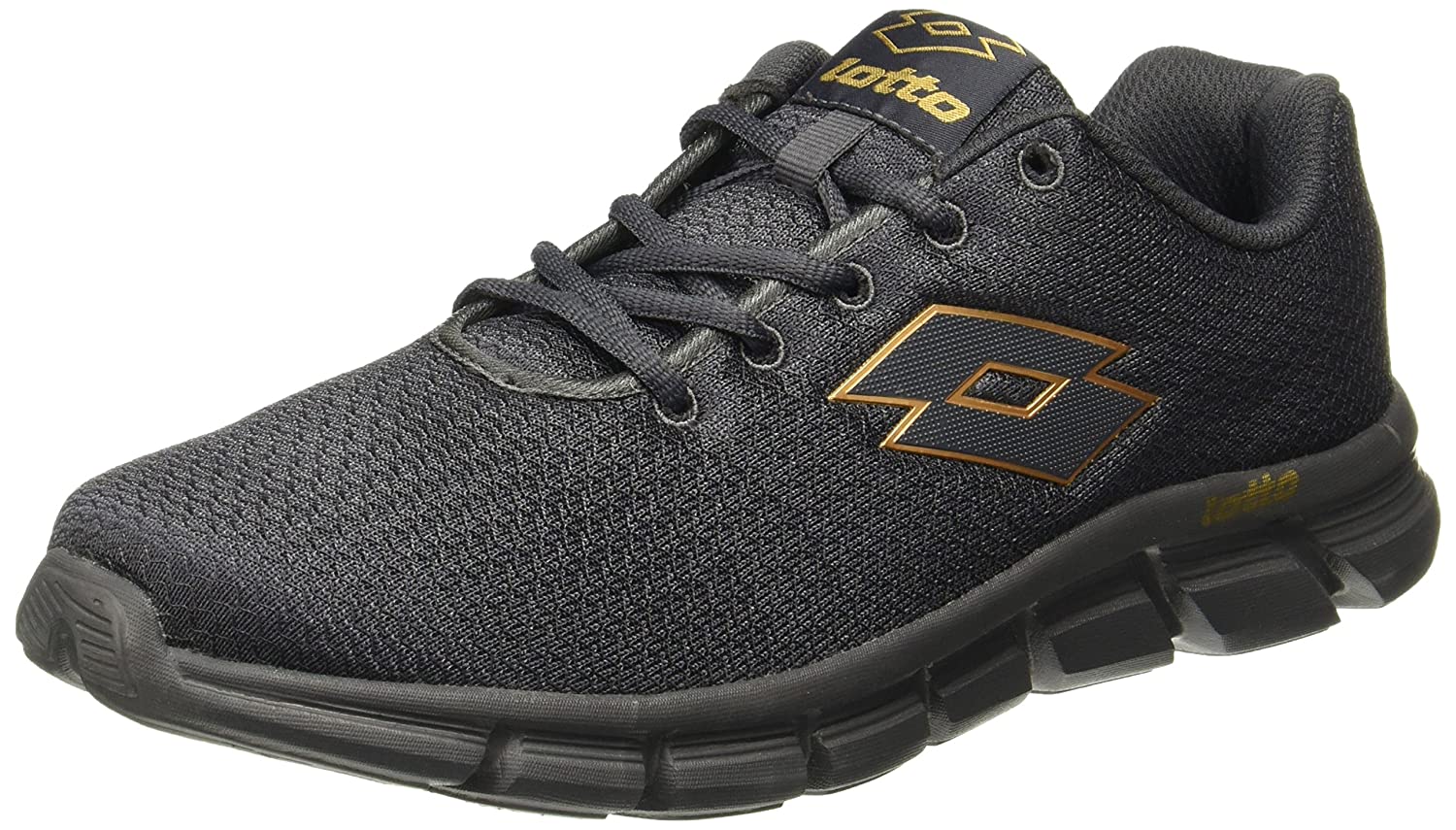 The Vertigo running shoes from Lotto are suitable for an active lifestyle, ensuring you can conquer every challenge, be it on the tracks or in the gym. Their unique design combines unparalleled functionality and aesthetics, making them the ideal companion for any sports enthusiast who desires both top-quality performance and a stylish appearance.
The Lotto Vertigo Running Shoes feature a highly durable Mesh material that provides excellent breathability and comfort, ensuring your feet remain cool during intense physical activities.
Sporting an innovative lace-up closure, these shoes ensure a secure and customized fit, as well as quick and easy adjustments. The medium-width, regular fit design makes them suitable for wearers with different feet shapes and sizes, catering to a wide range of preferences.
Highlights:
Ultra-durable Mesh material for enhanced breathability and comfort
Secure lace-up closure for customizable fit and on-the-go adjustments
Perfect for a wide range of feet shapes and sizes, thanks to the medium shoe width and regular fit design
Campus Syrus Running Shoes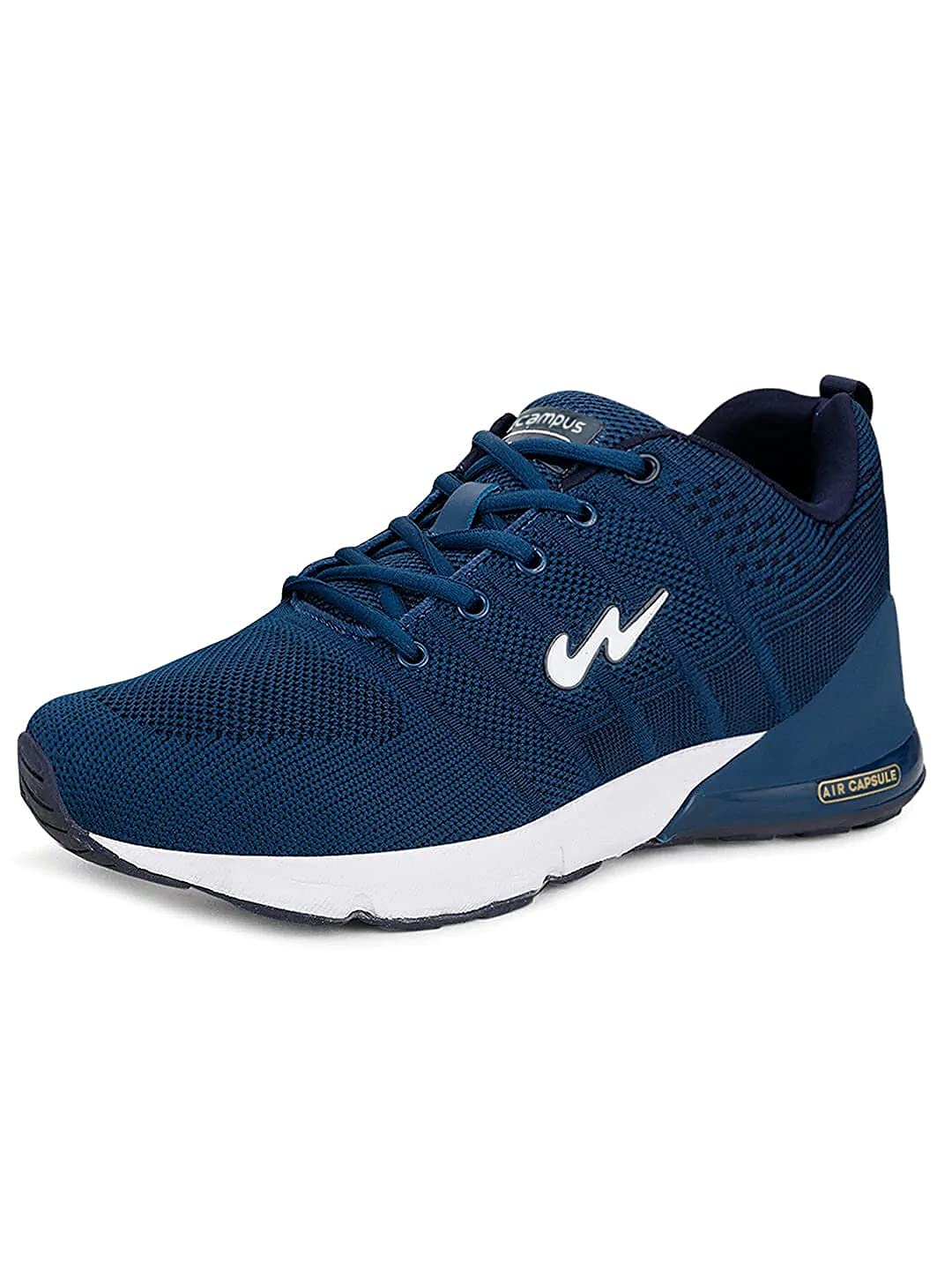 This shoe from Campus is meticulously crafted to provide the ultimate running experience without compromising on aesthetics. Their sleek design and high-quality materials make them an ideal choice for athletes who want the perfect balance between functionality and fashion.
The Campus Syrus Running Shoes feature a robust rubber sole that offers excellent traction and grip on various terrains, ensuring that you can trustingly venture out on your favorite running routes.
The shoes' lace-up closure guarantees a secure and comfortable fit, while the medium shoe width caters to different foot types, accommodating varying individual preferences. Furthermore, the mesh material used in constructing these shoes ensures breathability, an essential element for maintaining blister-free and odor-free feet any time of the year.
Highlights:
Lightweight and stylish design for unbeatable comfort and aesthetic appeal
Superior rubber sole for reliable grip across different surfaces
Enhanced breathability with mesh material to keep your feet cool and dry
Buying Guide For Running Shoes | How to Choose Running Shoes?
Buying shoes is an investment. It is imperative that you take your time and decide on the shoes that you want to buy. But how do you choose the best shoes? With online sales of shoes increasing like other products, it is possible that the looks mesmerise you so much that you pay little attention to other details. But while selecting the shoes, you must also consider your running needs like how often you run, where you run, your price limit and so on. Shoes that you like could be expensive. Thus you can use offers and coupons to save and not compromise on its quality.
As soon as you start looking for shoes, you will see many options and you might like them all. But take a second and use the following points before buying.
Where do you run?
Road-running shoes
Those who run on roads and pavements must go for road-running shoes. These shoes have flatter souls and are designed to stabilize your feet in small and medium irregularities.
Trail-running shoes
If you run by a walkway of a national park, or any other surface that is muddy, rocky and uneven, buy Trail-running shoes. These are stiffer at the midsoles and are also sometimes fitted with plates near the sole so sharp objects or rocks wouldn't harm your feet.
Cross training shoes
These shoes usually have a thin platform that allows more contact of your feet with the ground. The shoes are preferred for physical training and gym activities.
Based on cushioning
Barefoot shoes
How soft do you like your feet to feel when wearing shoes? The softness of the soul differs for everyone. For example, athletes and professional runners prefer to go for Barefoot shoes as that has minimum clearance between the ground and the feet (3.5 mm). This also works because the track for professional runners is smooth and there's no danger of any unwanted obstacles or unevenness.
Moderate cushioning
Then there are moderate cushioning shoes that runners prefer when they like to feel the ground while they run. This provides a better gait and helps knee muscles while running. Moderate cushioning shoes are plenty. The cushioning in these lie in between maximum cushioning and thinner. The shoes are good for beginners as it gives a feel of the ground while running, and also is not extremely soft.
Maximum cushioning
When the cousining is heavy, the shoe becomes very soft. These shoes, with maximum cushioning, are good for expert runners, especially those who run in marathons. These minimise injury and cause less strain on the knees as compared to other shoes.
What is Heel drop?
The difference between the cushioning at the toe and the heel is called heel drop. A bigger drop mens less padding at the bottom and can support the feet well while running. Lower running shoes will create a more midfoot stride and thus lower impact stride as considered by many than a 'heel strike'. Mostly traditional shoes have a heel drop of about 10mm and up. Thus if you are switching to a low drop shoe from a traditional shoe, you might need time to adjust.
III. Level of support
How your legs rool while you run is another factor to consider while selecting shoes. Depending on if your legs roll inward, outwards, or very much inwards, you can find different shoes to suit your needs. The rolling of your legs while running is called pronation.
Pronation type
Suitable Shoes
Basic pronation

It is when the feel rolls inward in a typical amount. If you want to check your old shoes that are worn with constant running, you will find the wear mostly at the center part of the front side of the soul and at the outer side of your heels.

Neutral shoes

These are best for people with basic pronation and supination. These shoes do not have any special stability features.

Supination is covered later in this table.

Overpronation

It is when your feet roll in too much while running. Old shoes will wear towards the inside edge of the shoes.

Stability Shoes

If you experience overpronation, Stability shoes are good for you. These shoes have guide rails that support your feet in extreme motion cases. They also have stability features built in.

Motion Control shoes: These are the most rigid of all shoes. They are suitable in severe cases of overpronation. They have a special construction that includes stiffer heels, and arch towards the midsole. They provide extreme support in cases of overpronation. Not everyone will need motion Control shoes though. Moreover these shoes are available in speciality running shoe stores only.

Supination

It is when your feet tend to roll a huge amount outwards. This creates a wear on the extreme outer edge of the bottom of your old shoes.

Go for Neutral shoes if you suffer from supination.
Feel free to ask the salesman about the variety of the shoes. Don't hesitate to use the names mentioned in this article. It is important to try and buy. If you are going online to shop for shoes, you can still avail the try and buy options in shops like Myntra and other stores. Check out the policies beforehand.
Tips to get the right shoes.
Now that you have figured out which shoes are the best for you, there's still some work left. Here are a few tips for ensuring you get the right product.
Your feet swell over the day time and hence are bigger at night. Thus try buying shoes at night to avoid getting smaller shoes.
Measure both your feet before you buy. In some cases, you might have different sized feet.
Try out both the shoes.
Also check your old shoes to identify your pronation type. We've covered pronation up in this article.
Get your both the laces secured tightly. Not as tight as your feet have no space to wiggle. Techniques like runner's loop, window's lacing can help you improve the fit of your shoes by relieving pressure points.
So that was our pick of the best running shoes for men in India from top brands. Look for them in the stores or get them online. Grab-on a pair of running shoes soon and begin your journey to being fit and fabulous!
Running Shoes Frequently Asked Questions
How long do running shoes last?
A good quality running shoe typically lasts for 4-6months and also depends on the frequency of usage. It can even last for a year when used barely for activities like trips and other occasional events.
What are running shoes made of?
Running shoes are a perfect blend of high-quality fabric materials like Nylon and Polyester, Synthetic, Memory Foam to offer smooth and comfortable options when on the go. The weather resistance and breathability keep the feet away from bad odors.
What are the best running shoe brands?
Here is the list of best running shoe brands designed for kids, teenagers, adults, and elders to perform the activities like walking, jogging, gym, and sports games. Check it out!
Puma
Adidas
Nike
Reebok
Woodland
Are running shoes waterproof in nature?
Yes, running shoes have the flexibility to resist moisture and small quantities of water to some extent. But it cannot prevent water from entering into the shoe due to the presence of a single-mesh layer and low-cut design.