Having a good blood pressure monitor at home is a need for many of us now. Given the stressful lifestyle we lead, blood pressure is becoming a common ailment – one in every eight Indians is a patient of hypertension, claims a recent report (1). The figures are alarming, and fluctuations in blood flow need to be tracked minutely by hypertensive patients. Therefore this list of best blood pressure monitors in India will help you immensely to decide and purchase one for your home and avoid visiting the hospital every day.
Last update was on: November 29, 2022 12:00 am
Best Blood Pressure Monitors
Best Blood Pressure Monitors
To help you purchase the best blood pressure monitor for your home use, we have prepared a list of top 10 BP monitors that you can choose.
Omron HEM-7120 Automatic Blood Pressure Monitor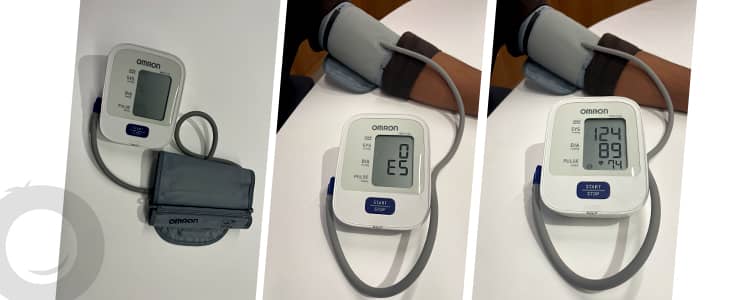 Omron HEM-7120 Automatic Blood Pressure Monitor is one of India's most widely used BP monitors at home.
It has a good display and can show systolic, diastolic, and pulse rates in one go using the IntelliSense technology that applies the right amount of pressure.
It is especially preferred by the elderly because it has just one button to start and stop and one can easily take the reading.
Though it is one of the best-selling BP monitors, it can only store the last reading.
Error when detects a movement in the body, hence prevents from displaying wrong results.
It can measure the pressure ranging from 20 to 280mmHg and pulse from 40 to 180 beats/min.
The 4 alkaline batteries with each 1.5V have the capacity up to 1000 measurements.
What We Like?
Warranty: 5 Years
Cuff Size: 22*32 Cms
Easy to use and operate
Value for money
Smart app connectivity
Our Editorial Team Review
Our team has been using the Omron HEM-7120 blood pressure monitor for the past 6 months and it has become our favorite device too. This BP machine has a lot of features that make it easy to assemble and use. When tested on multiple users, the results were accurate when compared with other similar products from different brands, which makes us feel confident that the health condition is under control.
Also Read: Best Glucometers In India
AccuSure BP Monitoring System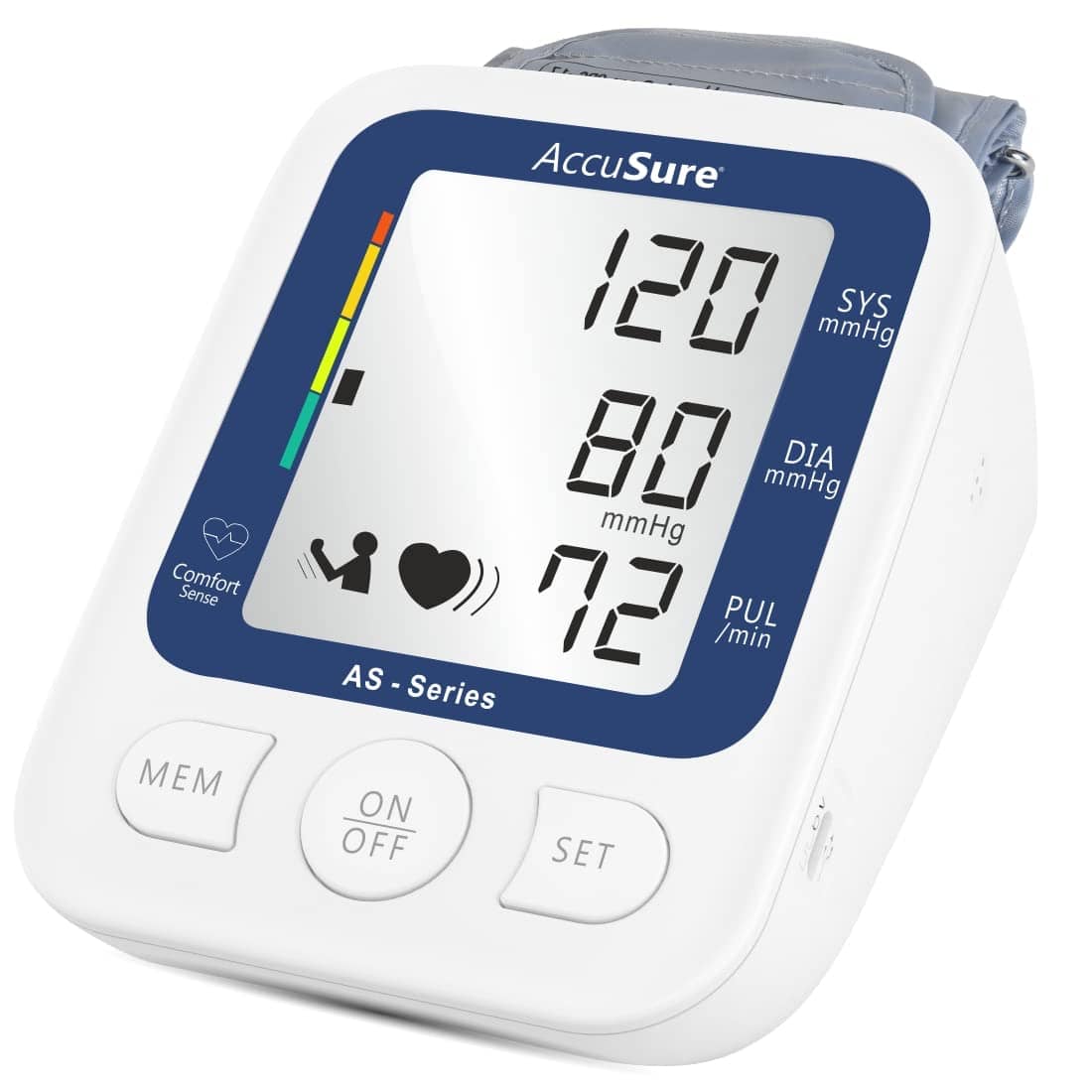 This AccuSure BP machine comes with a large LCD display to view the readings properly.
It displays the error codes when the machine detects an irregular heartbeat and pulse readings.
It is equipped with the strain gauge sensor system to measure the blood pressure effectively.
This machine can store the last 60-readings within the memory.
What We Like?
Warranty: 1 Year
Cuff Size: 22*32 Cms
One-touch design
Easy-to-read display unit
Ideal for adults, elders, and pregnant women
Our Editorial Team Review
This AccuSure advanced BP machine comes with a high precision strain gauge sensor system to track the data without errors. It also detects irregular heartbeats and pressure too. However it is not suitable to track data for multiple users within the family. We suggest you use the health coupons and promo codes to buy this machine at a cheaper price.
HealthSense Digital BP Monitor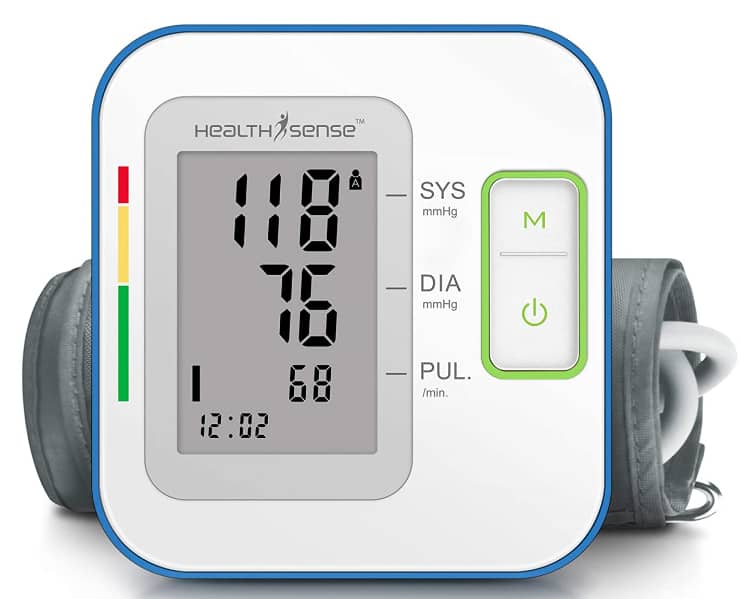 HealthSense Classic BP100 Talking Blood Pressure Monitor is another efficient and accurate model that comes in a deluxe blue and white body with an LCD display.
It boasts of a highly useful talking function that delivers instructions, reads out blood pressure measurements with WHO compliance in English.
This FDA approved BP machine uses body movement indicator and BP Level Voice Command to make your experience much accurate and easier.
Also comes with latest and improved oscillometric technology to offer reliable test results.
What We Like?
Warranty: 1 Year
Cuff Size: 22*42 Cms
Easy to read the metrics
Snug-fit USB port for fast charging
Stores memory of 2 users with 90 readings each
Talking feature provides step-by-step instructions
Omron 8712 BP Monitor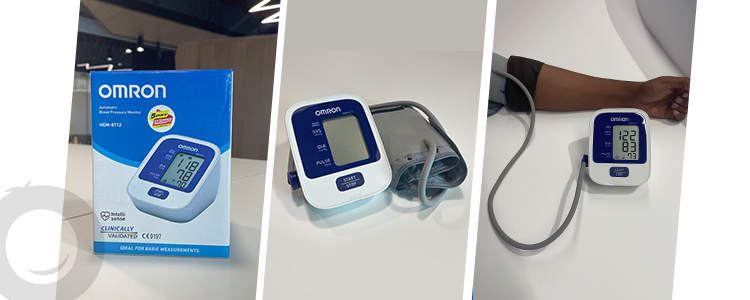 Omron 8712 BP Monitor is a small and compact blood pressure monitor that uses an oscillometric method to provide precise readings.
The presence of intellisense technology automatically applies the right amount of pressure to get the measurements.
With a single touch on the Start/Stop button, the user can operate the device without any hassle.
It also features hypertension indicator and body movement detections features to keep a track on overall health condition.
What We Like?
Warranty: 3 Years
Lightweight and easy to carry
Detects the body movements
Comes with cuff wrapping guide
Made of durable ABS plastic material
Our Editorial Team ReviewIn comparison with the Omron HEM-7120 model, the 8712 BP machine can provide results with an accuracy of ± 3mmHg for blood pressure and ±5% for pulse. When wrapped around the arm, the cuff gives you a comfy feel as it is made of latex-free PVC, nylon, and polyester.
HealthSense BP144 Digital Monitor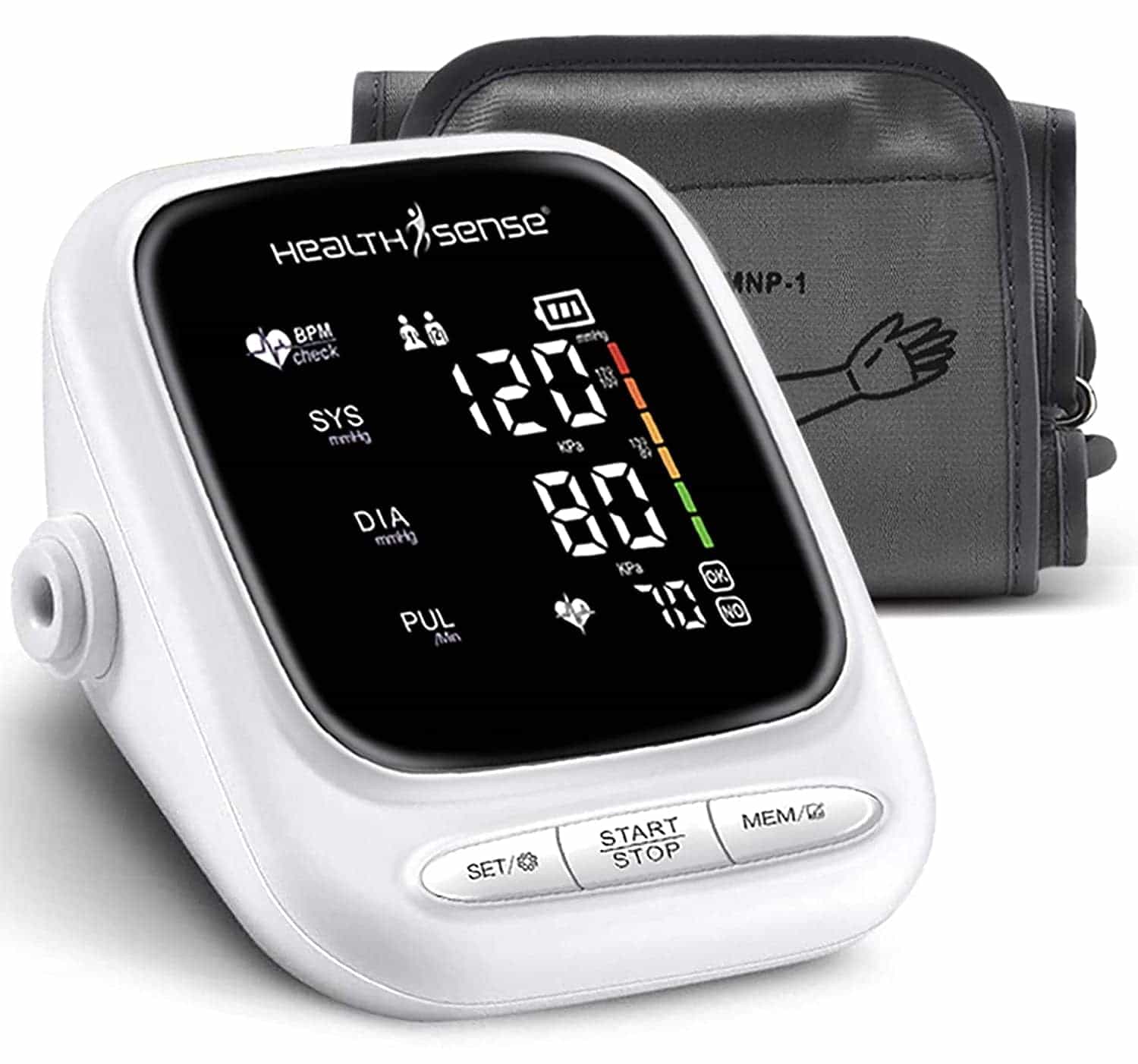 HealthSense upper arm digital BP machine talking feature provides the basic instructions like switch on/off, wrap cuff on wrist, etc. in English.
The self-lit LED display and acrylic screen makes it easy to read the metrics in darkness by using a colourful WHO indicator.
It is equipped with the intelligent pressure sensing technology for precise measurements.
Charge the device using batteries or by connecting a type-C USB cable to a mobile, laptop, or adaptor.
What We Like?
Warranty: 1 Year
Cuff Size: 22*42 Cms
Dual power modes
Auto-off feature saves power
Tracks blood pressure and pulse rate
Good customer support services
Beurer Blood Pressure Monitor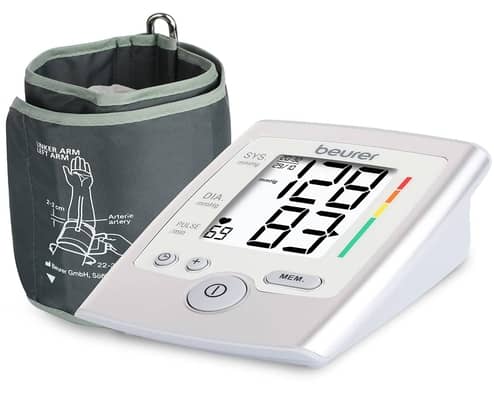 The Beurer digital blood pressure monitor is great for home use as it comes with a haemodynamic display which provides instructions on how to use it.
It is accompanied by a large arm cuff that fits arms of any size and inflates to measure the exact readings.
It provides precise measurements of the last 60 readings and automatically gets saved for future reference.
Tracks your pulse and keeps you alarmed incase of medical emergencies.
What We Like?
Warranty: 5 Years
Cuff Size: 22*36 Cms
User-friendly nature
Wide and comfortable arm cuff
Suitable to use for elders and pregnant women
Elegant design with silver coating
Dr. Morepen BP Monitor Machine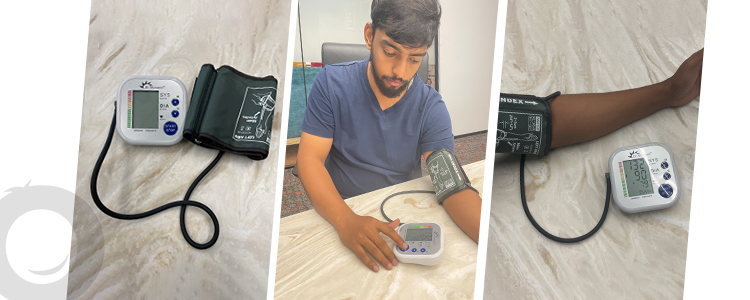 Morepen BP One BP09 BP monitor comes with WHO blood pressure classification indication on the machine.
It displays systolic, diastolic, and pulse rate together for easy readability.
The blood pressure monitor has 4 user interfaces and it also indicates the instance of low battery.
It stores 120 records and averages the last 3 readings.
It can also detect irregular heartbeats at early stages and undergo proper medication.
Unlike other models, you can also purchase the Dr.Morepen BP02 machine that measures the pressure ranging from 40 to 230mmHg and pulse from 40 to 199 beats/min.
What We Like?
Warranty: 5 Years
Lightweight nature
Simple yet classic build quality
Low battery detection feature
Provides accurate and precise readings
Our Editorial Team Review
This device was a bit easy to set up and use. It stored the average of the last 3 recordings that can be seen in a large display unit. It usually takes less than a minute to complete the testing phase and generates accurate results. It also saves your money without the need to pay a visit to a doctor offline.
Note: It is advised to read the instruction manual provided in the kit before using the product. Also, do not take any medical decisions without  discussing with a healthcare professional.
Rossmax Blood Pressure Monitor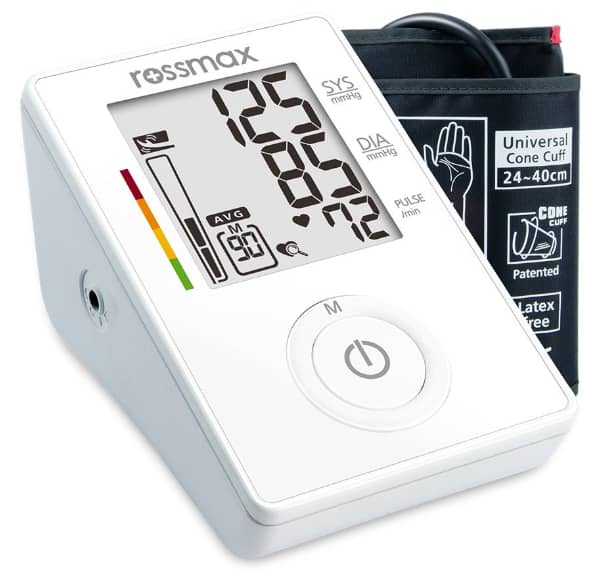 Rossmax BP machine comes with a movement detection feature to remind users to remain still so as to generate the correct results.
It can store the data up to 90-recordings and even gives the average of the last 3 readings.
With a one-touch operation on the power button, this device starts displaying the SYS/DIA metrics.
Hypertension risk indication and irregular heartbeat detection will be known using this machine if you are experiencing such symptoms.
The latex-free cone cuff can easily be wrapped on the left/right arms without causing any discomfort.
If you want to go with the analog model, do check out the Rossmax GB101 BP machine that comes with added safety and comfort.

What We Like?
Warranty: 2 Years
Cuff Size: 24*40 Cms
Simple and elegant design
Affordable to buy online
Automatically displays accurate test results
Power source: Battery operated
Dr.Trust Digital BP Machine

Dr Trust BP smart machine with MDI delivers accurate measurements by tapping on the power button.
Seamlessly measure the systolic, diastolic pressure, and pulse rate after inflation has been completed.
The LCD display with hypertension indicator lets you keep a track of BP when it is normal, moderate, or high.
Talking features makes things easy for people with poor eyesight by assisting them in multiple languages – Hindi, English, Spanish, and German.
If you are looking for an affordable option, prefer buying Dr.Trust Automatic BP Monitoring Device from the Amazon store that stores 120-readings with date and time.
What We Like?
Warranty: 1 Year (Extended to 5 Years)
Cuff Size: 22*42 Cms
Easy to use and maintain
USB port connectivity
Advanced fuzzy algorithm
New pumping technology
BPL Blood Pressure Monitor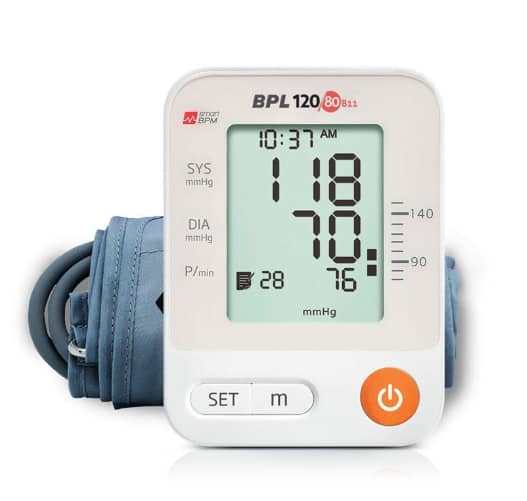 BPL blood pressure monitor is highly accurate as it works on the principle of oscillometric and comes with a minimum deviation of +/-3mmhg.
It has a memory that can store readings of systolic and diastolic pressure.
This device can be operated using a battery or by connecting to the adaptor.
The 3.2 inch large LCD displays accurate results when equipped with body movements and cuffs are wrapped correctly.
The kit contains 4 batteries, medical adaptor, carrying pouch, and a user manual.
What We Like?
Warranty: 1 Year
Cuff Size: 22*45 Cms
Detects irregular heartbeats
Embed with double filter fuzzy algorithm
In-built auto memory function (80-readings)
Low battery indicator and alert system
Curating Best BP Monitoring Devices
To determine the best blood pressure monitors, the GrabOn's editorial team have evaluated hundreds of products online from the reputed brands and provided rankings based on the key factors like –
Brand Reputation
Product Quality
Online Reviews and Ratings
Accurate Test Results
Display Functionality and
Better Usability
Types of Digital Blood Pressure Monitors
Based on the position of cuffs, digital blood pressure monitors are categorised into 2 types – Arm-cuff and Wrist-cuff BP machine. There is yet another model, the finger pulse oximeter which is less reliable than other two types.
Arm Cuff BP Monitors
The upper arm cuff blood pressure monitor is highly reliable and readily available in the online market. If you are using the digital model, the cuff will automatically be inflated and display the accurate readings. Also, you can go with the analog arm-cuff BP machine that makes use of a bulb for inflation to measure systolic and diastolic pressures.
Wrist Cuff BP Monitors
Wrist cuff blood pressure monitors are easy to use as they come with fully automatic function. Compared to arm cuff models, wrist cuff BP monitoring devices are less accurate as you need to position the wrist properly.  
How To Choose Blood Pressure Monitor For Home
The first step to prevent a health condition is to determine it. You need not be a doctor to use these easy, compact blood pressure gauges within the comfort of your home. However, if you go to the market, you will come across a wide range of sphygmomanometers  and will get confused about what you should buy. Therefore, we are listing out the important criterion when purchasing a blood pressure monitor to be used at home.
Easy to Use: Blood pressure monitors should be easy to use and not be too technical. Make sure you can easily follow the instructions to use it, and it does not sound complicated.
Easy to Read: A digital BP machine should be easy to read with a full monitor and bright display of results. It should not be small that may require you to hold on to your spectacles first, and the monitor should be lit appropriately so that elders using it can read it without straining their eyes.
Cuff Fitting: This is a significant thing to check for when purchasing a blood pressure gauge. A BP monitor comes with a cuff that one needs to wrap around the arm for accurate BP reading. Undersized or oversized cuffs may lead to inaccurate results.
Many clinical studies have shown that there is no major difference in the test results when cuff is placed to the left or right arm and considered the health condition to be stable (10mm Hg).
Know Your Arm Size: The size of the upper arm does matter while choosing a sphygmomanometer device as it gives you a comfy feel when fixing the cuffs. If the cuff doesn't fit your arm, then the device may give inaccurate results. Here is the quick tables that gives you an idea about the arm sizes:
| | |
| --- | --- |
| Cuff Size | Arm Size |
| Small | 8.7 to 10.2 Inches |
| Average | 10.5 to 13 Inches |
| Large | 13.5 to 17 Inches |
| Extra Large | 17.7 to 20.5 Inches |
Accurate Test Results: Before you purchase a BP monitoring machine, consult a doctor to know what brands will provide accurate results when tested.  Also, you should place the cuff on your bare upper arm 1-inch above the elbow. Do ensure that the tubing falls over the front centre of your arm so that the sensor is placed in the correct position.
Portable Nature: A portable BP machine could be the right option if you travel a lot, be it due to work, business meetings, vacation trips, and more. Due to the lightweight and compact design, they can be carried to anywhere without any hassle.
Warranty: The warranty of the BP machine is yet another important factor one must consider while buying online. This will ensure that you are getting from a reputed brand that offers warranty services, say 1 or 2 years, which further minimises the repairing costs.
Blood Pressure Monitors – FAQs
What is the ideal blood pressure range for a person?
The ideal range of blood pressure is between 90/60mmHg and 120/80mmHg.
Which are the best blood pressure monitor brands in India?
Omron, Dr.Morepen, and Dr.Trust are some of the popular brands you need to look into while buying a BO machine.
How to use the BP monitor machine?
Place batteries and turn on the device. Now wrap cuffs around the arms and it will start automatically tracking the blood pressure reading.
Is it safe to use BP machines for kids?
Blood pressure monitors are highly safe to use for children aged 4-18 years.
Do I need to consult a doctor before purchasing a blood pressure monitor?
Yes, it is highly recommended to consult a healthcare professional before purchasing a BP machine to track the health status regularly.
Are there any side effects of using a digital blood pressure monitor?
Nope, there are no such side-effects of using BP machines regularly. However, you may experience pain in the upper arm when used too often.
Final Thoughts
To recapitulate, the BP monitoring devices are a great option to keep a track of health status regularly at home. We hope that the above list of top blood pressure monitors helps you in purchasing the right one for your requirement.

Reviewed by
Dr. Surya Narayana Reddy
Registration Number: 4207
Education: MBBS