The main purpose of a mobile phone car holder is to place your mobile in it and go hands free. This can help you with finding direction when you are driving. You can simply turn the navigation mode ON and follow it quite easily.
There are many types of mobile phone holders that you can buy. Both of them either let you place your home in a horizontal direction, or vertically. You can do both with most of these car holders. Go through the below list to find out which one is the best for you and your needs. You can also buy any of it right away directly from here.
Our Top Picks:
| | |
| --- | --- |
| Best Overall | Portronics |
| Best For Easy-to-use | ELV |
| Easy to install | Spigen |
| Sturdiness | Tantra Twist |
Top Car Mobile Phone Holder Brands In India
Portronics CLAMP Car-Vent Mobile Holder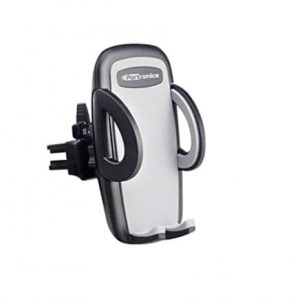 It has a strong lock mechanism that holds perfectly inside the vents giving you an unshakable experience even while you drive above crests and bumps. The side grip support arms can be adjusted as per the size of your phone. Once you fix your phone, lock the mechanism. When you need to take it out of the vent, simply press the lock/unlock button again. The phone can be easily released too with the one click release button that expands the clamps immediately.
Compatibility: All smartphones
Type: Vent, clamp
Features and Benefits:
360 degrees rotation
Works well in all weather conditions
Does not support circular vents
Made with silicon and plastic. Silicon acts as a shock absorbing material that also increases stability over speed breakers.
Work in all cars
Simple locking mechanism
ELV Car Mount Adjustable Car Phone Holder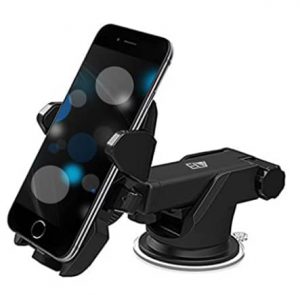 This is another variant of the clamp and suction type of phone holder. This is not smart (i.e. it doesn't lock by itself), instead has 2 adjustable settings for locking your phone. One is used for smooth surfaces and the other for textured. The suction cup tends to lose its grip due to dirt that it collects overtime. Thus, this holder allows you to wash it frequently. It can be washed with lukewarm water, and should be completely dry before it is again put to use.
Features and Benefits:
Long arm
Quite affordable
Easy access to all device ports
Portrait and landscape modes
Has an extendable arm that allows for upto 2 inches of closer viewing
Anti scratch towards the phone body
Universal phone holder for all brands and models like Samsung, Apple, Pixel, Oppo, Vivo, Poco, Mi, and more.
Can be fixated on wooden surface too
HIKER Mini Magnetic Car Phone Holder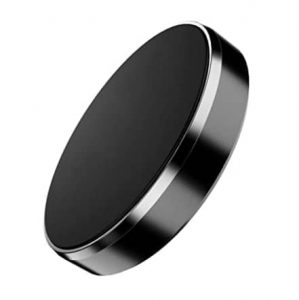 It's as nice as it looks. This device is a magnetic phone holder that you can stick anywhere on the car like at the side of the radio display, or below the ac vents. It can be stuck on it and used to mount the phone. It also has a similar size of adhesive magnetic strip that you need to stick to the back of your phone or place between the phone and its case. It also can be used to stick keys, mount your phone on the mirror, or can be used for a variety of purposes creatively.
Type: Magnetic and sticky
Magnet information: Powerful N40 made with Aluminum Alloy and Silicon
Features and Benefits:
It is easy to install
It has a powerful magnet
Can hold the phone on bad roads
Phone can be rotated 360 degrees
Can work with phones, iPads and tablets
Stylish look
Spigen QS11 Quad Car Phone Holder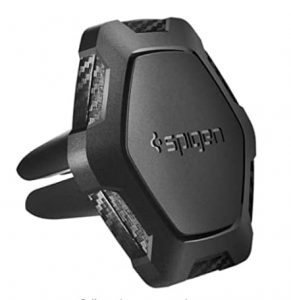 You need to use this by placing it into the AC vents, and then attaching the phone to it through its magnetic properties. You get a film which you can stick to the home and then connect it and place it over the magnetic mount. But one thing to remember is that this film which is now stuck to your phone back cover actually hinders wireless charging if your phone has one.
Type: Magnetic and Vent based
Thickness: 0.15 in
Number of magnets: 4
Features and Benefits:
360 degree rotation
Easy to use
Blocks no view and can be easily attached to an AC vent
Renowned brand
Works with all phones and phone covers
Antra Twist Smart Universal Phone Holder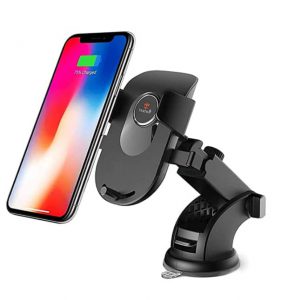 The cool thing about this holder is that you can attach it not only to the dashboard but also to the wind shield. It is fully adjustable in both the places and can be prorated a complete 360 degrees. It is a smart folder that automatically locks the phone inside of it. You just have to pace it in the center, and give it a little press. Then just wait to see the clamps lock themselves. The removing mechanism is too simple too. Just press the lower buttons which are below the clamps to release them.
Compatibility: iPhone 7 Plus/ 7/6Plus/6/5/4, Galaxy S7 to S2, Note 4 to 2, HTC, Nexus, LG, Xiaomi, OnePlus, iPhone 12 etc.
Type: automatic, suction
Price: Rs 619.00
Features and Benefits:
Undisturbed charging
Fits devices of any size (upto 7 inches, which means even your Samsung Galaxy Fold 3)
Extendable arm which can also be rotated
360 degrees ball joint
The suction gel pad can be washed easily
Supports portrait and landscape mode both
Affordable
SKYVIK TRUHOLD Car Mobile Phone Holder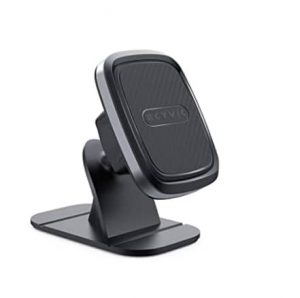 This holder is not only a beautiful car accessory, but also has the ability to hold your mobile phone safely and firmly, so you can have full access to all the functions of your mobile phone. It is a great way to mount your phone on the dashboard of your car. If you prefer to install it on the air vents instead, the dual functionality of this model will let you do that too. The magnet is strong enough to hold your mobile phone firmly in place.
Type: Vent/ dashboard mounted, magnetic phone holder
Features and Benefits:
360 degrees usage
Works with all mobiles and tablets
Strong n 45 magnets (Neodymium) – 6 in no.
Bump protection
Come switch a 24 months warranty
Dual functionality to mount
Keeps the phone sturdy
Good suction and adhesion property
Value for money
SKYVIK TRUHOLD Magnetic Mobile Phone Holder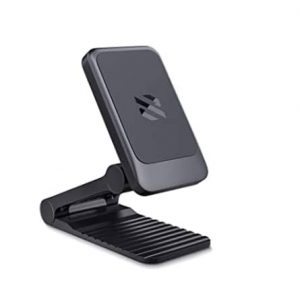 The holder is designed to hold your mobile phone and other small devices. The magnet is strong enough to keep your device firmly in place while you use it. With the adjustable holder, you can view and manage your device comfortably.
Type: Magnetic, dashboard
Features and Benefits:
Adjustable design as per your device
Strong N45 magnets
24 months warranty
Easy to use and attach
Less parts and easy handling
Looks stylish
Scratch proof films
Can also be used on walls, mirror and other flat surfaces
Car/ Truck Phone Mount Holder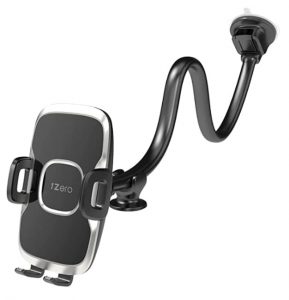 With this one-of-a-kind car mount, you can now use your phone while driving. You will be able to see your phone's screen clearly and be able to answer calls while driving. This car mount is very easy to install and can be used on any car. It can be attached on the windshield, dashboard, or even the window. It has an extendable, flexible long arm that makes using the phone very easy.
Compatibility: Phones with minimum width of 2.2 inch and maximum 3.8 inch (in other words, every phone)
Type: Adhesives and clamp based
Features and Benefits:
Rotatable
14-inch gooseneck arm which can be bent and rotated
connects with phones with up to 3.8-inch width
super strong adhesive
washable and reusable
phone can be charged easily
3 sided grips
one press release
Can also be used on kitchen tables and wardrobes
BLACKSTAR Mobile Holder for Car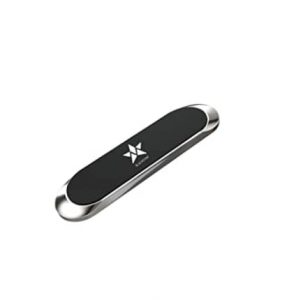 This mobile holder is great for keeping your mobile device safe and protected in the car. The magnetic holder has a 360 degree rotation and can be used on dashboards, consoles, windows, walls, and other magnetic surfaces. You can use it in your car, bike, scooter, desk, office or home as well. The holder is universal and fits all smartphones of various sizes.
This is the best product to keep your phone safe while driving and working on it.
It is the strongest magnet with full 360 degrees rotation and will hold your phone even if you are bumping into things. The strong neodymium magnets don't harm mobiles or tablets either. It leaves no marks even after removal of the phone from the holder.
Type: Adhesion, magnetic
Features and Benefits:
Universal Mobile Holder
Stylish and luxurious looks
Strong phone grip
Multiple rotation angles
Keeps the phone free from damage
Guarantee against bumps
SKYVIK TRUHOLD Magnetic Car Phone Holder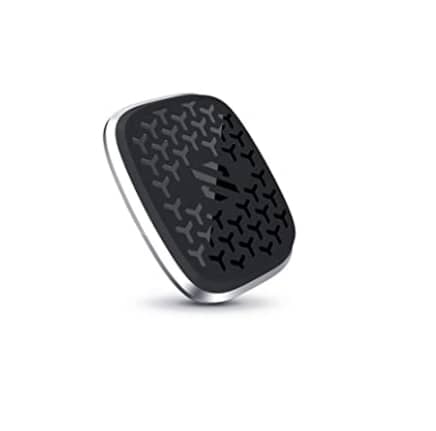 Another type of adhesion and magnetic based phone holder, this one is super sticky and holds your phone still for best use even while driving on bad roads. It has a sleek design and can fit literally any surface. The small size makes it easy to fit to almost any plane surface. Not just your car, but you can also use it at home, office or in the kitchen.
Compatibility: Apple iPhone XR, Apple iPhone 6 Plus, Apple iPhone XS Max, Apple iPhone 6S
Type: Adhesion and Magnets
Features and Benefits:
High grade alloy and fiber surface provides good build quality
Strong magnets to hold you phone, tablets
24 month warranty
Scratch proof
Bump proof
Types of phone holders for car
Some car mobile holders are suited for placing them horizontally and some for vertically. So make sure you keep this in mind while you buy one. The other important thing is material used in making the holder and the technology it uses. This is about how the phone connects to the car, and how it connects to the phone. The different ways your holder can connect to the phone are:
Clamp based:
This is the simplest way you can imagine and the most common type of holder available out there.
The benefits of this are
It can connect to all sizes of phones
Phone can be placed both vertically and horizontally
It is fairly cheap than other types
Disadvantages
Can become loose overtime
Has short lifespan
Magnetic:
These simply use the magnetic energy to connect to the back of the phone.
Advantages
Simpler to attach your (you can do it in seconds)
Stronger and durable
Can connect to phones of all sizes and shapes
You don't have to clamp, thus it is good on the phone body and prevents scratches of any kind
Disadvantages:
Cannot connect to phones that have a plastic body like Pixel 4a or Blackberry Z3 (not that anybody uses this one one anymore)
Costlier than clamp based holders
Sticky phone holders:
These cover up for the disadvantages and the advantages for both the clamp based and magnetic holders. The deal with these is that they can apply to any type of phone, irrespective of the body material, model or anything else. The principle of working is that a sticky paper-like substance needs to be stuck on the phone and the holder has a similar one. You just need to stick them both to place your phone.
Automatic locking holders:
You just need to place your phone on the holder, and it locks using an electrical force. ,
Advantages
They are simpler to mount.
They are automatic and take less effort to connect.
Disadvantages
Are of no use if they stop working.
These holders are more expensive than the usual ones
Coming to the ways in which the holder is connected to the car, there are many.
Vent mounted: These simply need to be fixed inside the AC vents in the front of you while driving. They are fine but can move if not fixed properly. They work with all cars and brands of phones, and cars.
Suction cup holders: This uses the solution energy and is placed attached to the windshield of the car. It has more disadvantages than uses. It can obstruct the view, and can't be as reliable overtime as time can weaken it if it was not purchased from a good brand. Moreover the weight of the phone adds to its wear.
Seat headrest holders: These are good for the passengers at the back seat. It can create disturbance for those sitting on the seat where the phone is mounted.
Car sun visor mirror holders: You think of a place, and you can mount your phone there. The same goes for the rear view mirror. These mounts are secure, do not obstruct any view and are at the best place which do not cause any disturbance. But imagine when you need to open the sun visor.
Rear view mirror: You can also mount on the rear view if you are okay with that.
Steering wheel: You can also mount your phone on the steering wheel. This depends on the type of steering when your car has and it allows space inside of it. You need to check that when you buy a phone holder based on the steering wheel location.
Conclusion
The most important thing that you need to remember is that if you have a car phone holder, then your hands will not be busy holding the mobile. You can use your hands completely for holding the steering wheel or shifting gears. Which type of car phone holder do you plan on buying? Let us know in the comments below!