Buying a phone is not the only way to have a phone as Flipkart has changed the game with its Smart Pack. The pack lets you subscribe to a phone!
Flipkart has rolled out its new feature at a time when mobiles are a necessity. With everything going online like learning, office meetings, staying connected, and getting news updates, a good quality mobile is a must for every individual.
And now it is possible for each one of you to not only own your favourite phone but also upgrade it every year! There are many more benefits of the Flipkart Smart Pack that we will be discussing in this article. Read this article completely to understand everything about the Smart Pack.
What is the Flipkart Smart Pack?
Smart Pack is the newest offering of Flipkart where you can buy a phone, use it for 12 months or 18 months, and then return it to collect a 100% refund of the phone amount.
Here's the catch! You will be paying a subscription fee every month.
This subscription fee depends on the package you choose.
There are 3 packages to choose from.
Here are the details about the packages
Various packs available
| Pack | Monthly charge | Refund amount |
| --- | --- | --- |
| Bronze pack | 399/- | 60% |
| Silver pack | 699/- | 80% |
| Gold pack | 879/- | 100% |
But in all these cases, you will be buying a phone at a discount that you may not get anywhere else right now.
We've done the math for you. So, check out our below example.
How are you going to save?
Let us consider you buy the most expensive phone available in the scheme worth Rs. 17000.
And you choose to have the minimum monthly instalment package = Bronze Package. (Rs. 399/month)
And you select the longer duration of 12 months
The total cost of subscription fees = Rs. 4788
The refund amount of your phone = Rs. 10200
Amount you actually pay = (17000 – 10200) + 4788 = Rs. 11588You end up paying Rs. 11500 for a phone worth Rs. 17000!!!
(Total discount you received = Rs. 5412)
All of us like to use our phones at least for a year, first hand or second hand. The smart pack makes it niftier to enjoy the phone of your choice and then buy another latest one when the calendar changes.
Not just that, but Flipkart has more perks that you will enjoy as part of the same scheme.
You can enjoy extra benefits like
OTT subscriptions to SonyLIV Premium, Zee5 Premium, Voot Select, Zomato Pro, Gaana+, Practo Plus, and Tinder+.
Vouchers and freebies worth up to Rs 20,000 from top fashion, food, and hospitality brands like Uber, Chai Point, Myntra, and Lifestyle, vouchers and freebies all for free.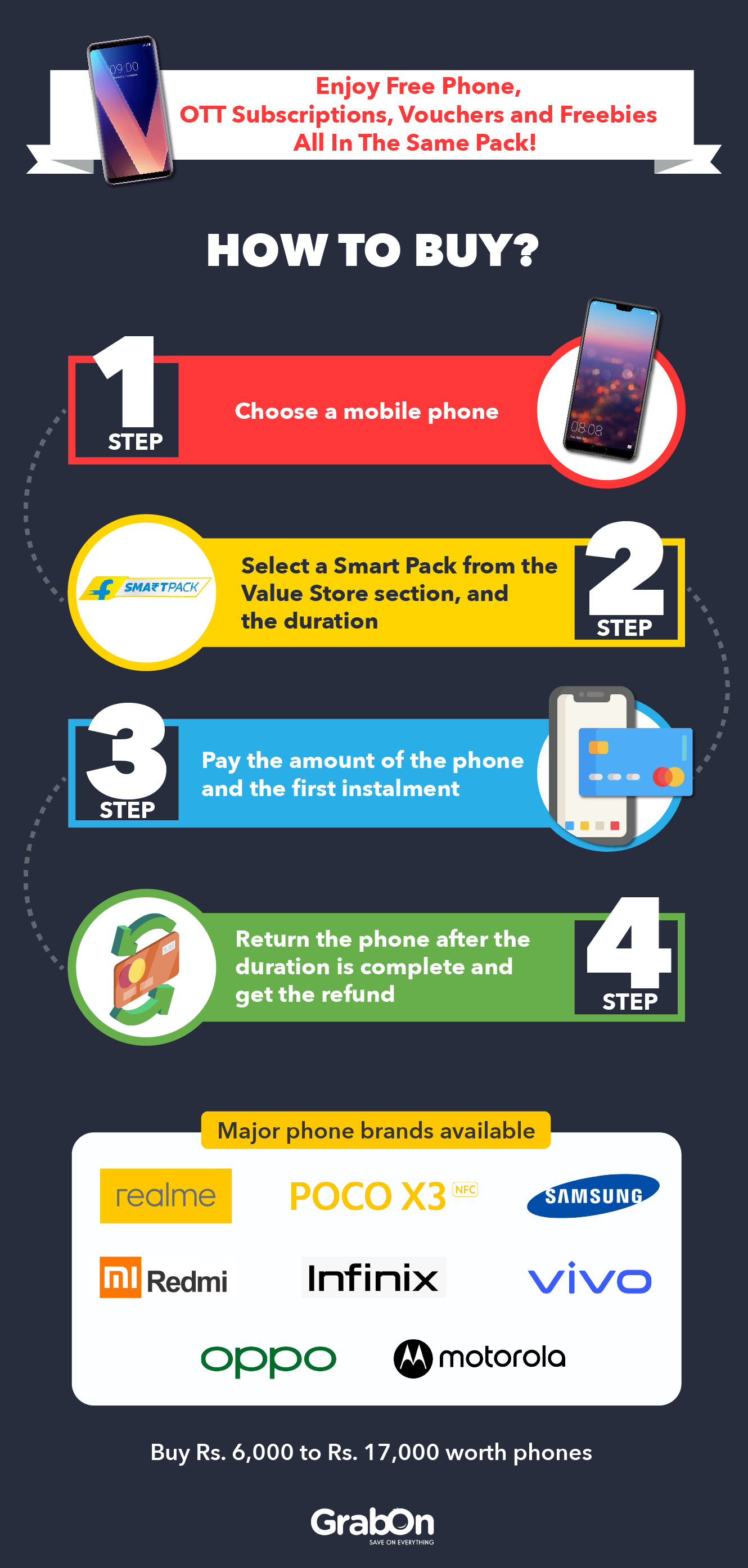 Flipkart has tied up the leading brands to make Smart Pack happen. This is an amazing opportunity to bag your dream phone at less than half of its price.
You can get the latest deals and save while making your next purchase at the online e-commerce website. Head on to our Flipkart coupons page and grab the best discounts.
5 Main Reasons You Should Opt-in for the Smart Pack
1. Easy Upgrades
Phones are getting competitive, With a new model launching almost every week, it is difficult to keep up. Plus the lucrative feature makes you want to upgrade your phone more often. But upgrading a phone every year is not economical for everyone. Even if you decided to sell your old phone, you might just be able to collect 10-20% of the cost of your new phone, at the cost of all your memories and media files.
2. Branded phones for everyone
You get the quality of a branded phone without having to spend even the cost of the phone. No more subpar quality phones where you have to compromise with almost every feature. By the smart pack, you get branded phones at as little as 40% of their actual price.
3. Entertainment
The pack comes with subscriptions to OTT platforms where you can enjoy your favourite web series and shows for free. This price is included in the subscription cost itself and you do not even pay anything to enjoy watching these OTT platforms for the entire year.
4. Discounts and vouchers
Did we mention that the Flipkart Smart Pack offers tons of discounts on famous brands when you shop from Flipkart? You are like an elite member simply by taking the smart pack. The benefits don't end for you.
5. Freebies
You get what you love – free stuff. Enrolling in the smart pack can get us amazing stuff in clothing, food, and more all for free.
Drawbacks of the Smart Pack
While the smart pack sounds like the sweetest news 2021 had to offer yet, it is also true that you will have to have the actual cost of the phone + the first installment amount upfront to purchase the phone.
Phones like Pixel, iPhones are not covered in the scheme.
FAQs
Which phones can I buy through the Smart Pack?
There are phones available from brands like Realme, POCO, Samsung, Redmi, Infinix, Vivo, OPPO, and Motorola.
How long will I have to pay the installments?
You can choose between 12 months or 18 months to pay your installments.
How much will I have to pay monthly?
As the Smart pack has 3 packs called Bronze, Silver, and Gold, the monthly subscription charges are different for all of them.
Will I really get the refund?
Flipkart will refund your money once you return the phone to Flipkart after your subscription period is over.
What if I break the phone in the first year? Will, I still get the refund?
As per Flipkart, your phone should be in working condition. This means that it should turn ON. At the same time, the IMEI number must be visible. If your phone satisfies these two conditions, then you can return it.
Can I decide to keep the phone?
If you decide to keep the phone, then you would not get the refund amount of your phone. At the same time, you don't need to continue paying the installments for the remaining months.
Can I Use a bank offer while buying?
Yes. Use a bank offer to get the discount. In that case, please note that the refund will be equivalent to the discounted price.
What if I skip an instalment?
You will automatically be opted out of the program and you cannot claim a refund.
The Smart Pack by Flipkart helps you with your phone needs. Now you don't have to buy second-hand phones anymore because you'd get a cheaper deal and then sell them off to retain the value. Neither, you need to compromise on the phone you want. The discounts are like nothing else. Moreover, this price is also like an investment. Consider the amount saved for the duration you use your phone with which you buy another phone the next year or simply subscribe to one!