Today, bike taxis are everywhere. From the bigger cities of Delhi, Kolkata, and Hyderabad to the smaller nooks in Bhopal, Indore, and Vizag. The streets are bustling with yellow helmets. Somebody is being picked up, somebody being dropped, and somebody being asked for the OTP all the time.
Throwback to two years ago, this wasn't the case. If you wanted to get somewhere, you had to walk to the main road, take a rickshaw to the metro station, take a metro to another metro station, and walk some more. Or, you could book a cab and go bankrupt. It was one or the other: major inconvenience or bankruptcy.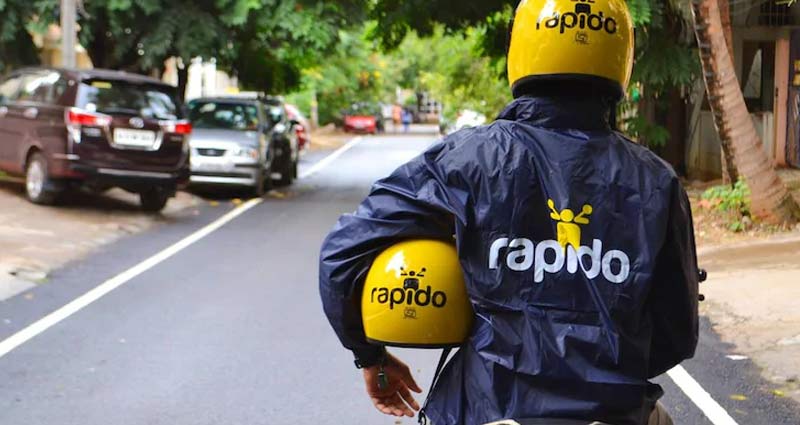 So, bike taxis fill that gap almost entirely. They are more convenient than local transport and cheaper than cabs. There are, indeed, several reasons why bike taxis like Rapido see the popularity that they are.
Top Rapido Deals Available at GrabOn
A lot more deals are listed on our page for the brand. Grab the latest coupons from Rapido from main GrabOn website.
Top Rapido coupons for Existing and New Users
| Rapido Offer | Coupon Details | Validity |
| --- | --- | --- |
| Exclusive New User Offer(Rs. 20 OFF) | GRABFTU | 30th August |
| All/Existing Users Exclusive Offer(Rs. 10 OFF) | GRABRTU | 31st August |
Best 7 Rapido Discounts and Deals
| Rapido Offer | Details | Validity |
| --- | --- | --- |
| Referral Offer: | Refer a Friend and earn Rs. 50 | 30th August |
| Rs. 20 Cashback | 1st 3 Transaction on LazyPay | 30th August |
| 25% Cashback, up to Rs. 100 per user | Simpl Payments | 28th August |
| Flat Rs. 25 Cashback | MobiKwik Payment Offer | 27thd August |
| 40%-50% Off On All Rides | Power Pass: Starting at just Rs. 39 onwards | 30th August |
| Flat 30% Cashback for Rapido Local | Order food, groceries, medicines, etc. | 30th August |
Coupons and Deals Overview
| | |
| --- | --- |
| Total Coupons & Offers: | 14 |
| Best Deal: | 1st Ride Free |
| Old User Offer: | Flat 20% OFF |
In addition, all the Rapido riders have a personal accident or accidental death insurance of Rs. 500,000. Rs. 100,000 insurance is allotted for medical expenses for hospitalization and Rs. 3000 for OPD treatment.
Rapido Auto has completed completes 1 million rides recently. Now, you will have an option in your city too to book a ride with Rapido via auto. The brand has a very wide presence that spans Hyderabad, Bangalore, Chennai, Jaipur, and many more.
Bike Taxis Companies like Rapido Is Solution for India's Last Mile Connectivity Problem
1. Higher Affordability
We are commuting all the time today. So, bike taxis are an obvious choice. They are super affordable. Where minimum base fares of cabs start around Rs.60, a bike taxi starts at least 40%-60% lower. For instance, Rapido sets its base fare at Rs.15, with Rs.3 added for every additional kilometer. That's almost city bus fares!
In India, cabs are still a luxury. In a country where the per capita income is approximately Rs.7,000 per month, shelling out Rs. 200 to Rs. 300 on short-distance rides is not feasible. Hence, their closest cousin, the bike taxis, fill the gap just right.
Just like a cab, the bike taxi picks you up at your doorstep and drops you off right where you need to be. And it does all this at less than half the price! That's right, and bike taxis are mostly cheaper than carpooling too. And with incredible discounts from Rapido and other apps, you are sorted.
2. Takes Less Time
This is true of bike taxis, especially in bigger cities where congestion and traffic are common problems. Bikes can navigate through traffic more effortlessly than cars and rickshaws. They can even squeeze into narrow roads and pathways to get you to your destination quicker.
In fact, according to a study done by AlphaBeta Analytics, users saved 38% more time with bike taxis than they did with cabs. This is a significant reason why bike taxis are getting so popular.
3. Convenient
The convenience that comes with booking your ride from an app is way higher than standing on the road and waiting for an auto-rickshaw. But that's not all. The complete experience of a bike taxi is designed to be a pleasant one. From the ease of booking to the courteous and friendly drivers, the standard rates, and the safety measures – all of it makes the commute hassle-free and fun.
And the best part? You do not even have to negotiate the prices! Before the booking, you know how much you will be charged, and you are charged precisely that much. You can also make a quick stop on the way without having to worry about the meter because the fares are not calculated based on time but on distance traveled.
4. Employs a Large Workforce
As it stands today, the bike taxi industry employs a large number of people from more than 100 cities in India. The leading bike-taxi service Rapido, for example, operates more than 1 million full-time and part-time riders. Depending on the number of rides they take up, the riders make a side income up to Rs. 18,000, and get benefits like flexible working hours, easy payouts, and insured rides. They can choose to take up rides at their convenience without hampering their daily activities.
This makes it a lucrative opportunity for anyone that owns a bike. They can earn some extra cash on the side without making any additional investments. It is forming a perfect gig economy for people across the country, from all cities and all ages. They have to sign up as drivers, upload their driver's license, get approved, and start riding.
5. Reduces Congestion
As Rapido becomes more and more popular, roads in bigger cities are likely to get freed up. Traffic is a major issue in cities like Hyderabad, Delhi, Mumbai, Kolkata, and Bengaluru. So, bike taxis may step up and transform the mobility scenario in the country. With more bikes on the roads, we are likely to see fewer cars and can look forward to a cleaner India in the future.
While it may resemble conventional taxis on the surface, it is, in fact, a new modality of transport and, if I might add, a social phenomenon. Bike ownership is also common in small-town India as a solution to their last-mile connectivity problems. These bikes can then be put into service as a bike taxi for a couple of days to earn some extra income and solve the last-mile connectivity problems of others. Thus, this new phenomenon serves a dual beneficial purpose of solving two demographics' issues at one stroke.
While bike taxis play a role in alleviating last-mile connectivity issues of small-town India, they are just one component of a multi-pronged solution to a complex, multifaceted endemic problem. They need to coexist with the rest of the public infrastructure, including rent-by-the-hour bicycles and electric scooters, and rickshaws.