Skincare is not just a beauty phrase. Investing in the health of your skin is as important as focussing on your body wellness. In fact, skin is the largest organ in our body, and has a direct impact on our overall health. This is why it is necessary to really understand what to add to your skincare cabinet.
Using a good skin serum is an important part of a skincare routine. A good serum nourishes and hydrates your skin. It is lighter, delivers the active ingredients to your skin quickly, and wishes away acnes, blemishes, and fine lines like a magic spell. Its healthy ingredients like Vitamin C, Vitamin E, hyaluronic acid, astaxanthin and others help prevent damage from pollution. It is smooth and non-greasy on your skin.
How to use skin serum?
Skin serum with its powerful does of active ingredients, is the first to go to your skin. It is used after cleansing and before moisturising your skin. Serum goes as the base layer before your moisturizer, sunscreen or other heavy products. To use, apply a pea-sized amount of serum to your skin after cleansing and tap your skin gently until it gets absorbed. It absorbs into your skin immediately delivering a blast of nutrients. For best results and healthier skin use it twice a day.
While serum has all the benefits for a healthy skin, it's important to pick the right ones for your skincare routine. Here's a list of best face serums in India, that worked for many skin types. Read and pick the one that fits you the best.
Last update was on: August 3, 2022 11:25 pm
Mamaearth Skin Illuminate Serum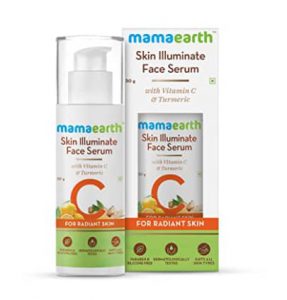 Mamaearth is a brand delivering gentle skincare products with the best natural, plant-based or manmade ingredients. Mamaearth Skin Illuminate Face Serum is no exception. This Mamaearth face serum is made with enriching ingredients like turmeric, Nymphaea Alba flower extract and squalene. The best ingredients lubricate your skin, fight skin damage and give a healthy glow. The Mamaearth Skin Illuminate Serum is intensely nourishing and refreshing to the skin. It is also the best Vitamin C serum recommended by dermatologists in India. Along with reducing acnes and fine lines, Vitamin C also has great healing properties. It is very gentle on the skin and least greasy. Mamaearth face serum is all you need on a dull skin day to brighten you. While you enjoy these benefits, Mamaearth also helps you do your part for the earth. Yes, the brand is plastic positive recycling more plastic than they consume.
---
What We Like?
It gives an instant subtle glow.
Reduces acnes and fine lines.
Suitable for all types of skin
Very gentle and settles well.
What We Don't Like?
Doesn't help with pigmentation as claimed.
---
Plum Vitamin C Face Serum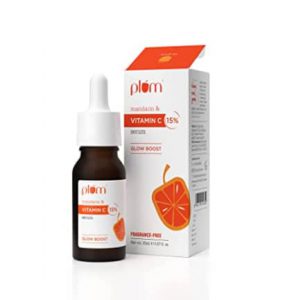 This Plum face serum is prepared with all the best ingredients to provide your skin with a blast of Vitamin C. Ethyl Ascorbic acid and Japanese Mandrin present in the serum helps Vitamin C penetrate the skin quickly and last longer. The star ingredient is Kakadu Plum, the richest plant source of Vitamin C. Its antioxidant properties protect your skin against sun damage. The product is very gentle and is not oily or greasy. Regular usage of Plum Vitamin C Face Serum can help tighten enlarged pores and brighten the skin. This face serum is hydrating and soothing for the skin. It makes your skin radiant and plump with health in no time. What's more brightening is that, this must-have Plum face serum is now available on Plum's Very Merry Sale!
---
What We Like?
It is smooth and gentle.
It has no artificial fragrance.
It gives an instant glow to the skin.
It is vegan and safe to the environment.
What We Don't Like?
No cons have been claimed on the product.
---
mCaffeine Naked Detox Green Tea Face Serum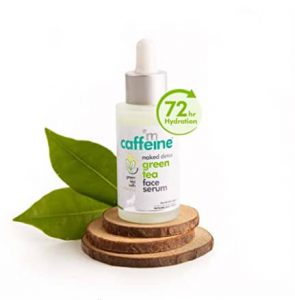 All you need is a hot cup of brewed coffee to give your sleepy morning a jolt. Can caffeinated serums give your dull skin a wakeup call? Yes! And that's exactly what mCaffeine offers your skin. If you love the smell of coffee then why not enjoy it in your skin products? MCaffeine Naked Detox Green Tea Face Serum is an interesting combination of green tea, vitamin C, and the brand's all- rounder skincare ingredient, 'Caffeine'. This skin serum is the best way to keep your skin hydrated and moisturised. Anti- oxidant and anti-inflammatory properties of green tea gives you a refreshed feel throughout the day. It is subtle and settles well on your skin. It is also the best and most affordable Hyaluronic acid serum in India. MCaffeine Green Tea Face Serum is all you need in your cabinet to enjoy a rejuvenating skincare routine with the soothing aroma of coffee.
---
What We Like?
It is suitable for all skin types
Protects skin against sun damage
Evens the skin tone
What We Don't Like?
Does not reduce dark spots.
---
Good Vibes Rose Hip Radiant Glow Face Serum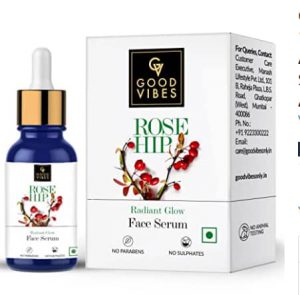 Did you know that rosehip oil can work wonders on your skin? Yes, its anti-inflammatory and antioxidant properties protect your skin against sun damage and keep your skin heathy and refreshed. This is why Good Vibes Rose Hip Radiant Glow Face serum is listed as the best face serum for glowing skin. This face serum is a non-greasy, non-sticky, and refreshing. It provides deep hydration to the skin. Rosehip, the brightening element helps to even out your skin tone. This serum also reduces the appearance of acne scars, dark patches, and dark circles. It gives your face an everlasting radiance.
---
What We Like?
It smoothens and brightens the skin.
It reduces acne marks.
It works well under make up.
It has anti-aging properties.
What We Don't Like?
It has a strong fragrance.
---
Lotus Botanicals Vitamin C Skin Brightening Face Serum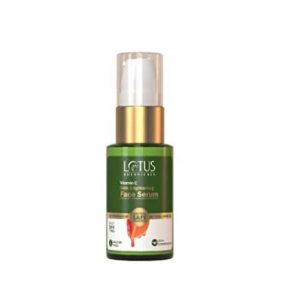 Lotus Botanicals Vitamin C Skin Brightening Face Serum will revitalize and brighten your skin. Its potent formula moisturizes, evens out skin tone, and protects against premature skin aging. The restorative components of this skin serum truly retain the skin's natural beauty, making it a must-have for any skincare routine. The formula of this skin serum lightens pigmentation and soothes the skin. Vitamin C improves the appearance of the skin, making it brighter, smoother, and healthier. The feather-light texture absorbs quickly and provides long-lasting results from the inside out. It is suitable for all skin types.
---
What We Like?
It is a glow reviving serum.
It fades pigmentation.
It is suitable for all skin types.
What We Don't Like?
It's not pocket friendly.
---
Biotique Bio Dandelion Visibly Ageless Serum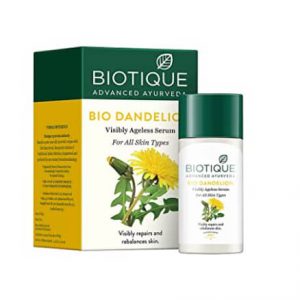 Biotique's Bio Dandelion Visibly Ageless serum is definitely a game changer for dull skin. The Bio dandelion youth serum is designed to heal and restore the radiance of your skin. Pure dandelion extract is used to make the lightning serum, which cleanses and rejuvenates the skin from the inside out. This is best serum for face glow. The Youth serum works to minimize the appearance of fine lines and wrinkles by combining nutmeg oil, vitamins, and minerals. The serum is formulated with antioxidants and vitamins that help to fight free radical damage while also nourishing the skin for a more youthful appearance.
---
What We Like?
It adds suppleness to the skin.
It repairs skin texture.
It is pocket friendly.
What We Don't Like?
Not everyone would enjoy its herbal fragrance.
---
Minimalist Niacinamide 5% + Hyaluronic Acid 1%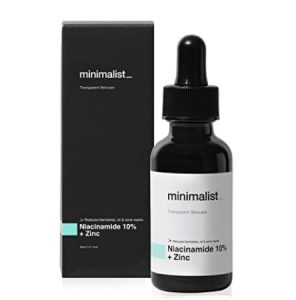 Minimalist Niacinamide 5% + Hyaluronic Acid 1% is a nourishing and moisturising daily serum for sensitive skin. It's a light, everyday serum prepared with Vitamin B3, and Niacinamide. It is made with Aloe juice rather than water, and it contains Hyaluronic acid for long-lasting hydration and velvety smooth skin. This hyaluronic skin serum from Minimalist is the best suitable for people who have dry or sensitive skin.
---
What We Like?
It clears and smoothens the skin.
It is fragrance-free.
---
Clensta Face Serum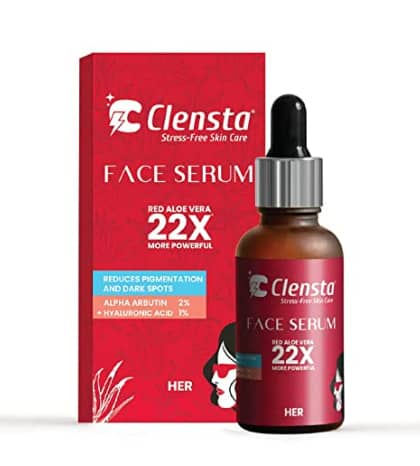 Clensta serum is made using active ingredients like Red Aloe vera, Aqua, Butylene Glycol, 2% Hyaluronic, Aloe Vera, and Vitamin B5 to help you remove Blemishes, Acne Marks, and Skin Tanning. The key ingredients present in this serum helps to minimize the wrinkles and fine lines too.
Start applying on your face by taking 2-3 drops of serum and massage in a circular motion. Now allow it to dry for some time to see the tremendous results in no time. You can even make use of the Clensta Coupons to save money while purchasing beauty and personal care items.
---
What We Like?
Free from parabens, cruelty, and SLS
FDA approved serum for glowing skin
Easy to apply and massage
Enhances skin texture and reduces sebum
---
Lotus Professional Phytorx Whitening & Brightening Serum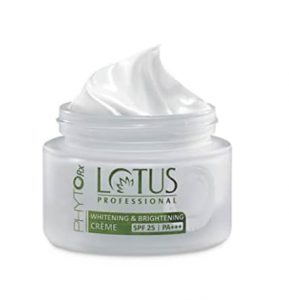 With a perfect blend of natural antioxidants and Vitamin C, Lotus Phyto-Rx Whitening & Brightening Serum brightens, lightens, and moisturises skin. It's filled with the goodness of Amla berry, Lychee, and Punarnava root extracts, which help to diminish dark spots for a radiant, serene, and refreshed face. extracts. This Lotus face serum nourishes the skin profoundly, regulates melanin production, improves overall complexion, and softens the skin. The skin serum is loved for its instant boost of brightness and youthful glow.
---
What We Like?
It has a very pleasant amla-lychee scent.
A dime- sized amount is sufficient.
What We Don't Like?
It is not suitable for oily skin.
It is heavy compared to other serums.
---
Khadi Essentials Tea Tree Face Serum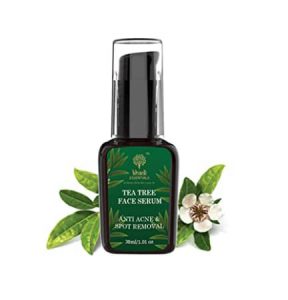 Khadi Essentials Tea Tree Face Serum is ideal to prevent acne and pimples from recurring. It helps to clear and heal the skin while also reducing acne scars, dark spots, and other markings. Tea Tree, together with Ginseng, Aloe Vera, Cucumber, and Neem, works as a calming and anti-inflammatory agent to soothe and calm irritated skin. This skin serum works well for all skin types.
---
What We Like?
It helps to diminish scars and spots.
It evens out complexion.
It is subtle.
It is suitable for all skin types.
---
St Botanica RETINOL 2.5% + Vitamin E & Hyaluronic Acid Face Serum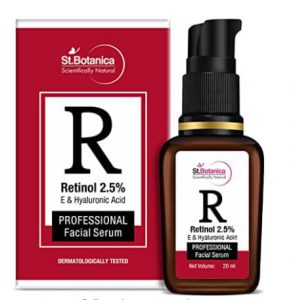 This retinol serum from St Botanica contains the best skin-firming components and helps to reduce the indications of skin ageing such as fine lines, wrinkles, and hyperpigmentation. Your skin will become softer, smoother, and more radiant. This face serum is a great solution for skin dryness and repairs the skin against pollution. It aids in the exfoliation of dead skin and promotes collagen formation. The lightweight serum contains a high concentration of skin-enhancing ingredients, may readily penetrate the skin's deepest layers. It increases the skin's ability to retain moisture.
---
What We Like?
It helps diminish acnes and fine lines.
Works well for anti-aging.
---
Final Thoughts
Face serums are a great addition to a skincare routine if you really want healthy and glowing skin. A serum is an essential step in the process of caring for your skin. It helps deliver the ingredients that can transform your skin from dry and dull to supple and smooth. The good news is that there are hundreds of serums on the market today, so finding one that works for you isn't as hard as it sounds!