Latest 100% working IndusInd Credit Card Offers For March 2021
| Offer Category | Discount | Offer Valid On |
| --- | --- | --- |
| Domestic Flights | Rs 800 OFF | MakeMyTrip.com |
| All Products | Additional 5% OFF | Pepperfry.com |
| Movie Tickets | Buy 1 Get 1 Free | BookMyShow.com |
| Snapdeal Unbox Deals | Upto 70% OFF | Snapdeal.com |
| Hotel Bookings | Up To 7% OFF | Agoda.com |
Info About Indusind Bank Credit Cards
Credit cards today are becoming a way of life for the new age, Indian citizen! Be it making the most of a shopping festival or paying for a family dinner at one of the luxury boutique hotels, swiping the card is a hassle-free act, anywhere, anytime. Indusind Bank understands this psyche of the modern-day individual and has come up with new Indusind bank credit card offers that is like a savings-catalyst daily. The offers allow individuals to pay a reduced amount and also opt-in for the best EMI scheme available.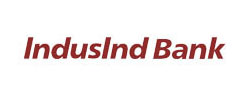 Offers For Diners
Indusind Bank credit card holders that have an active social circle and have an appetite for delicious platters can make the most of the Indusind bank credit card offers available on dining. The bank provides discounts like 15% on selected restaurant and dining opportunities, making it easy on the credit card holder's wallet. Paying bills and planning exciting dinner plans with near and dear ones has never been so flexible. Once you analyze your credit limit and apply for the credit card, you will get to know about all the offers that are available for you..
Other Exciting Offers
That is not all! Indusind bank credit card offers are also applicable on travel and entertainment options that credit cardholders make. When it comes to entertainment benefits, the credit card holders can make the most of the offers on movie apps like Bookmyshow. One can use your credit card to buy one ticket and get the ticket free. This offer applies to Indusind customers across all cities. In terms of travel, the bank has partnered up with several online travel service providers and allows you to earn great deals and discounts. For instance, when you log into Yatra.com, you can get up to Rs.2000 off any hotels as well as flights. If you're using Goibibo.com then you can get a fabulous discount of 60% on hotels..
That isn't all. The Indusind bank credit card offers are also applicable to the lifestyle choices customers make in terms of online shopping. The offers that are available on websites like Askmebazar.com, Jabong.com, ShoppersStop.com, eBay.co.in, healthcart.com and many more you get exciting discounts that help you save big. And finally, when it comes to online app offers, you get Rs.100 off on apps like Swiggy.com and many more..
Offers On Debit Cards
Induind Bank is responsive to its customer's needs and demands! Hence, the bank is aware that a huge section of its customer base comprises of the debit cardholders. To woo in this meteor chunk, there are new Indusind bank debit card offers that debit cardholders can leverage. The set of benefits are the same as that of the credit card offers on travel, shopping, lifestyle choices, entertainment expenses, and app-related benefits. Therefore, once you opt-in for the Indusind Bank Platinum Card you have an option to experience all the amazing offers that otherwise seemed impossible.