People living in tropical countries like India are always on the hunt to find cost-effective solutions that would provide some respite from the sweltering heat. Even though ceiling fans are commonly found in all homes, one might not feel fresh during peak temperatures. The popularity of tower fans is on the rise these days, as these products are considered the perfect alternatives to air coolers, and ceiling fans, and are affordable too.
Flaunting a slim look with bladeless design, they are an apt choice for your modern homes to make you feel comfortable while requiring little space. However, many brands are offering tower fans at the best prices, which makes it difficult while selecting one. This article focuses on the best tower fans that are efficient enough to keep heat waves at bay.
Our Top Picks
Top 10 Tower Fans in India For 2023
We have compiled the list of best tower fans by considering the airflow rate, adjustable speed settings, size, remote control, noise, price, warranty, brand reputation, and customer feedback. Have a look:
Havells OFR 9 Wave Fins with Fan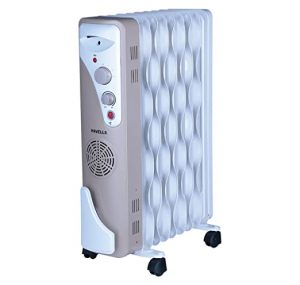 If you are looking for a perfect device to keep the indoor environment cool, you must get this Havells fan home. It comes with 3-different power settings that can be used at different wattages to save power.
The PTC heater with a fan dissipates the heat, and thermostat heat control warms the room evenly to stay within the room space. It also features overheat protection and a tilt switch for added safety.
Are you eager to buy Havells fans or other products online? Wait, what if we say that you can save on everything? Yes, you heard it right. Make use of the Havells coupon codes from GrabOn while making the final payments.
iBELL Tower Fan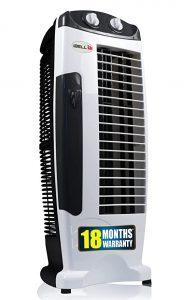 iBELL is a leading household brand in India that manufacturers 300+ quality products at reasonable prices for the consumers. Of all the products, iBELL Tower Fan is another popular model with an elegant and stylish design to give your home a modern look.
It features a powerful motor and blowers to spread the airflow rate evenly up to 25 feet. And the swing functions ensure the air is delivered at 90-degree within the room. These tower fans are lightweight and portable,  making them easy for children to carry effortlessly. You will also get 18 months of manufacturing warranty, which minimises repairing costs.
Bajaj Snowvent Tower Fan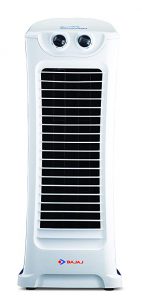 Bajaj Electricals is the leading electrical products manufacturing company in India. It designs and sells mixers, rice cookers, sandwich makers, food processors, blenders, fans, and more. The one we are discussing is the Bajaj Tower Fans. It is made of a durable thermoplastic material that makes it look compelling and provides corrosion-resistant life.
The control panel lets you adjust the speed and swings as per your convenience. To dissipate the cool air evenly in room interiors, you can set it to 3 different speeds. This wall mounting tower fan is backed with 1 year of manufacturing warranty. If there is any damage to the motor or not working correctly, you can reach out to the technical team and get it repaired for free by availing of the warranty services.
Do you want to get some great discounts? A great way to kick-start is to use the Bajaj Electricals promotional offers, where you can get up to 20% off on all fan models.
Usha High-Speed Tower Fan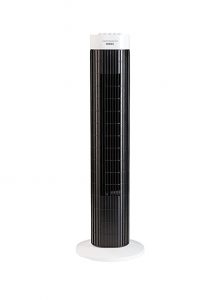 Usha tower fan is an excellent addition to your home as it is made of durable materials to last longer. You can try it with the 3-speed settings and 2-hour timer to personalise at your convenience. It also has a tubular centrifugal blower and wide oscillation feature to circulate the air evenly.
The high-efficiency motor operates at a speed of 1300 RPM with a 20 m3/min air delivery rate and 35-watts power consumption. Besides, it is backed with one year of warranty services. On the whole, this free-standing Usha tower fan is worth purchasing online as it comes with premium features at affordable pricing.
Not to forget, Usha also offers premium quality ceiling fans  with different designs and ergonomic blades to offer maximum cooling indoors.
Impex Tower Fan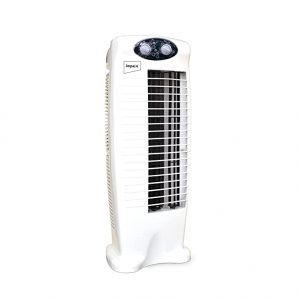 Impex manufactures a wide range of essential products by maintaining the quality standards for every household need. It comes with 3 aerodynamic blades and a heavy-duty motor of 1300 RPM to deliver at a rate of 2250m3/min. Moreover, it also features a 2-way deflection mode for smooth operation.
The overheat protection mechanism prevents this tower fan from interrupting a current depending on the temperature inside the device. It is made of Polypropylene plastic, which is sturdy and lightweight in nature to operate without vibrations.
Lifelong LLTWF05 Portable Mini Tower Fan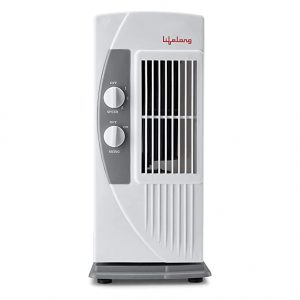 Lifelong is a popular brand in India that designs innovative products meeting the requirements of every home at budget-friendly prices. One such amazing product on the list is Lifelong portable mini tower fan. This model is designed to easily switch between the kitchen, living room, bedroom, or dining rooms. The ergonomic control panel lets you adjust the speed and swing accordingly. Moreover, the soft touch tilting mechanism lets you adjust the airflow rate.
Deco Air Tower DIGI Indoor Fan with Remote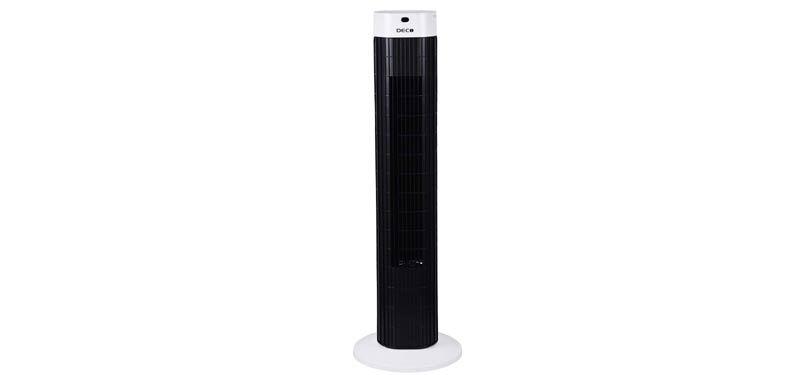 It is easy to switch between Normal, Slumberous, and Simulating mode using the wireless remote control of the Deco tower fan in black and white colour. The cylindrical-shaped fan with compact dimensions can be a great addition to urban homes. Its copper motor can deliver its fullest with 45 W power.
You can switch on/off and set the speed and mode function based on personal preferences using the feather-touch buttons on top of the tower fan. Plus, it is designed with a centrifugal blower for better air throw between the louvres. It has a memory function and a programmed timer for 7.5 hours for maximising user comfort.
Deco Air Tower Elegant Indoor Fan with Remote
This Deco home appliance in shiny black colour comes with a space-saving dimension to fit in compact homes. On top of the tower fan, they have five dedicated buttons like Power On/Off, fan speed, timer, etc. It is a durable product, as it is fitted with a powerful motor of 100% copper that can operate at 35 Watts.
It has three modes, three levels of speed, and a programmed timer for 7 hours to enhance user experience. It comes with a multi-functional remote control to set your preferences at a reasonable distance and is a perfect choice for tall people with up to 6 feet in height.
Russell Hobbs RTF 4800 Tower Fan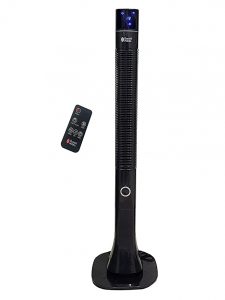 Russels Hobbs transforms the home space by curating high-end products to make lives easier. You get everything from electric kettles to garment steamers, food steamers, and sandwich makers at affordable prices. One such fantastic model from their curation list is Russels Hobbs tower fans.
This tower fan consumes 50 watts and 50 Hz frequency to operate the device. It has 3 adjustable speed modes like normal, natural, and sleep modes, to offer a cool breeze at home. You can also set the timer to automatically turn off the device and thus save the power.
Lasko Tower Fan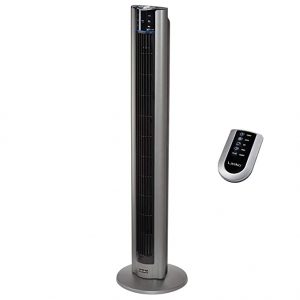 This free-standing Lasko tower fan comes in grey and black combo colours with an outer body made of plastic material. The sleek and vertical design occupies little space to offer cool air. It uses the remote controller to adjust the fan speed and airflow.
The built-in ioniser gives you fresh air and dispels indoor air pollution. The carrying handle on the top makes it effortless to hold and shift to other rooms. By enabling the timer function, the device automatically turns off after 7 hours of continuous usage.
Tower Fans Buying Guide
Size Of Tower Fan
The tower fans are available in sizes – Small, Medium, Standard, and Large to fit into the room space. For instance, it is good to purchase large tower fan models if you are looking for a tower cooler that delivers high airflow.
Power Consumption
These tower fan coolers typically consume between 50 to 200 watts of power.  And it usually depends on the room size and ventilation. You need to understand that high-powered tower coolers consume more electricity. Suppose you wish to use this device for several hours throughout the week, start buying models that consume less power.
Durable Materials
The latest tower fans are made using durable ABS plastic or metal. An individual must look for coolers that can withstand extreme climatic conditions and last longer.
Remote Control
Most of the latest models can be operated using the remote controller. It helps to regulate the fan speed at a distance without manually turning it on/off.
Low Noise
If you are experiencing extreme heat in a room indoors, a high-powered tower fan could be the right option. Compared to the best-rated pedestal fans, they produce less noise due to the strong motor and impeller blades.
Additional Features
Other popular features include an oscillating head, tilt action, protective cage, timer, and integrated lights for smooth functioning of the device.
Price and Warranty Details
Finally, check out the cost of tower fans by comparing different brands and purchasing the one that best matches your budget constraints. The top brands offer a warranty period (6 months, 1 year, and 2 years), which further lets you save on repair costs.
GrabOn's Exclusive Deals

Once you are done knowing about the importance of tower fans for your home, it is high time to make a purchase online. We recommend you use the coupons for electronic products from GrabOn to get them at a discounted price.
Final Thoughts
With that, we conclude our list of top 10 tower fans, which also includes a few air purifiers and room heaters to give an idea for the readers who are looking for them. Most of the products that we have recommended are available in all leading online shopping portals.
Tower Fans – FAQs
1) Which are India's best tower fan brands?

Havells, iBell, Bajaj, and Usha are popular brands with top-notch features that offer exceptional cooling performance within the room space.
2) What factors should be considered while buying a tower fan?
You need to check out the vital factors like remote control option, adjustable speed settings, fan size, airflow capacity, noise level, brand reputation, online reviews, ratings, prices, and warranty details.
3) Which is better: tower fan vs. ceiling fan?
The ceiling fans are a bit more efficient as it uses ergonomic blades that can spread the air evenly to every corner than tower fans.
4) Is it safe to use tower fans at home?
Yes, tower fan coolers are safe to use as they help to circulate the air evenly within the room space.