People living in tropical countries like India are always on the hunt to find cost-effective solutions that would provide some respite from the sweltering heat. Even though ceiling fans are commonly found in all homes, one might not feel fresh during the peak temperatures. The popularity of tower fans is on the rise these days, as these products are considered as the perfect alternatives to air coolers and ceiling fans.
Flaunting a slim look with bladeless design, they are an apt choice for your modern homes to make you feel comfortable while requiring very little space. However, many brands are offering tower fans at the best prices, which makes it difficult while selecting one. This article focuses on the best tower fans for the year 2020 that are efficient enough to keep heat waves at bay.
Top 10 Tower Fans in India For 2020
1. iBELL DELUXE Tower Fan with 25 Feet Air Delivery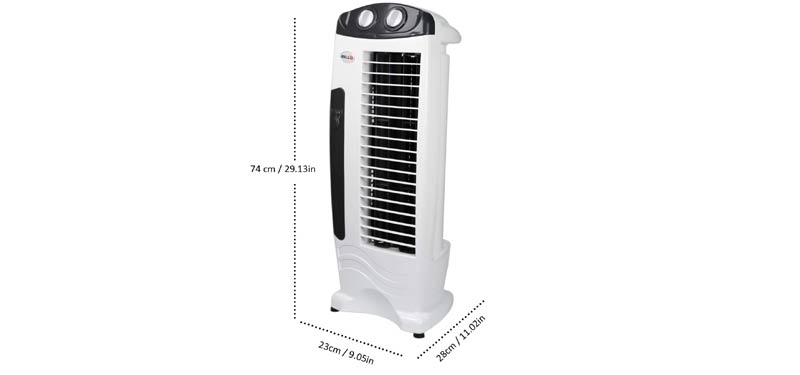 This tower fan from iBell can make you bid goodbye to summer woes, as it comes with an exceptional air delivery rate of 2250 m3/hr. Backed by soft breeze technology, it is capable of offering cool air and can cover up to 25 feet. The slender looking tower fan in glossy white and black color combination is designed with a regulator switch having three different speed controls. This air circulating machine flaunts a rust-free body with an air freshener pocket to fit in the small spaces of urban apartments.
Benefits: You can use this tower fan along with the air conditioner to achieve extra chilling experience.
Price: Rs. 2790
2. Crompton Air Buddy Kitchen Fan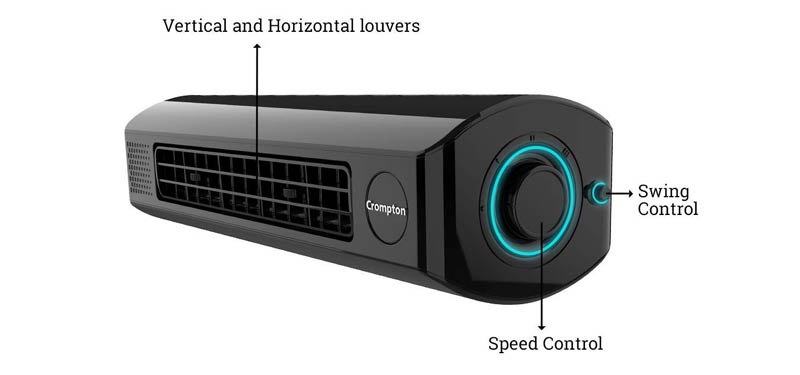 If you hate to spend long hours in the kitchen, then bring home the tower fan in black from Crompton to enjoy personalized airflow. It is designed with adjustable louvers to deliver cool breeze without disturbing the stove flames when cooking. The kitchen appliance with a compact design helps in placing it vertically or horizontally under the kitchen cabinet or mount on the walls. This kitchen fan with removable filters can deliver air at 700 cu. m/hr with 2600 rpm.
Benefits: This tower fan is best for homes with kids, as it has a blade-free design.
Price: Rs. 2073
3. Havells OFR 9 Wave Fins with Fan 2400 W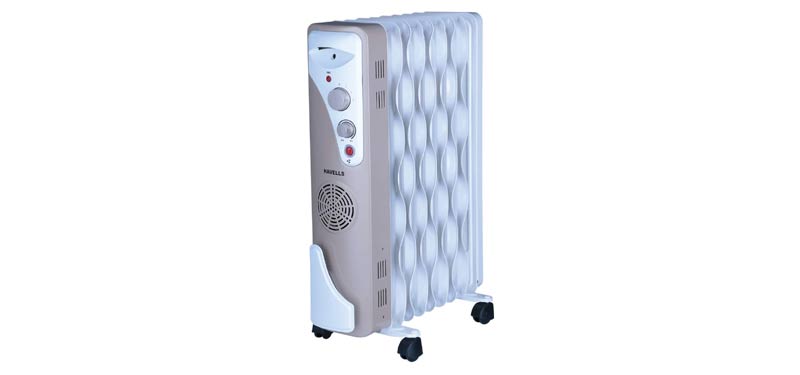 During winters, people prefer to stay cozy and comfortable, which is why they need to choose from the heating solutions offered by Havells. This heater fan is capable of distributing hot air in every nook and corner. This appliance utilizes HD320 grade oil to assure effective heating and has huge wave fins for swift heating. It is offered with security features like a thermostat for better heat control, safety cover at rear, and tilt over switch. It works with 2500 W power and has 3-speed power settings.
Benefits: It is offered with advanced features to consume less power, better heat retention, and user safety.
4. Havells OFR 13 Wave Fins with Fan 2900 W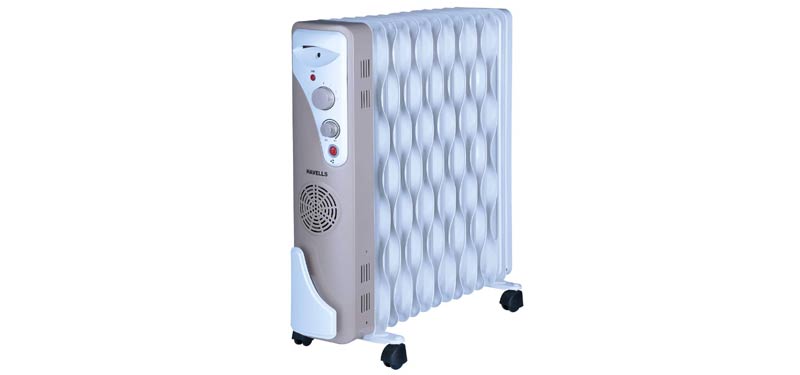 Enjoy even heating during chilly winter seasons by bringing home this Havells 13 wave fin fan. The device is equipped with 13 radiator fins with a large surface, and this home appliance is an excellent choice for instant room heating with 2900 Watts. The heating process is swifter, as it is fitted with a PTC fan. The space-saving body in beige and white with vents, power On/Off buttons, and rotary control knobs exudes convenience. This room heater uses thermostat and grade HD320 oil for efficient heating.
Benefits: It has three settings for heating rooms, caster wheels for quick mobility, and automatic revolving heater for even heating.
5. Deco Air Tower Elegant Indoor Fan with Remote

This Deco home appliance in shiny black color comes with a space-saving dimension to fit in compact homes. On top of the tower, fan are five dedicated buttons like Power On/Off, fan speed, timer, etc. It is a durable product, as it is fitted with a powerful motor of 100% copper that can perform with 35 Watts. It has three modes, three levels of speed and programmed timer for 7 hours to enhance user experience.
Benefits: It comes with a multi-functional remote control to set your preferences at a reasonable distance and is a perfect choice for tall people with up to 6 feet in height.
Price: Rs. 5754
6. USHA Plastic Fiber Tower Fans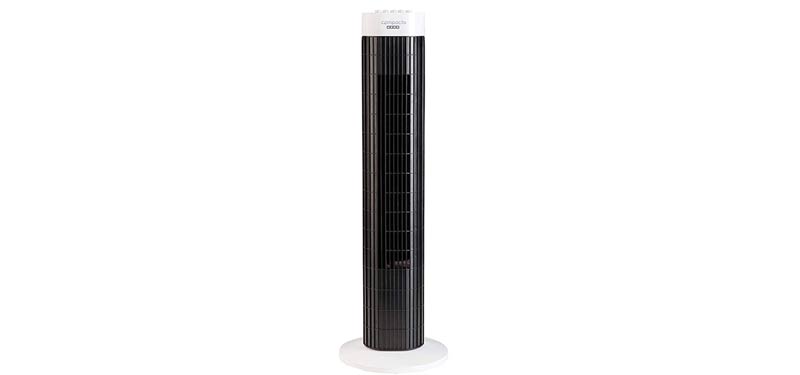 The tower fans offered by the renowned player, Usha are known for their space-saving dimensions and exceptional features, which makes them one among the best-selling products in the country. This product flaunts a super slim body to fit well in small rooms and houses a centrifugal blower in tubular form for efficient, cool air delivery. The copper motor with an auto-protect feature is powerful enough to perform to the fullest with 35 W power.
Benefits: It is capable of delivering better air circulation with features like uniform wide oscillation, jerk-free operation, and multi-comfort option with a manual timer of 2 hours.
Price: Rs. 2699
7. BMS Lifestyle TF-104 Portable Mini Tower Fan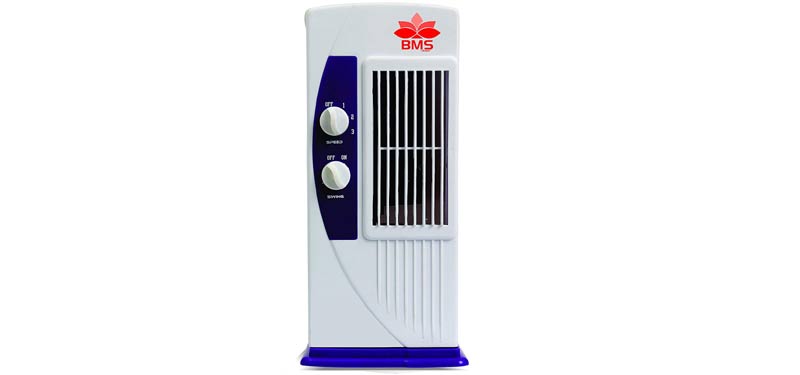 If you are in search of a compact tower fan to enjoy a personalized airflow, then the product from the BMS brand is a perfect choice. This portable tower fan in white and blue can perform with a revolving and rotating mechanism to distribute air at 90 degrees to deliver maximum area coverage. The regulators on the sides of this appliance near the louvers help in adjusting the swing action and speed settings.
Benefits: This tower fan with two blades is ideal for offices and rooms with an area of 500 square feet or lesser.
Price: Rs. 1699
8. Orient Electric Wind Pro Wall-80 400mm Wall Fan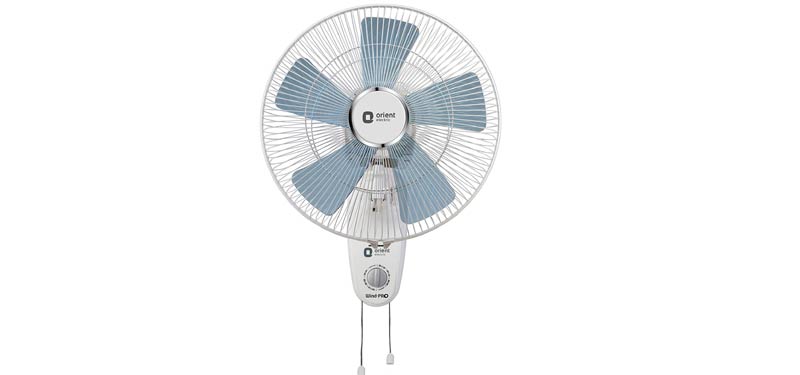 The wall fan from Orient with a white body and 5 SAN blade leaves in blue can assure more extensive air delivery with its wall-mountable design. It is backed by the advanced CTX technology to ensure quiet operation, less power usage, and better air thrust. Each 400 mm sweep of this wall fan has an air displacement rate at 5700 m3/hr along with a 95 cm air delivery rate. The five fan blades maintain revolutions at the rate of 1300 rpm.
Benefits: The wall fan can be controlled with its pull chord mechanism to set the speed and oscillation level. The fan blades are protected by front and rear guards, and it has a thermal overload protection feature for enhanced safety.
Price: Rs. 2495
9. Dyson Pure Cool Air Purifier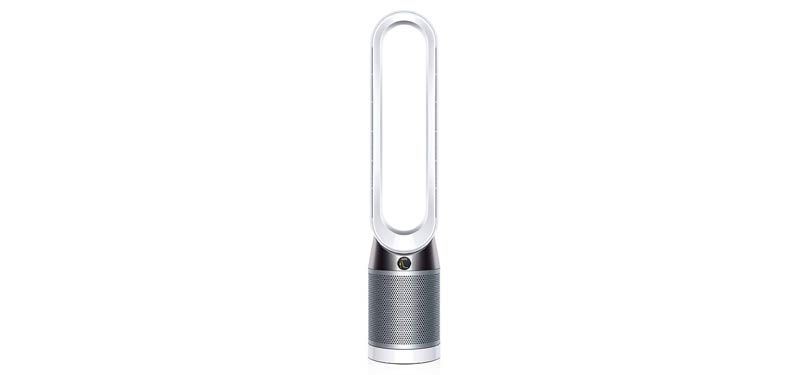 The Dyson air purifier finds a place on our list for its unique algorithm, which analyses the inputs gathered by three sensors to offer air quality reports in real-time. It has a 360-degree vacuum-sealed filter comprising of a glass HEPA filter and a Tris-impregnated filter with activated carbon for capturing microscopic allergens and allergens. Powered with Air Multiplier technology and diffuse mode, it can deliver airflow of 290 liters every second.
Benefits: With the blade-less operation, this Dyson fan with remote control can keep you cool during hot days. It comes with an easy and straightforward to clean filters for less maintenance. With night mode on, it works very quietly.
Price: Rs. 45,900
10. Deco Air Tower DIGI Indoor Fan with Remote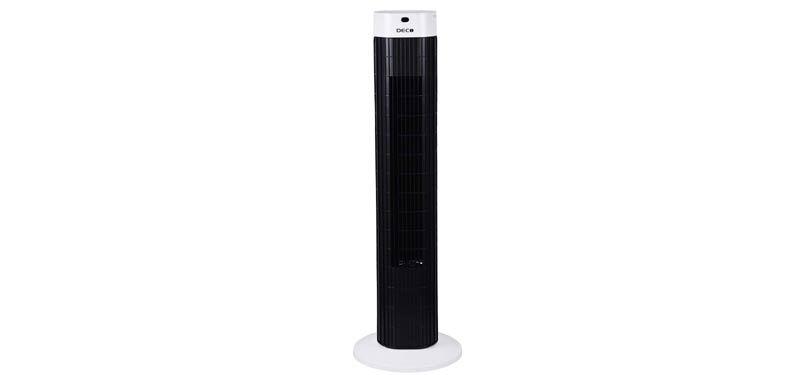 It is easy to switch between Normal, Slumberous, and Simulating mode using the wireless remote control of the Deco tower fan in black and white color. The cylindrical-shaped fan with compact dimensions can be a great addition to urban homes. It's copper motor can deliver its fullest with 45 W power. You can switch on/off, set the speed and mode function based on personal preferences using the feather-touch buttons on top of the tower fan. Plus, it is designed with a centrifugal blower for better air throw between the louvers.
Benefits: It has a memory function and a programmed timer for 7.5 hours for maximizing user comfort.
Price: Rs. 4284
With that, we conclude our list of top 10 tower fans, which also includes few air purifiers and room heaters for giving an idea for the readers who are looking for it. Most of the products that we have recommended are available in all leading online shopping portals.