Verified Sweets Coupons, Offers and Promo Codes | Jan 2021
| Category | Sweets Offers & Coupons | Website |
| --- | --- | --- |
| Birthday Gifts | Up To 20% Off | ChoChoLik |
| Chocolate Ecstasy | Rs 89 Only | Behrouz Biryani |
| Haldiram Rasgulla | Rs 90 Only | Zip.in |
| Southindian Sweets | Best Price | Sweet Khana |
| Sugar Free Sweets | Up to 10% Off | SugerFree Mart |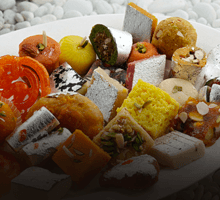 When Sweets Are Everything
Be it any occasion or just any day, sweets are definitely welcomed. We all have a thing for sweets. We make them part of celebrations or any happy moments. Sweets aren't just shared in festivals, they are gifted too. There are no limitations when it comes to them. Right from childhood till date, they have been part of our lives and will be. There's no shoving them away. Feels like they have always been there beside us when in celebration mode. Let's not forget about the Bengali sweets, the mouth-watering rasgullas, malai Chom Chom, Mishti Doi and much more.
When it comes down to sweets, there's so much more to it, there are north Indian sweets and south Indian sweets that are world-famous. And, each of us needs to try it at least once in a lifetime. Do look out for popular Indian sweet names before you try any. You can also shop for sweets online.
Add Little Sweetness To Your Life
Is it time to celebrate and want to get that particular sweet? Well, worry not. With sweets shop near your home, never let an occasion go uncelebrated. We all have our never-ending list of favorite sweets. Be it any kind, they are indeed part of the special day. So, what the stores one can buy from? Haldrirams is an all-time favorite. They have plenty of offerings when it comes to sweets. You can even consider buying it from Om sweets. Their Rhoda is their signature sweet, a must-try. Look for offers on sweets before you make any purchase. Go ahead and choose your favorite from the list of sweets available. So every time you need some sweets, instead of searching 'sweet shops near me', just visit this page for the latest offers and sweet shops that are worth it. Take some time and go shopping for sweets.
Because Sharing Is Caring
When it comes down to sweets, it's always shared with close ones. There's never a moment that goes without sharing of sweets on festivals. The significance of celebrating a festive occasion with sweets is indeed looked forward to and cherished. When you share, you care. Happiness is getting to eat delicious sweets or pretty close. But the joy of sharing it with your loved ones, nothing like it. So, get to make the day more special with a box of sweets. Customize it, pick your set of assortments, and share the tasty sweets with your family. Get those assorted boxes for your loved ones and maybe gift them. Sweet boxes are one of the most preferred gifts for a celebratory day. Be on a lookout for the coupons for sweets on this page. You might just find some of the best and use it.
Sweets Make Celebrations Better
Festivals are incomplete without sweets. With the festival season around the corner, make the day a little more memorable with a bunch of delicious sweets. The sweets coupons help you get more at lesser rates. Indulge in the joy of sharing good desserts. If Haldirams is your destination for getting those scrumptious sweets, then don't forget to use the haldiram sweets coupons. There can be no occasion without sweets. Absolutely not. Every festive occasion in India is celebrated with a box of sweets. Mouth-watering assorted varieties of sweets, each packed with care and love. Because sharing is caring, be it the Cadbury celebrations chocolate box to traditional Indian sweets, each one gets their share. Every occasion is special and is celebrated with love. As per tradition, families prepare a specific sweet for every festival. Jalebi to badam kheer to rabri sweet to dub beda and gulab jamun, all delicious sweets, and a happy tummy.
Sweet Irresistible Deals
When it comes to savings, look nowhere but here at GrabOn for the best deals and coupons. From special discounts to amazing vouchers and coupons, we have it all. With crazy deals to great coupons, Kanti sweets coupons and om sweets coupons are worth giving. Go ahead and buy that sweets coupon today. One can avail offers while they purchase using sweet discount coupons. Getting to buy that favorite sweet brings happiness. The more, the merrier. Happiness is having those mouthwatering sweet delicacies. Don't miss out on trying anything new and yet getting to have the usual. Stay updated with us on this GrabOn page for the latest vouchers and deals. Buy that box of sweets for the upcoming festival. Happy shopping and enjoy eating.