Verified Speakers Coupons, Offers and Promo Codes for Jan 2021
| Category | Speakers Offers & Coupons | Website |
| --- | --- | --- |
| Portable Speakers | Starting at Rs 450 | Ebay |
| Speakers | Up to 50% Off | Amazon |
| Mi Bluetooth Speakers | Flat Rs 900 Off | Mi |
| Bluetooth Speakers | Up To 30% Off | Rediff Shopping |
| JBL Bluetooth Speakers | Up To 50% Off | JBL India |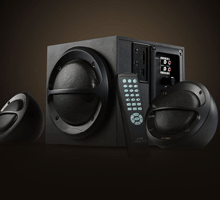 Enhancing Your Music Experience
Listening to Music is considered unique for some. Something close to heart. A feeling you can't describe in words. Good music helps you balance the energy and maintain calmness. You always can look forward to soulful music and get engrossed in listening to it. Let's not forget about the long list of favorites we have. And what better way to listen to them than on a speaker. Speakers indeed make it a whole lot better to listen to music. Are you tired of listening to songs in earphones because long hours of music hurt your ears? With speakers, you can say goodbye to those ear pains and enjoy loud music. If you are planning on traveling and want to listen to music on speakers, you can always buy portable speakers. The portable speakers are built to be taken everywhere. To be able to listen to music on the go. You can charge them, and they last for about 3-8 hours depending on the brand and usage.
Perfect Choice For A Music Lover
One of the best things a music lover can have or own is a portable Bluetooth speaker. Listening to music on speakers makes it so much better. And, speakers are indeed the perfect choice for a music lover. Be it from speakers for home theatre, portable speakers, computer speakers to wired speakers, you can listen to good music. People do invest in good audio systems, and they give out powerful sound effects. Worth listening to on.
Top blogs on Speakers
Cool Speakers You Can Own
So what are the cool speakers you can buy? JBL makes some of the best speakers. The JBL speakers let you turn up the audio and experience good music. There are numerous offerings from JBL, and their Jbl Bluetooth speakers are something that you need to own. Get to listen to great music on the go with portable speakers. Get your very own JBL speaker using the JBL speakers online offers. Another speaker that you can consider buying re creative speakers. They are equally good. Other speakers include Bose, Marshall, Zook speakers, boat, and much more.
Save Big With GrabOn
If you can are planning on getting new speakers, then look at the speakers' online offers before making any purchase. You can use the speaker's coupons to avail discounts on your purchase. Another offer that you should probably look for is the Bluetooth speakers online offers. With incredible offers available on speakers, you don't have to search elsewhere. From 50% off deals to amazing cashback, you sure do get exciting deals, all here. You can get the speakers from JBL, Amazon, Flipkart, Croma, and so many other stores that offer discounts. You can buy using the deals too. Check out our Flipkart and Amazon promo code page for the same. They offer plenty of collections for one to choose from. And buying a good speaker can cost you a bit more than getting any normal one. So check for discount coupons on this page and use them to avail significant concessions. Check this website from time to time for astonishing offers.