Trending Discounts in Kolkata | Deals and Offers for Today
Kolkata Deals
Offers in Kolkata
Validity
Food Coupons
Flat 50% Off
Valid for New Users
Kolkata Special Food
Just Rs 91
Valid for All Users
Nearbuy Kolkata Deals
Upto 60% Off
Valid for All Users
Hotel Offers
Up to 50% Off
Valid for All Users
Domestic Flight Offers
Up to Rs 1000 Off
Valid for All Users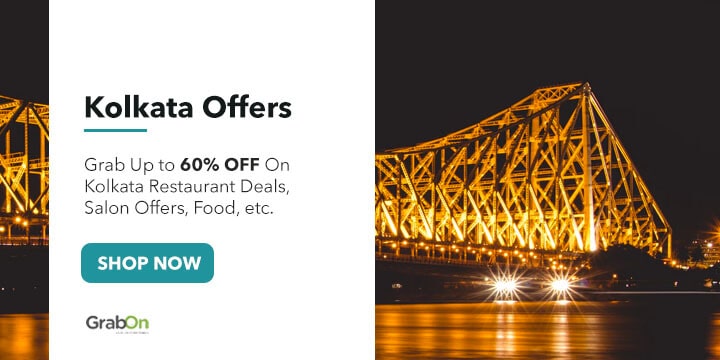 Kolkata- the City of Joy
Kolkata, the sepia-tinted city is of intellects, artists, and all sweet souls on earth. It's the old world and the new; the literature and the drama; the open chapter of a mysterious book. Kolkata is everything you thought it was when you saw women in white and red dancing in Durga Pujo. Its culture has been brought up on a healthy diet of Rabindra Sangeet, Satyajit Ray, and Mother Teresa. At the picturesque corners, there is graffiti, remnants of old British architecture, and conversations. On the roads are the bright yellow taxis, the buses, and the trams. And amidst it all, there is warmth. As Fiona Caulfield, the writer of Made In Kolkata observed, "It is soulful, and the friendliest city in India. Strangers will invite you for a chai just to talk and exchange ideas."
Local Travel @ Amazing Prices
Irrespective of the duration of your stay, you can have all the fun Kolkata has to offer. Thanks to the cabs, buses, and metro, which are quick, and drop you at your location in no time. You can also travel by Rapido at pocket-friendly prices, or travel (back in time) with the vintage trams. Local travel is indeed the lifeline of the city. It is about half the fun. The other half is the sites in Kolkata that you just can't miss. For your convenience, here's a checklist along with the coordinates:
Science City (22.5402° N, 88.3961° E)
Wildlife Trek at Sundarbans (21.9497° N, 89.1833° E)
Marble Palace (22.5822° N, 88.3602° E)
Victoria Memorial (22.5448° N, 88.3426° E)
Birla Planetarium (22.5455° N, 88.3473° E)
Howrah Bridge (22.5851° N, 88.3468° E)
There you go, your jam-packed 3-day plan at Kolkata. Do not wait any longer. Of course, if you do wait, you might reach just in time to see India's first Underwater Metro.
Bengali Cuisine Style Restarunts
Indulge in the rich local cuisine of the city. There's hearty seafood, delectable meat, and plenty of hot, piping vegetables. To top it all off, there's the most wholesome platter of desserts. Leading the culinary gems is Mishti Doi, the fermented sweet yoghurt that has the whole nation hooked. Then, of course, there is Chomchom (it rhymes with nom nom; do we need to tell you how tasty it is?). Quick in succession is Sondesh, the buttery soft sweets, whose name translates to 'Message. Indeed a message of love from us to our tummy, if you ask us. Let's end the tour with Rasgullas- balls of cottage cheese dough dipped in sugar syrup. Nobody leaves the city without a box of Rasgullas.
Where to Find the Best Deals in Kolkata?
As good as any local, trust us to hook you up with the best offers and deals running in all parts of Kolkata. The city is bustling with business. Know which local restaurant is running the best discounts. Where to find a comfortable room at comfortable prices? How to complete your Kolkata trip with enough left to see Howrah as well? This page is the answer to all your questions. Get car subscriptions from Revv starting from Rs.339/day; book hotels with FabHotels and get up to 100% cashback; and avail 50% discounts on restaurants with Little. That's not all. Check the offers yourself. Oh, and remember to get a little idol from Kumortuli as souvenir.