Get the best Jio Money offers online
The online shopping world is spinning at a faster pace with amazing offers for our lifestyle goods as well as recreation being made available to us. A recent one that has hit the market and is making it easy for online shoppers to enjoy their online purchases is the Jio Money promo code. A Reliance Group venture, Jio Money online offers, and discounts can be availed on GrabOn. The offers are available through cashback discounts and other coupon deals that can be accessed and activated easily online! So go ahead and save big!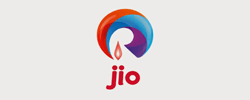 Explore your chances
Today the Jio Money coupons are available in many forms! For instance, the movie buffs can make the most of the coupon deals and promotional offers by making use of the deals that provide attractive cashback offers on movie tickets. That isn't all. In recent times, the Jio Money offers are also available on electronic gadgets, for instance on the Smartphone's. Hence, avid online shoppers who have been aiming to make a mobile purchase online within their budget. they can make the most of this offer and get the best discounts on the latest models.
Making payments anytime and anywhere is the biggest convenience the 21st century has given us. Imagine a world without GooglePay wallet, or Amazon Pay, where we'd have to look for ATMs each time we were out of cash. In that world, we'd have to login to one website to pay our electricity bills, another to book our IRCTC tickets, another to buy movie tickets, and yet another to transfer money to family members. Thank God, that's not the case.
The best deals are on GrabOn
From the Jio Money wallet offers to other Jio money coupon deals, the best ones are all available on GrabOn. This is website popular for the online deals that it offers to its customers. All the deals and offers that are listed on GrabOn have been verified and hence are entirely authentic. Log in to the website and browse through the Jio money deals and select the ones that suit your need and purpose. Once done, you can activate the deal or copy the code go on to make your purchase via Jio Money. Sometimes, you also make the purchases without the coupon code.
Jio DTH plans going to be introduced soon
After making a grand entry in the mobile and telecommunications industry with all their disruptive plans and offers, Jio is all set to launch their DTH plans. And as per reports, these plans are going to be equally exciting like that of the mobile offers. The brand is reportedly supposed to bring the revolutionary "catch up" feature, that will allow you to stream shows from the past seven days. Initially they may launch with 300 channels on-board, and later on, they will be adding more as per demand and requirement. They also may bring in the voice control feature. Exciting right? We all are waiting with bated breath as to how the Jio DTH plans will turn out to be. Stay updated with us on GrabOn and never miss out on any of the Jio DTH discounts and offers.