Best Discounts in Ahmedabad | Offers, Deals and Coupons Today
| Offer Category | Deals in Ahmedabad | Validity |
| --- | --- | --- |
| Food Offers | Flat 50% OFF | New Users |
| Fashion Deals | Flat 75% Off | All Users |
| Gifting Offers | Flat Rs 100 Off | All Users |
| Electronics Deals | Up to 80% Off | All Users |
| Domestic Hotel Offers | Up to 50% Off | All Users |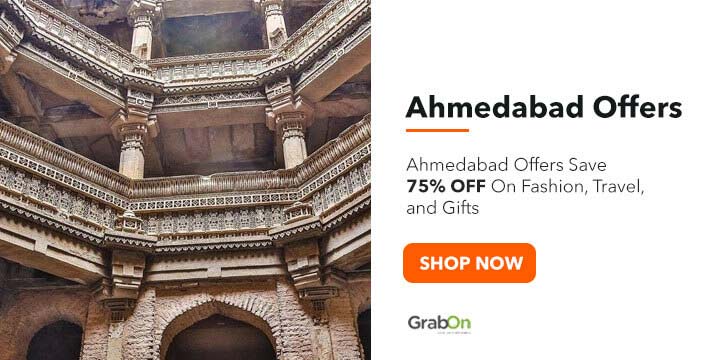 Know Ahmedabad In And Out
Being the former capital of Gujarat this city has so much more to offer than what meets the eye. Ahmedabad is located on the banks of Sabarmati River and is one of the largest cities in India. Sabarmati Ashram is located here and was the second home of Mahatma Gandhi. The city has a vibrant culture, humble and hospitable people, scrumptious food and historic places. The city has beautiful temples that showcase artistry from olden days. Ahmedabad is known for their delicious Dhoklas and fafdas. When it comes to education, IIM A is situated here and is known for being one of the best and old IIMs. The city is famous for being a cotton production center. This city is an economic and industrial hub in India. Get to visit the places your history books mentioned. Pay a visit to the city and experience their cultural heritage.
Things Every Tourist Should Try Out
Planning a trip to Ahmedabad soon? Here is an itinerary of things you can do. The first thing on your list is to try the Gujarati cuisine. Right from street food to sweets to delicious munch on, Ahmedabad indeed has absolutely delicious foods. The Dhokla, Khakra, Kulfi, and Fafda are some of the snacks that you must try when in the city. You can explore the city and visit the monumental sites. Ram Ji Mandir and the Bhadra fort are some of the main tourist attractions. Witness these unique creations and be awestruck by the work. Let us not forget about the Sabarmati Ashram, you can get to see Gandhi's personal articles. The Ashram has preserved some of his works and belongings for display. The kankariya lake is one that you should see when in the city. There are a few more places you can visit in your time.
About Festivals And Everything Delightful
The festival season in Ahmedabad is colorful and absolutely great. The portrayal of traditional attire, with vibrant dance and music surrounding, you definitely would want to be part of this. The kite festival is the most awaited one every year. Designed beautifully, the kites soar up in the sky. The sight of watching multiple kites in the sky is delightful. People gather to witness this event from across the city. So when it comes to occasions in Ahmedabad, it's all celebrating grand with brightcolors.
Deals You Can't Miss
Now when in Ahmedabad you could coupons for ordering your food or booking cabs, buses etc. You can check for Ahmedabad deals on this page. Get the latest and best deals in town. Things that you ought to look out for are the food and travel deals in Ahmedabad. Because when in a new place, you should be able to save on your travel and food, thus be able to spend it elsewhere. Let us help you sort out your meals, with restaurant deals in Ahmedabad. Get the best hotel deals in Ahmedabad with this regularly updated page. Stay tuned with us for the best coupons and hottest offers.