Product Deals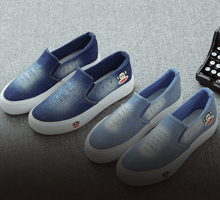 Women's Casual Shoes Deals Of The Day
Your shoes talk a lot about you when you meet others. For women, shoes are very important as they make them stand out of the crowd. The count of women's footwear will never reduce as they prefer perfect match of shoes with every attire. Get into comfortable jeans with a boyfriend's shirt or a funky t-shirt and pair it with casual shoes. These casual shoes effortlessly go with any attire of yours because of the stylish look. Browse for various types of casual shoes like slip-on, loafers, sneakers and much more. Use women's casual shoe promo codes available on this page for huge offers.
Why opt for the casual shoes?
Casual shoes are where you can experiment a lot if you are crazy about shoes. It is not that you can't experiment with the formal ones, but when it comes to the casual pairs trying new looks becomes easier and all the more fun. If you want to stand out in the crowd, the casual pairs are your best bet. You can pair these with any kind of attire, be it Western or Indian. And since the casual shoes come in almost all categories such as loafers, slip-ons, pumps, sneakers, flip flops, espadrilles, stilettos and so on, you have innumerable options to choose from. But if budget is at the top for your mind, use casual shoe deals. This will help you stick to your budget.
Using the deals
So, you love shoes and you buy a pair or two every other day. Now, what if we told you that shopping for shoes can be easier on the pocket? The deals available on shoes will help you with that. You can use these deals to buy shoes for huge discounts, which can even be as big as 50% and more. Grab the deals before they expire as these are time sensitive. Keep checking this space for more.