TOBACCO/TOLERANCE? They do anything but DIE.
go back to

Pepperfry Deals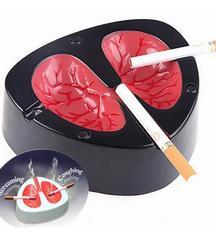 Pepperfry
TOBACCO/TOLERANCE? They do anything but DIE.
The choice is yours but don't be LATE. This is the best personalized and motivating product to quit smoking. Activate this deal today and buy this product availing 27% off. Gift this ashtray to anyone you care. This product helps people realize that tobacco does not but damage to their lives. Do you want to quit smoking? Do you realize that smoking can do a lot worse to your family and friends? If your answer is a yes, then this is the product that will motivate you or your friends to leave smoking. The product is an astray, designed with the imagery of real life lungs, indicating that how they will ruin and leave your body to wreck because of the cigarettes and other tobacco related products. This item has been designed to remind you what will happen if you will keep on smoking and is great for personal of gifting usage.
Product Description
Want a fun way to let someone quit smoking? Then this is the personal gifting product that could put a full-stop to their torrid and awful habit. No wonder this message-oriented ashtray will drawdown from 10 cigarettes a day to measly 0 cigarettes.
This pack contains 1 piece
Label: Cool Trends
Dimensions: LxWxH - 4.72x5.11x1.77 cm