Rain & Rainbow Women Black & Pink Printed Kurta with Churidar & Dupatta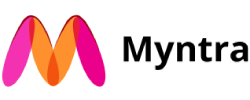 Myntra Deals
go back to

Myntra Deals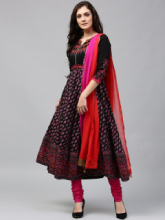 Myntra
Rain & Rainbow Women Black & Pink Printed Kurta with Churidar & Dupatta
Rs. 4995
Rs. 2747 46% OFF
See All Myntra Deals
The Indian Women's Attire: The grace the Indian clothing and style brought by them cannot be hunted anywhere else. The beauty of traditional clothing always has owned the hearts of the beauty admirers. Check out the latest beauty designed Churidar with Dupatta with the rainbow combination giving priority to black and queen pink. This amazing designed kurta at Myntra is made out of pure cotton and dupatta has been sorted with Poly Chiffon which gives it a shiny flair to the long lengthed dupatta which is also red dyed and has tassels border that makes it look even much prettier than could be imagined. The black and pink printed Anarkali calf length kurta, has a notched round neck, three-quarter sleeves, full lengthed printed and embroidered with graceful hand borders and designs. Every print and design has been sharply sized and placed to give it perfect uplifting look that gives the wearer the pleasure to look the pretty you in any occasion or time. The below chudi Patiala has been dyed with blooming pink which fletches even more attraction to the overall look of the Anarkali churidar and the comfort has been given a priority so that not just you stand out in the crowd but also feel relaxed in any season you wear. Do not miss out buying this amazing collection from Myntra and clothing it over you as the most beautiful look is yet waiting to owe you.
Store Name: Myntra
Shipping Cost:Free
Kurta fabric:pure cotton
Bottom fabric: pure cotton
Dupatta fabric: poly chiffon
Sizes:S - XXL
Care:Dry Clean


Product Description
1. Click on GRAB DEAL
2. Add the Product to your shopping cart
3. Proceed to checkout
4. No coupon code required.
Coupons You May Like