Puma Men's Arom Mesh Running Shoes @ 50% OFF
go back to

Amazon Deals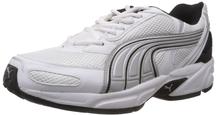 Amazon
Puma Men's Arom Mesh Running Shoes @ 50% OFF
Looking for a new pair of running shoes for your daily exercise? Or want to start exercising and you need a good pair of running shoes? Amazon brings to you the best of the best product from Puma - Arom Mesh Running shoes for men. Now you can buy this Puma Shoes at flat 50% OFF only at this shopping site. This shoes have synthetic leather and mesh mid-sole material. It is best used for daily exercise or any sports as it carries padded collar and tongue for all day comfort with slip-resistant. Buy these shoes from Amazon and get flat 50% OFF. Amazon, one of the most known online shopping site, is known for its quality product and heavy deals. Shopping here is easy and exciting as you can find branded clothes and shoes here. You can also try out their electronics section where you will find top mobiles at best prices. Stop thinking and just get on Amazon to buy this shoes for yourself. You won't find such an attractive deal anywhere but here.
Product Description
Now make your exercise comfortable and fun with Puma Arom Mesh Shoes. Throw out those old running shoes that you have rugged and get the new from Amazon. These shoes are best especially for people who play sports everyday and who likes to take long running trails. Arom Mesh shoes are crafted in such a way that it gives the wearer comfort and relaxation to their legs as if they are not being strained. The shoes come in white and black color and have a very casual look. They are easy to clean and can be worn even when you are not exercising or running.
Get this trendy yet solid shoes today only from this site to avail the big discount. You can now save upto Rs 2000 on this shoes (MRP being Rs 3999). Go to the Amazon site today and order these shoes before the offers runs out or your product goes out of stock. HURRY! It is flat 50% OFF on Puma Shoes.
More Men Sports Shoes Product Deals