go back to

Urban Ladder Deals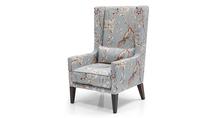 Urban Ladder
MORGEN WING CHAIR
Buy this Morgen Wing Chair online at Urban Ladder and add a little bit of quirk and a lot of cozyness to your room. A unique blend of vintage and contemporary, this chair adds a ray of mystery that pulls you towards it and allows you to stretch, relax and lean back in its upholstered enclosing wings. Perfect for the living room, bedroom or guestroom, there is nothing more you could ask for while you're relaxing or reading a book on this beautifully crafted and astonishingly comfortable chair.
Product Description
Stretch, relax and lean back in this upholstered enclosing wings of morgen chair. Its comfortable wings offer plenty of neck and head support while its stylish yet spacious seat design lets you relax in a variety of positions. Not just this chair is comfortable, but its sleek and classic contemporary design that comes with astonishing upholstery make this chair a great accent piece.
Properties and Dimensions:
Material: Fabric, Steam Beech Wood
Primary Room: Living Room
Secondary Room: Bed Room
Arm Rest: Yes
This product will be assembled and installed by Urban Ladder team.
More Home Furniture Product Deals