Product Deals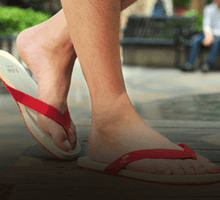 Men's Flip Flops Deals Of The Day
Flip flops are best friends for men. Most of the men just carry flip flops with every attire of them. People relate summers with a flip flop as they are light in weight and they are known to provide breezy comfort. These are ideal for daily wear and for a regular routine. The specialty of these flip flops is that they come in bright colors which make them perfect for the beach. The common variants of flip flops are rubber and leather from various brands like Nike, Puma, Crocs, Adidas and lot more. Use men's flip flops promo codes available on this page for huge discounts.
Men's Flip Flops Today's Best Offers
Why you should say yes to flip flops
Flip flops are the best kind of footwear you can have and for almost any kind of informal occasions. And yes, these are comfortable, cool and versatile as well. You can team it with a tee and a pair of jeans or a chino. You can pair it with a funky tee, an open front shirt and a pair of shorts. The options are innumerable. You can also wear a flip flop to anywhere, to a beach party, a long drive, a casual day at work in some cases and even when going out with friends for a carrom or an adda session. So, how can you not but say yes to flip flops.
Use man's flip flop deals to shop more
Having just one pair of flip flop isn't enough and more so when it is the rainy season. To make shopping for men's flip flops easier on the pocket, use the deals listed on this page. It will only help you save without you having to invest too much of your time and energy. You simply need to copy or activate the code for the deal listed on this page. And always keep a tab of the deals here so that you miss out on none.