Product Deals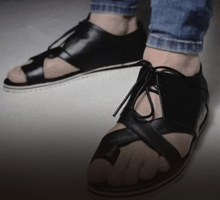 Men Sandals Deals Of The Day
Sandals are known for comfort and look. For completing any of your formal or casual attire you should always go for sandals. These come in various patterns and vibrant colors with great quality. Most of the men prefer wearing this kind of footwear for their comfortableness and style. Go for rough and tough from various brands like Puma, Adidas, woodland, etc. Leather sandals are best for official purpose while the faux leather ones are good for casual wear and for beach purpose. This page will be uploaded on a regular so you get a lot of men sandals coupons for best deals and discounts.
Sandals are the go to accessories
Sandals are a versatile piece of accessory and every man should have various pairs of it in their closet. These come in various forms, styles and textures. From being formal to completely informal, sandals are your best bet when you are unable to find the right kind of shoe to pair with your outfit. Whether you are at home, at office or going on a vacation, having one pair in your bag is really a must. These can save the day, we promise! And why should you not buy a few pairs when you can grab some really good deals on these?
Grab sandal deals
You can wear a sandal to work, while going for an outing with your friends, while going on a date and even when you are going for a vacation. And you get these from all of the best and favourite brands like that of Adidas Puma, Woodland, Roadster and more. Besides that, you can get great deals online that makes it easier for you to shop for more while having to spend less. To grab the deals that change from time to time, you need to keep an eye on this space. We go on adding and updating deals regularly.