Verified Magic Crate Coupons, Offers and Promo Codes | Mar 2021
| Category | Magic Crate Coupons & Offers |
| --- | --- |
| Sitewide Offer | Free Box + Rs 500 Cashback |
| 12 Month Subscription Plans | Starting at Rs 499 |
| 6 Month Subscription Plan | Get It For Rs 666 |
| Special Magic Crate Box | Save Rs 1350 |
| Subscription Offer | Get Rs 999 Freebies |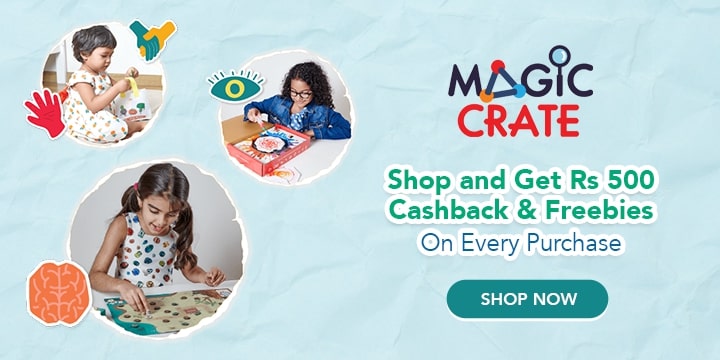 Where Did the Magic of Magic Crate Begin?
Magic Crate was originally started in 2014 by Viswanathan R, the co-founder to keep his son preoccupied when at home. Considering how kids generally are active, it is important that they do constantly do something, that's when Magic Crate comes into the picture. It is a subscription service for kids between 1.5 to 15 years. Yes, this is a solution to keep your little one preoccupied. The basic idea is to have theme-based activity kits. The best part of this is that they get mailed to your house. The toys are categorized in different age groups- 0-1.5 years (infants), 1.5-2 years (tiny tots), 2-3 years (toddlers), 3-4.5 years (pre-kindergarten), 4.5-6 years (kindergarten), 6-8 years (primary school), 8-10 years (elementary school), 10-12 years (middle school), 13+ (secondary school). Basing on what age category your child falls in, you can order the subscription boxes. There are countless options and your child will be grateful for having such an amazing pastime activity to do.
Water, Wind, Rainforest, Mad Science
Whatever your kid is interested in or you want them to be interested in, Magic Crate takes care of it all. The crates contain 2 science activities, 1 art activity, and a game. All of which come disassembled and the basic idea is for the kid to assemble it and play. It has both learning and fun. These games can be played with anyone and are quite entertaining. Another amazing thing about Magic Crate is that all the toys are made up of natural hale wood and natural colors. Not just that they also maintain the International Toy Safety Standards. There are numerous boxes that you can get for your children to keep them from getting addicted to television or mobile phones or even wander off somewhere on the internet or in real life. These boxes include the likes of the little mariner or the little storyteller among many others. They also have monthly themed boxes. If you are worried about how the quality is or how other kids are liking it or not or even the fact whether your child will like it or no, they have feedback from existing users. They also guarantee that you'll never receive a box that you already have as they keep coming up with new boxes every month. More reasons to get your hands on those amazing Magic Crate offers and subscribe for the boxes you know your child is going to absolutely love. They even have an active blog on parenting, the articles on it are informative and have a lot of tips on how to take care of the little one.
Let the Magic Of Savings Surprise You
Use Magic Crate coupons to save big and save on everything. Order the subscription boxes and make your children's growing up filled with learning and fun. Whatever age your child is there's something for them here just don't forget to use Magic Crate coupon code for it.
Kids' brains develop faster than we imagined. Magic Crate provides games that are fun but also educational so your ward learns the right things from the very childhood. You can also buy modules and games fromFlintoBoxthat have free shipping and are made with kid-friendly materials. But they need little fun in their lives too, don't they? Head Over to First Cry and get some fun toys for you boy or girl to play with.