Ishin Orange Faux Georgette Traditional Saree
go back to

Myntra Deals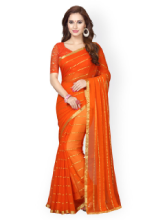 Myntra
Ishin Orange Faux Georgette Traditional Saree
Summer is around and roaring up to arrive soon. Meanwhile, you beautiful ladies are looking for options in question to what to cover yourself with to beat the heat and feel absolutely feather free and light like at home under AC with comfortable clothes on? Now just relax as we bring to you our deal to reduce your worry for a day and let your skin enjoy the comfort of breathing. Take a look at this elegant dawn kissed faux georgette blended Ishin Orange Faux Georgette Traditional Saree, a combination of beauty and simplicity. The fabric is light weighted and is of thinner texture which allows the breeze to pass through and allows the skin to feel free and breathe. The arresting color of the saree blows the mind too with the vivid shade of orange, simple combination of golden strips zari woven design across the body and the narrower borders(It's just awesome). This saree comes with a matching blouse piece from our stylist's collection that can be modified based on the taste and interest with bit zari work to give it a classy effect. All over this exquisite saree is worth the purchase and has a great appeal to give you the Morning look that every women crave for.
Store Name: Myntra
Shipping Cost:Free
Kurta fabric:Faux georgette blend
Sizes:FREE Size
Care:Dry Clean


Product Description
1. Click on GRAB DEAL
2. Add the Product to your shopping cart
3. Proceed to checkout
4. No coupon code required.
More Women's Sarees Product Deals