As a South Indian, I would say our kitchens are never complete unless we own a wet grinder to grind rice, dal, and lentils to create soft and spongy idlis, paper-thin dosas and crispy vadas. The fluffy urad dal batter that we grind using the wet grinder to prepare these foods is no match for the ones offered by a mixer grinder. Even though mixer grinders can also be used for grinding wet batter for these Indian delicacies, the batter prepared by wet grinders gives it the right consistency and better taste while improving the shelf life.
These kitchen appliances with a lightweight tabletop avatar have replaced their bulky looking heavyweight counterparts, and have simplified the art of batter grinding while saving you time and energy. If you are keen to include such wholesome foods made with fresh ingredients into your diet, you will need a wet grinder to handle the tasks like churning and grinding. We have prepared a list comprising of the top 10 wet grinders in the country to help you make a better buying decision.
Top 10 Tabletop Wet Grinders In India for 2020
1. Butterfly Hippo 2.0 L Tabletop Wet Grinder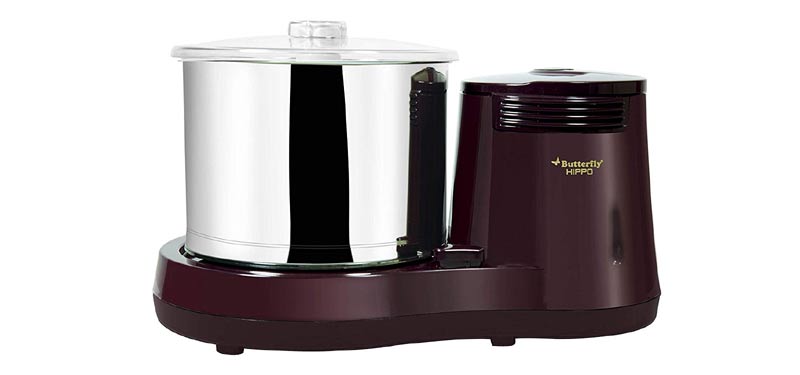 This wet grinder from the renowned brand, Butterfly holds the 1st position on our list of best products, as it is designed with a durable body to assure long-lasting service. This tabletop model comes with an ABS body with shockproof design in cherry red color. The 2 roller stones and the stainless steel drum have a detachable design and are covered with the unbreakable polycarbonate lid.
The wet grinder with 2-liter capacity adapts a unique 4-way grinding system to keep the batter cool even if grinding it for 20 minutes at a stretch. It houses a powerful single phase motor with high torque power to perform grinding with 150 w power.
Price: Rs. 3380
2. Butterfly Smart 150-Watt Tabletop Wet Grinder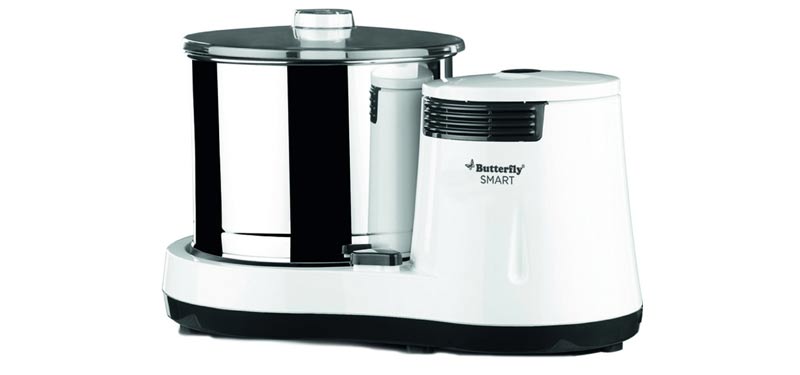 This Butterfly table top wet grinder comes with a space-saving dimension to fit in your compact kitchen. The ABS plastic body in white can resist heat and shock at the same time. The distinct conical roller stone assembly and cylindrical support grind the batter quickly. The ventilator at the side of the body prevents the high toque motor from overheating.
The lightweight design of the detachable stainless steel drum and the roller stones makes it easy to clean after grinding. This product comes with a capacity of 2 liters and works with 150 watts power. It has power On/Off switch and the lid is made using polycarbonate material.
Price: Rs. 3599
3. Elgi Ultra Grind+ Gold 2-Litre Tabletop Wet Grinder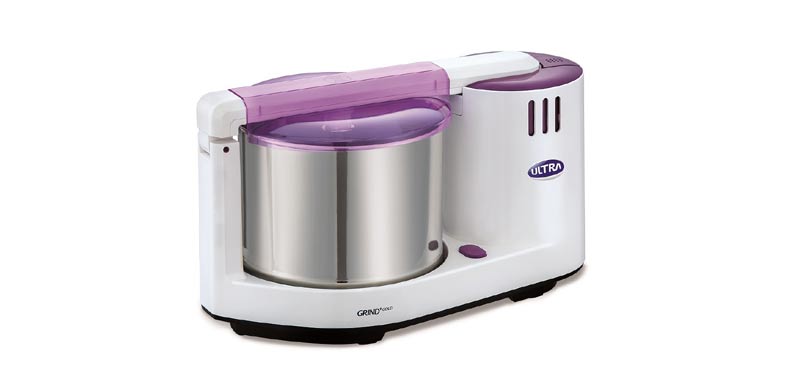 The Elgi Grind+ wet grinder is carefully manufactured to cut down your grinding time, as it comes with a batter cleaning attachment to remove the batter easily. It is designed with a rust-free AISI 304 grade multi-utility stainless steel drum that can also be used for storing the batter instead of transferring to another vessel. Its patented conical stones are capable of grinding efficiently while generating less heat.
This wet grinder has the capacity of 2 liters and is powered by a 150-watt heavy-duty motor. It performs the grinding operation without any vibration and noise. The high torque motor ensures that the appliance doesn't heat up when continuously grinding rice or dal for 30 minutes.
Price: Rs. 6765
You might want to check these related articles
Best Juicers In India
Best Mixer Grinders In India
Best Hand Blender in India
4. Butterfly Rhino Plus 150-Watt Tabletop Wet Grinder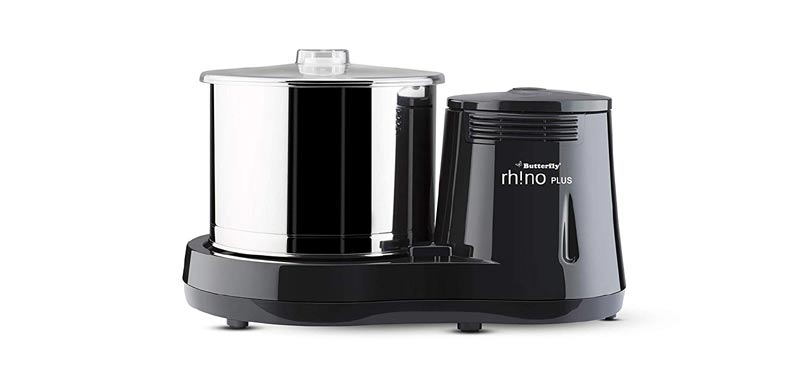 The Butterfly Rhino Plus wet grinder with a compact design is a perfect helper in your kitchen, as it can grind the soft batter in a short time. This kitchen appliance flaunts a stylish look in glossy grey color and its shockproof ABS body is resistant to heat. This tabletop grinder has 2 liters capacity and performs grinding tasks at blazing speed.
The heavy-duty motor performs with 900 rpm while maintaining uniform pressure to prevent overheating or overloading issues. It is offered with a coconut scraper attachment to grate coconut from the shell quickly and the dough kneading attachment helps in preparing the dough for chapatis, puris, and parathas.
Price: Rs. 3989
5. Elgi Ultra Dura+ 1.25-Litre Tabletop Wet Grinder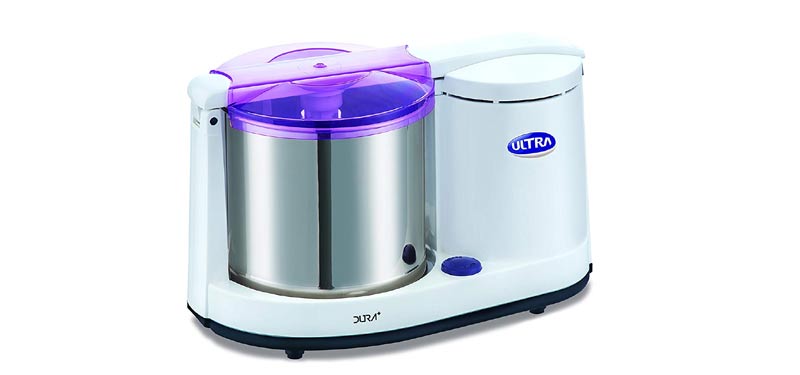 The Dura+ table top wet grinder is a must-have product that sports a weightless body in white and blue color to assure the best grinding experience. It is offered with 2 patented conical grinding stones to grind batter without getting heated up to improve fermentation volume. The powerful motor of 85 Watts ensures the task of grinding is performed at a swift pace.
The AISI 304 grade stainless steel drum with 1.25 liters capacity can also double up as a vessel to store the wet batter after grinding. The batter removing attachment saves you the trouble of wiping the batter off the drum with hands.
Price: Rs. 5699
6. Elgi Ultra Perfect+ 2-Litre Tabletop Wet Grinder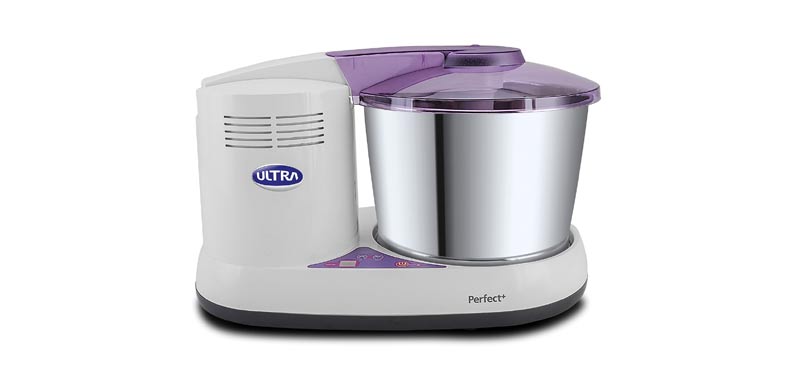 The wet grinders offered by Elgi brand are well-known for their aesthetic design, portable body, sturdy parts and patented rolling stone design. The Elgi Ultra Bigg tabletop wet grinder is powered with unique patented conical grinding stones to assure the best grinding output and batter with less heat. The rust resisting drum of 304-grade stainless steel is of food grade and serves as a multi-utility vessel for batter storage.
The efficient high torque motor of 150 watts maintains an excellent pace while grinding rice or other soaked ingredients. It also has an auto switch off timer feature and beep alert to notify you when the grinding is complete.
Price: Rs. 8150
7. Elgi Ultra Bigg+ 2.5-Litre Tabletop Wet Grinder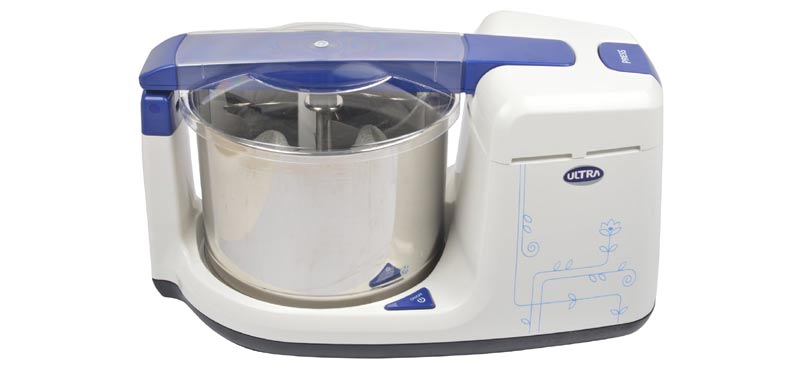 Equipped with a 2.5 liters capacity, this Elgi Ultra Bigg+ tabletop wet grinding appliance is apt for big families, as it comes with quick grinding patented conical grinding stones. The lightweight ABS body makes it safe from shocks and the batter cleaning attachment helps in quick cleaning of the rolling stones.
Its 304 food grade SS cylindrical drum can also serve as a storage vessel for the batter. The wet grinder has a 30-minute grinding time and the efficient motor maintains 1440 rpm running speed with the drum speed at 140 rpm. It also comes with a power surge protector to protect the user from shocks.
Price: Rs. 6800
8. Prestige PWG 08 Tabletop Wet Grinder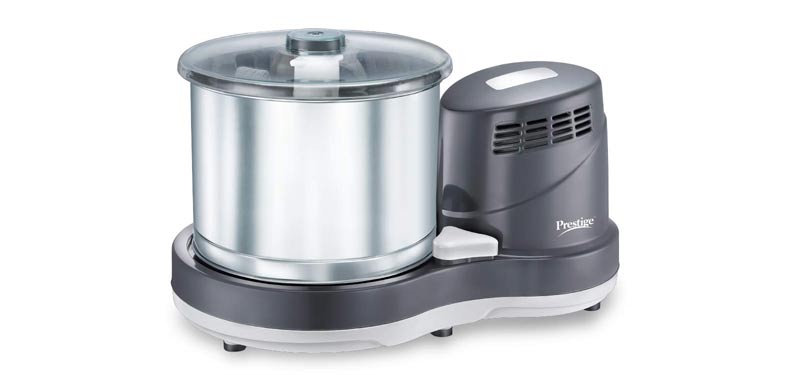 The Prestige wet grinder is an efficient partner for your kitchen as it is uniquely designed to perform all grinding tasks faster. The distinct design of the grinding stones, drum with spacious design supported by a powerful motor enables it to grind the ingredients quickly. It flaunts a pleasing designer body in grey to go well with chic kitchen interiors.
It is powered with the latest interlocking mechanism to operate in a noiseless fashion. The detachable stainless steel drum is well complemented by the transparent lid and the side air vent within a compact shockproof body.
Price: Rs. 2995
9. Prestige PWG 01 200 watts Tabletop Wet Grinder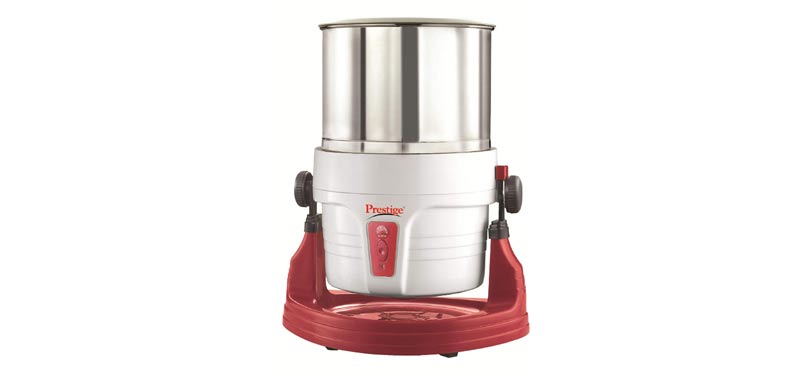 When you own the 2-liter Prestige tilting wet grinder with the noiseless operation, you can not only make dosas or idlis but also prepare chutneys and hot chapattis in a couple of minutes. Yes, you heard it right! This wet grinding appliance comes with both coconut scraping and atta kneading attachments to make cooking simpler. This versatile kitchen appliance with a space-saving body flaunts a tilting design to facilitate the quick pouring of the batter.
The stainless steel grinding drum with interlocking mechanism has a stone base and houses 2 detachable grinding stones with a flow breaker to grind the ingredients uniformly. It has an overload protector that directs it to switch off automatically upon detection of overload issues.
Price: Rs. 4990
10. Preethi Iconic 2-Litre Tabletop Wet Grinder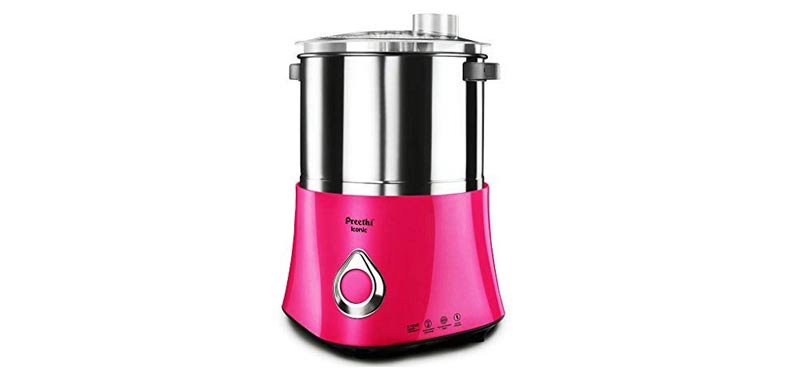 The Preethi iconic wet grinder is ideal for small-sized kitchens, as its vertical body design is capable of saving up to 48% space in the kitchen counters. This 2-liter grinder is designed with sturdy grip handles at the side to pour out the batter easily. It utilizes advanced Cool Touch technology with superb ventilation to preserve the flavor while keeping the batter cool.
The pyramid-shaped vipers in the stainless steel drum and two grinding stones help in uniform grinding. It relies on bi-directional grinding technology that lets it perform anti-clockwise and clockwise grinding to grind soaked items 25% quicker. The single phase induction motor with high torque performs at a top speed of 1450 rpm.
Price: Rs. 6899
It is true that wet grinders can make your work much easier, which has made it an inevitable option in your kitchen. Our experts have compiled this list of wet grinders after considering some of the critical factors like overload protection, warranty, safety aspects, speed, grinding power and much more. Choose a smart wet grinding appliance to enjoy healthy breakfast, dinner and snacks every day.