Water forms the basis of life for humans but it is important to drink only pure and safe drinking water. As pollution makes it way to air, food, and water, installing a water purifier at our home is imperative for our and our family's health and well-being. Water contamination poses many health problems, some of which can be fatal. This is why choosing the best water purifier for your home requires some homework.
When you go to the market to buy the best water purifier, you will feel overwhelmed as so many brands offer so many models and makes of water purifiers at various prices. You want to invest in one that safeguards your family's health and also does not burn a hole in your pocket. To make things simpler for you, we are listing the top and best water purifiers in India that are guaranteed to give you pure and clean water every time. You can check them and once all your parameters are checked, make a purchase.
Top 10 Water Purifiers In India for 2022
Last update was on: June 28, 2022 3:34 pm
Kent Grand Plus 8-Litre Mineral RO + UV/UF with TDS Controller Water Purifier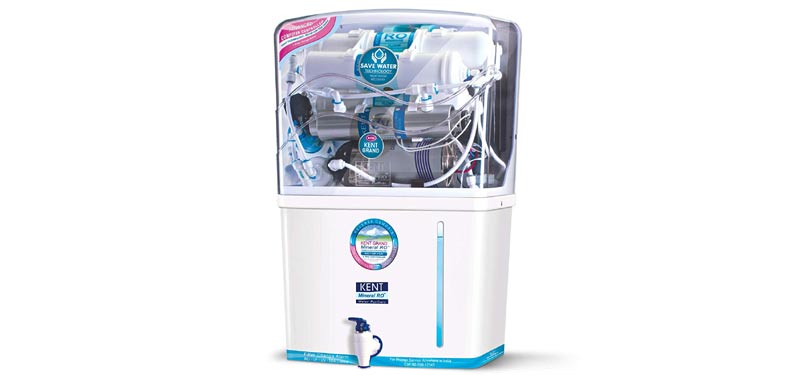 If you are looking for a water purifier that even removes dissolved impurities such as chemicals and salts, you may like to explore Kent Grand Plus water purifier that provides double purification of RO + UV + UF. Features include-
Has a capacity of 8 litres and comes in a wall mounted design
20 litres/hour purification capacity
Double purification technique removes dissolved salts and chemicals and other bacteria
Kent has patented mineral RO technology that retains essential natural minerals in purified water using the TDS Controller.
Kent has a PAN India service centre
Livpure Glo 7-Litre RO + UV + Mineralizer Water Purifier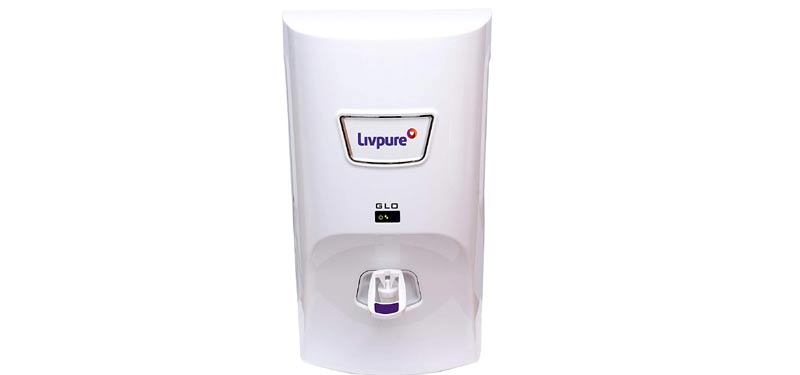 One of the best water purifiers under Rs. 10000, Livepure Glo is packed with various features to give you safe and clean drinking water.
Livpure Glo has a storage capacity of 7 litres, comes in a wall mounted design
Has a capacity of providing 12 litres/hour
Best in class with 6 stage advanced purification system namely -sediment filter, pre-activated carbon filter cum absorber, RO membrane, UV disinfection column, silver impregnated post carbon filter and mineralizer.
RO + UV + Mineraliser purification technology improves taste, removes odour, eliminates salts, chemicals, bacteria and other contaminating agents.
Eureka Forbes Aquasure from Aquaguard Amrit 20-Litre Water Purifier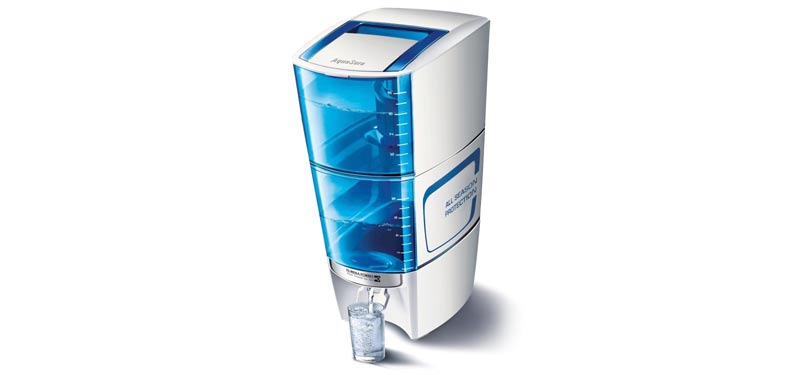 If you are looking for a water purifier under Rs. 5000, Eureka Forbes has a wonderful option for you. Not only you get clean and safe drinking water by using Eureka Forbes Aquasure from Aquaguard Amrit 20-Litre water purifier.
A very good storage capacity of 20Litres makes Aquasure Amrit suitable even for big families
You do not have to refill the tank repeatedly, does not need running water or electricity
Follows 3 stages of purification – Kitanu Magnet removes all impurities and bacteria, UV process works to make your water safe as if boiled for 20 minutes
Body is made of ABS plastic which is non-toxic and high quality
HUL Pureit 5 Ltrs Classic RO + UV 6 stage water Purifier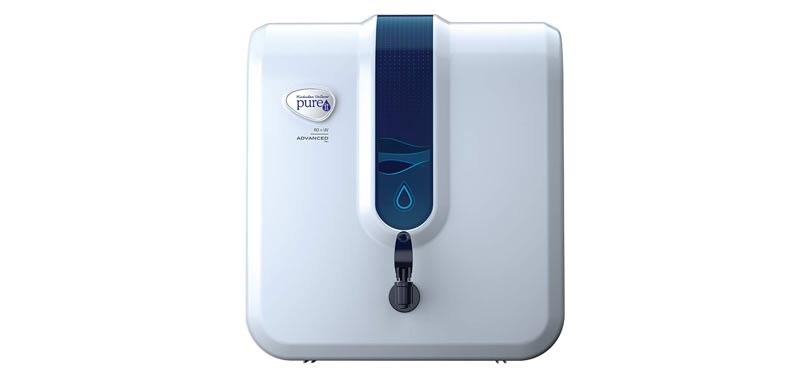 HUL is one of the preferred brands of water purifiers and the Pureit Classic RO + UV 6 stage water purifier is one of the bestselling water purifiers in India under Rs. 10000.
Has a storage capacity of 5 litres, looks classy when mounted on a wall
Turns hard water into soft and sweet-tasting and removes 90% of dissolved impurities with its' advanced RO+UV purification techniques thus bringing down the TDS levels
Uses the 6 stage purifying technique- pre-sediment filter, Pre-RO carbon filter, Post-carbon sediment filter, Reverse osmosis membrane, UV chamber, and Post-RO carbon filter
Easy to install and can work on low voltages as well
Kent Ace Mineral 7-Litre 60-Watt RO+UV+UF Water Purifier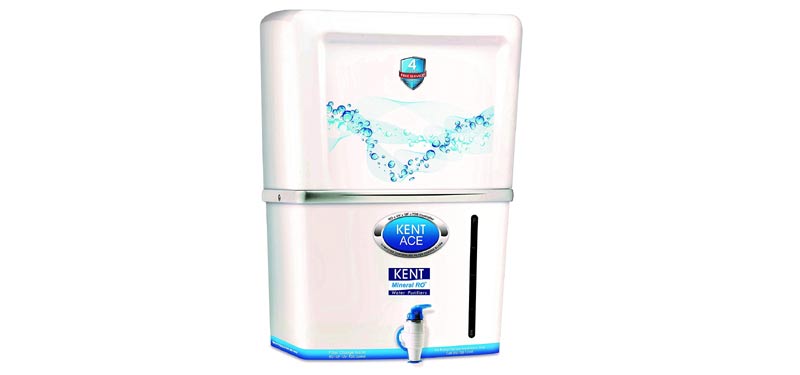 Kent is indeed the best brand of water purifiers in India ensuring the purest and perfect drinking water for you and your family. Howsoever you may get your water supply, brackish/tap water/municipal corporation, with Kent you can be assured to get clean and safe drinking water.
Storage capacity of Kent Ace Mineral is 7 litres and it comes in a aqua and white elegant wall mount design
Purification capacity per hour is 15 litres
With the use of RO + UV / UF purification technology, you get clean water free from even dissolved impurities
Also comes with mineral RO technology that helps retain natural minerals in the water with help of the TDS controller system.
Kent Pearl 8-Litre Mineral RO+UV+UF Water Purifier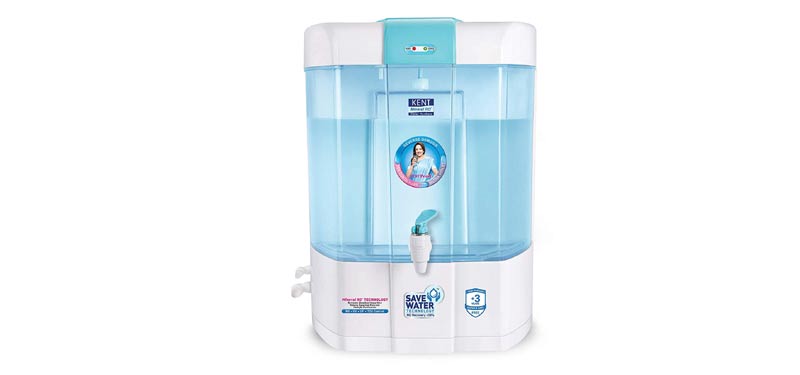 Another top water purifier from Kent, Pearl 8 litre is a medium capacity water purifier that uses RO, UV, and UF water purification techniques and fits the bill no matter what type of purification technology you are looking for.
Stylish, Kent Pearl can be mounted on the wall or installed on a countertop. It has a capacity of 8 litres storage
To make water even from bore-wells and overhead storage tanks safe for consumption, Kent Pearl uses multi-stage purification technology of RO+UV/UF that removes even dissolved impurities, chemicals, bacteria and salts
High grade ABS plastic is used which is unbreakable
Clean and safe drinking water is made accessible by detecting micro-organisms and deactivating them by the UV lamp
It retains the natural minerals of water using RO technology with TDS control
Blue Star Aristo RO+UV AR4WHAM01 7-Litre Water Purifier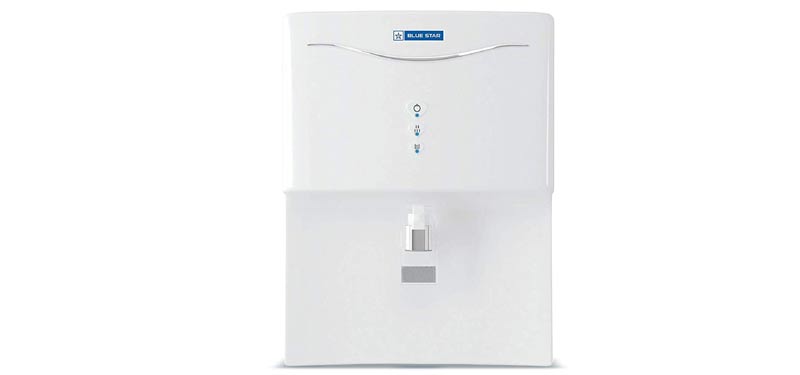 Elegant looks and superior performance is what Blue Star Aristo RO+UV water purifier is all about. Apart from purifying water, it also has the taste of improving technology Aqua Taste Booster. You not only get clean and purified drinking water, but it also tastes sweet as the pH levels are maintained.
Has a capacity of 7 litres and a 10-inch filter of large capacity for efficient purification
Follows 6 stage purification process, comprising of pre-sediment filter, pre-carbon filter, sediment filter, RO membrane, UV Lamp and post-carbon filter with aqua taste booster (ATB
Calcite media boosts the taste and maintains optimum pH
With the double-layered protection of RO plus UV you can be assured of drinking safe water everyday
Also has Copper impregnated activated carbon that eliminates odour, bacteria and other volatile harmful components of water
Comes with a child lock function
KENT Maxx 7-Litres UV + UF Water Purifier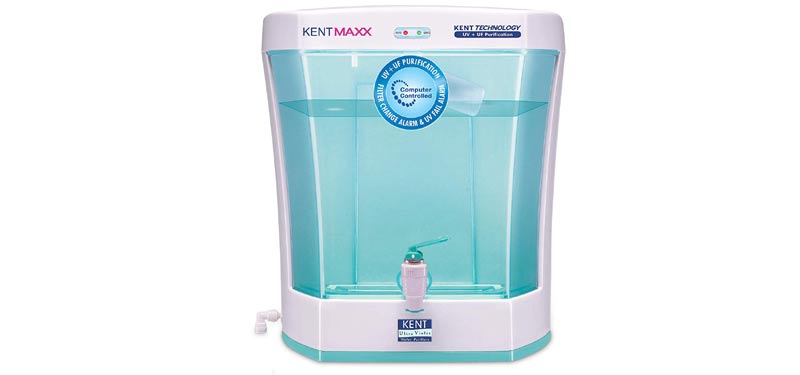 Another water purifier under the range of Rs. 10000 but with optimum performance is Kent Maxx. It comes with a double layered RO+UV protection so that impurities that are present in the water get removed.
A 7 litres storage tanks ensures you always have enough purified water in store
Has a high purification capacity of 1 litre/minute or 60L/hr,
ABS plastic which is food grade and non-toxic is used to make Kent Maxx
A high power 11 watt UV lamp ensures all microorganisms get destroyed and deactivated
Since it does not removes dissolved impurities, it is suitable for water sources with low TDS levels
Eureka Forbes Dr. Aquaguard Geneus Plus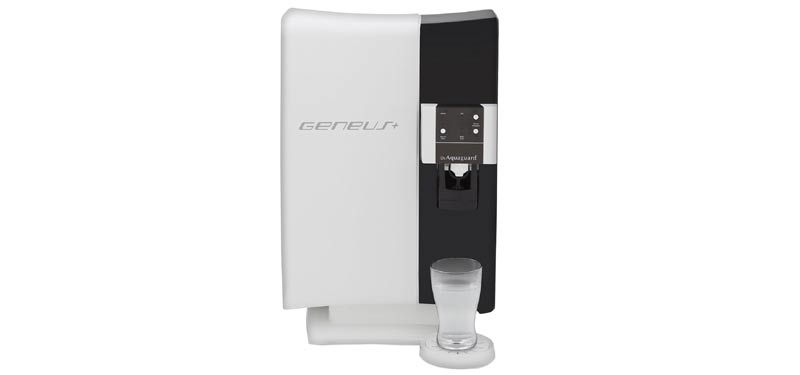 If you are looking for a high-end, best water purifier that is not only stylish but also has matching performance, you can check out the Aquaguard Geneus Plus water purifier that actually detects the quality of the input water and chooses the optimum technology to purify the water.
Has a storage capacity of 7 litres and comes in a wall-mounted design
Intuitive led display lets you know the water level in the tank and you can also select desired mineral levels in your water and make the purifier last longer
Universal water purifier- best in class with RO+ UV purification system that works across various water conditions.
Be assured of drinking water without excess TDS, dissolved impurities, microorganisms, bacteria, chemicals and salts
Classic e-boiling feature that ensures every drop is as pure as water boiled for 20 minutes
Has nutrition cartridge that fortifies the water with calcium, magnesium and other necessary nutrients.
HUL Pureit Marvella RO + UV 10-Litre Water Purifier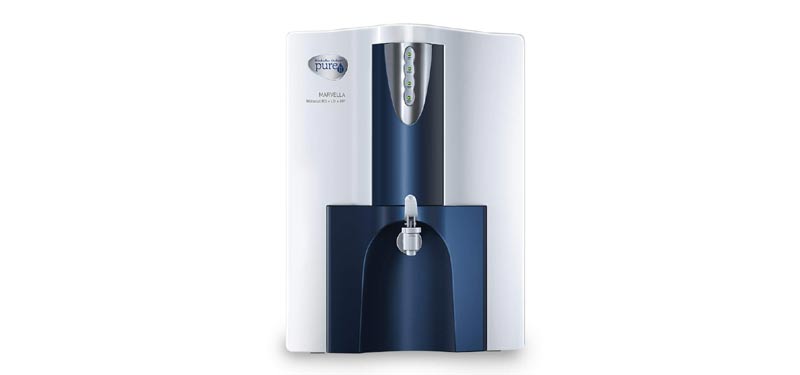 HUL is widely trusted by consumers for quality water purifiers and is one of the top brands of purifiers in India. HUL Pureit Marvella also lives up to the consumers' expectations and boast of following features-
Has a water storage capacity of 10 litres and comes in a wall-mounted design
Can purify approximately 9-12 litres per hour
Follows RO+UV+MF water purification to give you clean and safe drinking water
Sleek and stylish looks add grandeur and charm to your home and kitchen
Food safe, non-toxic, engineering grade plastics have been used to make the body
A water purifier is a necessity in most homes to remove toxins that are present in water. On the basis of your location and water source, you can get TDS levels checked and invest in one of the best water purifiers in India to safeguard your and your family's health. We all know that with the rampant increase in pollution, clean and safe drinking water is not accessible easily.
Look for water purifiers online as you get to know every detail on the screen. The above list of best water purifiers in India is budget-friendly, so do not hesitate to buy one so that you consume pure water and stay away from various health risks.