We all love our dogs and they deserve the best in everything, that includes having the healthiest coat and fur. Did you know that your dog's coat and skin are an important part of their overall health? A healthy coat can have a big impact on how your dog feels, looks, and acts.
The best way to keep your dog's skin and coat healthy is to make sure they get a proper diet and regular exercise. But that's not all. Regular grooming plays an important role in ensuring the healthy and shiny skin coat of our dogs.
So, let's look at some of the most popular dog shampoos and learn about how they can help you keep your pup happy and healthy.
There are countless dog shampoos available in the market today. But not all of them are suitable for your pet. So, we've picked up the best dog shampoo and compared it with its reviews and ratings to give you a fair idea about what to expect from a dog shampoo.
Find the list below.
List of Top 10 Dog Shampoo Brands to Buy Online
Last update was on: May 22, 2022 9:01 pm
Himalaya Erina Dog Shampoo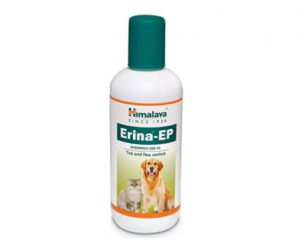 Himalaya Erina dog shampoo ranks the first in our list of best shampoos for dogs, because it is suitable for all types of skin including sensitive skin. It is made of natural ingredients that help to restore and revitalize the skin of your dog. It contains some of the most powerful antioxidants, which are high in vitamin C, A, and E that protect your dog's skin from the damaging effects of free radicals and oxidative stress. The shampoo is free of chemical compounds and fragrances.
---
What We Like?
It is suitable for sensitive skin.
It helps control ticks and flees.
It helps control shedding.
What We Don't Like?
The pump of the bottle does not work sometime.
---
Captain Zack Barking Up Dog Shampoo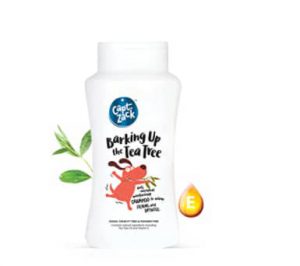 Captain Zack is a dog shampoo that promises to rid your pet of pesky fleas, ticks, and other bugs. But, is it really effective? We've decided to find out.
Zack Barking Up Dog Shampoo is a cruelty-free, biodegradable dog shampoo manufactured using 100% natural ingredients that are kinder to both you and your dog. This moisturizing shampoo is anti-microbial and anti- fungal.This product helps our dogs to battle dry scalp, itchiness and flaking caused by dandruff, psoriasis and eczema. It has been designed to make your fur look better, feel softer, and smell great.
---
What We Like?
It is suitable for sensitive skin.
It helps reduce allergies and irritation.
What We Don't Like?
It does not control hair shedding as mentioned.
It is not suitable for all breeds.
---
Zoivane Pets Antidandruff Shampoo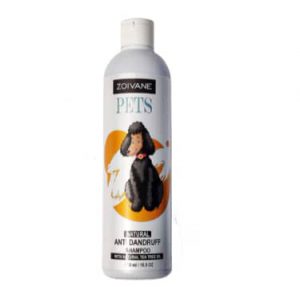 Zoivane Pet shampoo is the most natural, pure and healthy way to care for your pet. It is an anti-bacterial and anti-fungal dog shampoo. Containing real milk protein and vitamin E, it gently cleanses and conditions the coat while soothing dry or itchy skin. Zoivane's shampoo is also rich in antioxidants which protects our dog's skin from environmental damage. Its protein-rich formula gently cleans, nourishes and detangles the hair to leave it soft and silky.
---
What We Like?
It is natural and free of chemicals.
It is vegan.
It is suitable for sensitive skin.
What We Don't Like?
We couldn't find anything.
---
HUFT Natural Deep Cleansing and Deodorising Shampoo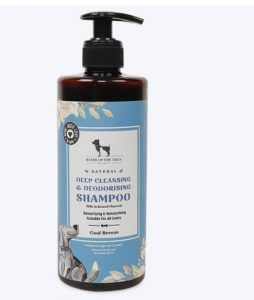 HUFT Natural Deep Cleansing and Deodorising Dog Shampoo is a natural, cruelty-free shampoo for dogs. The formula contains coconut oil and other rich, moisturizing ingredients to help eliminate odor-causing bacteria, eliminate skin infections and help prevent dryness. It deep cleanses your dog's coat.
HUFT provides the dog with an all-natural clean smell while hydrating the coat and making it strong. The activated charcoal present in the formula helps remove dirt and the wheat germ oil helps to maintain a healthy coat.
---
What We Like?
It contains no sulphates.
It helps to control irritations and infections.
It makes the dog coat healthy.
What We Don't Like?
It has a strong fragrance.
---
Wahl's Shed Control Shampoo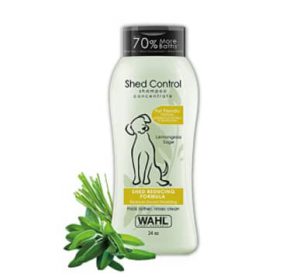 Struggling to maintain your dog's long hair? Dogs with long hair are more prone to skin problems and tangles than those with short hair.
To prevent this, you can make your doggy's coat healthy by using WAHL's shed control shampoo. This product contains natural ingredients such as lemongrass, sage, oatmeal, and aloe that help maintain the natural health of your doggy's skin and coat. It checks the odor and kills the bacteria. This shampoo is free from harsh chemicals and gives a clear result.
---
What We Like?
It controls shedding.
It cures itching.
It moisturizes the skin.
What We Don't Like?
It is not suitable for sensitive skin.
---
Petveda 2 in 1 Deodorizing Shampoo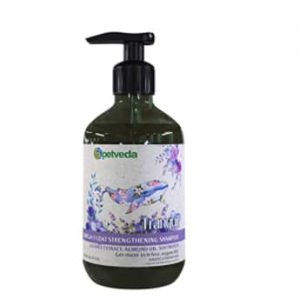 This pet shampoo from Petveda is a great addition to your pet's grooming arsenal. This shampoo is enriched with organic argan oil and has added conditioning, and whitening benefits. It will gently clean your pets coat to provide a shiny hair and good skin condition. It is formulated with organic ingredients to offer superior conditioning while helping to maintain healthy coats.
---
What We Like?
It has no chemicals and is 100% organic.
It works well for all breeds.
---
Boltz Dog Shampoo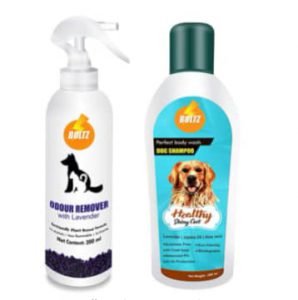 Boltz dog shampoo is a specialized pet shampoo for dogs with a non-drying formula that nourishes and moisturizes the skin. This shampoo is enriched with 100% natural ingredients like aloe vera, lavender and jojoba oil that keep your dog's skin looking and feeling healthy. It controls ticks and flees in dogs and helps reduce dandruff and itchiness.
---
What We Like?
It is made of natural ingredients.
It helps in tick control.
What We Don't Like?
It has an herbal fragrance which some may not like.
---
Wow Dog Shampoo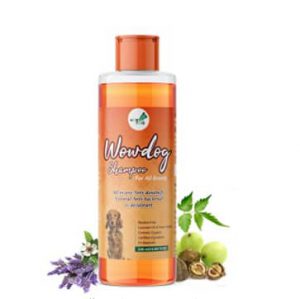 WOW DOG Dog Shampoo contains 100% organic, natural ingredients, which are safe for all dog breeds. Neem oil and lavender essential oils make the shampoo excellent for detangling the hair and preventing skin problems. With the best ingredients, it provides a quick cleanse for dogs with an odor causing bacteria. In addition, it prevents dandruff and fungal infections
---
What We Like?
It is suitable for all breeds.
It is suitable for sensitive skin.
It has natural ingredients.
What We Don't Like?
It is not as thick as shampoo.
It causes hair fall.
---
Dr Venture Organic Neem & Lemongrass Dog Shampoo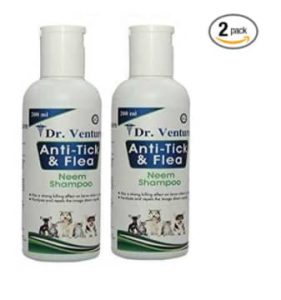 The Dr Venture organic neem and lemongrass is a dog shampoo that provides relief from itching. It contains neem oil to prevent parasites and skin irritations, as well as lemongrass extract to keep your pet smelling fresh. This shampoo is easy to use since it is a ready-to-use formula. It is ideal for the treatment of fleas, ticks, mosquitoes, ants, mites and lice. Moreover, it helps in curing ear infections.
---
What We Like?
It cures any kind of infection.
What We Don't Like?
It causes hair fall in some dogs.
---
Hug n Wag 4-in-1 Essential Dog Care Shampoo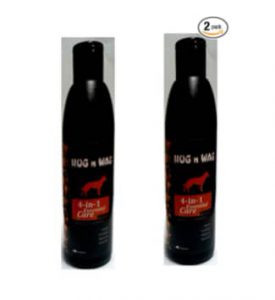 Hug n Wag shampoo effectively cleans your dog's fur, leaving it free of all dirt and dust. It comes in a handy pack of 200 ml. The ingredients orange Peel Oil, aloe vera, pro-vitamin d, along with cleansing agents in this shampoo make it effective in keeping your dog clean and odor free. It is 100% safe for your pet.
---
What We Like?
It has good fragrance.
It is very affordable.
What We Don't Like?
It doesn't control shedding.
---
Things to Consider Before Choosing a Dog Shampoo
Before we decide to take the plunge, there are a few things we should consider.
Your Dog's Fur Coat
Dogs have different types of fur coats- silky, short coat, double coat, long coat, wavy coat, combination coat etc. But for all types of coat shampooing is an important part of their grooming routine.
However, some breeds need extra help to stay looking their best. A fine-haired dog may be prone to snarls if you aren't careful. For those dogs with soft, silky hair that tends to fluff out when it's wet, use detangling shampoo instead of your regular shampoo. It helps loosen tangles and add shine without stripping away moisture or strength from your dog's coat.
To get the best results, choose a shampoo designed specifically to suit your dog's hair type.
Your Dog's Skin Type
Your pooch's skin type should be taken into consideration before buying a shampoo. It is crucial to choose the right formula if you want to maintain healthy skin and hair on your dog.
Different dogs have different skin conditions and types, which can be dry or oily and need different care. Since each dog's skin is unique, they need different products to maintain their coats. If your dog has sensitive skin you can stick to hypoallergenic dog shampoos. They help to keep your dog's skin healthy and free from irritation.
Know the Ingredients
Some ingredients in dog shampoo may be harmful to your pet's health, so it's important that you read the label and ask questions if you're not sure what you're using. Here are some of the ingredients that can potentially be dangerous to your dog if they're not used properly.
Propylene glycol
Sodium laureth sulfate (or any sulfates for that matter)
Phthalates
Parabens
Methylparaben
Formaldehyde
Cocamidopropyl Betaine
Isopropyl alcohol
In case you need further assistance, consult a vet.
How to Use Dog Shampoo?
Does your dog give you a hard time while taking bath?  Giving your dog a scrub can be fun with these tips.
1) It's important to clean the dog's coat completely. Wet the dog's coat thoroughly with warm water.
2) Shampoo must be left on for at least 5 minutes before rinsing it off.
3) Then wash your dog's skin with a gentle dog shampoo, always taking care not to miss any parts of the body.
Conclusion
Here you've got our suggestion for the best shampoos to make bath time better for your dogs. This list will definitely help you choose the good ones from the hundreds of shampoos available in the market and keep your dog's coat and skin healthy.
Choose the best and gift your pooches a happy bath time!