A perfectly well-toasted slice of bread with butter or jam along with your favorite beverage is one of the best pleasures of life. In homes where mornings are busy and rushed, a good toaster comes to the rescue. As a consumer, you want to make a smart purchase, but that is not always easy. You need to do your homework, and if you are thinking of buying a toaster to ease your morning routine, we have come up with a list of the best toasters in India.
Our Top Picks:
| | |
| --- | --- |
| Best Overall | Prestige PGMFB 800-Watt Grill Sandwich Toaster with Fixed Grill Plates |
| Most Affordable | Pigeon 2-Slice Auto 700-Watt Pop-up Toaster |
| Best Features | Black + Decker BXTO0401IN 2300-Watt 4 Slice Pop-up Toaster |
| Less Time-Consuming | Bajaj ATX 4 750-Watt Pop-up Toaster |
11 Top Pop-Up Bread Toaster in India
With careful consideration given to design and functionality, plus considering the pricing, these top pop-up bread toasters will help ensure your toast is cooked perfectly every time.
Prestige PGMFB 800 Watt Grill Sandwich Toaster with Fixed Grill Plates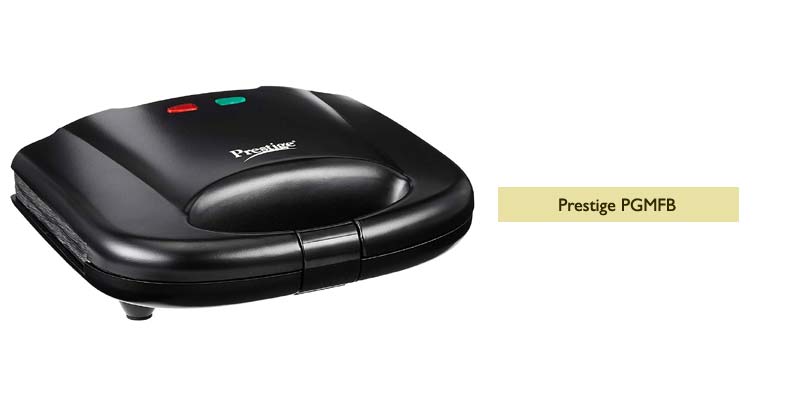 When the brand ambassador is Aishwarya Rai Bacchan herself, you are not likely to go wrong in buying it, are you? Well, Prestige has been around in the market for decades now and are undeniably a market leader in small kitchen appliances market.
Benefits: This sandwich toaster comes in an elegant black finish body and an 800-watt power to ready your bread within just a few minutes. The power consumption is lower, thanks to the thermostatic controlling temperature feature. The grill plates are fixed, though they are non-toxic and non-stick. The indicator lights let you know when the toaster is ready to use and when the sandwich is prepared. From a basic toasted bread, you can also make restaurant style cheese and vegetable sandwiches now and have healthy breakfast daily.
Cons: Apart from the fact that this on features fixed grill plates and the plastic body is not very durable, this is an excellent buy for sandwich lovers.
Power: 800 watts
Bajaj ATX 4 750-Watt Pop-up Toaster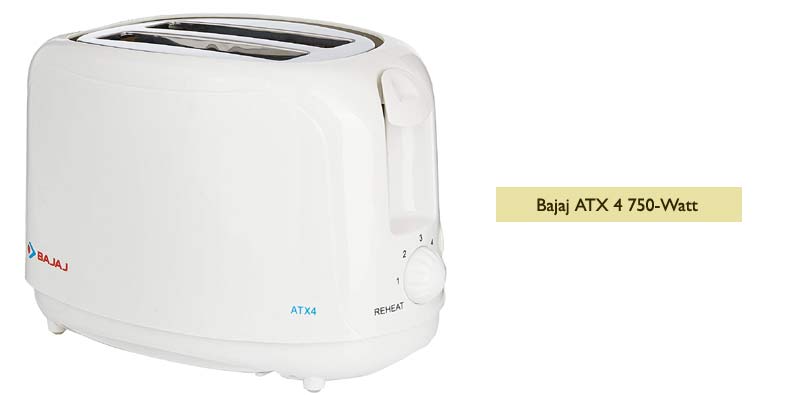 Bajaj's kitchen appliances have stood the test of times and have a very loyal market with consumers opting for the brand more than once as well. Fast and delicious sandwiches are made in minutes with the powerful Bajaj ATX 4 750 watt pop-up toaster, and you can always have something to eat even when you are running late.
Benefits: For your ease and convenience, this toaster allows you to toast two bread slices at the same time with six adjustable browning settings. You can serve your family toast just the way they like it. The outer body remains cool even when the toaster is in use for long, so you will not burn your hands when you touch it. With a 750 watt power to its credit, the time to toast to perfection is little, so you don't end up waiting to have your breakfast or snack. And if you are worried about cleaning, the removable crumb tray makes it a tad easier. It also stays put in one place, thanks to the anti-skid base. Use the reheat function to heat bread sandwiches that have already prepared.
Cons: Because the toaster offers so many variable browning settings, arriving at your own best preference may take a bit of time, but will ultimately be rewarding.
Power: 750 watts
Philips Daily Collection HD2582/00 830-Watt 2-Slice Pop-up Toaster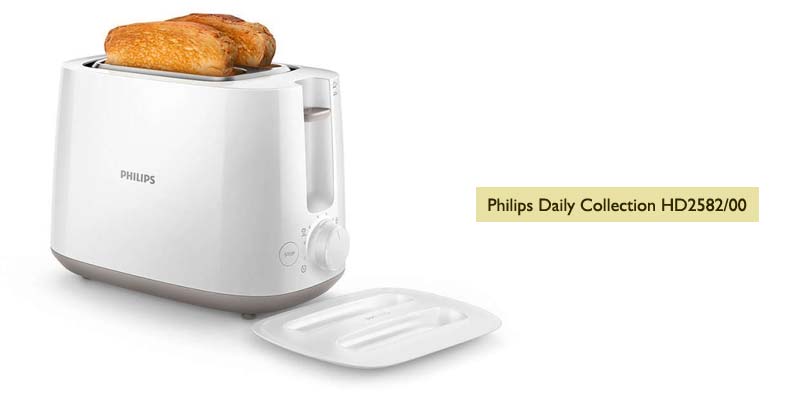 Another trusted and reliable brand in kitchen appliances would be Philips – the brand that brings out the aesthetic elements in boring appliances a standout. If you are not just looking for a toaster for a small family but are also looking for something that can heat your rolls, buns, and patties, then you may like to pick this up.
Benefits: With a wattage of 830 watts, the performance of the toaster is unquestionable. It also offers you eight variable browning settings for individual preferences. Two slices are toasted in one go, so this toaster is also suitable for small families. An integrated bun rack that comes with this favorite toaster is an additional attractive feature. Heat your buns, rolls, patties, and pastries easily with this bun rack. Canceling feature is another attraction so that you can stop anytime. To accommodate breads of various sizes, you get two large variable slots. You also get a lid to cover the toaster when not in use. Other features like reheat, defrost, high lift, and removable crumb tray also make this one of the best toasters in India.
Cons: It is priced higher than many toasters so that budget buyers may be deterred by the price factor.
Power: 830 watts
Pigeon 2-Slice Auto 750-Watt Pop-up Toaster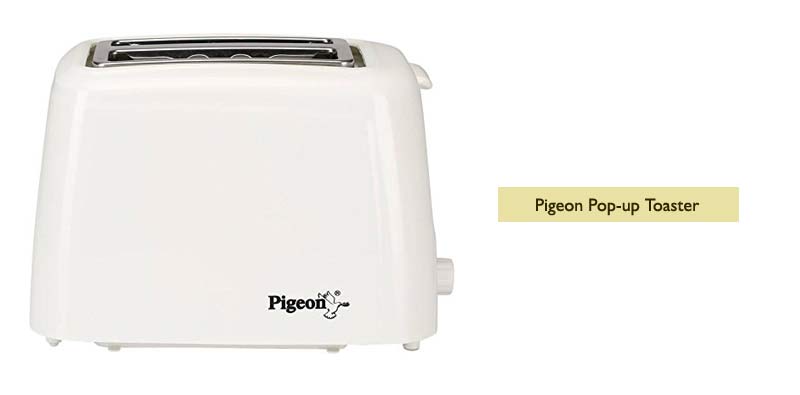 Have you often found yourself repeating 'what to eat for breakfast' during busy, rushed mornings? Well, Pigeon aims to help you in the simplest of ways by offering a classic, simple toaster to take away your breakfast woes. Get deliciously toasted bread every day without any hassle and do have your breakfast ready in minutes.
Benefits: Pigeon 2 slice pop-up toaster brings simplicity and efficiency together for someone who is not looking for any fancy features. It offers six browning settings so you can have your toast exactly the way you want it. Automatic pop up function is another attraction, while the looks and style are sure to match with any interiors. Being a two slice toaster, it is suitable for small families and single people.
Cons: It does not have reheat/defrost or cancel feature.
Power: 750 watts
Morphy Richards AT-201 2-Slice 650-Watt Pop-Up Toaster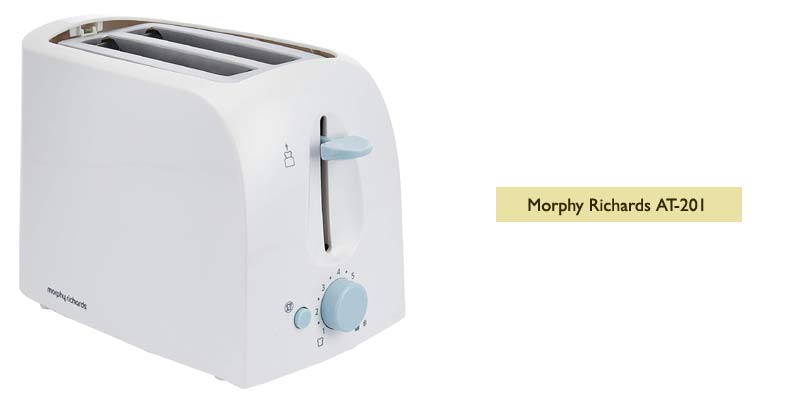 Morphy Richards is a brand truly renowned for its quality and durability and the same is reflected in this daily-use pop-up toaster that will start your mornings with a perfect breakfast.
Benefits: This is a two-slice toaster, making it easy to toast a pair together with the same setting. Seven settings of variable browning controls enable you to get your toast just the way you want it. The body does not get heated up and is cool to the touch when the toaster is in use. With 350-watt power, the toaster works efficiently and toasts the bread quickly without consuming a lot of power. A high lift lever prevents your fingers from burning, and an anti-skid base keeps the toaster in place. Use it daily without any worry. The removable crumb tray makes cleaning an easy job.
Cons: Although Morphy Richards has a very loyal customer base, it still lags when it comes to customer support. That's the only downside with this toaster.
Power: 650 watts
V-Guard VT240 950-Watts Pop Up Toaster
V-Guard is an Indian electronics and home appliance brand that offers a wide range of products, including some of the best in quality toasters. The one picked from V-Guard, the VT240 950-Watt Pop-Up Toaster is a perfect choice, boasting the latest in cutting-edge design features and an easy-to-use interface. Not only does this toaster look great on your countertop, but its energy efficiency will help you lower those electricity bills. With this toaster's reliable quality control standards, you can enjoy delicious morning toast with peace of mind.
Benefits: This two-slice toaster features a stylish pop-up design with a cool-touch body, adjustable browning control, and automatic shut-off, making it one of the most efficient and convenient kitchen appliances. The unique heating element of this product evenly toasts both sides at the same time and the wide slots can easily fit different bread types. It also has an easily removable crumb tray for easy cleaning. With its 950 watts of power, this toaster guarantees fast and efficient operation.
Cons: The toaster does not have a countdown timer to indicate how much time is left until the toast is ready.
Power: 950 Watts
Bajaj ATX 4 750-Watt Pop-up Toaster (White)
Craving a good slice of toast? Look no further! Bajaj's 750-Watt Pop-up Toaster is here to make your every wish come true. This handy kitchen device, made by the renowned Indian multinational company known for dependable and wallet-friendly products, will get you that perfectly evenly golden crisp on any bread slice in no time. Now there can be nothing better than freshly toasted bread with butter or jam at breakfast – enjoy it today with this reliable appliance from Bajaj.
Benefits: Featuring an extra-wide slot and adjustable browning control, this toaster makes it easy to toast bread, buns, and more with consistent results. It's cool-touch body ensures safety while its anti-skid feet keep it firmly in place. The efficient 750 watts of power ensures quick heating for fast results and its removable crumb tray makes the cleanup process a breeze.
Cons: Short cord length of this toaster may limit where you can place it in your kitchen.
Power: 750 Watts
Philips HD4815/01 2-Slice 800-Watt Pop-up Toaster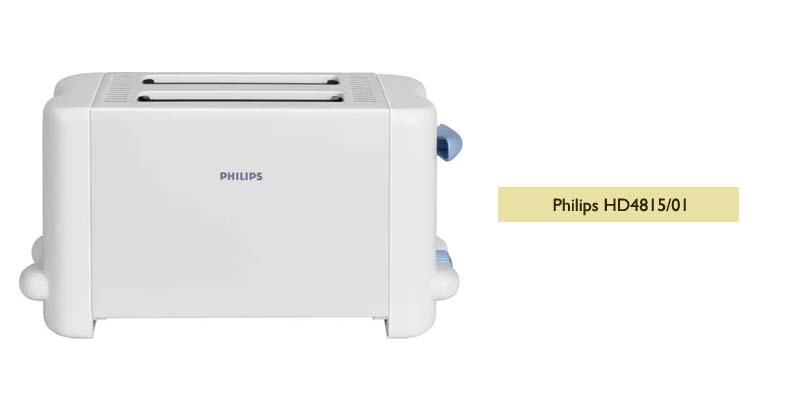 Philips HD4815/01 2 slice 800-watt pop-up toaster is the last one on our list of best toasters in India – although we must reiterate that all these toasters are equally best and are in no order of preference.
Benefits: This convenient, affordable, and durable appliance is designed thoughtfully for your countertop, occupying minimal space yet offering maximum toastinating capabilities. Not only can you toast two slices at once but buns too, all while utilizing variable browning options so it's just how you like it. Also, cleaning up after messy meals has never been easier thanks to its removable hinged crumb tray which quickly unscrews when needed. And fortunately, you do not have to worry about stopping operations halfway because this helpful kitchen friend provides a handy cancel function also.
Cons: Although the body is shock resistant, some users have mentioned that the outer body heats after continuous use.
Power: 800 watts
Black + Decker BXTO0401IN 2300-Watt 4 Slice Pop-up Toaster (Grey)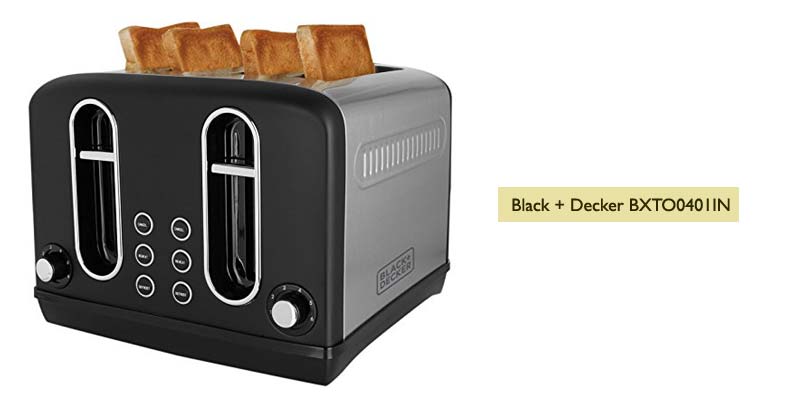 Black + Decker is known to deliver performance with quality. If you have a large family, a 2-slice toaster may make toasting slices slightly tedious. To ease your breakfast woes, opt for this four-slice toaster that can give you perfectly toasted four slices in a single go.
Benefits: Apart from the four-slice toasting option, this pop-up toaster is also made attractive with its stainless-steel body- which accounts for its durability. The problem of overheating is taken care of, and you are unlikely to burn yourself accidentally. Reheating and defrosting features are also there. You get six browning settings for both sets (so you can toast two in one sitting and two slices in another) making things super easy. The cancel button can be used when you want to cancel. The removable crumb tray makes it easier to clean the toaster.
Cons: Would have loved this one if it had a lid as well!
Power: 2300 watts
Borosil 850-Watt Krispy Pop-up Toaster (Black)
Borosil is a pioneer in the Indian homeware market, offering a range of products that include cookware, home appliances, and laboratory glassware. Their 850-Watt Pop-up Toaster is an innovative product designed to give you perfect crispy toast every time.
Benefits: This Krispy pop-up toaster features dual-side heating elements for uniform heating, a removable crumb tray for easy cleaning, and an adjustable browning control for different types of bread. Additionally, it has two defrost settings and illuminated controls for your convenience. Also, the toaster comes with anti-skid feet to hold onto the kitchen counter. The robust design ensures durability and comes with a warranty to give you peace of mind.
Cons: Unfortunately, the toaster does not have a dedicated reheat function, which may be a drawback for those who frequently need to reheat their cold toast.
Power: 850-Watt
Haden Boston Copper Pyramid 2-Slice Toaster
Haden is an iconic home appliance brand, renowned for their high-quality and stylish products that are designed to enhance everyday life. It offers a range of small kitchen appliances like toasters and other household items that combine practicality, quality, and fashionability.
Benefits: To enhance your breakfast routine, you can try Haden's one-of-a-kind 2 Slice Toaster. Styled in a luxurious, pyramid design and featuring advanced browning control settings, this toaster will make it easy for you to enjoy perfectly crunchy toast every morning. With extra wide slots that accommodate thicker bread and pastries plus function buttons tailored specifically to defrost or reheat snacks quickly. Now you can elevate the way you begin each day in style.
Cons: Its overall shape and design may take up more space on your countertop than other two-slice toasters, making it difficult to fit in smaller spaces.
Power: 980 Watts
And here's a quick conclusion:
So, this was our list of the best toasters available in the Indian market, mentioned properly in an assorted list. We hope you can choose the perfect toaster for you considering the utility, budget, and features. For instance, buying a 4-slice toaster for a small family may not be very wise. Now, you have already got plenty of great options for pop-up bread toasters. But if you are someone who likes more variety yet quick options for breakfast or evening snacks, you can look for the best sandwich makers, using which you can obviously prepare delicious sandwiches, waffles, etc. more Choose the one meeting your requirements and enjoy a healthy breakfast every day, no matter how busy you are.
So this was our list of the best toasters available in the Indian market, in no particular order. We hope you can choose the perfect toaster for you considering the utility, budget, and features. For instance, buying a 4-slice toaster for a small family may not be very wise. Choose the one meeting your requirements and enjoy healthy breakfast every day, no matter how busy you are.
Guide for Buying The Best Toaster In India
A toaster is something that you will probably use a lot over an entire week. In some houses, a toaster is used almost daily. Moreover, it is also used as per a preferred liking – depending on how 'browned' you prefer your toast to be. Thus, you can consider the below points when buying the best toaster for yourself-
1. Budget
Depending on the amount you wish to spend on a toaster, you can shortlist the best toasters. It is a small kitchen appliance and should not be too expensive. Ideally, you should have a budget of Rs. 1000-2500 for it.
2. Ease of use
Look for a toaster that is cleanly designed and has all its features at one place. Having a user manual is always a great help.
3. Brand preference
If you have a favorite kitchen appliance brand, you can choose from that brand. Some people are more open to local brands, and they can choose accordingly. Consider reviews, after-sales, popularity, etc. before zeroing in on one brand.
4. Size
Being something that will be used almost daily, your ideal toaster should be compact, occupy less space, be safe to use, and be easily portable.
5. Durability
Unless you wish to buy a new appliance every few months, you should check for the durability of the toaster. A toaster is expected to have a life of a few years, even if it is used daily on a regular basis.
FAQs
1. What are the different types of pop-up bread toasters available?
There are basically two types of pop-up bread toasters available, one is a 2-slice toaster and the other is a 4-slice toaster.
2. What features should I look for before purchasing a pop-up bread toaster?
Some important features to consider when buying a pop-up bread toaster are the number of slots, variable browning settings, defrosting and reheating functions, and a crumb tray for easy cleaning.
3. Can I use a pop-up bread toaster to toast other food items besides bread?
Usually, it's not recommended to use a pop-up bread toaster to toast anything besides bread as it can damage the appliance and potentially cause a fire.
4. Is it okay if I clean my pop-up bread toaster with water?
No, you should never submerge your pop-up bread toaster in water or use water to clean it. Instead, you should use a damp cloth to wipe the exterior and a crumb tray to collect any debris.
5. How long does it take to toast bread in a pop-up bread toaster?
The time it takes to toast bread in a pop-up bread toaster can vary depending on the desired level of browning and the thickness of the bread slices. On average, it takes 2-3 minutes to toast bread in a pop-up toaster.
6. Can I use a pop-up bread toaster to toast frozen bread?
Absolutely yes. Most pop-up bread toasters come with a defrosting function that allows you to toast frozen bread slices. But make sure to follow the toaster's instructions for defrosting frozen bread.