Food preparation techniques have come a long way. The go-to means to cook food used to be a gas stove. Now we have advanced apparatus like microwave ovens, electric stoves, or Oven-Toaster-Grillers to satisfy our need for delicious treats.
As you are already reading this blog, we consider that you have decided that you want an OTG to add to your kitchen. An OTG is handy, cost-effective, and makes food that tastes great. So yes, you have made the right choice. But in case you need more assurance, let us list down some other benefits of OTGs you may not know.
OTGs consume less power than traditional microwave ovens
You can use metal containers in an OTG, unlike other apparatus like a microwave oven
Heating happens through an electric coil. There are no electromagnetic or radioactive waves in OTGs.
Moreover, OTG's are economical and easy to operate.
List of Top 10 Oven Toaster Grillers in India for 2022
Last update was on: May 27, 2022 5:23 am
Best Oven Toaster Grillers
So, we have curated the ultimate list of the ten best OTGs in India. So you don't need any intense research on the internet that takes time and effort. Just read through, and you will have a decision at the end. We have covered all the important points you should know, like customer ratings, budgets, features, ease of use, and cleaning.
So without much ado, let's see the best 10 OTGs in the Indian market right now.
Pigeon Electric Oven Toaster and Griller (by Stovekraft)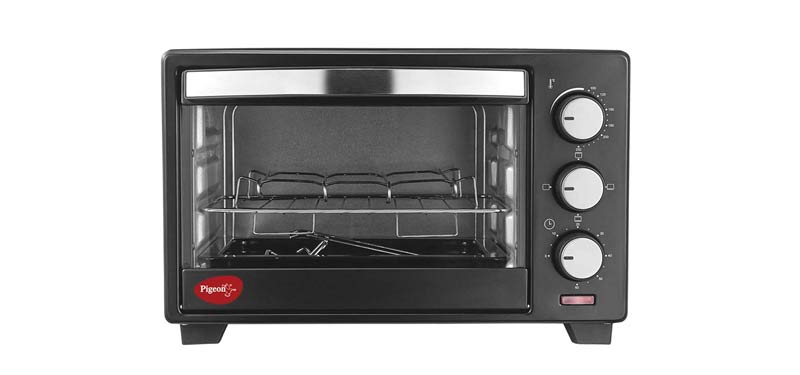 This OTG from the well-known brand Pigeon weighs a little over 1kg and is made of plastic and steel. The front door is made of glass, giving you an easy view while the food is being cooked. Other than that, you get the trays with handles to check the texture and color of the food you are cooking. You don't have to pay extra for the accessories, as the barbecue rack, crumb tray, panhandle, and skewer rods are all included inside the box.
Features of the OTG
Timer control setting
Temperature control from 100 to 250 degree C
Alarm for timer off
High grade knobs
Tempered glass window
Additional information
Capacity: 16 liter
Power: 1280 watts
Warranty: 1 year manufacturing warranty
Amazon Rating: 3.5 out of 5
AGARO – 33266 Marvel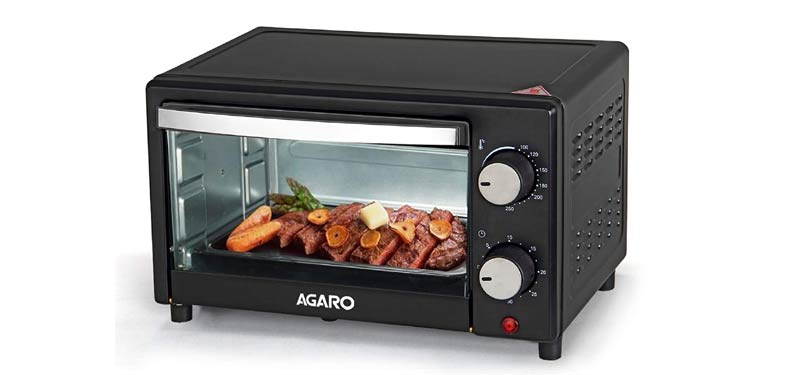 The OTG from Agaro, just like its name is a marvelous purchase at a low budget. It is a 9 lit container and has just 2 knobs. One for temperature and the other for the timer. So it is simple to use. You can turn on the timer and also adjust the temperature as per the recipe you are making. The red light indicates when the food is done. It has a double-layered tempered glass that is also heat resistant and a cooling handle that's quite easy to operate. The OTG is available in 5 different capacities from 9 lit to 48 lit. The bigger models come with extra features that you can check out on Amazon.
Features of the OTG
Easy to use
Ergonomic design
Budget friendly
Hinged crumb tray
Weight – 3 kgs
Additional product information
Capacity: 9 liters
Power: 800 watts
Add-ons: Brake pan, tray handle
Warranty: 1 year from the manufacturer
Amazon Rating: 4 out of 5
Inalsa MasterChef 10BK Oven Toaster Griller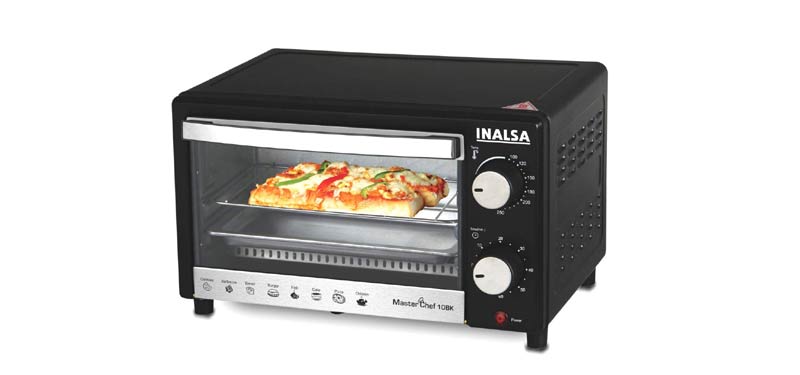 Just like the Marvel OTG we just saw, this one from Inalsa comes with 2 knobs and a display of all the popular dishes you can cook printed at the bottom. The bottom also has a heating coil in addition to the one at the top. Two heating coils increase the heat built-up inside the OTG at a faster rate of cooking food in less time. That saves power too.
Features
60-minute stay-on functionality
Knob control
Power indicator light
Includes safety hand gloves
Powder Coated Finish
Additional information
Power: 800 watts
Things to cook: Cookies, BBQ, bread, burger, fish, pizza, chicken, cake
Warranty: 2 years
Amazon Rating: 3.8 out of 5
Bajaj 1000TSS OTG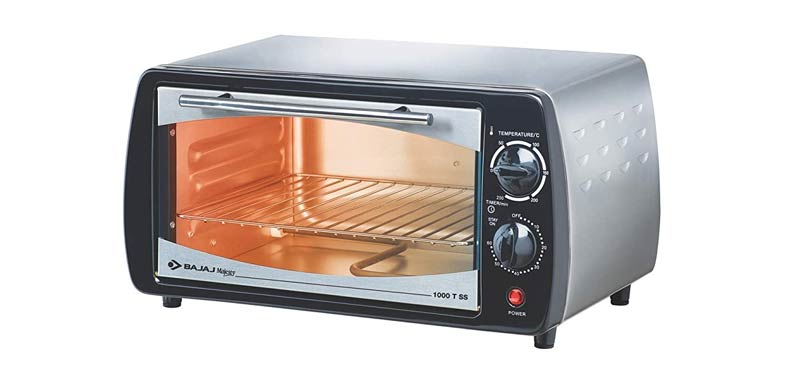 The fourth one on our list is a Bajaj product. This item from Bajaj looks stunning. The curved edges and SS handle enhances its aesthetic appeal. The steel body shines in all its silvery glory. The two knobs are at their very position along with the temperature and timer settings. But what's remarkable is the orange color chamber light that adds to its attraction. The glossy black knobs have a unique design that you'd love to use more frequently.
Features
Warming function
Rust resistant steel
60-minute timer
Transparent glass door
Additional information
Capacity: 10 Lit
Power: 800 W
Add-ons: Cooking Tray, Tong and Pizza Tray
Warranty: 1 year from bajaj
Suitability: 2 to 3 people
Amazon Rating: 3.8 out of 5 stars
You can order pizza from Dominos now before you plan to buy the product. Check out some of the top Dominos offers now that is trending.
Bajaj Majesty (Model: 1603 T)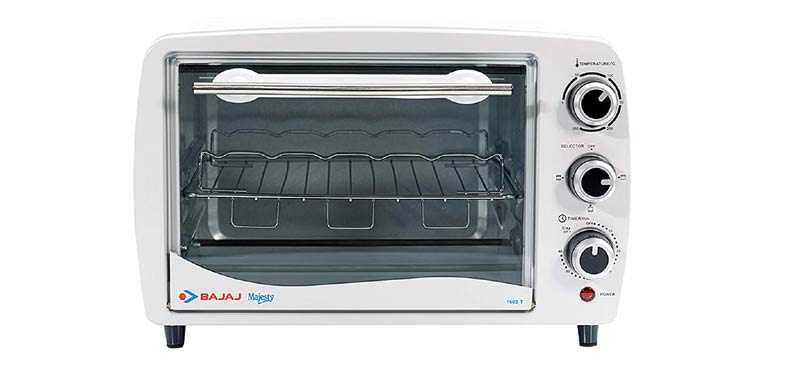 Here's another item from Bajaj. The Majesty Oven-Toaster-Griller has three knobs – one for the timer, another for temperature selection, and the middle ones to select the heating side. You can either place it pointing at the top, so the top coil is in action. And likewise, you can select the coil at the bottom or both. The apparatus has a stainless steel body and is powder-coated. The unique heating element transmits heat evenly, ensuring that you get the most desired outcome, either grill, bake, or toast.
Features
Timer with auto shut off
Rotisserie
Thermostat monitors so you can fix the exact temperature
Additional information
Capacity: 16 lit
Suitability: 2 to 3 people
Wattage: 1200 W
Warranty: 2 years from the manufacturer
Add ons: Baking Tray, Grill Rack, Tong, Crumb Tray and Skewer Rods
Rating: 4 out of 5 stars
Borosil PRO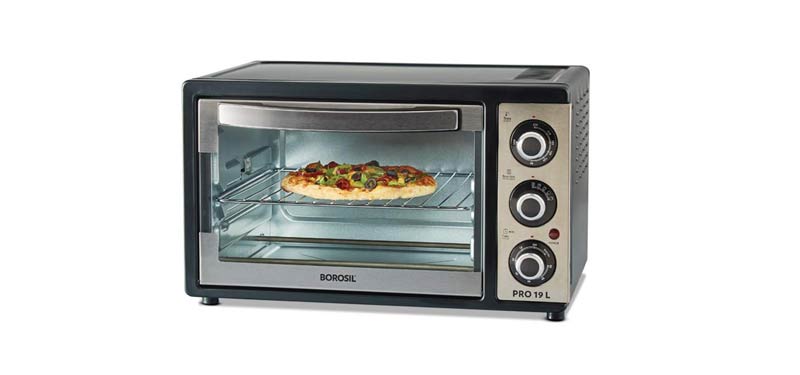 This is a bigger OTG (volume-wise) that gets you all the advantages you need. From temperature automatic setting to the timer, you can use all the features and enjoy delicious food at your fingertips. You may have a lot of Borosil products right now, but sometimes gems come in disguise. So, if you have a decent budget, we can help you save through coupons from Amazon!
Features
5-Stage Heat Selection
Grey And Black
Temperature control between 90° – 230°c
Mechanical timer timer up to 60 minutes
Grey And Black in color
Additional information
Capacity: 19 Lit
Power: 1300 W
Add ons: Cooking tray with handle, Grill rack, removable Crumb tray, Rotisserie handle and split
Rating: 3.9 out of 5 stars
Prestige POTG 9 PC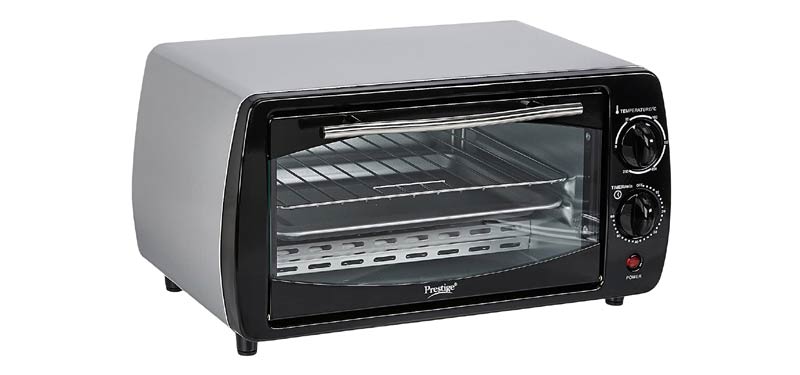 Get this beautifully designed Oven Toaster Griller from Prestige and prepare sumptuous items like roast papad, cheese toasts, bread toast, baked vegetables, and many more. The apparatus is well designed and its users say that it's light in weight and easy to use. Users also say that the product provides value for money and is durable.
Features
Timer
Temperature control
Prestige brand
Grey and Black in color
Additional information
Capacity: 9 Lit
Suitability: 2 to 3 people
Power: 800 W
Warranty: 1 year
Amazon Rating: 3.5 out of 5 stars
Borosil Prima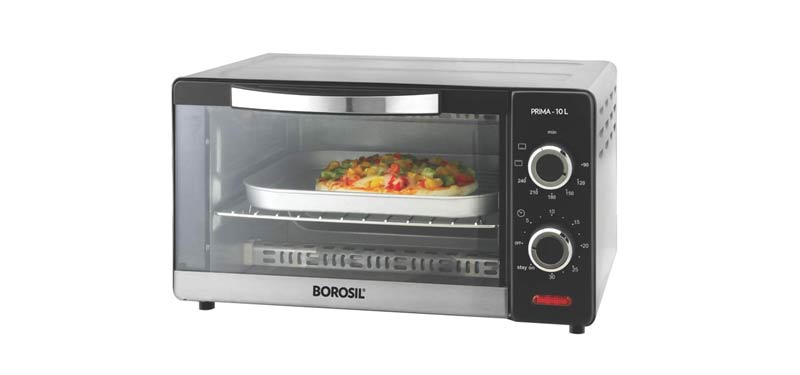 Here is a smaller variation from Borosil. The OTG is great for making croissants, cookies cakes, bread, pizzas, muffins, toasts, etc., and comes with all the features that you need in an OTG. You can get the same on EMI when you buy it from Amazon. You can buy this if your budget is around Rs 2500 and want a fully functional OTG that is total paisa vasool. Read more features about the OTG below.
Features
0-30 Min Timer With Stay ON Function
90 to 240 Degree Variable Temp control
Automatic Power Indicator
3 cooking modes
Grey/ Silver on color
Additional information
Capacity: 10 Liter
Power: 1000 W
Warranty: 1 year
Amazon Rating: 3.7 out of 5 stars
Morphy Richards (Model: RCSS)

This one is probably the most expensive one on the list but also is the largest when it comes to capacity. You get a 52 litre oven toaster griller which is black in color where you can prepare pizzas, grill chicken, bake cookies, and much more. This OTG from Morphy Richards is suitable for parties and also for small catering businesses. Making delicious pizzas or some Italian cuisine for the full family wouldn't seem like a huge task in this OTG. Morphy Richards is a very trusted brand for decades and is preferred all over the world. So you can be assured that you are spending all the money in the right place.
Features
Illuminate chamber
Stainless steel body
0 to 120 mm timer
Rotisserie
Convention function
Non-transparent door
Additional information
Capacity: 52 liters
Suitability: 5 to 8 people
Power: 2000 W
Add ons: Baking tray, Crumb tray, Rotisserie rod set, Rotisserie tong, Wire rack, Tong, Instructional manual
Warranty: 2 years
Amazon Rating: 3.9 out of 5 stars
Tefal Delicio (Model: OTG-024)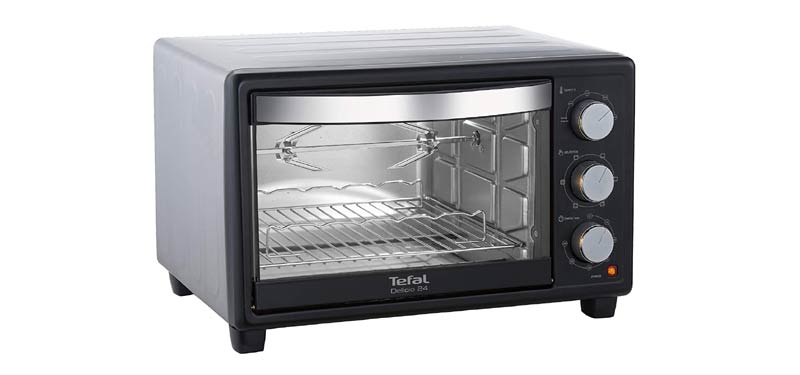 The last one in our list is from Tefal – a 24 lit OTG great for get-togethers and family dinners. It makes food in a blink of an eye with its 360-degree motorised rotisserie for all-around uniform grilling. There are 4 SS heating elements that let you broil, bake, toast, roast, /grill, or even rotisserie. Buy this if you and your family bond over food. Your cravings will never be unmet again.
Features
6 cooking modes
Tinted tempered glass
Keep warm function
Temperature control
Additional information
Capacity: 24 Liter
Suitability: 4 to 6 people
Power: 1400 W
Warranty: 2 years from the manufacturer
Amazon Rating: 4.3 out of 5
Buying Guide & FAQ
Is food cooked in OTGs bad for health?
Many people are concerned about the radioactive waves used by ovens and their harmful effects on one's health. So let us clear the air about it right now. An OTG uses a heating coil to produce heat. Thus, the food is good to consume. It doesn't harm your body. But, don't overcook the food that changes the food components, which may take away the nutritional value from the food, making it less favorable to eat.
What type of utensils should you use in an OTG?
Utensils made with plastic cannot bear the heat and thus would melt, ruining the food. On the other hand, containers made with glass, metal, silicone, or ceramic are suitable for OTGs as they withstand the heat without changing their form.
OTG Vs Microwave: What is better?
A lot of the time, we get confused between OTGs and microwave ovens. So let's clear the air.
OTGs are best to grill, bake, and toast. It does not reheat or defrost. That's when you need a convection oven. Microwave ovens can do all that an OTG can and reheat and defrost, but it may not always be required. It depends on your specific needs if an OTG is best for you or an oven. However, some ovens can do much more than just these three main tasks.
What should you buy?
If you consider baking, grill or roast, think again before you spend money on a microwave oven. It's usually highly-priced. This is because it has other features as well, like reheating and de-freezing. On the other hand, Oven-Toaster-Grillers are much less priced and can get the job done in no time. So if you want to get that chicken breast grilled or bake a cookie batch, an OTG is your companion. In case you think that you would need a microwave oven for your kitchen. Also, you can check out the best ovens in India here.