Good sleep enriches every travel experience; the most important thing for a sound sleep while traveling is a good neck pillow. We have all gone through the trouble of finding a comfortable alternative for pillows for our strained necks while traveling. Here we have compiled a list of the Best Neck Pillows for traveling so that you can wake up to a great day without a stiff neck.
Best in budget: Travel360 Degree Neck Pillow
Best in comfort: Travel Blue Travel Pillow
Best for flights & trains: Cabeau Evolution S3 Travel Neck Pillow
Best for regular use: Adofys Memory Foam neck pillow
Top Neck Pillows for Travel
Last update was on: January 24, 2023 3:30 pm
Top Neck Pillows For Travel
These efficient little pillows are a game changer. They are compact, effective, and the best neck pillows available in the market right now. While compiling the list we focused on factors such as comfort, affordability, durability, etc.
Cabeau Evolution S3 Travel Neck Pillow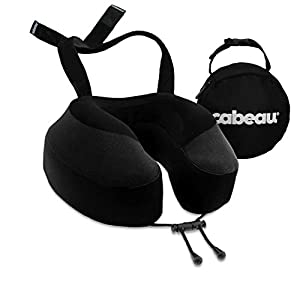 Cabeau evolution S3 is one of the best travel pillows you can find in the market. Their unique seat strap system allows the pillow to be attached to anything from a plane seat to a gaming seat via a strap that holds the pillow in position, securing your head in place, and also guaranteed to provide chin and side support while you rest. The neck pillow can also be adjusted to fit tall and short people better.
Highlights:
Evolution S3 travel pillow is made with premium memory foam that offers 360-degree total comfort no matter where your head leans to.
The pillow comes with an additional raised layer, and adjustable front toggles allow you to turn the pillow 90 or 180 degrees to provide improved chin support and comfort, helping you relax more.
The neck pillow cover is made of fibers with water-resistant properties. It's also easy to remove and easy to wash.
Features at glance:
Raised side supports
Machine-washable
Adjustable clasp
Includes attachable bag
Reduces to small travel size
Our verdict: Cabeau evolution S3 is the top player in the neck pillow segment without any doubt. If you are looking for something durable and classy, and if you travel a lot by flights, buses and car, this is the perfect neck pillow for you.
Billebon Neck Pillow with Hoodie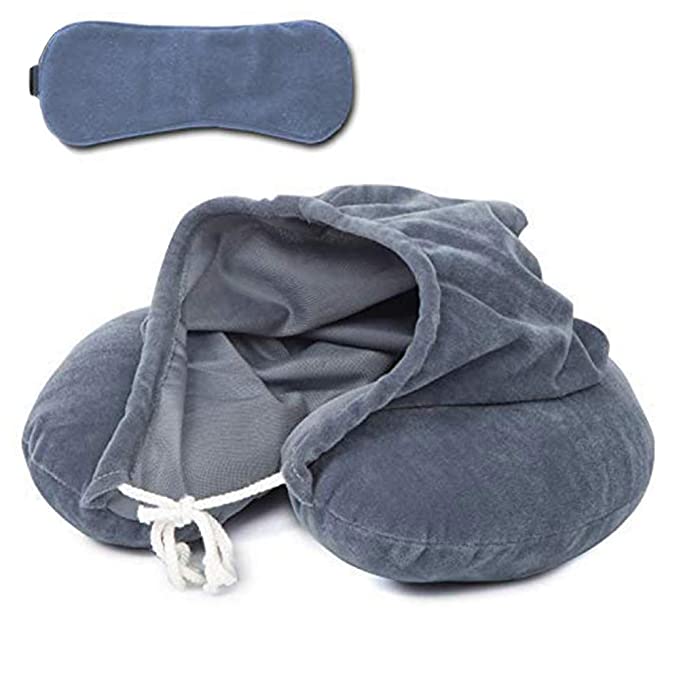 Billebon neck pillow with hoodie is an all-rounder. A perfect companion for all your travel needs. Made with the most comfortable materials, this is a must buy for anyone who wants quality and comfort at an affordable price.
Highlights:
Billebon neck pillows come with eye masks and are easy to carry, making them perfect for hikers and long-distance travelers.
Perfect for relieving stress as the pressure is mitigated by keeping the head and neck in perfect position.
It can easily fasten to your neck and will not fall, even on bumpy rides.
Features at glance:
Eye masks
Soft and lightweight
State off the art hoodie
Durable
Our verdict: Billebon Neck Pillow with Hoodie is the best choice if you are looking for durability and something that is all purpose and weatherproof.
Trajectory Supercomfy Neck Pillow
Trajectory supercomfy neck pillow comes with a multi-purpose neck button and is stitched with durable nylon thread making it long-lasting. The soft surface and universal size of the pillow makes it suitable for both kids and adults for regular use. It can be used by old people with neck pains too, while watching TV and doing other activities.
Highlights:
Trajectory supercomfy neck pillow is designed with a wide range of requirements considered.
Premium quality product at a nominal price.
Additional accessories to meet all your travel needs.
Features at glance:
Ergo design
Easy to carry
Comes with an eye shadow mask
Free earphone case
Our verdict: This is an affordable range of neck pillows that can be used on a regular basis. Suitable for office goers and old people especially. This neck pillow is good in quality and value for money.
ProQ Neck Pillow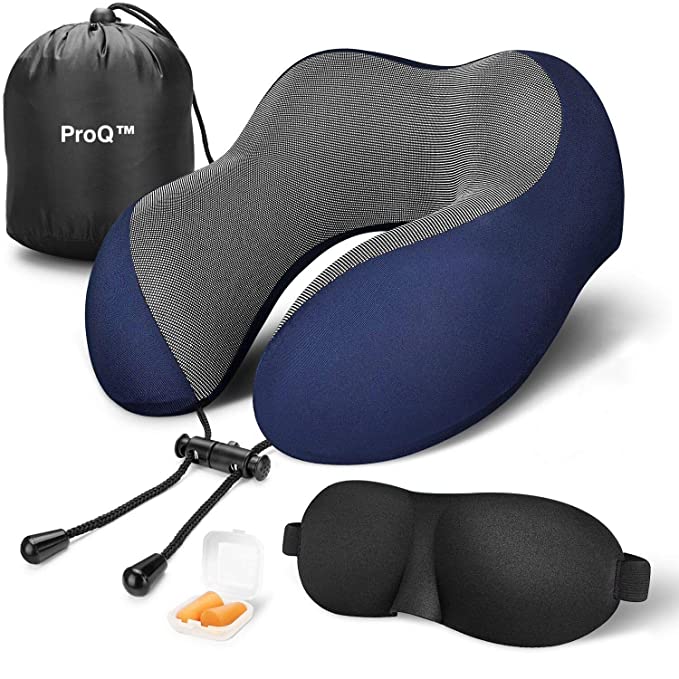 ProQ neck pillow is all about comfort. Best for people with sensitive skin, as the smooth texture of the pillow does not irritate the skin. This memory form pillow is the best gift you can give your neck. Made with 100% pure memory foam to ensure that your neck is always in the most comfortable position.
Highlights:
This travel cum neck pillow comes with eye masks and ear plugs for better comfort and sound sleep.
The ergonomic design aids total neck support.
Perfect for all sleeping positions
It's portable as well and comes with a free carry bag.
Features at glance:
Luxury cover
Easily washable
Lightweight
Our verdict: This neck pillow is for anyone who is looking for something comfortable for falling asleep, this is an all-in-one pillow at a nominal price. This is also the best memory foam neck pillow from the list.
Emgthe Travel Pillow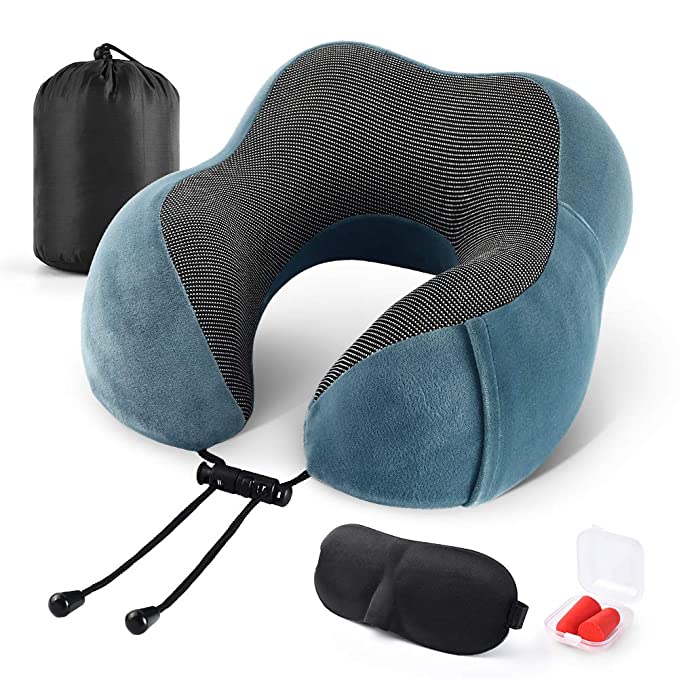 Emgethe travel pillow is luxurious as well as comfortable. There is no compromise in the quality, made from high-quality memory foam and super soft magnetic fabric. The pillow core is made with high grade 5-second slow rebound memory cotton providing the safest and most relaxing experience for your neck. Perfect for people with neck injuries and chronic neck pains.
Highlights:
With ergonomic raised lobe design, it's perfect for flights and other long journeys
Protects the neck and shoulders from muscle damage with the slow resilience memory foam that can effectively release pressure.
The adjustable size of the pillow helps meet different neck size requirements by adjusting the rope lock.
Features at glance:
3D contoured eye masks
Free earplugs and extra storage bag
Small pocket for mobile
Our verdict: This premium quality neck pillow is a little on the expensive side but the price justifies the features. This is really good for long flights, and people with neck problems.
Adofys Memory Foam neck pillow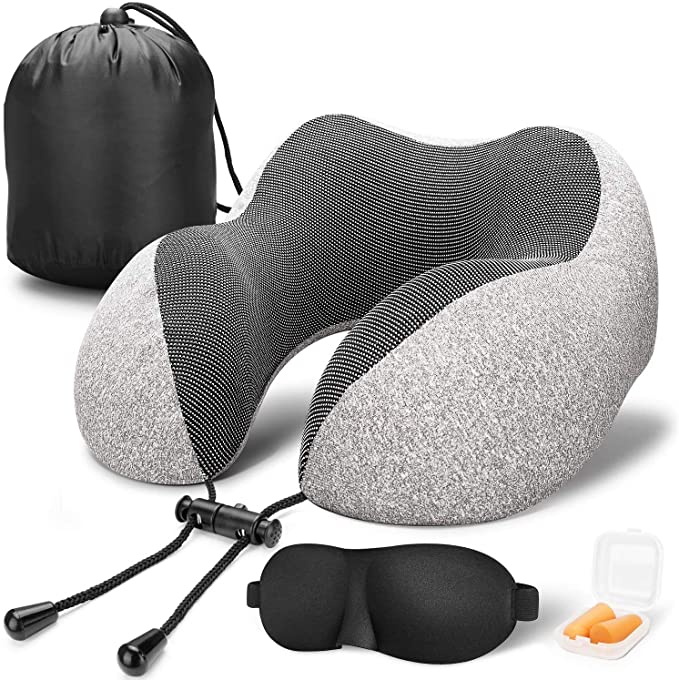 Adofys memory foam neck pillow is exclusively made for people on the go. Great for a stiff neck and painful shoulders. This traveler friendly neck pillow is made with high quality breathable materials. Suitable for all kinds of traveling. Can be used in various weather conditions.
Highlights:
Portable and easy to carry, comes with a free carry bag.
The raised arch design helps hold your head upright, facilitating a proper sleep position.
The weight of the pillow is only 250g, making it one of the lightest travel neck pillows available on internet.
Features at glance:
Magnetic therapy cloth
Comes with an eye mask and noise isolating ear plugs
Portable
Comes with a luxury cover
Our verdict: An affordable neck pillow with basic features and good quality. Perfect for people who like traveling light.
Ecosafeter Portable Travel Pillow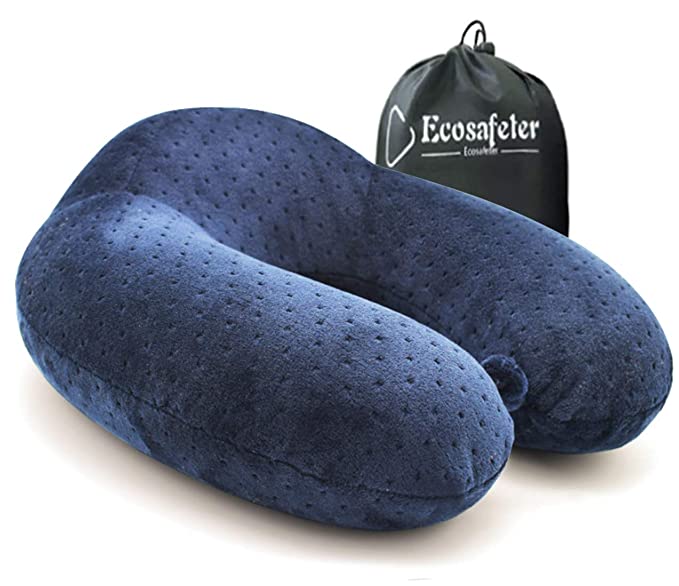 Ecosafeter travel pillow is made according to the recommendations given by travel experts. As a result, the unique design helps relax the cervical spine, making it a great choice for people with back problems and other neck related issues. Also, reduces the pressure on the neck, the unique hump shaped design provides ultimate comfort.
Highlights:
Comes with a removable cover, making it easy to clean.
High density memory form gives 360 degrees of comfort.
The outer fabric is made out of high-quality soft velour for maximum comfort.
Washable cover makes it easy to eliminate germs.
Features at glance:
30 days money back guarantee
Compact travel bag
Machine washable
Our verdict: Perfect for people with back pain and stiff neck. A good deal for the price. Best neck pillow for studying too.
Travel Blue Travel Pillow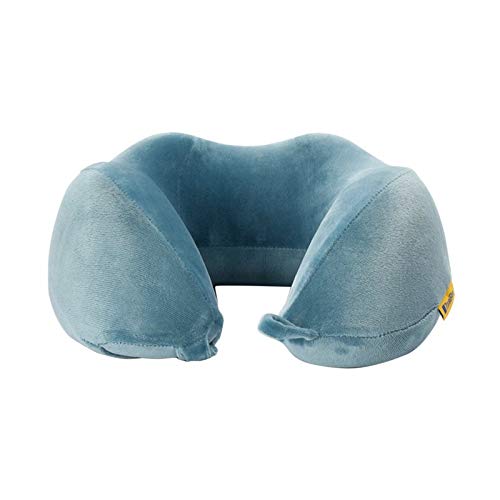 Travel blue is a leading brand in the travel accessories segment. This travel pillow has an exceptional neck support design which perfectly moulds to your neck providing absolute comfort. Designed with travelers in mind, this is perfect for the hiker in you. The velvety outer cover looks stylish, and can be easily removed and washed.
Highlights:
These pillows are water resistant, hence can be used in different terrains.
Comes with a convenient built-in pocket, to store the carry bag.
Double arch for a balanced sleep posture.
Double reinforcement in the front and back of the pillow for added support.
Features at a glance:
Sweat absorbent
Reversible zip
Compact
Our verdict: This neck pillow has great reviews from users, this is best for people looking for long lasting and stylish neck pillows with a lot of features.
CRAFTX Travel Pillow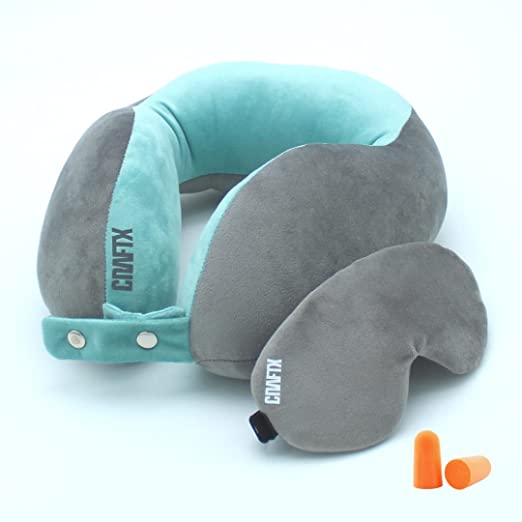 CRAFTX neck pillow is made with super soft, high-quality velour fabric, great for your skin. The unique color combination makes it stand apart in the crowd. Made with high quality virgin fiber, the material is breathable and light, making it easier to compress and carry around.
Highlights:
The design helps the mutli-angle support of the cervical spine, also reduces head slip.
Fits naturally to the neck to avoid bone pressure.
Adjustable rope design, can easily fit different body types.
The adjustor buttons are perfect to keep the pillow from drifting.
Features at glance:
Free eye mask for sleep
Adjustable knob
Free earplugs
Our verdict: CRAFTX neck pillow is best for people traveling in bus and cars regularly. Buy this if you like soft neck pillows rather than sturdy ones.
Travel360 Degree Neck Pillow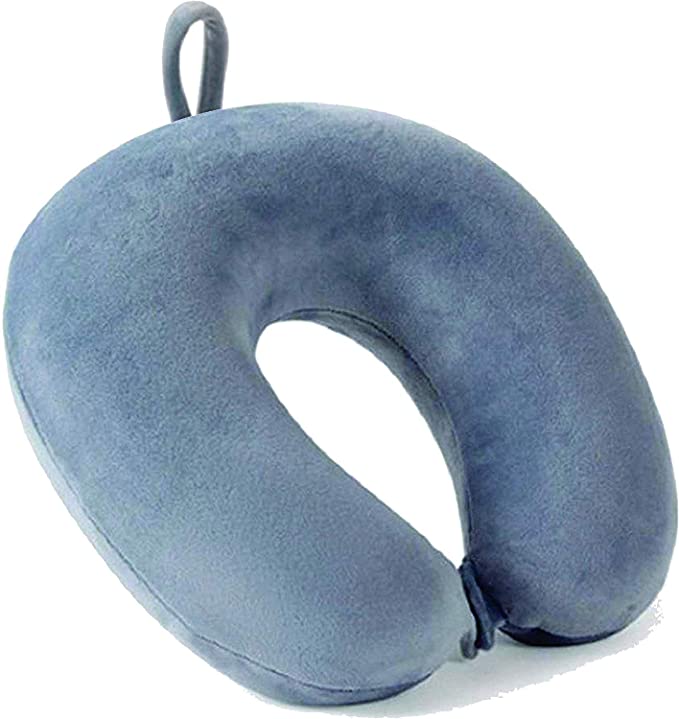 Travel360 degree is the most affordable pillow in the entire segment. Made with the softest fibers, this compact pillow is flexible and easy to carry, and can fit easily in your luggage.
Highlights:
Perfect for watching TV on the bed or couch, reading books, etc., other than traveling.
The pillow can be twisted to several positions, according to your needs.
Features at glance:
Lightweight
Easy to wash
Long lasting material
Our verdict: You would not find a better deal at this price range, go for it if you are low on budget and don't want to compromise on quality and comfort.
Why Neck pillows are important?
Neck pillows are an absolute travel requirement in the modern world. More than ever, people are diagnosed with neck pain and spine-related issues. From bad sleeping posture to stressful working conditions, the reasons are many. Helping your neck relax is very important; selecting a good neck pillow is the first step. Find the best neck pillow that suits you from the above list and enjoy traveling without worry. Are you a travel freak? Because we got something for you, check out the travel coupons pages from GrabOn to find offers you cannot resist.
Conclusion
While the products in the list have been compiled after much research, if we have missed out on any product and you would like to see it here, please let us know. If this article has helped you find the right neck pillow, you can share your experience with us, we would be glad to hear from you.
This is it for now, we will keep updating the list. For people looking for orthopedic neck pain pillows please check out best neck pain pillows in India.