Laptop cooling pads are no more a luxury item anymore because laptops are not. Laptops have become a necessity for most of us. No more an official device, now laptops have become a complete entertainment package. We sit for hours on the stretch with our laptops parked comfortably on our thighs. This raises the problem of overheating and to combat this issue, you must invest in a viable yet best laptop cooling pad. But choosing the best one for your laptop can be a difficult decision, especially because there is a lack of awareness about them.
Top 10 Laptop Cooling Pads In India With Price 2023
Last update was on: January 30, 2023 1:03 pm
TopMate C7 12-17 inch Gaming Laptop Cooler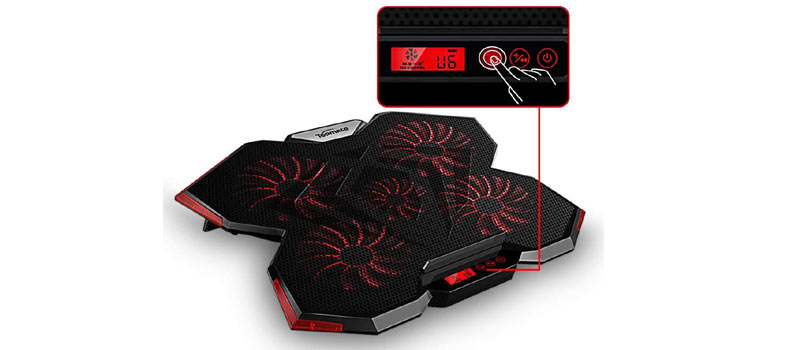 If you are a gamer, the likelihood is you are already battling with an overheated laptop but are not sure how to deal with it. For people who play games for hours on a stretch, TopMate C7 gaming laptop cooling pad is a great product.
Benefits: Suitable for laptops with a width of 12″ to 17″, TopMate cooling pad has 5 fans to ensure the laptop does not get overheated. The design is unique and you can adjust the height of this cooling pad to your preference for the best gaming experience. The LED lights look attractive when you are already in the gaming mode. The brighter the light, the faster the speed. You can adjust the wind speed through the button switch provided and the small display screen provided lets you have all the information at a glance. You can flip the hinged flap so that the laptop does not slide down.
Tarkan Heavy Duty [4 Fans] LED Gaming Cooling Pad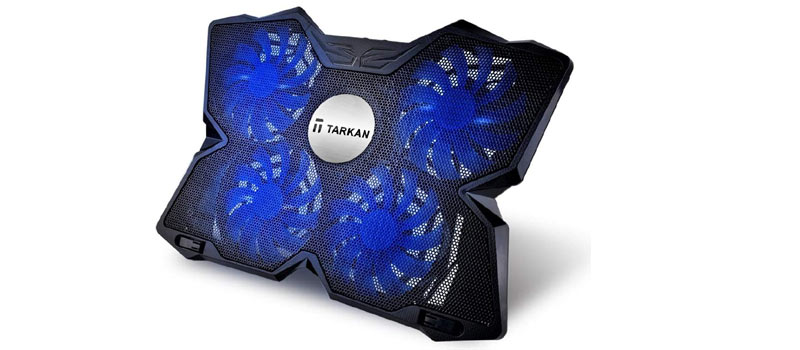 Are you someone who plays games for hours at a stretch? If you use your device intensively, chances are overheating it is not new to you. To prevent your laptop from going kaput suddenly, you can invest in a powerful and heavy-duty cooling pad which will solve the problem of overheating.
Benefits: Tarkan Heavy Duty LED gaming cooling pad is backed with the power of 4 fans. The fans are powerful, yet silent when in operation. You can connect it to your system through a USB, while there is 1 more USB slot to connect more devices. The 4 fans and LEDs can be controlled by 2 roller switch. Two skid-proof foldable baffles are also provided. It is ergonomically designed and has an adjustable mount stand. It weight 707 grams so you can carry it anywhere and be assured that your laptop will not be sluggish after continuous use.
Specifications
Product Dimensions: 408 x 287 x 29 mm
Fan Dimensions: 110mm x 110mm x 20mm
Fan Speed – 1200 +/- 10% RPM
Weight: 707g
Suitable For – Tarkan Cooling Pad is perfect for Graphic designers, gamers, and tech enthusiasts.
Tarkan Ultra Slim Mono Fan Portable Cooling Pad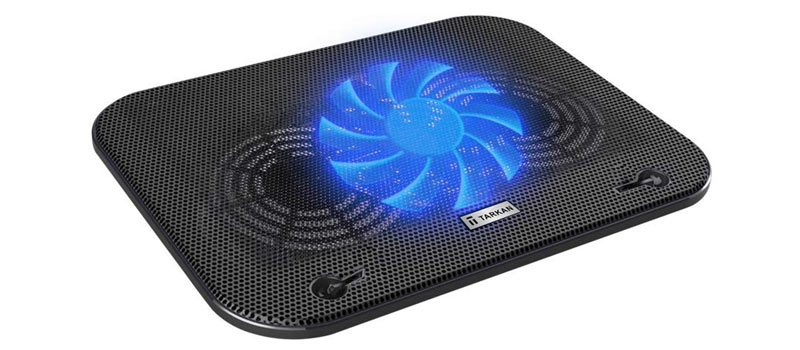 Another one from Tarkan, this is one of the most economical cooling pad for laptops for light to moderate users. Designed for laptops and notebooks for upto 14 inches screen width, this is suitable for people who are not into gaming or heavy performing works.
Benefits: The first and foremost attractive point is the price – it is the entry-level price but offers great features. It has a single fan that has dimensions of 140mm x 140mm x 20mm. The fan effectively pushed hot air away from the laptop. It is also lightweight weighing less than 500 grams. It comes with a metal mesh that keeps your laptop from getting too hot naturally. The design is sleek and the USB port connectivity is convenient. Easily portable and quite durable, it comes with hinged flaps that keep the laptop from sliding down towards you.
Cosmic Byte Asteroid Laptop Cooling Pad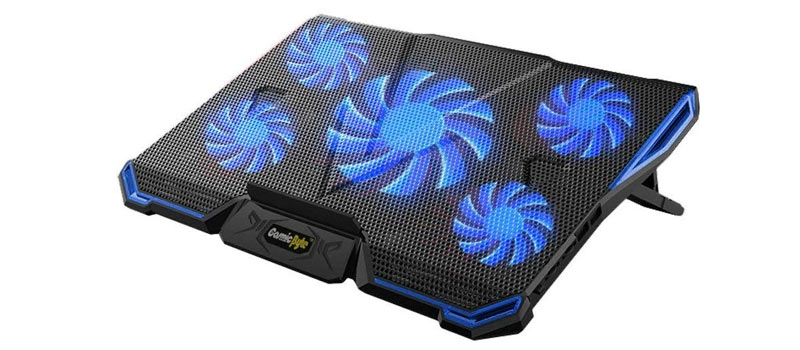 Designed by Cosmic Bytes, this is a versatile laptop cooling pad at a great price. While you work on your laptop continuously or play games, it prevents your laptop from overheating and maintains the temperature.
Benefits: The super-cool design of Cosmic Byte Asteroid Laptop Cooling Fan comes with 5 efficient fans that cool your laptop. They move the direct heat away from the laptop and let you work without any discomfort. Suitable for laptops with a width of 14″ to 17″, this laptop cooling pad can also be used as stand-in 7 comfortable positions. This laptop cooling pad is powered by a USB port and also features another USB port for other devices. The broad is base, the design is ergonomic and it weighs 990 grams. While the 5 cooling fans work, the LED lighting makes the gaming experience even more exciting.
Specifications
Product Dimensions – 432 x 302 x 42 mm
Fan Dimension – 140 x 140 x 15 mm
Fan Speed – 1100 +/- 10% RPM
Weight – 1020 g
Suitable For – A total steel deal for all the gamers out there.
Belkin F5L055BTBLK Laptop Cooling Pad with Patented Air-flow Wing (Black)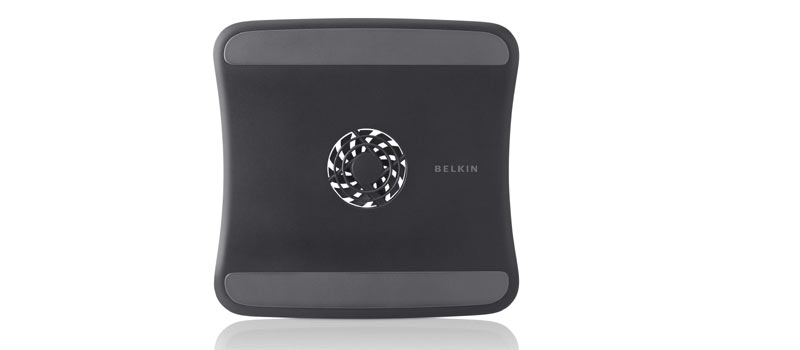 If looks could kill, Belkin F5L055BTBLK would surely be in the race. Sleek and elegant, this laptop cooling pad is designed to provide you the best working angle, and would probably make you love your work even more.
Benefits: Apart from a cool curved look, this laptop cooling pad has a patented Airflow Wing design that creates a continuous, evenly dispersed stream of air flowing under your laptop. Quieter and cooler, you won't even notice it when it is working. It comes with no-slip ledges that keeps your laptop in place. If you type a lot, then you can adjust it to an angle where it will not strain your neck. The grip pads at the bottom also keep everything stable. It is suitable for gamers, people who browse for fun or people who work long hours at a stretch. Easy to carry even when you are traveling – 570 grams is its weight. Rest all your worries of overheating your laptop with Belkin F5L055BTBLK laptop cooling pad.
Specifications
Product Dimensions – 296 x 310 x 46 mm
Weight – 699 g
Suitable For – Again, this laptop cooling pad can be best suited for working professions and students.
Tarkan USB Powered Portable Laptop Cooler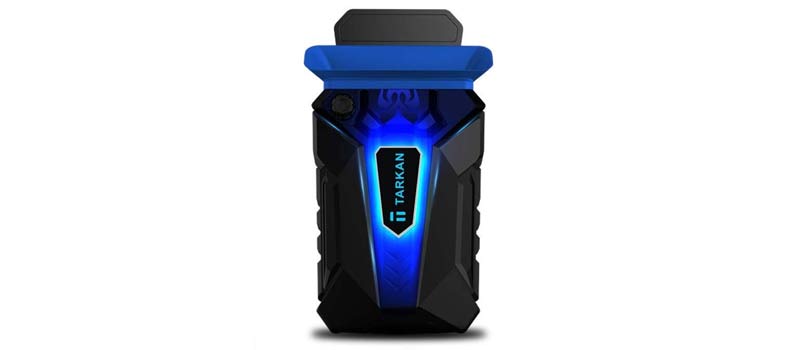 Looking for a laptop cooling pad under Rs. 1000? Well don't worry, we have for you a laptop cooling pad that costs less than Rs. 1000 but is functional, durable and attractive.
Benefits: At a price point that is quite desirable, Tarkan's USB powered portable Laptop Cooler offers an ultra-silent operation while it works. Suitable for many notebooks that support a USB port, it also comes with LED lights that look mysterious when one is working on the laptop. The fans keep the temperature of the laptop in control and prevent system failure from overheating. It is far more effective if the CPU vents are at the corners of the laptop and not at the center. An absolute favorite for people who play games on their systems as well.
Havit HV-F2056 Ultra-Slim Laptop Cooler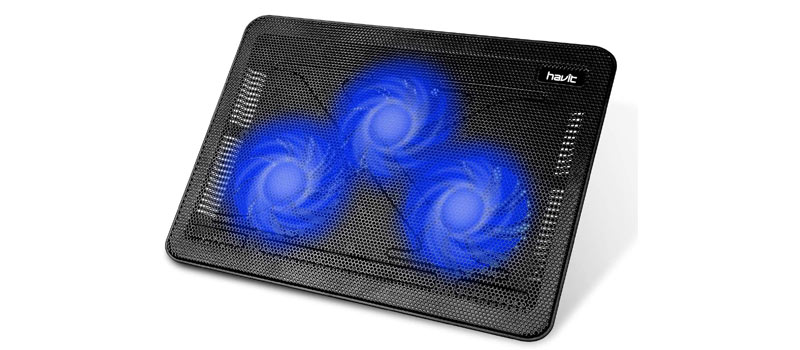 For people looking for a sturdy, durable, high performing laptop cooling pad with extra-ordinary features, Havit HV_F2056 is the perfect match. It is also suitable for people who travel and work round the clock.
Benefits: Havit HV-F2056 is slim, designed ergonomically, portable and lightweight – with superior cooling fans and fancy LED lighting. Weighing just 680 grams, you can carry it with you even when you travel. 2 adjustable height settings allow you to have a relaxing incline angle to work. 3 large fans work silently yet powerfully to dissipate hot air. The metal mesh is also made of high-quality material. Along with 2 USB ports, it offers the convenience of plug-and-play with USB cable connection. This laptop cooling pad supports notebooks and laptops upto 17″ screen width.
Specifications
Product Dimensions: 380 x 280 x 28 mm
Fan Dimension – 110 x 110 x 20 mm
Fan Speed – 1100 +/- 200 RPM
Weight: 680 g
Suitable For – Movie buffs who like to binge-watch movies and series should definitely own a Havit Cooling Pad.
Technotech Cooling Pad 638 Multi Angle Stand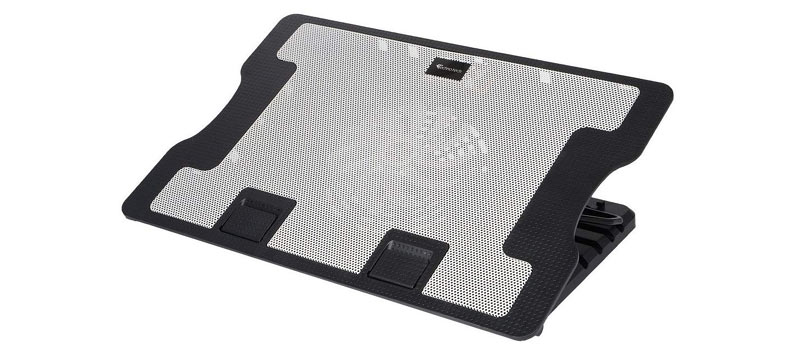 Suitable for notebooks and laptops upto 15.6-inch screen width, Technotech is yet another economical laptop cooling pad for someone who does not use it for a prolonged time. It will keep your laptop safe and you would not have to worry about it heating up.
Benefits: As an entry-level cooling pad, it is a decent one with a built-in fan. The design looks fashionable and it is not heavy to carry around, weighing 875 grams. The connection is made through USB, with the USB cable provided. It works well by dissipating the heat and lets you work efficiently. There is not much noise when the fan is running. It has 4 height adjustments so that you can work on your laptop comfortably. It also has folded hinges which will not let the notebook slide down. Though the plastic is not of very good quality, the durability is not great.
Lifestyle-You™ Laptop Cooling Pad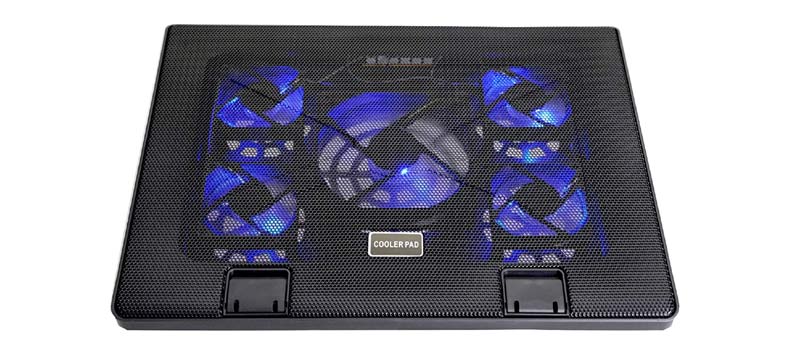 Lifestyle-You™ Laptop Cooling Pad is a heavy-duty product for people who invest a lot of their time working on a laptop and often struggle with the issue of overheating. With 5 cooling fans whose speed can be controlled through a dial, it is a must-have computer accessory for high performance and gaming laptops.
Benefits: This laptop cooling pad is suitable for laptops of 17 inches. It comes with 2 USB ports and provides efficient cooling for your laptop, even if used for hours at a stretch. The 5 fans work to keep the heat away from the system. The metal mesh dissipates the assimilated heated keeping your laptop performing at optimal speed. You can adjust the pad at 6 different angles and work comfortably. The LED lights make it all attractive and it does not make a lot of noise while working.
Specifications
Dimension – 380 X 290 X 32 X 90 mm
Fan Dimension – 120 X 120 X 25 mm
Fan Speed – 1000 +/- 10% RPM
Weight – 681 g
Suitable For – This laptop cooling mat is perfect for people who are gaming enthusiasts and designers.
Deepcool N400 Notebook Cooler (Black)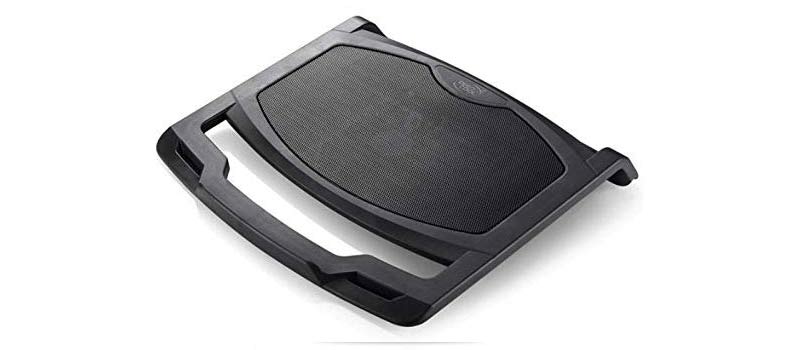 Compatible with 15.6″ notebooks and below, Deepcool N400 Notebook cooler pad will keep your laptop from overheating whether you are streaming movies, playing games or working for a prolonged time. Compact and lightweight, it looks as stylish as it is useful.
Benefits: Deepcool N400 notebook cooler provides high cooling performance with its 140 mm fan and thus prevents your system from overheating. The metal mesh aids in cooling the system and the USB pass-through connector makes it easy to connect with. It boasts of an anti-slip design so that the notebook does not fall. It is quite a durable product as well. Weighing just 460 grams, you can carry it anywhere and never be bothered about your laptop overheating. The fan is also silent, you will not even hear it function at times!
Buying Guide
What are laptop cooling pads?
Although many people consider buying the product an unnecessary spend, the fact is it is an important computer accessory with a host of tangible benefits. When you work on a laptop for long hours, the processor of a laptop gets overworked and it gets overheated. That's the reason why you feel the heat on your thighs if you have placed the laptop there. Continuous pressure on the internal parts of the laptop can cause significant damage to it and it may just abruptly shut down. You may need to spend thousands to get your system repaired.
To solve this issue, the product comes to rescue. They have cooling fans in metallic frames and covered in a mesh providing air and thus keep the temperature of a laptop under control. They direct cool air in the laptop and as a result, it does not get overheated and lasts longer performing optimally.
These come in different sizes, with a varied number of fans and differentiated cooling capacities. Buying the best one would depend on your use of laptop, budget, comfort, cooling capacity and additional USB ports offered by some brands. However, you can get the laptops and its accessories by availing the latest coupons and offers from HP brand at GrabOn. In this way, you will be saving a huge amount which can further be used for buying other items.
Types of Laptop Cooling Pads in India
There are mainly 2 types of Laptop Cooling Pads available in the market.
1. Cooling Pads with a Fan
This type of cooling pads is most common in the market. The device is equipped with multiple fans that operate to cool the overheated laptops while use. Laptop cooling pads with fans are most suitable for people who love to watch movies, play games, work on the laptop for hours or who are into graphic designing.
2. Cooling Pads without a Fan
The second type of cooling pads in India are one without a fan. This category of laptop chill mats come without any fans installed in them. Wondering how they do their job? Well, these mats are made out of aluminum that is a heat-resistant material. These laptop pads don't cause disturbance while operating but their quality of performance is much below those with fans.
Laptop Cooling Pad Vs Cooler for Laptop Vs Laptop cooling Fan
Wondering which solution for cooling your laptop is the best one for you? Well you surely have some options in this area. Cooling can not only be achieved with the pads but with coolers, and fans too.
Between fans and cooler, you might want to pick the cooler. Coolers take more power but eventually give a bigger blast of air than laptop fans. You will easily achieve less than 75 degree celsius when the laptop is functioning with a cooler. Coolers for the same reasons cost higher  too.
This might be better than the cooling which you can achieve with a cooling pad. But a pad has many of its own advantages. Ease of usage to a compact look, a pad would be a choice of many for these reasons. Moreover, it also provides you with an uplifted keyboard which helps while typing allowing you to use the keyboard without burning your palms.
So this is the list of best laptop cooling pads in India with their prices. If you have never bought one before, do invest in a basic one and then you will have an idea of the benefits it offers to safeguard your system and give it a longer life. Do not worry about the noise of the fans – most of them do not make much noise. If you are someone who works a lot on their laptop, then for protecting it opt for a laptop cooling pad and increase the performance of your system.