During hot summer months, ceiling fans may not be enough to beat the excess heat. Although inverter air conditioners can help you stay relaxed, you need to invest huge bucks. An affordable solution is to bring the best high speed pedestal fans (also popular as stand fans) home to offer superior cooling performance throughout the usage.
Last update was on: August 3, 2022 2:48 pm
List Of Top 10 High Speed Stand Fans
When it comes to making a decision, you will be overwhelmed with plenty of choices. So to make things easy, we have curated a list of the best pedestal fans in India. Check it out:
 Atomberg Pedestal Fan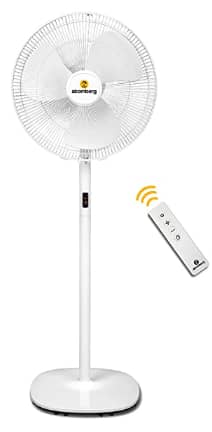 Atomberg Pedestal Fan may be the perfect option due to its stylish design that will add a touch of sophistication to any room. This tabletop mounting type fan is made of ABS plastic material and features 88 CMM air delivery that will help you stay cool and comfortable all summer long, making it the most powerful stand fans on the online market.
Further, it is possible to control the device using a smart remote which has a boost mode, oscillation control and timer mode.The brushless direct current technology consumes only 32 watts power while operating at high-speed settings. Do check out the latest coupons of Atomber brand to get some discounts while shopping online.

Key Features of Atomberg
Slim metal body
Easy to use at home
High-efficiency copper motor
Smart remote control pedestal fan
Speed: 1350 RPM
Warranty: 2 Years
V-Guard Pedestal Fan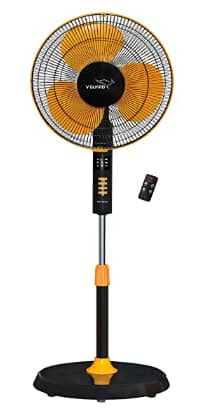 V-Guard pedestal fan utilises free standing mounting so you can place it anywhere in your home. The durable ABS plastic material makes it resistant to scratches and damage. Whereas, 3-speed settings let you customise the fan speed and the copper motor provides proper airflow with utmost consistency. On the whole, V-Guard pedestal fans will provide utmost comfort to the entire family throughout the usage.
Key Features of V-Guard
Stylish and elegant design body
Features oscillation system
In-built overheat and overload protection
Speed: 1300 RPM
Warranty: 1 Year
Usha Pedestal Fan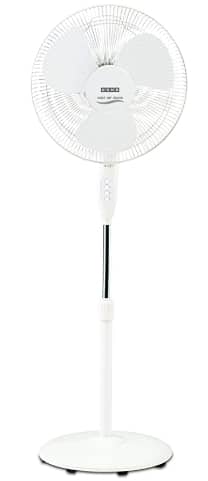 Usha is a well-known brand for offering a wide range of products like sewing machines, foot accessories, fans, and more maintaining the quality standards.  This Usha pedestal fan has aerodynamic PP blades to deliver air quickly in the roomspace without making noise. Inside the machine, you will find the motor made of 100% copper to suit Indian climatic conditions.
Plus, it comes with an overheat protection mechanism that will keep you safe from overheating. An instruction manual that will help you get started with the device right away by following the step-by-step guide. So don't wait any longer – order your Usha pedestal fan today from the Amazon ecommerce store. You can also refer to the best ceiling fans if you wish to purchase the basic models at low-cost.
Key Features of Usha
Corded electric pedestal fan
Easy to assemble and use
Free standing type model
Features 3- PP blades
Warranty: 2 Years
Orient Pedestal Fan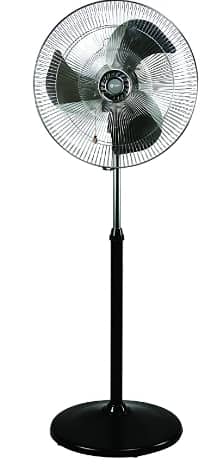 Orient tornado pedestal fan delivers air at a rate of 6030 m3/Hr to keep cool within the room space. This 3-blade pedestal fan under 5000 can be adjusted as per the 3 speed settings i.e. low, medium, and high. If you ever feel like the fan is getting too loud, you can easily adjust the setting using the pull cord switch. And the prices seem to be a bit affordable.
Key Features of Orient
Extra large metal base
Perfect for large rooms and halls
Resettable thermal overload protector
Warranty: 1 Year
Amazon Basics Pedestal Fan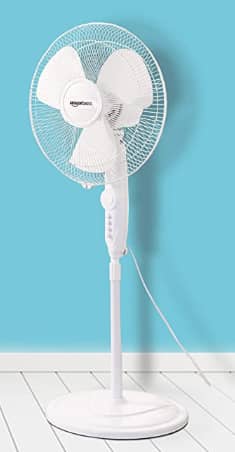 Give it a try with the AmazonBasics stand fan as its aerodynamically designed blades will ensure airflow is smooth and powerful. This fan is made from durable plastic and has a 400 mm sweep length, which means it can reach a lot of areas. Moreover, its air delivery of 65 CMM to 73 CMM will ensure that you stay cool and comfortable all day long. Whether you are in need of a portable pedestal fan to keep you cool and circulate fresh air in large rooms, Amazon Basics Pedestal Fan is a great option.
Key Features of Amazon Basics

Safe from electric shocks
Offers high-end performance
Speed: 1456 RPM
Warranty: 2 Years
iBell Pedestal Fan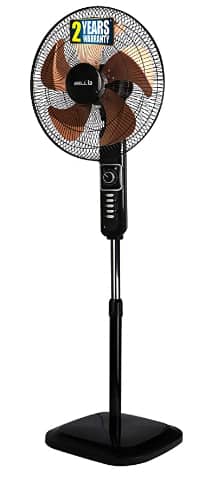 The iBell floor pedestal fan is the perfect addition to home and corporate areas due to its sleek metallic finish and 55-watts power consumption to keep you cool. The 4 speed control and adjustable height feature make it easy to find the perfect setting, while the self lubricating motor ensures a longer life. Finally, the whisper quiet technology allows you to enjoy your fan without fear of disturbing your peace.
Key Features of iBell
2 hour timer function
Wide sweep oscillation
Tackles voltage fluctuations easily
Speed: 1340 RPM
Warranty: 2 Years
Crompton Pedestal Fan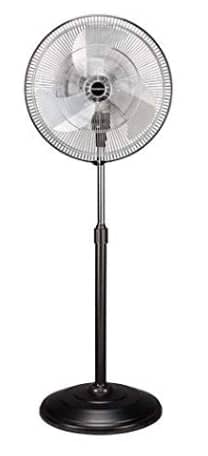 Crompton Stand fan storm model is ideal for moving around your home or office due to its small size and portable nature. With a high air delivery rate and RPM, the high-speed motor ensures maximal wind flow and fast cooling.
The thermal overload protector protects the device during voltage fluctuations and the robust motor ensures durability and efficiency. Adding up, the aluminium material and thermal overload protector ensures that your fan will keep running even in the most hectic of environments.
Key Features of Crompton
Offers jerk-free performance
Smooth and convenient oscillations
Compact design and durable
Speed: 1400 RPM
Warranty: 1 Year
Havells Pedestal Fan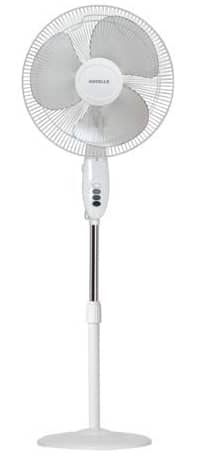 Havell swing pedestal fans are best in terms of usage and efficiency. It has a sleek and glossy finish, and comes with a switch box for smooth functioning of the device. Plus, it has an air delivery of 72 CMM too. To talk about the pricing, it is economical to buy and hence we have listed as the best stand fan under 3000. The only thing is the excess noise production of 63.2 dB which is more than many other brands in the given list.
Key Features of Havells
Low voltage operation
Button control type
50 Hz frequency and 55 watts power
Speed: 1350 RPM
Warranty: 2 Years
Bajaj Pedestal Fan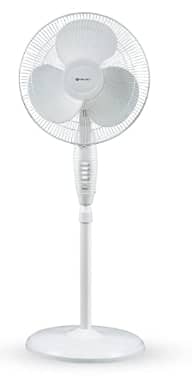 Bajaj is an established brand in India that offers extensive products across home and kitchen categories. This Bajaj fan model features a copper motor to distribute the power evenly without fluctuations. It also incorporates an overload thermal protector to keep you safe. If you are not sure about the device or operation, give it a read with the instruction manual to help you get the most out of your fan.
Key Features of Bajaj
Durable ABS plastic material
Delivers robust performance
Easy to install at home
High air delivery rate
Speed: 1320 RPM
Warranty: 1 Year
V-Guard High Speed Pedestal Fan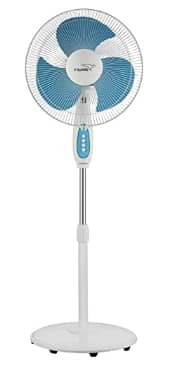 Finally, we end up with the V-Guard Pedestal Fan. In contrast with the best pedestal fan with remote models, this V-Guard high speed stand fan has a high air delivery rate and RPM to offer superior cooling performance.
This machine is made from strong ABS body material and features a 95 m³/min air delivery rate. The fan also has a 120 minutes timer, in-built overheat and overload protection to ensure that it operates smoothly throughout the usage. On purchasing this model online, you will get a motor, 3-blades, front and rear guard, spinner base, and a warranty card.
Key Features of V-Guard Electric
Glossy finish type
User-friendly instruction manual
Stylish and durable design body
Synchronous motor oscillation
Speed: 2250 RPM
Warranty: 1 Year
Bottom Line
We hope that you find the article helpful in making a purchase. Which one did you like the most – electric or battery operated pedestal fan? Do you use it every day or occasionally? Or do you have any concerns? Please let us know in the comment section given below.
Pedestal Fans – Frequently Asked Questions
Which brand of electric pedestal fans are best to buy online?
V-Guard, Usha, Havells, Bajaj are some of the popular electric pedestal fan brands you can shop online for home and office needs.
What factors to consider while buying a pedestal fan?
Ergonomic blades, speed settings, motor, air delivery rate, noise levels, brand reputation, price, and warranty details should be considered while buying online.
How long can a stand fan work effectively?
The stand fan can last for 3-5 years when maintained properly indoors.
Which is better: electric or battery operated pedestal fan?
Electric models are more efficient than battery operated stand fans due to in-built features like overheat & overload protection, and the copper motor offers top-notch performance throughout the usage.
Can I buy a 3-blade or 5-blade pedestal fan for home purposes?
5 blade models produce more wind consistently due to the minimal distance between the blades than 3-blade pedestal fans.
How to use pedestal fans?
Simply plug-in to the power source, turn on the device, and adjust the speed settings to enjoy cool air indoors.