Portable, handy, sleek and lightweight, a hand blender is a must-have small kitchen appliance for carrying out everyday kitchen tasks with ease. Not only hand blenders make daily chores of cutting, chopping, blending, mashing much easier, but also quicker. Since desired results can be obtained in the containers only, there is less to clean up later. If you have not yet bought a hand blender as yet, we suggest you go through the best hand blenders in India and buy yourself or your loved ones one – and make kitchen tasks an easy affair.
Hand blenders are also known as stick blenders since they are rod-like with a motor at the upper body and detachable steel blade or blades that get attached at the bottom. Since they can be used by immersing them in a container itself, they are also known as immersion blenders. Unlike having to take out a food processor or a mixer and fix the attachments and then clean up post-use, using a hand blender is much easier- minus the mess.
Moreover, for using a food processor or mixer grinder jars, you need to have some minimum quantity whereas, with a hand blender, it is a tad easier since the blades are pretty small and sleek. In fact, hand blenders are like mini food processors- and not as expensive. Some of these can also be used as juicers. We have given below the list of the top and most efficient hand blenders in India – if you are thinking to buy one, have a look below and make a wise choice!
Top 10 Hand Blenders in India for 2023
Last update was on: January 22, 2023 4:21 pm
Orpat HHB-100E 250-Watt Hand Blender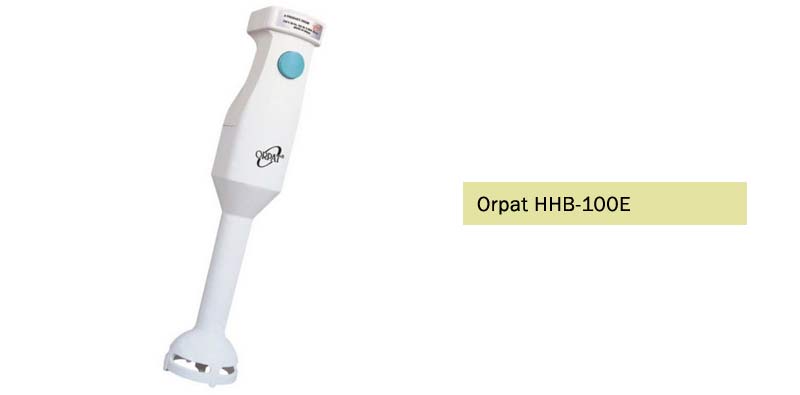 If you are looking for a low priced daily use hand blender without any fancy add-ons, then you can explore Orpat's HHB-100 E 250 watt hand blender that will give you great performance and yet be easy on your pocket.
This hand blender comes with an unbreakable polycarbonate bowl and a fixed multi-purpose stainless steel blade
An extended power cord of 2 meters makes it easy to use without having to carry the food vessels to it
A power of 250 watts with an RPM of 18000 makes it suitable for carrying everyday kitchen tasks, although it can be a bit noisy when used longer or used on harder food ingredients
It has a smooth and safe switch and can be washed and cleaned easily
Warranty: 1 Year
Philips Daily Collection HL1655/00 250-Watt Hand Blender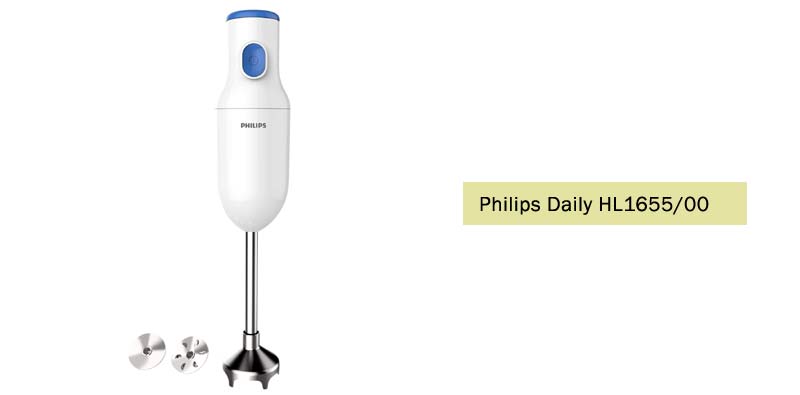 Philips is a household name when it comes to quality kitchen appliances. This hand blender from the brand is no exception- it boasts of quality with the functional features. Easily one of the most affordable hand blenders in India is the Philips Daily Collection HL1655/00.
The package includes a hand blender and whisk with two different blades for whisking, whipping and blending functions
Motor of 250 W ensures kitchen tasks are carried efficiently without making much noise
Suitable for both hot and cold blending functions
Ergonomically designed for better grip support and maximum comfort
Comes with a single trigger press button that is easy to hold and quickly blends food ingredients
Rust proof stainless steel metal arm can be easily cleaned, and the blades can be detached for cleaning
Motor: 250 W
Warranty: 2 Years
Inalsa Robot INOX 1000 1000-Watt Hand Blender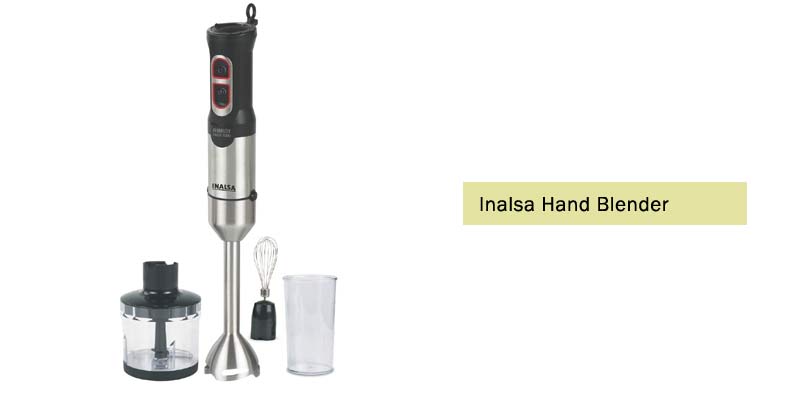 Your kitchen needs of whisking, churning and blending will become much easier and efficient with Inalsa's Robot INOX 1000 watt powerful hand blender. The features include-
Package includes hand blender, chopper jar, whisker, 600 mL multipurpose jar that can also be used as a measuring cup, a warranty card and an instruction manual
Powerful 1000 watt motor makes mashing or blending hard foods also easier
The product is ergonomically designed
The product comes with detachable stainless steel stem with sharp blades
You get variable speed controls with a LED light
Mashing, pureeing, blending becomes easier and efficient and you can prepare a variety of soups, smoothies and baby food
Motor: 1000 watts DC motor
Warranty: 2 years
Wonderchef Nutri-Blend CKM with 3 Jars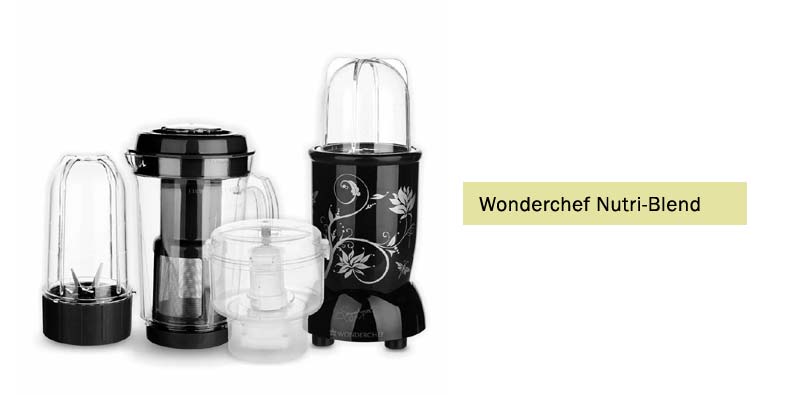 If you are looking for something that works as a mixer grinder, juicer as well as a blender, then Wonderchef's Nutri-Blend is definitely the product you should consider. One of the top selling hand blenders in India, it comes with varied functions – one product caters to many kitchen needs.
It is a complete kitchen package with the functions of a mixer, juicer, grinder, chopper and a blender
The 400W superfast motor with powerful 22000 RPM blends, grinds, juices and chops in seconds saving you both time and energy
The product comes with 1 big mixing jar of 750 ml, 1 large jar of 500 ml and a small jar of 300 ml
Stylish and compact, it can be used to make smooth baby food and even grinds hard masalas in minutes
All parts are detachable so cleaning it is not an issue
Motor: 400W
Warranty: 2 Years
Bajaj HM 01 250-Watt Hand Blender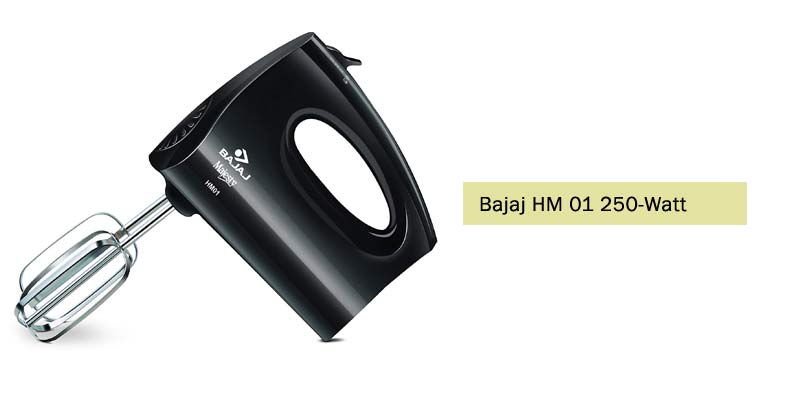 The country's very own brand, Bajaj has over the years given us some great small kitchen appliances. Bajaj HM 01 250 Watt Hand blender is just another addition to its envious range of kitchen essentials.
Has a powerful yet not noisy motor of 250 watts
Comes with dough hooks and beater attachments to give you a superior experience in kneading, mixing, whisking, beating and other cooking tasks
You get 3-speed controls to choose from to carry out a task at your preferred pace and depending on the ingredients to get great blending results
Changing attachments or detaching them is easy as it comes with an eject button
Suitable for hot and cold blending needs
It is lightweight, stylish and saves on energy as well
Motor: 250 watts
Warranty: 2 Years
Maharaja Whiteline Turbomix 250-Watt Hand Blender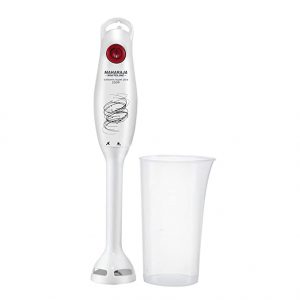 One of the best budget-friendly hand blenders in India with superior performance is the Maharaja Whiteline Turbomix. You can whip up food, mash, and puree, or simply prepare shakes with this easy to use a multipurpose hand blender.
350-watt motor gives perfectly smooth results within seconds
The plastic foot is detachable and enables easy cleaning
The blade is powerful and sharp, giving desired results within seconds
The product is ergonomically designed and lightweight so that it does not cause any discomfort while using
Comes with an easy push-button so that beginners and experts can use it alike
A hanging loop saves space for storing
Motor: 350 watts
Warranty: 2 Years
Prestige Plastic Hand Blender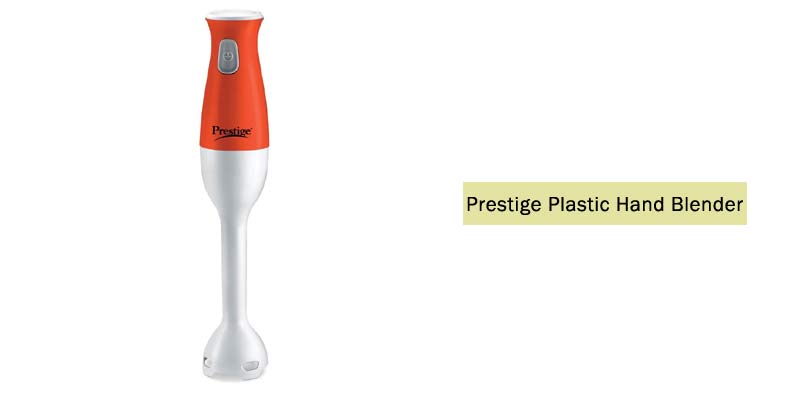 As a brand, Prestige has been in our kitchens for ages now. Prestige kitchen products are robustly designed, making them durable in the long run. Prestige plastic hand blender is another budget-friendly daily use hand blender that can be used to blend, mash or puree your food within seconds.
Comes equipped with a 250-watt motor to give you amazing results every time
Known for being durable even if used multiple times daily
Stainless steel super-sharp blades make it easy to carry out blending or mincing food particles with perfection
Ergonomically designed in a slim frame to give you complete maneuverability and a comfortable grip
Whisking and blending food items can be done without making much noise
Motor: 250 watts
Black+Decker BXBL6002IN 300 Watt Hand Blender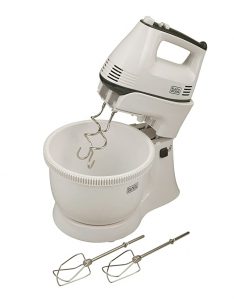 Black and Decker kitchen appliances are known for their long life, better performance and innovative designs. Black+Decker BXBL6002IN 300 Watt Hand Blender is a powerful multi-purpose blending and pureeing kitchen appliance that saves your time, energy and efforts carrying out daily kitchen tasks.
Package includes a chopper attachment, whisk, 700ml cup, wall rack and a removable blender shaft
A 300-watt motor ensures all kitchen tasks are carried with finesse and ease
A variable speed control lets you choose the desired speed for optimum blending or whisking results
Multi-purpose stainless steel blade for blending and pureeing
Stylish design, slim built, lightweight and a smooth touch body making everyday chopping and blending easier
The shaft is detachable for easy cleaning
The blades and whisk attachment is made of stainless steel so can also be used in hot food
Motor: 300 watts
Warranty: 2 Years
Morphy Richards HBCP 400-Watt Hand Blender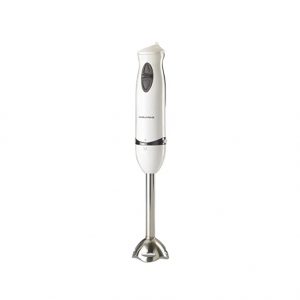 Your search for a handheld, reliable and durable hand blender in India ends with Morphy Richard's HBCP 400-watt hand blender. Easy to use, this is one kitchen appliance every house should have.
The product includes a hand blender, a chopper attachment, a measuring beaker, manual and warranty card
Motor wattage of 400 W ensures that functions of chopping, blending and mashing are efficiently carried out
Made of a stainless steel shaft, you can simply use it in your food container even if it is hot. It works efficiently despite the heat.
It offers 2-speed variable control to allow you to choose the speed you wish to carry a task with
Slim and ergonomic design ensures it is comfortable to use and does not cause any trouble to your hands
The whisk attachment is detachable so cleaning it is fairly easy
Motor: 400 watts
Warranty: 2 Years
BOSS Portable Hand Blender, 160W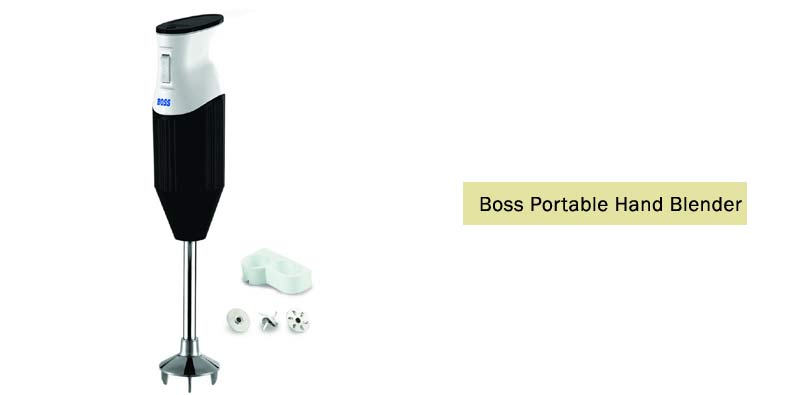 Innovation and durability along with excellent pricing have mad BOSS's kitchen products a leader in the industry. This portable hand blender by BOSS boasts of the below features-
Package includes a blender, a whisk blade, a mincer blade, and a beater blade to carry kitchen tasks with ease and convenience
A 160 Watt motor with 12000 RPMs ensure smoother blends in just a couple of seconds without making much noise
Suitable for hot and cold blending processes since it has rust proof stainless steel arm that can be used in any vessel
Offers a variable 2-speed switch to give you better blending results
Detachable blades are easier to clean and use thereof
Motor: 160 watts
Warranty: 2 Years
So this is our list of the best hand blenders in India – we have included budget friendly hand blenders as well specially designed hand blenders so that you can choose as per your need and requirement. A multipurpose kitchen utility appliance, a hand blender saves you time and energy and can also be used when you need quick and efficient results even if food quantity is not much. Moreover, you can carry your lightweight hand blenders easily if you have a baby and wish to mash his food anywhere. Let us know if you'd bought any of these hand blenders!