Silky straight hair can be paired up with a saree, lehenga, or a little black dress to make any girl look drop-dead gorgeous. But, not all are lucky enough to be blessed with super straight hair. It is now easy to straighten your curly or wavy hair in the comfort of your home by investing in a high-quality hair straightener. These hair straighteners can save you both time and money spent on making regular appointments at beauty salons.
If you are planning to buy this hair styling tool, then we can help in finding the perfect one. Our curated list of best hair straighteners for frizzy hair featuring some of the best-selling and top-rated products will help you sport a salon-like hairstyle every time you step out.
Best Hair Straighteners For Frizzy Hair
Well, your hunt for the right straightener can end here as we have curated some coveted hair straighteners that are reliable and popular.

Philips HP8302 Essential Selfie Straightener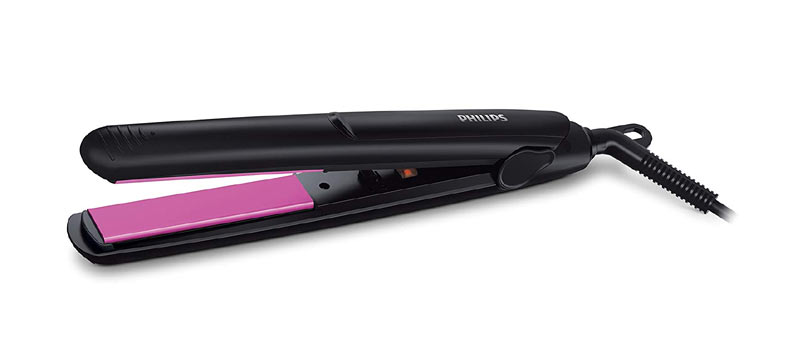 Women around the globe love the hair straighteners from Philips, as they are backed by safe and advanced technology. This selfie hair straightener, which is 1st on our list, sports a lightweight body that makes it easy to handle. Accompanied by SilkPro Care technology, this hair styling tool with infused ceramic plates glides through your strands with minimal friction while assuring low heat exposure.
This hair straightener with an LED indicator works with an optimal temperature of 210° C to achieve straight hair. Moreover, the instant heat-up feature helps you to use it in just 60 seconds. On top of that the heat-safe cord of 1.6 m supported by swivel cord technology assures optimum flexibility while using it.
Features
Lightweight and easy to use
Economical to buy
Regulated movement
Why we like Philips HP8302
It offers 2 years of warranty from the date of purchase.
The plate size of this straightener is perfectly appropriate even for short hair
Remington S5500 Digital Anti Static
Whether you have long, medium, or short hair, managing and styling it is surely a tricky task. But with the appropriate hair straightener brand, you can style your hair precisely just the way you want. Hence, presenting Remington's S5500 Digital Anti Static that delivers salon-like straight hair at the comfort of your home.
It comes with anti-static technology that manages the neutral electric balance in your hair while using it. On top of that, it has a one-inch ideal ceramic plate which is ideal for long as well as short hair. Moreover,it can heat up to 410 degrees and automatically shuts off itself when kept on for a long time.
Features
Heats up itself in 30 seconds
Comes with a turbo boost feature that can increase the heat rapidly.
Comes with hinge lock to store efficiently.
Why do we like Remington S5500 Digital Anti Static ?
It has 60-min auto shut technology to ensure safety
Long ceramic plates to style your hair precisely
VEGA 3 in 1 Hair Styler – Straightener, Curler and Crimper (VHSCC-01)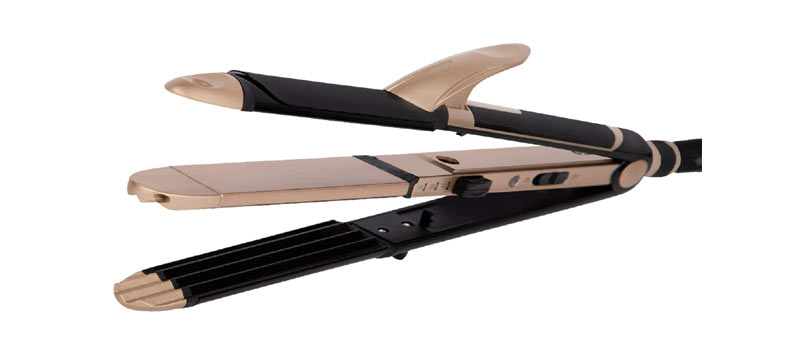 If you love to experiment with a different hairstyle each day, then this 3-in-1 hair styling tool from the house of Vega is your best mate. It is now simple to crimp, curl and straighten your hair without having to worry about damage. The crimper and straightener plates coated with ceramic are efficient enough to create luscious hairstyles with great texture while not causing any hair damage.
This Vega hair straightener has one styling switch to lock the preferred hairstyle mode and a sliding On/Off switch for better user convenience. Additionally, it also consists of The 360-degree swivel cord that helps you style your hair in a hassle-free fashion.
Features
2-years of manufacturing warranty
Ceramic heating surface material
Corded electric type hair styler
Easy locking system for hair safety
Crimper plates with 3-ridge design
Why do we like Vega 3-in-1?
It is affordable
Works great as a curler and crimper
Braun Satin Hair 3 – ST 310 – Hair Straightener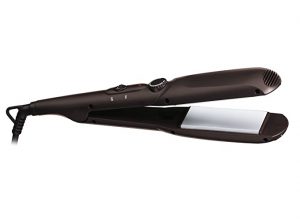 A lot of effort used to go to get silky smooth straight hair. But not anymore. With Braun Satin Hair straightener one can glide their hair effortlessly through the 1.5 inch wider ceramic plates. These unique floating plates adjust each strand efficiently to mold your hair just the way you want. Moreover, it comes with 13 settings to give you all the flexibility to style your hair uniquely.
Additionally, you can even set the temperature manually between 130-200C. Get your hands on this exceptional Braun Satin hair straightener to get the desired style you always craved for.
Features
Comes with auto shut technology
Extra wide plate offers exceptional gliding that speeds up the styling process
Why do we like Braun Satin Hair 3 – ST 310 – Hair Straightener ?
It is light in weight
Comes with 2m long cable for ease of use.
SYSKA HS6810 Hair Straightener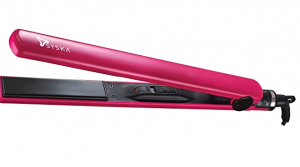 If you love straightening your hair but are scared of damaging it, then we have found a perfect match for you. This straightener from Syska prevents your hair from damaging and gives you the flawless straight hair you always desired.
Syska HS6810 works like a charm for your hair. It comes with a ceramic coating plate to glide through your hair strands effortlessly and give you a stunning look. Heats up in 60 seconds so that you can get rid of your frizzy hair. Additionally, it is backed by heat balance technology to prevent your hair from hair damage and has a heat-resistant plate as well which cools down the heated plate quickly after use.
Features
Accompanied by a 360-degree swivel cord to prevent the wire from getting tangled.
Comes with 2 years of the warranty period
It comes with a simple push button lockable handle
It automatically turns off itself when it gets overheated to prevent damage of hair and short circuit
Why do we like the Syska HS6810 Hair Straightener?
It is light in weight
Highly Portable
Havells HS4101 Hair Straightener with Ceramic coated plates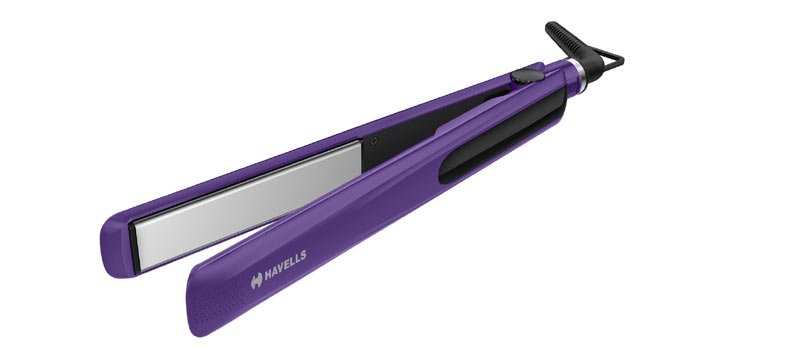 This hair straightener from the renowned brand, Havells is the right solution to put an end to your bad hair days. It is the perfect tool to achieve flowy curls, voluminous hairdos, or shiny straight hair. The high-quality ceramic coated plates spread the heat up to 210° C evenly to glide through the hair smoothly.
With a dimension of 25 x 120 mm, the ceramic plates of the hair straightener remove the pressure off the hair while avoiding hair breakage. This hair straightening device is designed with plates to lock system to store it safely while not in use or during travel.
Features
Advanced PTC heating element
2years of warranty services
Ceramic floating plates
Plate locking system
Straightening lasts for 3-4days
Why do we like Havells H34101 Hair Straightener?
Comes with a plate lock system
You cannot overheat this temperature as you can set it at 210 degree which is the highest and is ideal for straightening your hair.
Nova NHS 860 Temperature Control Professional Hair Straightener
If you want perfect looking hair while leaving for work each day, then Nova hair straightener should be your styling partner. With a 30-second quick heat up time, this device can take care of your curly or wavy hair in no time. The ceramic coating on the titanium plates prevents the hair straightener from sticking to the strand.
This hair styling tool comes with Nanosilver technology that makes it a perfect choice for styling wet hair. The digital temperature control helps it to shut off once it heats up to the desired temperature. The variable heat settings let it operate with the temperature ranging from 160° C to 220° C.
Features
Rapid heating technology
Swivel cord for better flexibility
Cool tip with curling edges
Top-quality ceramic coated plates
Suitable for silky smooth straight hair
Why do we like Nova NHS 860 Straightener?
Has stylish body and light  in weight
Highly economical
VEGA Adore Hair Straightener (VHSH-18)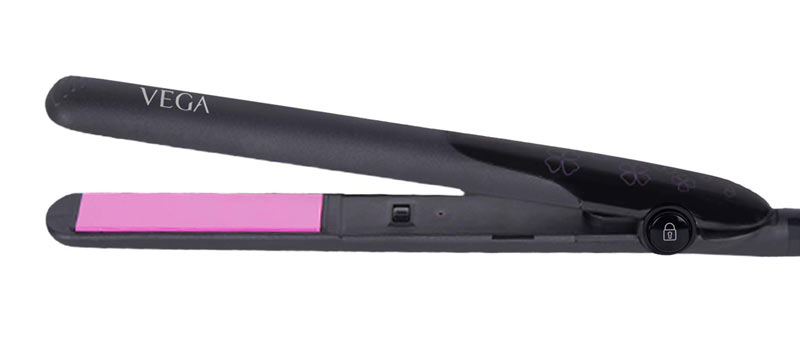 Pamper your mane from root to tip by styling it with the Vega hair straightener that can deliver glossy straight hair in a few minutes. With a quick heat time of just 60 seconds, this device is the right find for working professionals.
This compact-sized hair straightener is offered with a lock system to stash it away safely after use. Its wide plate of 23 mm x 85 mm is coated with a ceramic to prevent uneven heating. The hair straightener comes with a swivel cord that can rotate 360 degrees for safe straightening. Plus, it has power indicating light and 200° C as its optimum temperature.
Features
Corded electric type hair straightener
1.8meter of power cord length
Stylish and compact design
360 swivel cord and easy locking system
Prevents from unnecessary hair tangles
Why do we like Vega Adore Hair Straightener?
It is travel-friendly. All thanks to its compact design
Comes with easy lock system
Vega Glam Shine Hair Straightener
If you desire to have glamorous shiny hair at home, then Vega Glam shine straightener is perfect for you. Equipped with ceramic plates, it evenly distributes heat, thus preventing hair damage. Also, comes with a swivel cord that lets you easily rotate the straightener the way you want. Moreover, the floating plate glides through your effortlessly, avoiding tugging and tangling of hair.
Hence get flawless shiny glossy hair at home with Vega Glam Shine. It's easy lock system helps you to close plates together for convenient storage and the quick heat up system makes it ready to use in 60 seconds.
Features
Gives you shiny straight hair
Suitable for all hair types
Prevents hair damage
Why do we like Vega Glam Up?
Available at an affordable price
Styles your hair flawlessly and delivers salon-like straight, curl,and crimped hair.
IKONIC PRO TITANIUM SHINE HAIR STRAIGHTENER
Are you looking for a straightener that only straightens up your hair but also gives you volume? Well, Ikonic Pro Titanium is a great hair straightener one should consider. It comes with beveled edges that allows you to add volume and luster to your hair just the way you want.
Equipped with powerful titanium plates that emits gentle heat which is kind to hair. On top of that, it is backed by PTC and dual ceramic heaters to heat the straightener rapidly. Moreover, with the help of floating plates, one can glide their hair smoothly through the straightener.
Features
Comes with auto shut off feature
Accompanied by swivel cord for ease of use
Allows you to adjust temperature range between 130 to 230C
Why do we like IKONIC PRO TITANIUM HAIR STRAIGHTENER?
Delivers silky, voluminous hair
Comes with an LED display to adjust the temperature.
Ecstasy mini hair straightener
Gone are the days when you have to spend hours getting sleek straight hair. But not anymore. Because Ecstasy mini hair straightener quickly heats up itself in 30-seconds and delivers poker-straight hair in a matter of minutes.
You can set up the temperature at four different levels and ensure full control over the device. Accompanied by an LED indicator, it clearly indicates whether the device is on or off. Backed by an automatic shut-down feature, it efficiently prevents your hair from excessive heating and tames your hair flawlessly.
Features
Comes with a swivel cord to ensure ease of use
Has floating ceramic plates
Allows to set the temperature at the desired level
Why do we like Ecstasy Mini Hair Straighteners?
Can withstand heavy use
Highly durable and economical
PHILIPS Bhs378/10 Kerashine Straightener (Pink)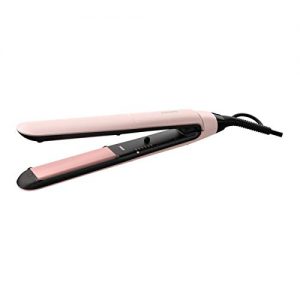 We all have heard that straightening eventually damages your hair in the long run. But not anymore. Kerashine Straightener from Philips balances the heat and delivers silky smooth straight hair at your disposal.
Equipped with 6-led temperature settings with clear indications, you'll have all the control you need. Backed by 100 mm long ceramic plates for effortless straightening in no time.  Additionally, accompanied by ionic care, get salon-like frizzy-free straight hair at the comfort of your home.
Features
It comes with  2 years warranty
Less friction of hair due to smooth silky plates
30 secs heat time
It has a slider witan h LED indicator
Why do we like Philips BHS378/10 Kerashine Straightener?
It is one of the best straighteners for instant and easy styling
Distributes heat evenly to protect your hair from further damage
Philips BHS386 Kera Shine Straightener
It is easier to achieve straight hair at home when you own the KeraShine hair straightener from the house of Philips. Its SilkPro Care technology makes it glide smoothly with maximum temperature and minimum heat exposure sans any friction. The device is capable of delivering salon-like results with its ceramic plates infused with Keratin.
The variable temperature setting of the hair straightener lets you set the heat ranging from 190° C to 210° C based on your styling preferences. Equipped with ionic care technology, the device can be used after heating it only for a minute. Enjoy maximum flexibility with its 1.6 m safe cord.
Features
Ideal for small, medium, and long hairs
2 styling temperature settings
2years warranty from Philips brand
Long plates for fast hair straightening
Keratin infused ceramic plates
Travel-friendly hair straightener
Why do we like Philips BHS386 Kera Shine Straightener?
Provided with Swivel Cord for ease of use
Silk Pro technology that takes extra care of your hair and exposes less heat
Philips BHS736/00 Kerashine Titanium Plate Straightener
Styling becomes easy peasy when you own a Philips Kerashine Titanium Plate straightener. Equipped with extra-wide plates, you can easily tame your thick and long tresses while taking more hair in one go. Thus, saving a lot of time. Moreover, backed by Silk pro-technology, it sets itself at optimized temperature, thus ensuring minimized damage.
Keratin plates infused with titanium not only deliver ultra-shiny hair but also transfers the heat quickly for faster straightening. Hence enjoy salon-like straight and shiny hair in the comfort of your home with Philips Kerashine hair straightener.
Features
Best for curly, long, thick hair
Titanium-infused plates for faster heat transfer
Comes with Silk protect technology for even distribution of heat
Why do we like Philips BHS736/00 Kerashine Straightener?
You get shiny and frizz-free hair
Silky smooth plates to easily glide your hair through them
Philips HP8316/00 Kerashine Hair Straightener With Keratin Ceramic Coating
Beauties with thick and long hair should go for this Kerashine hair straightener from Philips, as it is designed with large plates to prevent damage while styling. It is equipped with ionic technology that conditions hair by releasing negatively charged ions to prevent frizz and static hair.
This Philips hair straightener is capable of smoothing the cuticles of hair while improving sheen and gloss. The keratin-infused plates coated with ceramic assure salon-like hair within a few minutes. This hair styling tool is offered with a heat-safe cord of 1.8 m to style hair at any angle.
Features
Swivel cord technology
Extra wide plates for thick and long hair
210°C of professional temperature
Ionic conditioning for glossy look
Automatic shut-off features prevents hair damage
Why do we like Philips HP8316/00 Kerashine Hair Straightener?
Delivers glossy and shiny hair by smoothening your hair cuticles
Intelligent heat control to prevent hair damage
Philips Hp8318/00 Kerashine Temperature Control

The Kerashine range of hair straighteners arriving from the home of Philips is touted to offer salon-like straight hair, as they have advanced features and ionic technology to take care of heat damage woes. We have included this hair straightener with keratin-infused ceramic plates on our list of best 10, as it can style your hair by eliminating static and frizz issues with its unique ionic technology.
Its SilkPro Care technology ensures each hair shaft remains strong and smooth with less heat exposure. The Instaheat feature makes this Philips product ready to use in 60 seconds. Plus, it can straighten your hair with 210° C as its optimal temperature.
Features
Even heat distribution
Ultra-smooth gliding option
Eliminates static and frizzy hair
Keratin infused ceramic plates
Variable temperature controller
Why do we like Philips Hp8318/00 Kerashine Temperature Control Straightener?
Perfect choice for women with thick and long hair
Come with 2 years warranty
How To Choose The Best Hair Straightener-Buying Guide
With this guide, we aim to introduce you to all the crucial elements that you should take into account when choosing a great hair straightener for yourself.
Consider your hair type
Your hair type would play a key role in deciding the suitable plate width for yourself.
Go for a wider-plate hair straightener if you have problematic hair types (like tight curls) or longer & thicker hair. That's because such hair straighteners can gather more hair and heat them in fewer passes.
Go for narrow-plate or mini hair straighteners if you have shorter hair.
Choose Titanium-based plates over Ceramic plates
Why you may ask? That's because titanium-based straighteners are much more durable, lightweight, and even heat-conducting than their ceramic fellows. However, you would need to shell in little extra money when going after such straighteners.
Don't get carried away by maximum temperature rating
That's because there isn't any relation between how hot a straightener can get and how better it is (high temperature can rather be detrimental to your hair). Instead, look for hair straighteners that offer a wide temperature range, numerous temperature settings, and easy adjustability.
Consider portability & voltage compatibility
 For people who have have a lifestyle that demands frequent travelling, this can be a key factor. Such people should pay attention to the weight of the straightener, carrying portability, and voltage rating supported.
Price & Value
Invest in premium hair straighteners as they are gentle on hair, pack in more advanced functionalities, and last much longer compared to their cheaper companions. Remington, Braun, or Ikonic, would be our top-recommended premium straightener brands.
Benefits Of Using A Hair Straightener
The benefits that you see from a hair straightener would to a large extent depend on the hair straightener you are using. Not going into detail regarding that aspect, here are some of the benefits you can expect to see when using a hair straightener:
Allows you to straighten your hair quickly and easily.
Makes your hair more manageable and less tangle-prone.
Saves your time (and money) by eliminating salon visits.
Prevents hair from becoming greasy.
Helps you get rid of frizz and gives your hair a more sleek appearance.
How To Straighten Hair Using A Hair Straightener
 Although most hair straighteners would come with a leaflet explaining the step-by-step procedure for using it, we still would like to give you an overview of the steps involved in the hair straightening process. Here are the steps involved in the hair straightening process.
Start by thoroughly cleansing your hair with a shampoo and a mild conditioner. Then, let them get dry either naturally or take the help of a hair dryer.
Use a comb to detangle as much hair as possible.
To protect from heat damage, spray a heat protection sprayon top of your hair (avoid using it on roots).
Set the optimal temperature on your flat iron, considering your hair length (for this, take the help of your hair straightener's instruction leaflet).
Split the hair into sections/partitions to uniformly straighten the hair on both sides. Take one section at a time, and begin straightening your hair while leaving an inch from the roots. Do this process until your whole hair are covered.
Conclusion
Wrapping up, our top pick from the list is Philips Hair Straightener. It has all the essential features that a styler should have, like ceramic coated plates, swivel cord, and 1.6meter of power cord length, making it suitable for short-haired women. Besides, the Philips brand offers a 2years manufacturing warranty on the product. So, you do not have to invest more in repairs. With this, we conclude our round-up of the perfect hair straighteners available online. Choose the best one based on your hair type to get flawless straightening results.
You go girl and flaunt those luscious locks!