A gas stove is a quintessential appliance in every Indian kitchen. When you are equipped with the perfect gas stove, it is easier to show off your culinary skills. Backed by advanced technology, modern gas stoves can help you cook even a complex recipe in a jiffy and require less maintenance.
If you are planning to upgrade your kitchen with a fuel-efficient gas stove, we can help you choose the best one that will meet the cooking needs of your family. Our experts have compiled the list of best gas stoves in India to redefine your cooking experience.
Top 10 Best Gas Stoves In India for 2021
1. Butterfly Smart Glass 3 Burner Gas Stove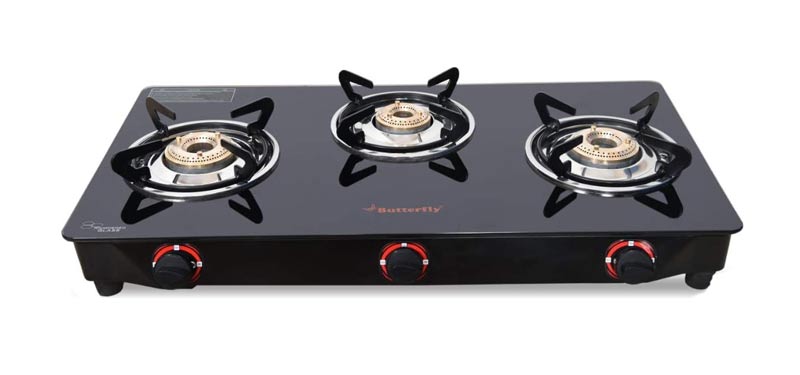 Designed with energy-saving 3 burners and designer knobs, this sleek looking gas stove offered by Butterfly, the renowned brand is a must-have appliance in your modern kitchen. Special features of this 3 burner gas stove include spill trays crafted out of stainless steel for quick cleaning.
The Smart Lock pan feature to prevent the vessels from wobbling can fulfill your dream of a mess-free kitchen. The brass burners of this gas stove are designed to exhibit high thermal efficiency while ensuring maximum heat retention for swift cooking. The heat resistant polymer legs and flame retardant front glass panel makes this Butterfly appliance a secure addition to your kitchen.
Dimensions: 67 x 34 x 11 cm
Style: 3 Burner
Price: Rs. 2575
2. Butterfly Smart Glass 2 Burner Gas Stove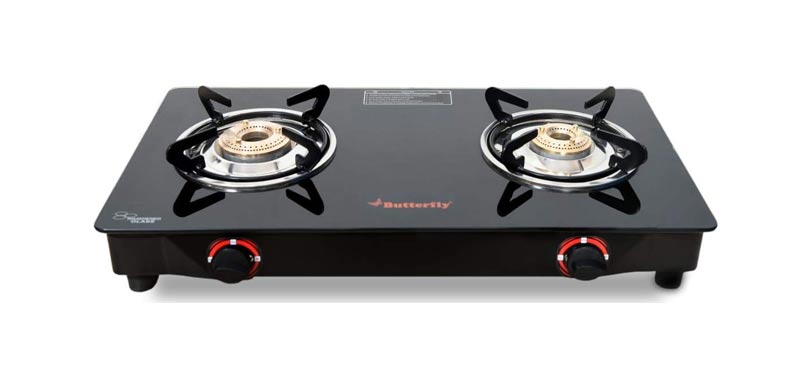 It's no surprise that the Butterfly Smart Glass 2 Burner Gas Stove has grabbed the 2nd position on our list, as it sports an impressive toughened glass top featuring a unique spill-proof design to take care of your cleaning woes. The market giant, Butterfly has carefully designed this 2 burner gas stove with designer knobs and an inlet nozzle with a 360-degree revolving ability to enhance user experience.
This black glass gas stove with powder coated body comes with a space-saving dimension to fit the chic interiors of urban kitchens. The flame retardant panel on the front keeps your cooking area safe while the two brass burners help in faster cooking.
Dimensions: 60 x 29 x 11 cm
Style: 2 Burner
Price: Rs. 2051
3. Pigeon by Stovekraft Favourite 3 Burner Line Cooktop Stove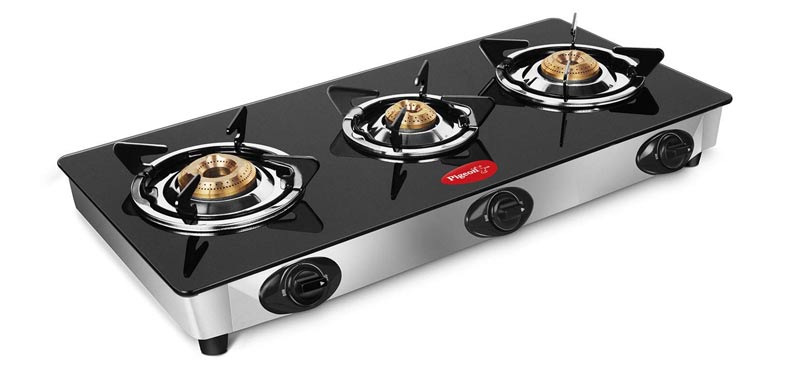 Stovekraft, the biggest kitchen appliances firm in India has the habit of introducing fuel-efficient, gas-powered cooktop stoves under its flagship brand, Pigeon. This compact gas stove is offered with a distinct toughened glass panel in black to exude a premium look to your kitchen. The ergonomically designed knobs, 360-degree gas inlet nozzle and pan support feature make this appliance easy to handle.
The Pigeon by Stovekraft Favourite 3 Burner Line Cooktop Stove also comes with a screw-less spill tray for easy cleaning. The tube-shaped legs assure better grip even when cooking with large vessels.
Dimensions: 21 x 8 x 23 cm
Style: 3 burners
Price: Rs. 2927
4. Elica Vetro Glass Top 3 Burner Gas Stove (703 CT VETRO BLK)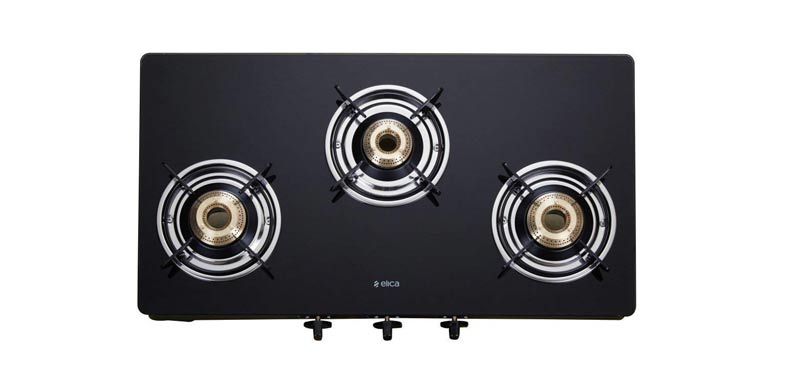 This 3 burner gas stove offered by Elica, the Italian brand flaunts a premium toughened black glass finish and assures durable service, which has made it find a place among the top 10 gas stoves in India. This Elica kitchen appliance boasts of an aesthetically pleasing design that includes euro coated grid supports to prevent slip offs and top quality rotary knobs with smooth function.
The support plates made out of stainless steel helps in wiping the spills off the surface easily. This gas stove is offered with 1 small sized and 2 medium-sized burners to save your cooking time.
Dimensions: 70 x 41 x 13 cm, 8.1 Kg
Style: 3 Burner
Price: Rs. 3299
5. Pigeon by Stovekraft Blaze Blackline Glass 4 Burner Gas Cooktop (Black)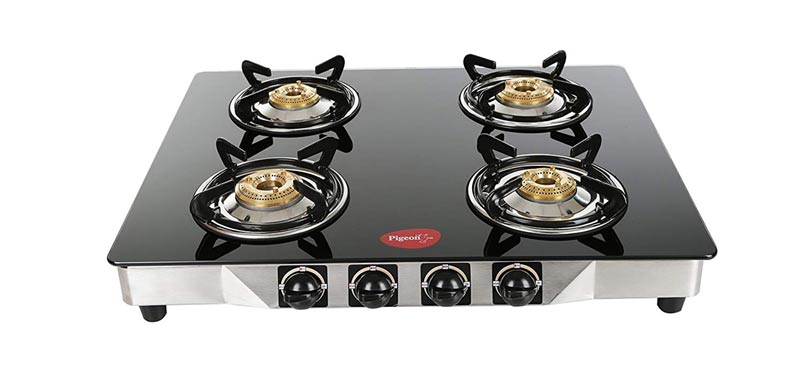 If you are looking for a gas cooktop that can handle the big meals for your family while being affordable, then look no further than the 4 Burner Gas Cooktop offered by Pigeon by Stovekraft. Flaunting a sturdy stainless steel body with a hairline finish, this gas stove can be a great find for your spacious kitchen.
Enjoy a hassle free cooking with this cooking appliance, as it is offered with unique pan support, drip tray and tubular leg support for enhanced stability. The gas inlet nozzle with a 360 degree revolve feature enables you to connect it to the gas easily.
Dimensions: 25 x 20 x 25 cm
Style: 4 Burner
Price: Rs. 7695
6. Lifelong 3 Burner Gas Stove (Glass Top)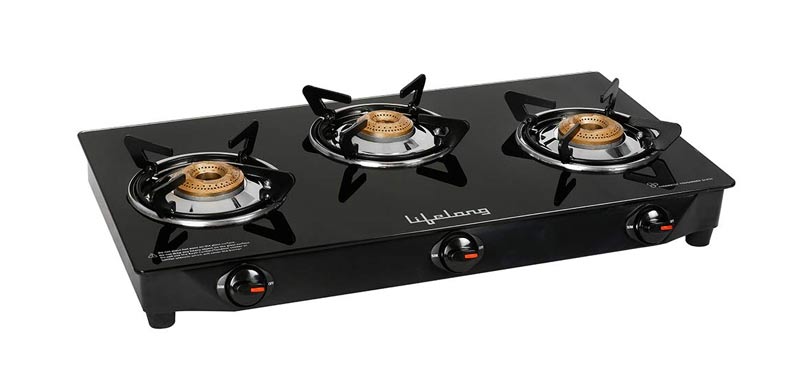 This 3 burner gas stove from the house of Lifelong is the perfect epitome of elegance and efficiency. The ISI certified gas stove is equipped with a shatterproof glass body featuring thick pan supports. The anti-skid feet of the glass top stove to prevent the utensils from slipping makes it a durable product.
The spacious design of the triple burners of this gas stove provides enough space to cook with big vessels simultaneously. The scratch-resistant, smooth surface of the gas stove by Lifelong enables quick cleaning. It is simple to operate this kitchen appliance using its soft control knobs and a 360-degree swivel gas inlet nozzle pipe assures better convenience.
Dimensions: 69 x 41 x 13 cm
Style: 3 Burner
Price: Rs. 2449
7. Fogger Smart Glass Top 3 Brass Burner ISI Approved Gas Stove

The brand, Fogger is a popular name among the Indian households, as they have been serving us for more than a decade and have over 150 products up their sleeve. The press-fit knobs crafted with nylon perfectly complement the eye-grabbing design of this 3 burner gas stove in black.
The special feature of this kitchen appliance that enables it to stand a class apart from the rest is its 7 mm toughened glass panelled body to assure optimum durability. This ISI certified product is offered with fuel-saving brass burners, pan supports for holding the cooking pans firmly and anti-slip legs.
Dimensions: 72 x 38 x 9 cm
Style: 3 Burner
Price: Rs. 3016
8. Sunflame Stainless Steel Bonus 3B DX SS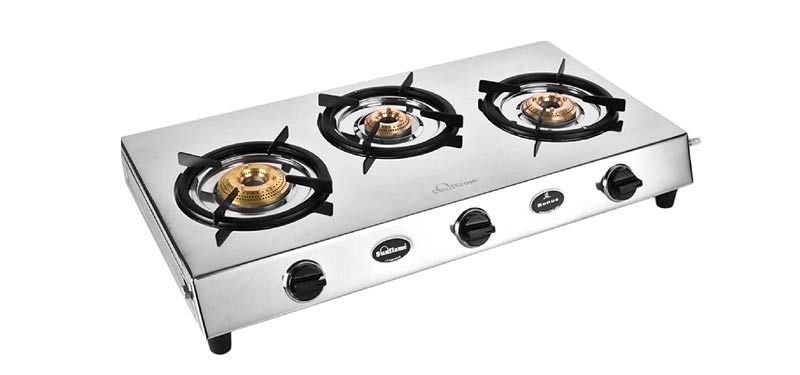 Sunflame has been serving Indian customers for more than four decades that has made it gain a compelling presence in every kitchen. The latest product rolled out by this reputed brand is the Sunflame Stainless Steel Bonus 3B DX SS gas stove. This ISI certified stainless steel cooktop is a must-have cooking tool, as it has brass burners that are corrosion resistant, have better fuel efficiency and heat compatibility.
The uniformly designed burners can distribute the flame evenly for a better heating impact. The anti-skid feet at the base of the gas stove keeps cooking risks at bay. The spill-proof stainless steel tray and control knobs with smooth touch are worth mentioning.
Dimensions: 70 x 40 x 10 cm
Style: 3 Burner
Price: Rs. 3149
9. Sunflame GT Pride Glass Top Gas Stove, 3 Burner Gas Stove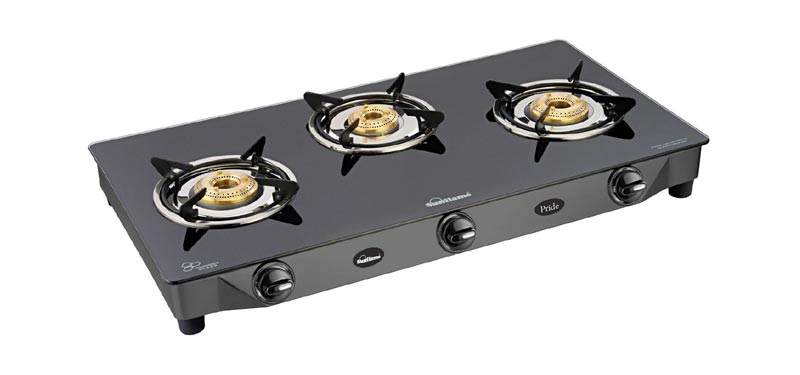 If you wish to own a durable gas stove from a well-known brand at an affordable price, then Sunflame GT Pride 3 Burner Gas Stove is the right choice. This highly efficient cooktop is designed with powder-coated pan support as well as a steel metal base to enhance longevity.
The rotary control knobs can rotate 360 degrees and has a sturdy grip for quick operation. This appliance with a brushed matt finish can go well with any type of kitchen decors. It is offered with 2 small burners, a big burner and has a 2 years warranty.
Dimensions: 76 x 45 x 14 cm
Style: 3 Burner
Price: Rs. 3465
10. Eveready TGC 3B Glass Top Gas Stove, 3 Burner Gas Stove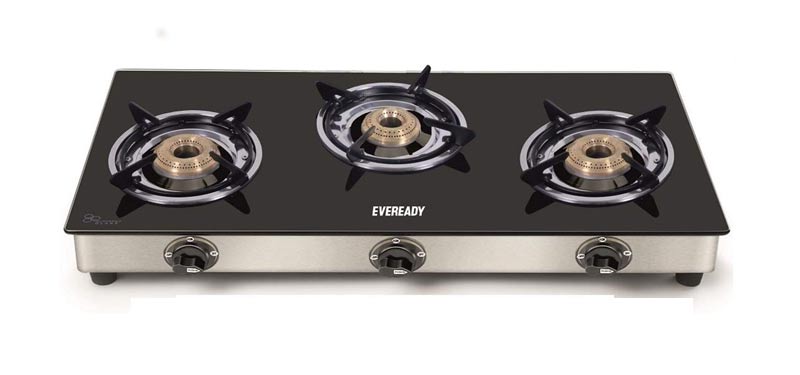 Eveready specializes in offering versatile gas stoves with exquisite design, unparalleled features to deliver long-lasting performance. Fitted with three burners of heavy-duty brass, this gas stove uses less fuel while cooking three dishes at a time. The rigidly constructed pan of this stove with powder coating prevents issues like chipping in the long run.
The gas inlet valve of the Eveready product is designed to swivel up to 360 degrees. This gas stove with a toughened glass top is resistant to rust and has three adjustable knobs to control the flame. The spill-proof design of this cooktop helps in cleaning the spilled foods easily.
Dimensions: 69 x 36 x 6 cm
Style: 3 Burner
Price: Rs. 6695
Even though you can find a wide range of gas stoves in the market, only a few brands are capable of meeting your cooking demands. The list of gas stoves that we have curated above is based on several parameters such as fuel efficiency, safety, easy handling, maintenance, etc. to help you choose one based on your personal preference to explore your cooking passion. Happy cooking!
Gas Stoves FAQs
Which brand of the gas stove is best?
Gas stoves are a must-have kitchen appliance for the Indian cooking style. Of all the popular models, the Sunflame brand is the right choice. Sunflame uses manual type ignition along with thermal efficient brass burners to cook tasty foods. Moreover, the sleek and stylish design models complement the kitchen interiors.
Which brand of glass top gas stove is best?
Butterfly brand is the best choice if you search for a glass top gas stove that looks ultra-modern in your kitchen spaces. The toughened glass makes it highly durable, distributes the heat evenly, and makes it easy to clean. Unfortunately, few Butterfly models come with locking pan and flame-retardant panel features to make the cooking experience hassle-free.
How do I choose a gas stove?
While purchasing a gas stove for the home, you need to consider the no. of burners as it depends on the family size. Moreover, it would help if you looked for the ignition type, material quality, corrosion-resistance nature, and the design, which must be sturdy with anti-skid properties. You also need to check its price and warranty details before you make a decision.
Which is the safest gas stove in India?
Earlier stainless steel gas stove models are used across India. However, with the advancement in technology and modern requirements, Induction cooktops have emerged and are considered the safest as it uses electromagnetism to cook the delicious recipes directly. You can even adjust the heating temperature and fasten the cooking process.
Which gas stove is better glass or steel?
People often get confused with the stainless steel and glass top models. If you are in a dilemma, here is a quick summary of the glass top vs stainless steel gas stoves. Have a look and make the right choice:
| Stainless Steel | Glass Top |
| --- | --- |
| Easy to maintain | Bit difficult to clean under burners |
| Highly durable | Durable with added safety layers |
| Lack of auto-ignition feature | Auto-ignition feature exists |
| Traditional design | Sleek and elegant design |
| Loses shine over the time | Damages quickly |