With a hectic lifestyle, people in metropolitan, urban, semi-urban areas have no time to wash clothes. Wearing clothes for a week without washing damages your health as it spreads bacteria and pungent smell from dress materials.
Alas, Weekends are too precious! Do not waste time cleaning clothes manually. Sometimes, it results in skin allergies due to the harsh chemicals used in detergents to wipe out the stains. Instead, opt for premium-quality font load washing machines that relieve stress from the tedious task of washing.
Bringing front load home lets you handle things effortlessly by enabling buzzer, fuzzy logic, and child safety lock features. It even saves your time and electricity bills.
Whether you are buying for the first time or replacing old models, it is essential to consider the parameters like type, capacity, speed, and other smart features -, delay start, quick wash, etc. to suit your needs and make an informed choice.
Here, we have done intense research on hundreds of models, by comparison, online portals, customer feedback, and sorted the list of top 10 fully automatic front load washing machine brands in India 2022 for potential buyers. Have a look and decide the right one for your requirement, be it for home or commercial places.
Let us dive into the topic!
List of 10 Front Load Washing Machines in 2022
Last update was on: June 20, 2022 5:38 pm
Best 10 Fully Automatic Front Load Washing Machines
Suitable for Small Families
| | | | | | | |
| --- | --- | --- | --- | --- | --- | --- |
| S. No | Brand | Capacity | RPM | Warranty | Weight | Dimensions |
| 1 | Samsung | 6 kg | 1000 | 3, 10 years | 54 kg | 56*60*85 cm |
| 2 | IFB | 6 kg | 800 | 4, 10 years | 59 kg 500 g | 50.6*59.8*84.8 cm |
| 3 | LG | 6 kg | 1000 | 2, 10 years | 60 kg | 60 *44*85 cm |
| 4 | Bosch | 6 kg | 1000 | 2, 10 years | 64 kg | 60*46*85 cm |
Suitable for Medium Families
| | | | | | | |
| --- | --- | --- | --- | --- | --- | --- |
| S. No | Brand | Capacity | RPM | Warranty | Weight | Dimensions |
| 5 | Amazon Basics | 7 kg | 1300 | 1, 3 years | 65 kg | 70*61*40 cm |
| 6 | Bosch | 7 kg | 1200 | 2, 10 years | 62 kg 600 g | 60*60*86.5 cm |
| 7 | IFB | 7 kg | 1000 | 4,10 years | 72 kg | 62.3*59.8*87.5 cm |
| 8 | LG | 7 kg | 1200 | 2, 10 years | 60 kg | 60*44*85 cm |
Suitable for Large Families
| | | | | | | |
| --- | --- | --- | --- | --- | --- | --- |
| S. No | Brand | Capacity | RPM | Warranty | Weight | Dimensions |
| 9 | IFB | 8 kg | 1200 | 4,10 years | 80 kg | 62*64*100 cm |
| 10 | LG | 8 kg | 1200 | 2, 10 years | 65 kg | 60*55*85 cm |
Best Front Load Washing Machine Under 25000
Samsung 6.0 Kg Fully-Automatic Front Loading Washing Machine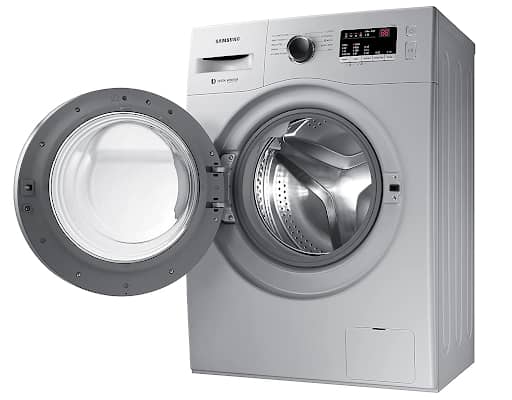 Washing clothes is one of the most time-consuming activities at home. To make this process easier and save time, you can shop for Samsung 6 kg front load washing machines. The digital inverter technology works efficiently even at power-cut times and saves electricity bills. A tuner on the front operates manually to select cloth type and spin options.
The large LCD display features temperature, spin, delay, and soak options that a single touch button can be handled by gently pressing for 3 seconds. There are 2 separate buttons on the right side of the display, 1 for power and the other for pause/play. Wrapping up, the performance is good and acceptable as it maintains the quality standards.
Key Features
Up to 10-washing programs
Fast drying mechanism
Features digital inverter technology
Deep and hygienic clean with steam
Wide display unit with touch buttons
Drawbacks
Requires maintenance costs
Design can be much better
Best Front Load Washing Machine for Small Families
IFB 6 kg Fully Automatic Front Loading Washing Machine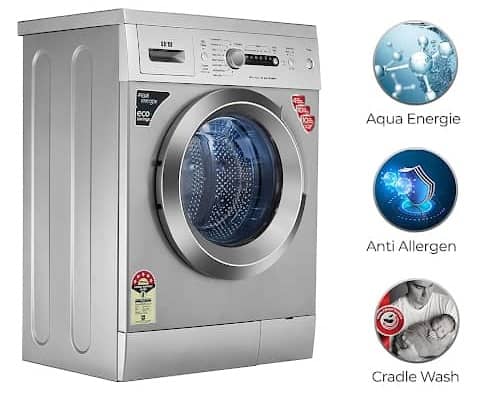 If you are looking for a reliable washing machine to support your family of 4-5 members, go for IFB 6 kg front load washing machine. With a single tap on the power button, it effectively tackles the dirt on all fabric types. Hence, we have listed among the top-rated front load washing machines in 2022.
Moreover, it can be programmed to function using different wash cycles to prevent damage to clothes. Compared to the above-mentioned models,  the speed of operation is low. The main advantage is it comes with 4-years of comprehensive warranty on the product and 10-years on the motor, saving your money on repairing.
Key Features
Comes with 15 washing programs
Stylish and durable outer body
Auto-balance system detects messy clothes
Valve technology ensures smooth cleaning
Crescent moon drum prevents fabric damage
Drawbacks
Poor support services
Outlet pipe breaks easily
Best Energy Efficient Front Load Washing Machine
LG 6.0 Kg Fully-Automatic Front Loading Washing Machine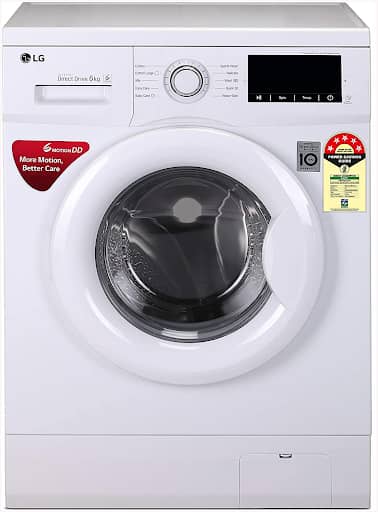 With our increasingly busy lives, a washing machine has moved from a luxury to a necessity that makes our lives easier. If you love to have one at home, it's better to buy a LG 6 kg fully automatic front load washing machine. It is suitable for individuals and small families too.
In a nutshell, the performance of this product is excellent due to high-end features that do the washing in just 15-30minutes.  It is highly rated, i.e., 5-star by the BEE, for the low power consumption due to inverting technology. The drum can perform scrub, stepping, rolling, swing, tumble, and filtration processes for efficient cleaning of clothes.
Key Features
Simple and easy to use
5-star rating certified by BEE
Consumes less power to operate
Digital panel with one-touch operation
Suitable for cotton, silk, wool, and sportswear fabrics
Drawbacks

Excess noise can cause disturbances
Poor quality mesh layer
Best Budget Front Load Washing Machine
Bosch 6 kg Fully Automatic Front Loading Washing Machine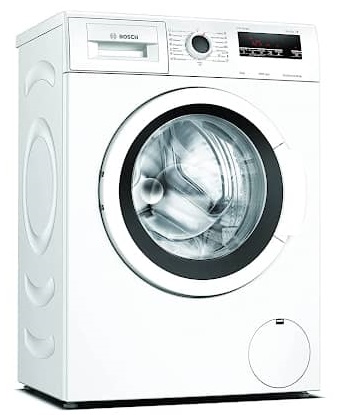 Are you a budget-conscious person and do not want to spend more? Bosch 6 kg fully automatic front load washing machine is for you. This washing machine features a drum that allows heavy-duty washing of clothes and distributes water, detergent evenly, and reduces soaking time. It is designed using the Anti-vibration sidewalls to keep the machine silent while working at 1000 RPM speed.
Key Features
Economical to buy
In-built heating functionality
Suitable for bachelors and small families
Exceptional washing performance
Drawbacks
73dB of noise level during spinning
Charges extra for installation
Best-Selling Front Load Washing Machine in 2022
AmazonBasics 7 kg Fully-Automatic Front Load Washing Machine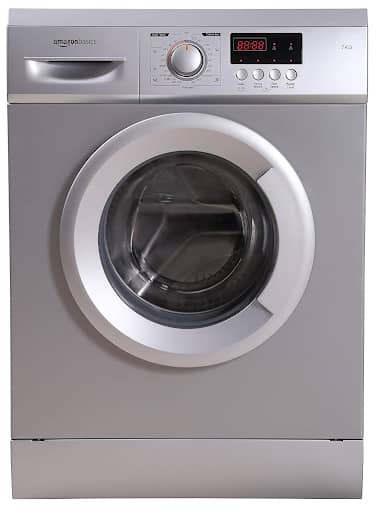 Do you love to shop for the trending models in the online market? You should buy AmazonBasics 7 kg front load washing machine. This model is highly water and energy-efficient, thereby making them an environmentally friendly option.
It has got 23-washing programs to let you use for baby dresses, satin, silk, and heavy-weighted bedsheets. Apart from that, it also features drum clean, rinses, 24 hours delay start, in-built heater, rat trap protection, and mute washing to support both homes and commercial places.
Key Features
Self-cleaning technology
Good customer support services
Alert notifications for wash cycles
Robust design quality ensure long lifespan
Drawbacks
Available in single color
Vibrates and produces loud noise during spinning
Best Front Load Washing Machine for Home
Bosch 7 kg Fully-automatic Front Loading Washing Machine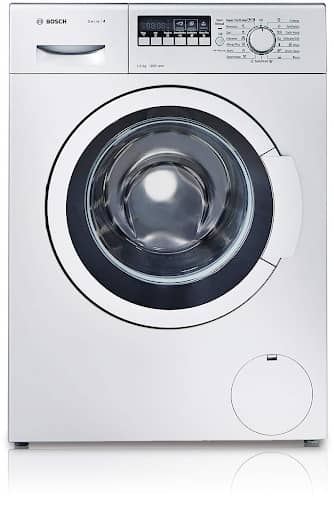 If you are looking for a washing machine with a fully automatic option and more smart features, then Bosch 7kg front load model is for you. Compared to other brands, it consumes 20% less electricity than other branded washing machines. It has a super quick 15 option that will wash away dust and other particles on clothes in just a matter of 15-minutes.
The motor runs quickly to support all cloth types – cotton, synthetic, fabric, wool, etc. Moreover, the machine comes with a load sensing function in which the sensor checks the clothes in the drum, adjusts water automatically for a better wash. It assures you the perfect hygienic clothes without causing any allergies to your body.
Key Features
Built-in water heater
Quick 15min option for drying
LED display and 12 washing programs
Best energy efficient washing machine
Made of environmentally friendly materials
Drawbacks
55db of noise level.
Utilizes 47 liters of water
Expensive front load washing machine
Best Quality Front Load Washing Machine
IFB 7 Kg Fully-Automatic Front Loading Washing Machine
The next one on the list is IFB 7 kg fully automatic front loading washing machine. It is one of the world's leading brands for producing quality home and kitchen appliances with good manufacturing services. What's so unique is it offers top-notch features at reasonable prices. Also, the product reviews and ratings are too good. For this reason, we have listed it as one of the top 10 front load washing machines.
What is included?

Washing machine
Drain hose
Inlet pipe
Rat mesh layer
User-friendly Instruction manual
The special features of this device include a rust-free body, digital display, spin tub, and a quick wash option. It assures you the perfect hygienic clothes without causing any allergies to your body. The child lock system makes it safe for children to use and prevents them from changing the settings like temperature, heat, dry, etc.
Key Features
Child lock safety feature
Aqua Energies and 3D wash system
1000 RPM speed ensures quick drying
Free-standing installation type
Ideal for removing tough stains on fabrics
Drawbacks
Expensive repairing costs
Motor stops working after few months
Best Inverter Front Load Washing Machine
LG 7.0 Kg Fully-Automatic Front Loading Washing Machine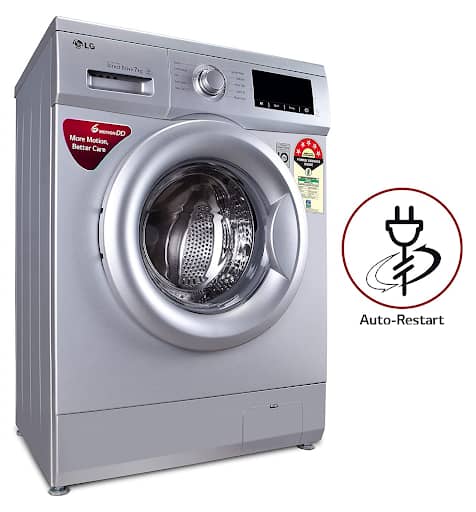 Everybody wants to clean their clothes effortlessly in no time. A one-stop solution is to have LG 7 kg fully automatic front loading washing machine. LG is a renowned brand in India due to the fantastic products like mobiles, tablets, AC, refrigerator models, etc., and standard customer support services.
This LG model is pretty suitable for bachelors, couples, and medium-size families. It features an inverting technology that helps connect the drum and motor without using a belt and saves power. Overall, it offers decent performance to the end-users without compromising on quality.
Key Features
Stand alone type model
Consumes less water and power
Inverter direct drive motor
Easy to move and carry around
Suitable for medium-size families (6-7 members)
Drawbacks
Poor packaging
Front glass door is prone to rust
Best Capacity Front Load Washing Machine
IFB 8 Kg Fully-Automatic Front Loading Washing Machine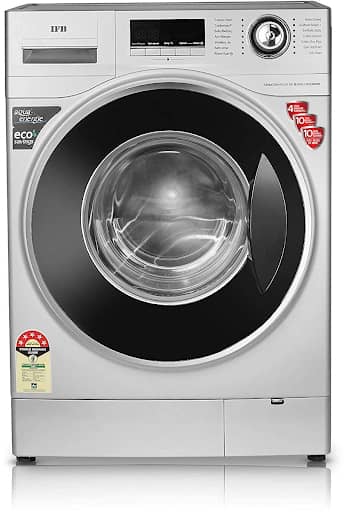 If washing clothes with hands is a nightmare, you must try the IFB 8 kg fully automatic front load washing machine. It is the most widely used brand due to its large storage capacity and smart design structure.
This incredible device removes impurities like scaling, bacteria, and unpleasant smells from the clothes. The presence of an air bubble wash system creates agitated air bubbles and then releases them into the water stream for effective cleaning. Further, it activates detergents to remove grease and dirt.
Key Features
7-segment LED color display
Easy to ready instruction manual
Anti-allergen, baby wear smart options
4D washing mechanism
Durable silver body with metallic front design
Drawbacks
Expensive to buy
High-level of noise
Best Front Load Washing Machine for Commercial Places
LG 8.0 Kg Fully-Automatic Front Loading Washing Machine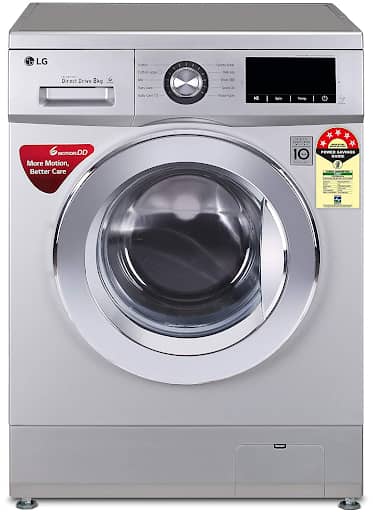 This LG 8 kg front load washing machine is suitable for a large family consisting of 8+ members. It has got three washing programs – gentle, normal and strong to set the washing as per your requirement. Compared to other brands, it has a high spinning rate of 1200 RPM, which helps to wash the garments quickly. It includes a rat mesh layer made using 3mm strong plastic to safeguard the device from rats.
The dryer feature absorbs moisture when the air is circulated inside the tub, removing excess water. Further, it also prevents the formation of molds in the machine drum. It is backed with 2-years on the product and 10-years on the motor.
The only downside is the expensive nature due to its build quality. However, if you cannot spend more on this model, you can visit the Croma store, where you can explore home and kitchen appliances. Use the exclusive coupons and promo codes of croma to get the desired items at low prices.
Key Features
Portable washing machine
6-motion direct drive technology
Quick 30, rinse, delicate settings
Good warranty and support services
Inverting technology for smooth operation
Drawbacks
Bit expensive to buy
Lack of color and design patterns
Things to Look in Fully Automatic Front Load Washing Machines
Washing machines are worth the investment as they help to spin, wash and dry the clothes effortlessly. They even save your valuable time and electricity bills. So, it's vital to decide the right one within the budget by considering the factors like type, tank capacity, and other smart features. Read on to know more!
Types of Fully Automatic Washing Machines
Fully automatic models make the washing easier without human interaction. It has got only 1-tub that can perform both washing and drying. To operate, simply put on the clothes and press the start button. You don't need to pour water as the device collects automatically from the tap connected to it. Once the task is completed, take out clothes and allow it to dry in the presence of sunlight.
Fully automatic washing machines are further classified into two types depending on the load and where the clothes are kept.
Top Load Washing Machines
As the name suggests, clothes are loaded from the top side, and the tub is placed vertically. A top load model is high-efficient as it can clean bulk quantities. It has a large storage capacity and comes with smart options like timer and auto-off options for fast-spinning. For more information, check out the fully automatic top load washing machine reviews to make an informed decision.
Benefits
Stylish and ergonomic design
Consumes less power and space
Convenient to add or remove clothes
Comes with 5 washable programs
Drawbacks
Front Load Washing Machines
Front-load washing machines are expensive, functions gently on the fabric compared to top-load machines. To operate, place the clothes from the front side and turn on the device. When the water level is reached to the triggering point, it will stop and start the washing process. Although it takes more time, it completely wipes out the dirt and stains.
Benefits
Even washes the delicate clothes
Uses advanced washing technology
Features child lock, spinner, timer, hot wash
Drawbacks
Takes more time to wash
Needs water connection permanently
Top Load Vs Front Load Washing Machines
| | |
| --- | --- |
| Top Load | Front Load |
| Economical to buy | Comes at expensive rates |
| Average washing quality | Best washing quality |
| Requires more water | Requires less water |
| Takes less time to wash | More time to wash garments |
| Add or remove clothes from the top | Add or remove clothes from the front end |
In a nutshell, front load models offer high-end performance than top load due to the washing quality, and added smart features. Although top load machines come with advanced features, it's up to an individual to choose the one that perfectly fits your home.
Go for Top-notch Brands
Before you buy a washing machine online, it's essential to know about the popular brands in demand. It helps you to decide the best device for home use. In this article, we have given the top brands – Bosch, LG, Samsung, IFB, etc. that match with all your washing types and support a family ranging from 2 to 10 members.
Tank Capacity
Washing machine tank capacity is the most crucial factor in choosing the best one that matches your requirements – family members and the load. The modern washing machines come with a tank capacity typically ranging from 5-10kgs per cycle.
Here we have given a table that explains the tank size and family members. Choose the tank capacity as per the no. of persons in your family to save purchasing costs.
| | |
| --- | --- |
| Family Members | Tank Capacity |
| 1-2 | 5kg |
| 3-5 | 6kg |
| 6-7 | 7kg |
| 8-10 | 8kg |
Energy Efficient
Check out the BEE (Bureau of Energy Efficiency) rated washing machines that are available in the market. They save your electricity bills and improve the overall performance in cleaning the clothes. Moreover, they are a bit pricey.
Direct Drive Technology
A direct-drive technology helps to absorb power from the motor without any fluctuation. The main advantage is it increases efficiency, reduces noise, and has a longer lifespan. Moreover, it eliminates friction and thus saves electricity bills. The drawback is it needs a separate motor to operate.
Washing Programs
Most of the devices come with two washing functions, normal and heavy. Some models come with unique options for fabrics like cotton, dry wash, wool, silk, etc.
Tub Material
Tubs are usually made of plastic, stainless steel, or porcelain materials. Plastic tubs last longer than enamel that can chip or rust. Stainless tubs are the most durable and long-lasting and can withstand high spin speeds.
Spin Cycle
Spin cycles are used for drying the clothes and are determined as rotations per minute (RPM). It also depends on the type of fabrics, like delicate and coarse. Machines with high RPM have better drying capacity compared to models with low RPM.
Hardness of Water
Indians mostly use hard water for domestic purposes and wash clothes manually. You cannot use the same for washing machines because hard water makes it difficult to dissolve the detergents used to remove stains. Also, the salts get deposited on the drum and produce noise while operating. So to overcome the issue, modern machines have come with Aqua Energy Technology to convert hard water into soft. The filters trap salts (i.e., bicarbonates) and transform them into small-sized crystals to flow easily.
Price and Warranty Details
If you're on a tight budget, prefer basic models that quickly wipe out the stains. Otherwise, go with the latest washing machines that come with several smart features to serve you the best.  You can also use the washing machine coupons and discounts to save money while shopping online.
Adding up, the branded models come with a 5-10 years warranty on the product and tub to attract customers. If you find any damage, replace it with a new one and get it repaired for free of cost within the timeline.
Smart Features of Front Load Washing Machines
Quick Wash: Quick wash is one of the most common features that come in automatic washing machines. It takes only 15 minutes to wash the clothes.
Delay Wash: Delay wash feature is good for people with a busy schedule. It allows you to plan the washing of clothes and automatically starts the washing cycle even if you are out or sleeping.
Child Lock: The child lock feature is useful for those who have kids at home. It locks the panel so that the kids won't be able to change the functionality.
Fuzzy Logic: Fuzzy logic selects the best washing program depending on the load quantity. It detects the weight and time of the wash cycle and automatically starts the cleaning function.
Time Delay and Pre-Soak: It will make the washing delay for some time when you are busy with household work. At the same time, the pre-soak function helps to soak the clothes before the device starts operating.
LCD Display: Modern washing machines have large-size displays to read easily and know specific operations being carried out. It displays parameters like washing, spinning, drying, timer, type of cloth, and temperature settings.
FAQs on Fully Automatic Front Load Washing Machines
How long does a fully automatic washing machine last?
On average, the lifespan of fully automatic washing machines is 10 years. It even lasts longer depending on the maintenance.
Does the washing machine tub and motor come under warranty?
Most of the branded devices offer warranty services on the product, tub, and motors. It may vary from 2 to 10-years depending on the brand, price, and smart features.
Can washing machines tear my clothes?
Yes! Washing machines rip off the clothes when it is malfunctioning or due to the damaged tub inside.
How long do front-load models take to deter stains on clothes?
On average, it may take 30-45 minutes to remove dust, ink marks, food stains, etc. Using the quick 15 feature, it cleans the clothes and consumes less power too.
How much power does a front load washing machine consume?
The fully loaded washing machines consume the power of 500-1300watts by performing specific operations like a wash, spin, dry to clean the clothes effectively.
Few Words to Conclude
Washing machines are no longer considered luxury appliances as they've become essential now-a-days. As there are many options available in the market, one must consider a few factors like type, tank capacity, motors, and smart features like timer, cloth type, fast heating, etc.
Our top pick is the Samsung front loading washing machine in the given list because of the incredible features and functionalities that make cleaning easier. If you have any queries or use any of the models mentioned above, share them with us in the comment section. We will clarify them as soon as possible.