No words can explain the comfort you can experience during a relaxing foot massage after a long day at work. If you exercise a lot or are on your feet all day during work, a foot massage is a godsend option to pamper your tired feet. However, if you are not ready to spend a lot on foot spas to relax your aching feet, buy a foot massager to soothe those tired muscles.
Foot massagers can help relieve soreness, stress, and knots of the feet while stimulating blood circulation. These devices are an excellent choice for people with plantar fasciitis and diabetes, as their pulsing nodes produce subtle pressure vibrations to work on the ligaments, joints, tendons, and connective tissues to relieve pain. Our health and wellness experts have compiled a list that consists of the best foot massagers after performing thorough research on each.
Our Top Picks:
| | |
| --- | --- |
| Best Overall | RENPHO |
| Best Features | AGARO |
| Most Affordable | Inditradtion |
| Most Portable | HoMedics |
Top 10 Foot Massagers in India for 2023
Get the soothing relief you need with these best foot massagers, designed to help ease aches and pains while providing relaxation and blood circulation benefits. Featuring the latest technology, these massagers are easy to use with multiple massage options, adjustable speeds and intensity settings, and ergonomic designs that provide maximum comfort. Read further.
Last update was on: March 29, 2023 7:59 pm
RENPHO Foot Massager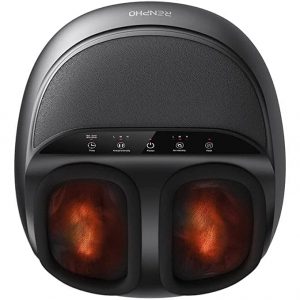 To top our list, we have taken RENPHO, an extremely well-known brand renowned for its quality foot care products. If you are looking for a premium quality foot massager, you should definitely purchase this corded electric one from RENPHO, which is designed to provide comprehensive, luxurious foot massage therapy to help soothe and relax your feet.
The machine features a rotation ball, rolling stock, and adjustable intensity massage programs with an optional heat setting to personalize your experience. With its wide variety of settings, this massager can be used for both health and leisure purposes, making it one of the most versatile options on the market today.
Pros
Consists of enlarged foot room to fit most people.
Its touch panel is easy to control using your foot.
Cons
The machine requires an electric outlet to function, which may limit its use in certain locations.
Even with several modes, the range of massages offered by this specific machine to the rest of the body is limited when compared to other models.
Lifelong LLM99 Foot and Leg Massager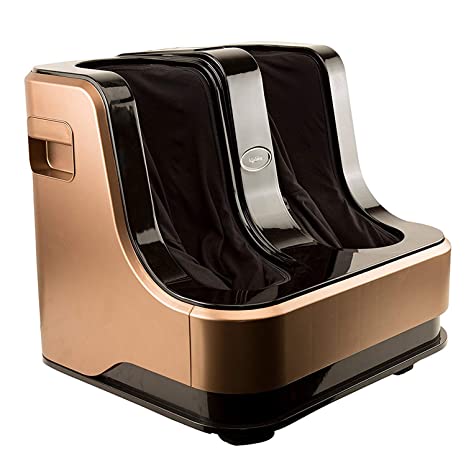 The Lifelong LLM99 Foot and Leg Massager works by producing electronic stimulation on specific pressure points on the sole and its sides to remove leg fatigue effectively. This massager comes with extended height adjustment and utilizes the 3D biometric massage method and the latest magnetic therapy to improve foot health. It is designed with 4 kneading disks to massage your ankles and feet with a kneading massage effect.
You can even get an excellent leg massage experience by using different modes like 3-speed manual mode with a bi-directional rolling action, custom mode for specific areas like toe, sole and arch and 4-speed auto mode. Also, the foot massager is designed with washable fabric, an LED display with touch buttons, and has a noiseless operation.
Pros
Its low noise operation does not disturb anyone around you.
Its long-lasting design ensures that you will get the most of out of this massager.
Cons
This massager has limited range of massage settings.
Only offers 3 speeds instead of a variety of customizable intensity levels.
AGARO Electric Shiatsu Foot Massager
AGARO is a luxurious kitchen and home appliances brand that focuses on creating innovative products to enhance your everyday lifestyle. This electric Shiatsu foot massager from this brand is one of the best-selling products on the market today. With a kneading function for pain relief, this foot massager is designed to provide you with a soothing and enjoyable massage experience.
Featuring four adjustable speeds and three custom modes, the device helps to target specific pressure points around your feet, ankles, toes, and arches. With its ergonomic design and long power cord, you can enjoy a deep tissue massage at home or in the office. Whether you have sore feet after a long day at work or just want to relax and unwind, the AGARO electric foot massager can offer you a wide range of benefits for your physical health and well-being.
Pros
Comes with removable and washable foot sleeves.
The multi-mode feature allows you to adjust the intensity of massage and customize your experience.
Cons
The massager may be too powerful for people with sensitive feet, as the shiatsu nodes press hard against one's feet.
It is not portable, as it needs to be plugged into an electric outlet in order to work.
HoMedics Triple Action Shiatsu Foot Massager
When the search is all about relaxing foot massagers, how can we forget HoMedics? This leading brand offers a wide selection of innovative products to give you the ultimate relaxation and the best user experience. Their triple action shiatsu foot massager is no exception. This revolutionary foot massager combines the benefits of three different types of massage – Shiatsu, rolling, and kneading, to deliver a deep, therapeutic massage.
The six rotational heads provide intense pressure while targeting hard-to-reach areas in your feet, providing unparalleled relief from soreness, tension, and fatigue. Perfect for any busy lifestyle, this user-friendly device allows users to customize their experience with heat settings and intensity levels. With its unique combination of features and convenience, the foot massager from HoMedics is the perfect choice for anyone looking to relax deeply and quickly after a hectic day.
Pros
Cordless design allows users to enjoy their massager without the hassle of wires or cords getting in the way.
Ergonomic design provides comfort and stability while in use.
Three deep-kneading rotating heads target the entire foot for a more comprehensive massage experience.
Cons
Not suitable for those with sensitive feet as it can be quite intense at times.
Can be difficult to clean as some crevices are inaccessible even when using a vacuum cleaner attachment.
JSB Foot Spa Massager Machine
Having been in the market for a long time now, JSB is known for specializing in quality healthcare products. They are committed to making life better by providing high-end products that are reliable, safe, and easy to use. Their range of body massagers and wellness products has become popular amongst customers due to their quality craftsmanship and innovative designs.
Similarly, the foot spa massager machine from JSB is the perfect solution to get your feet feeling refreshed and rejuvenated. This machine is designed to provide a salon-class foot care experience right at home. Accompanied by a brush attachment, this foot massager is perfect to help cleanse and exfoliate your skin. Built with advanced technology, this device is sure to leave you feeling relaxed and pampered afterward.
Pros
Comes with a soothing heat function to relieve tired, sore feet.
Lightweight and portable design makes it easy to move around the house.
Cons
A bit noisy when operating at higher intensity levels which may be annoying for some users.
Does not include any special features such as LED lights, or water jets.
Reach Jomo Leg, Calf & Foot Massager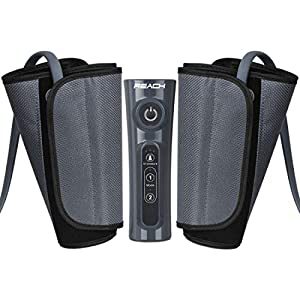 Reach is a brand dedicated to providing innovative and unique health and wellness solutions. This Jomo foot massager is one of their most advanced products that combine modern technology with traditional massage techniques. This product offers 3 adjustable intensity levels of air pressure allowing you to customize your massage experience while 360-degree airbags replicate the feeling of having a real human masseuse.
With its convenient design, this massager can be used on your legs, feet, and hands all at once to help you reach maximum relaxation. This device has earned great feedback for its outstanding durability and powerful massage capabilities that provide both a soothing and invigorating experience.
Pros
Absolutely easy to use and can be set up in minutes.
Has three vibration speeds to let you adjust the massage according to your needs.
Cons
Regular use could potentially cause bruising, due to the strong vibrations from the device.
It does not come with a remote control so users have to manually operate the device each time they want to use it.
ARG HEALTH CARE Electric Acupressure for Foot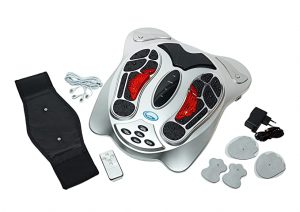 ARG Healthcare is one of the most respected names in healthcare equipment, providing innovative solutions to meet the needs of customers since 2007. Their products have been trusted by medical professionals and patients alike for their reliable performance and advanced technology. Their corded electric foot massager is designed to provide relief from body pain, reduce varicose veins, promote metabolism, and relax muscles.
It includes infrared therapy which helps to increase circulation, reduce inflammation, and speed up healing time. This device is easy to use with adjustable intensity levels and an ergonomic design that fits any foot size. With its advanced technology and versatile design, it is suitable for anyone looking to relieve stress or tension in their body as well as improve their circulation.
Pros
It uses electromagnetic waves that stimulate acupoints on the feet to reduce tension in the body.
Remote control and buttons on the machine are very easy to use.
Cons
The cord may become twisted or tangled, which can be inconvenient.
It is not portable since it requires a power outlet to operate.
Inditradition Corded Electric Massager for Foot
Inditradition is a big name that's known for offering various products to assist people with health issues such as muscle pain and tension. Their corded electric massager for feet is an ideal product for those who suffer from aching feet, toes, and arches. It uses a powerful motor that delivers soothing massage action to reduce foot fatigue and discomfort.
It features two massage rollers that help target hard-to-reach areas on the bottom of your foot and provides deeper tissue massaging action for maximum relaxation. The massager also comes with a heat function which helps improve circulation and promote healing throughout the entire foot area. The waterproof cover ensures safety when used in wet or moist environments, making it one of the best foot spas available on the market today. With Inditradition's massager, you can enjoy all the benefits of a professional massage at home, any time you want.
Pros
Its multiple water jets create thousands of bubbles to relieve pressure and pain.
The massager is high-temperature resistance and aging resistance.
Cons
Limited functionalities, and customizable options.
It can be quite noisy when in use
RoboTouch Leg, Foot, and Calf Massager
RoboTouch is a leading provider of advanced massage technology products that are designed to provide relief and relaxation. This brand is dedicated to helping people live healthier lives through their revolutionary massaging solutions. Their flagship product, the Classic Leg, AC Foot, and Calf Massager for Pain Relief and Relaxation, is a luxurious and innovative device that combines five intelligent functional program modes with in-built 40 airbags and carbon fiber heat therapy.
The sophisticated design of this massager also allows for a targeted massage at specific pressure points in a safe manner. The heated massage feature helps relieve pain from arthritis, injuries, stress, and fatigue. RoboTouch's commitment to providing quality products ensures each user enjoys ultimate comfort during their massage session while experiencing improved circulation results in less pain overall.
Pros
Offers improved circulation which helps reduce swelling, fluid buildup, and other common leg issues.
The massager has seven preset auto-function programs that can be tailored to individual needs.
Cons
Not as powerful as some other electric massagers.
Sterling Electric Shiatsu Foot Massager
Sterling is a leading manufacturer of health and wellness products, specializing in foot massagers. Their Sturdy and Compact Foot Massager is the perfect device if you are looking to improve your overall health and wellness. This foot massage tool features patented kneading massage nodes that target pressure points on the feet for deep tissue relief.
It has rotating rollers for precision targeting of the soles and arches of the feet, as well as variable speeds and a timer for customizing your massage experience. This machine helps to improve blood circulation, reduce inflammation, and relieve pain from diabetes, arthritis, plantar fasciitis, and other issues. It can be used by both men and women of all ages with its adjustable intensity settings to suit individual needs.

Pros
The speed of the foot massager machine can be adjusted at three levels.
Made with durable materials that provide a comfortable massage experience while being incredibly portable.
Cons
The cost is relatively high as compared to other models in the market.
Quite large compared to other similar products and may not be suitable for those with limited space.
Factors To Consider When Buying A Foot Massager
Below-mentioned are some necessary points you need to consider before getting a new foot massager:
Budget: It is important to consider your budget before purchasing the best foot massager for your needs. Knowing how much you are willing to spend on a product will help narrow down the selection and ensure that you get the most bang for your buck.
Size: Foot massagers come in different sizes, so it is important to determine which size will be most beneficial for your feet. If you have large feet, then look for a foot massager that is big enough and has enough power to accommodate them; similarly, if you have small feet then look for a model that won't overload them with too much pressure.
Intensity Levels:Different foot massagers offer different levels of intensity, so it's important to find one that has the right amount of intensity for your needs. If you prefer a deep massage, then look for a product with high-intensity levels; conversely, if you prefer a less intense massage then select something with low-intensity levels.
Power Source: Most foot massagers are powered either by electricity or batteries, so it's important to understand which type is best suited to your lifestyle and preferences before making a purchase. Electric models generally provide more power but require being plugged into an outlet; battery-powered models usually offer less power but don't need an outlet and are more portable as well.
Reviews: Before selecting the best foot massager for yourself, take some time to read reviews from customers who have used the product before and see what they think about it; this will give you a better idea of which one is the best fit for you and help make an informed decision on which one is right for you.
In Conclusion
Before compiling this list of foot massagers, we have weighed them based on some significant features like the type of massage, heat settings, portability, speed control, design, etc. Show your feet some amount of love by choosing one of the products from the above list.
FAQs
1. What are the benefits of using a foot massager?
Foot massagers can provide a variety of benefits for your feet, including improved circulation, stress relief, reduced swelling, and inflammation, alleviation of soreness in muscles and joints, and even helping to improve posture.
2. What are the different types of foot massagers?
There are several types of foot massagers available on the market today. These include Shiatsu models that use circular motions to replicate the traditional Japanese massage technique, air pressure technology that uses air cells to gently squeeze and knead the feet, as well as heat therapy models that combine various massage techniques with warm air or infrared heating elements.
3. How often should I use a foot massager?
Generally speaking, it is recommended that you use a foot massager at least twice a week. If you have any existing health conditions or injuries, make sure to talk to your doctor before using a foot massager. It is also important to take breaks between sessions to give your feet time to rest.
4. Are there any precautions I should take when using a foot massager?
Yes, it is important to follow all instructions provided with the product carefully and avoid overuse or excessive pressure when using any type of massage tool. Additionally, if you have an underlying medical condition or are pregnant then it is best to consult with your doctor before using any type of foot massager.