If you're making that long-overdue shift from regular facewash to face scrubs, know that you are not alone. The face scrub army is increasing in numbers as more and more people realize its benefits and adopt it in their skincare regimen. After all, who would say no to smooth and supple skin?
About Face Scrubs
Benefits of using a face scrub
The primary objective of face scrub is to exfoliate your skin. In other words, a good face scrub would remove the dead skin cells that build up in your skin from time to time. By removing dead skin cells and impurities of all kinds, the face scrub leaves your skin feeling much brighter and smoother. It also makes the skin healthier, which will become evident when you look into the mirror and not see any of that dreadful acne.
What to look for in a face scrub
While you can use a face scrub on any skin type, it doesn't mean you should use the same face scrub on every skin type. The requirements of oily skin are different from that of dry skin. So, you wanna make sure that the face scrub you choose is formulated specifically for your skin type.
10 Best Face Scrubs in India 2020
1. Lotus Herbals Apriscrub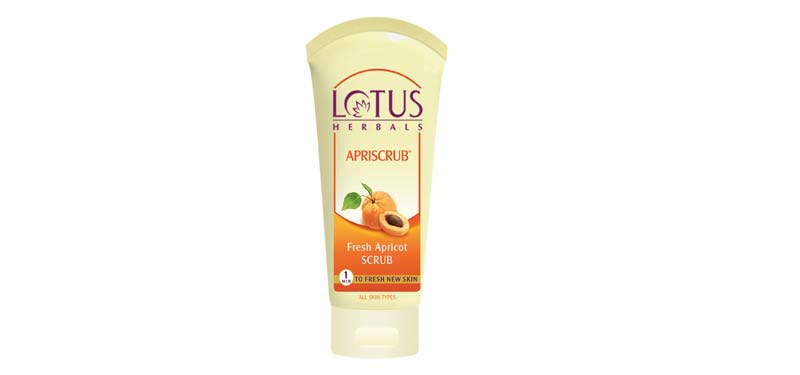 A foam-based face scrub, this one has the goodness of walnut shell powder. Walnut shells are a great exfoliating agent, which you have probably already heard from your grandma. They give your skin the deep cleansing that it needs after a week of being exposed to pollution and dirt. The formulation also includes corn, glycerine, and calendula oil, each of which works wonders for your skin.
For: All skin types
Weight: 100g
Ratings: 4.5/5
Price: Rs.123
2. Biotique Papaya – Revitalizing Tan Removal Scrub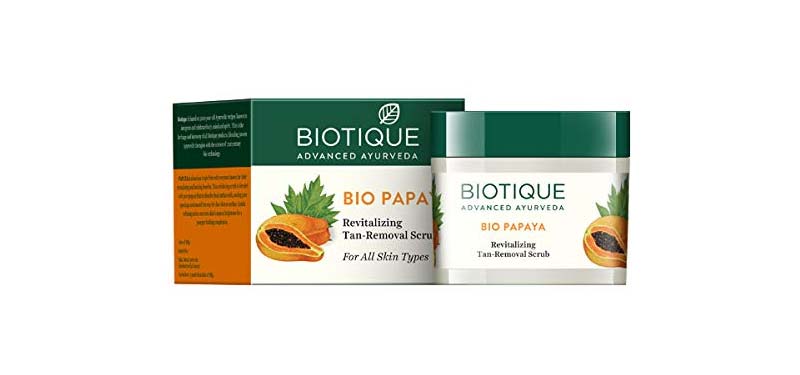 Papaya, the luscious tropical fruit, is known for its rejuvenating and healing benefits. So, this face scrub is perfect if you want to exfoliate your skin naturally, without any inflammation or irritation. You would appreciate the information that the face scrub also contains the goodness of neem bark, methi (fenugreek) seeds, and pulp of banana and dates.
For: All skin types
Weight: 75g
Ratings: 4/5
Price: Rs.170
3. Lotus Herbals White Glow – Oatmeal & Yogurt Skin Whitening Scrub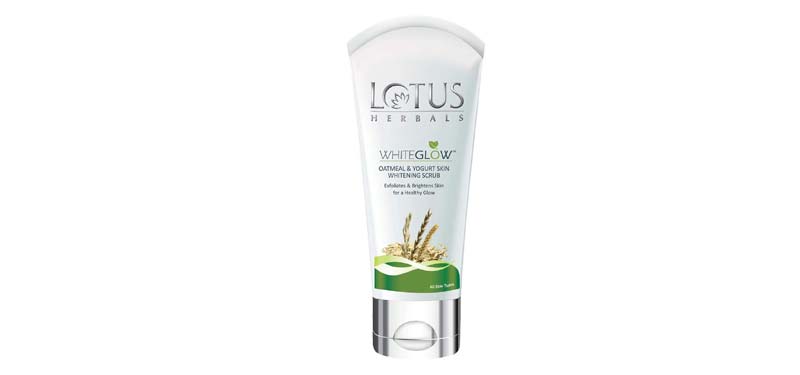 Not that removing dirt, impurities, blackheads, and whiteheads wasn't enough, this face scrub also brightens your skin after use. Oatmeal exfoliates and restores moisture balance, while yogurt lightens and brightens. The result is a firmer skin that is silky, smooth, and just luminous.
For: All skin types
Weight: 100g
Ratings: 4.5/5
Price: Rs.176
4. Khadi Mauri Herbal Apricot Face Scrub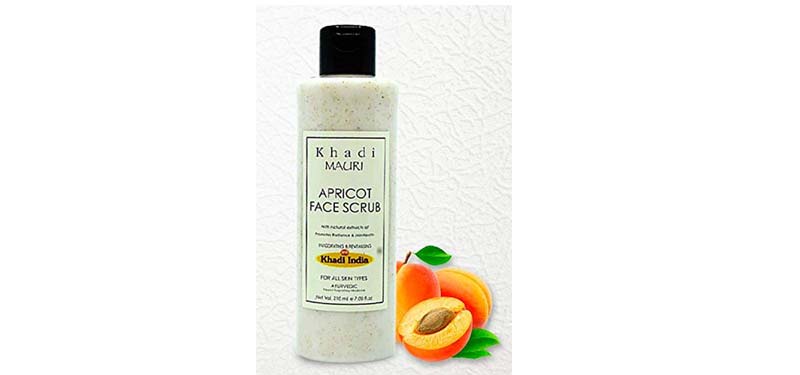 This face scrub from Khadi is an ayurvedic formulation. Made of only natural products, the scrub is suitable for every skin type out there. Walnut is responsible for removing dead skin, while apricot fades blemishes, an nourishes the skin. Thanks to its revitalizing properties, the face scrub is a one-stop solution for dryness, itchiness, as well as dullness.
For: All skin types
Weight: 220g
Ratings: 4/5
Price: Rs.123
5. mCaffeine Naked & Raw Coffee Face Scrub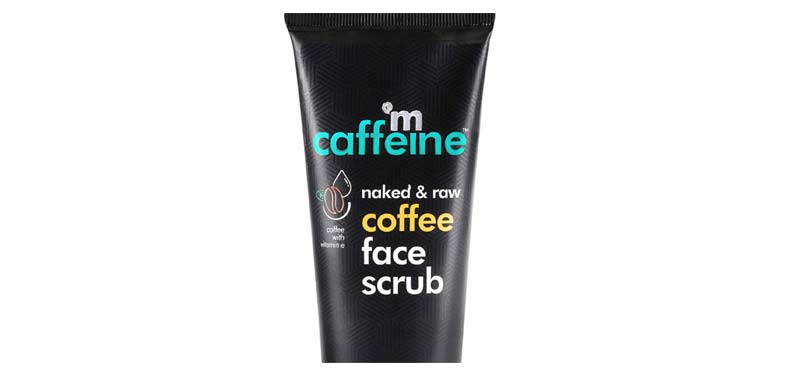 When it comes to skincare, nothing beats coffee and walnut. Coffee increases your collagen production, which is essential for fresh and youthful skin. The caffeine present in coffee also even-tones your skin and reduces puffiness. Walnut exfoliates and helps your skin breathe free. Finally, ingredients such as Hibiscus, Caramel, Argan oil, and Vitamin E heal, nourish, and improve skin elasticity.
For: Normal & oily skin
Weight: 100g
Ratings: 4/5
Price: Rs.325
6. Mamaearth Charcoal Face Scrub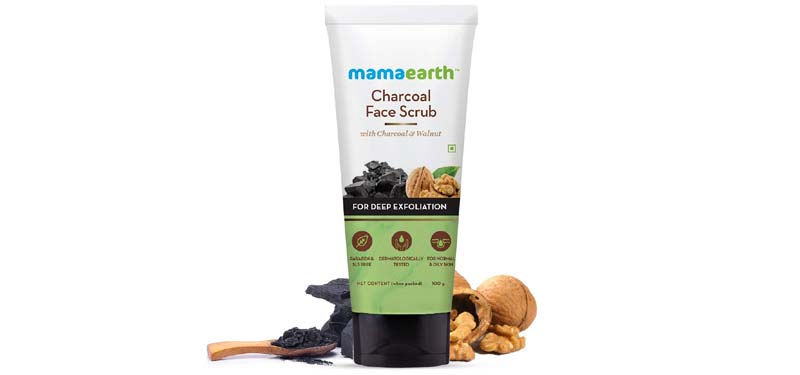 Free from parabens, sulfates, SLS, and artificial colors, it is no surprise that this face scrub made it to our list. The Mamaearth charcoal face scrub removes dirt, toxins, and acne-causing bacteria from your skin, without disturbing its natural pH balance. It is gentle, it is dermatologically tested, and it is just a breeze to use. A twice a week application will make sure you have naturally soft, supple, and clean skin.
For: Normal & oily skin
Weight: 100g
Ratings: 4.5/5
Price: Rs.349
7. Mamaearth Ubtan Scrub for Face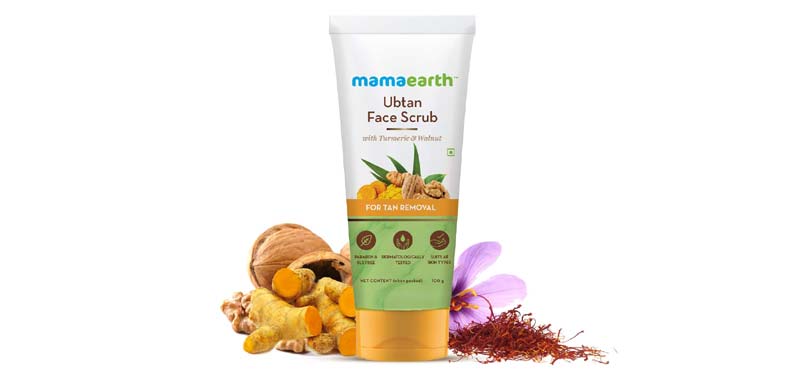 Suitable for all skin types, this face scrub tackles everyday skin problems the ubtan-way. A blend of Haldi (turmeric) and saffron protects the skin cells from radical damage and lightens them. Walnut scrubs off dead skin cells, while coconut oil forms a UV-protection shield on your face. It keeps your face hydrated, and tan-free.
For: All skin types
Weight: 100g
Ratings: 4/5
Price: Rs.340
8. Neutrogena Deep Clean Scrub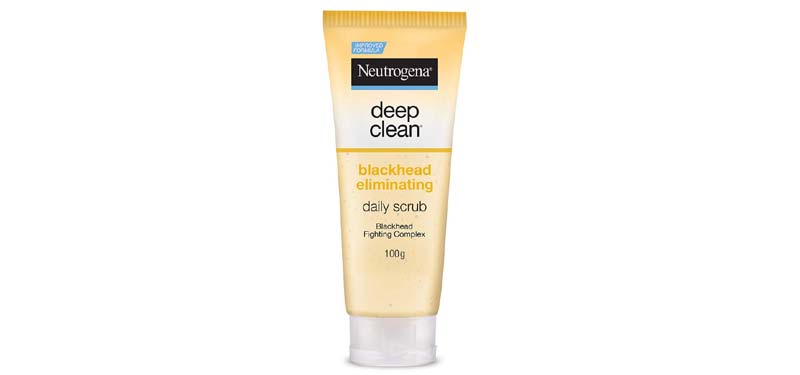 Made with the extract of cedarwood extract and moisturizer, the Neutrogena deep clean scrub penetrates deep into pores and removes dead skin cells. The scrub is one of the most effective solutions to blackhead, and you can see the results from the very first use. The best part? It's suitable for all skin types and all sexes.
For: All skin types
Weight: 100g
Ratings: 4/5
Price: Rs.297
9. Biotique Bio Walnut Purifying and Polishing Scrub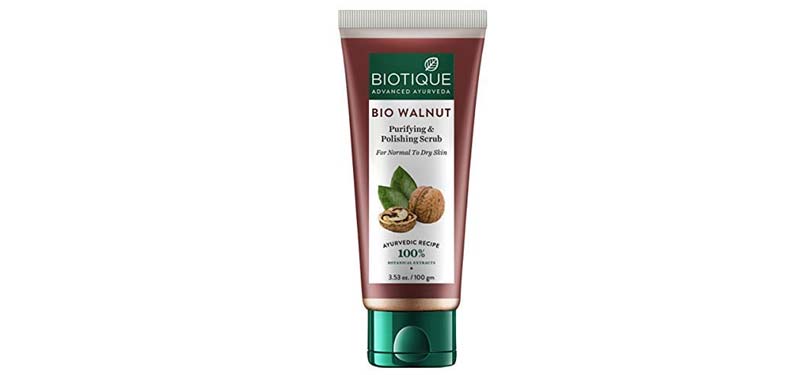 There is nothing better than a walnut and a rick extract of neem, mint, and fenugreek to pamper your skin. Trust us. Trust us especially if you have normal or dry skin. This face scrub by Biotique has purifying and polishing properties, which you will be quick to realise as the scrub leaves your face spotless, fresher, and more receptive to benefits of future treatments.
For: Normal & dry skin
Weight: 100g
Ratings: 4/5
Price: Rs.119
10. Lakmé Blush & Glow Orange Walnut Gel Scrub
Brilliantly fusing the power of scrub and the gentleness of gel is this offering from Lakme. The scrub deeply cleanses your skin and leaves you with a fresh fruity feel. You also no longer have to worry about blackheads or dryness. Just use the gel scrub once to twice a week, and you are good to go.
For: All skin types
Weight: 50g
Ratings: 5/5
Price: Rs.100
Found what you were looking for? Remember that our list is not ranked in any particular order. Each of the 10 face scrubs is a tough competition for the others. So, look around. Find ingredients that click for you, and scents that excite you. And once you have, do not forget to let us know your verdict through the comments section.