Gone are the days where people used Razor blades to trim the hair follicles. It is a time-consuming process and may be prone to skin damages and injuries when you are in a hurry.
Everything has been automated to meet the accelerated pace of life that we lead today. An Electric Shaver is what you need for an efficient shaving experience without causing skin irritations. It is extremely easy to use, maintain, and portable too. In contrast with traditional models, an electric shaver can be used for men and takes 3-5 minutes to trim the hair on different counter body parts.
With the availability of numerous brands online, it's challenging to pick the right one for your skin type. Hence, you need to consider a few parameters like types, power source, wet and dry modes, waterproof nature, smart options – indicator, LCD, timer, price, and warranty details.
For your handiness, we've compiled the list of best 10 electric shavers in India 2022 by doing research work on reviewing online and by interacting with the customers.
Let's dive into the products now!
Top Electric Shavers in India
Last update was on: August 6, 2022 11:58 pm
Best Electric Shavers For Men
Philips Electric Shaver S5582/20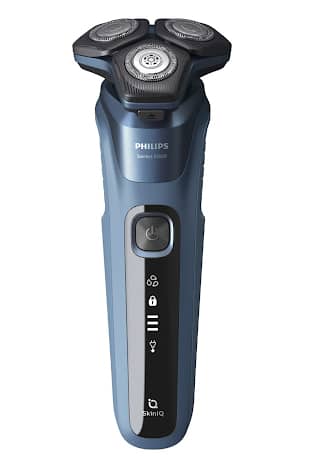 Philips electric shaver is a premium quality product that is best for everyday use and supports sensitive skin. Compared to other brands, it offers extremely close shaves and is easy to clean. Moreover, it perfectly fits in the contours of your hands due to the ergonomic grip with an anti-slip coating.
Keep it under running tap water to wipe out the stains as it is fully waterproof. Pop up trimmer feature gives a pleasant look to the moustache. It also comes with a skin protection system to adjust the device and prevent skin damage. Overall, this Philips shaving kit ensures a comfortable and refreshing shave.
---
Pros
3-fully flexible heads turns 360°
Powerful SkinIQ technology
Facial contour adjustments
Power adapt sensor and one touch operation
Cons
Poor quality attachments
Does not provide case to store the device
---
Havells RS7005-3 Head Rotary Shaver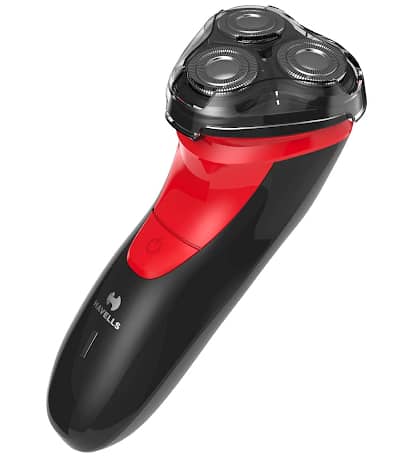 Over the years, Havells has become a prominent brand in India for offering top-quality products at reasonable prices. They offer a wide range of hair curl iron kits, water purifiers, fans, coolers, and more. Besides, you will be backed with two years of manufacturing warranty.
If you want a device that can be used in both wet and dry conditions without a change in efficiency, then Havells Rotary Shaver is the right choice. What's so unique is that it can provide 45-minutes of continuous usage when charged fully. The 3D floating veneer system allows you to shave under the neck without causing injury. The automatic grinding double-ring circular blade ensures long-lasting performance.
---
Pros
3D floating veneer system
Double ring circular blade for precision
2-years of manufacturing warranty
Built-in pop trimmer for perfect trimming
Premium black and red color combination
Can be used for home and travel purposes
Cons
No battery power indicator
May stops functioning after frequent usage
---
Braun Series 3 ProSkin 3080s Wet and Dry Electric Shaver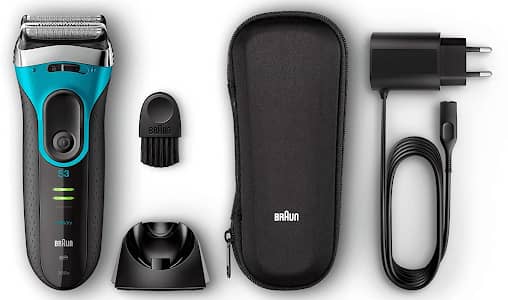 Undoubtedly, Braun is on the list of best-rated electric shavers in India for offering efficiency and skin comfort. In addition to that, this famous brand offers various products like hair dryers, brushes, and much more.
What is included?
Braun Series 3
Travel pouch
Charging plug
Protective cap
Cleaning brush
Charging stand
This machine supports wet and dry options, so you can use it even in bathrooms without causing damage. All the shaving elements work precisely to trim the hair in the desired shape. To get started, you need to charge this machine for uninterrupted usage. It has got amazing features that make the device look premium and enhances the lifespan. Wrapping up, this is the best shaving kit for men that offers decent performance.
---
Pros
Rechargeable razor for men
3 pressure-sensitive shaving elements
Features durable attachments for comfortable use
Simple and easy to read instruction manual
Cons
Expensive to buy
May experience skin rashes
---
Panasonic ES-LV61-A Arc5 Men's Electric Razor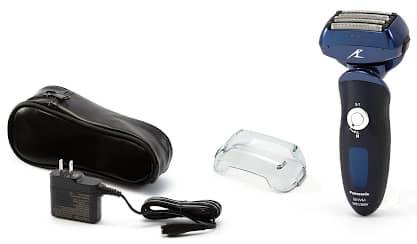 Panasonic is yet another high-end electric shaver brand that brings innovations to your doorstep with the standard product quality. Like other shaving kits, it has come with trimming blades for fast and efficient shaving. The lightweight design makes it easy to carry to different places without any effort.
This corded model offers impressive performance throughout the battery life. The device is 100% washable; hence it can be kept under running tap water to deter the dust particles and look compelling. The only disadvantage of using this model is the expensive nature that is high compared to other brands.
---
Pros
Features wet and dry modes of operation
Pop-up trimmer for quick trimming
Multi-Flex Pivoting Head
30-days of money refund policy
5-Blade Cordless model
Cons
Expensive model in the list
---
Philips Cordless Electric Shaver S3122/55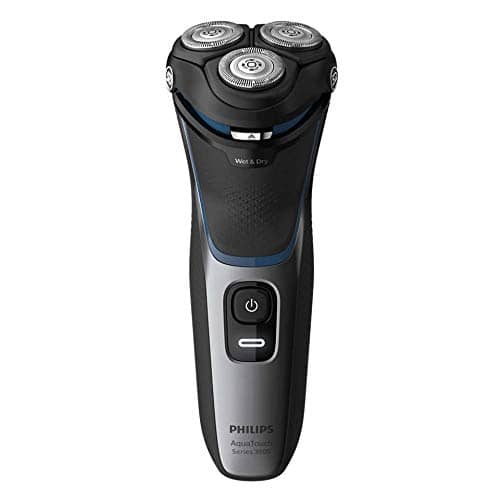 Now you don't have to head over to the saloon for a clean shave. Grab Philips cordless electric shaver home and start using it right away. It can effectively shave your beard and mustache, leaving soft skin.
In comparison with the listed models, this branded model offers 55-minutes of runtime. Moreover, the 5 directional pivot and flex heads offer a comfortable shave. With a one-touch button operation, you can flip the head and clean it with lukewarm water. Thye 1-level battery indicator lets you know when the battery is fully or low, so you plan to trim the hair accordingly.
---
Pros
Battery level indicator
One-touch operation
27 self-sharpening power cut blades
Advanced skin protection system
5 directional pivot & flex heads
User-friendly instruction manual
Cons
Quality can be better
Highly sensitive to beard skin area
---
Groomiist Gold Series Corded/Cordless Shaver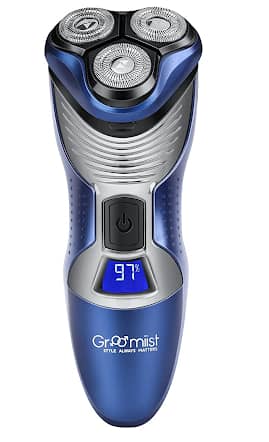 If you love to style the beard in multiple ways, go with the Groomiist brand. This wonderful brand manufactures grooming kits for men and women. All these branded products are well-known for powerful and noiseless operations. Hence we have listed among the top electric shavers in India.
The large LED display panel makes this Gold Series different from the brands mentioned above. The dual-mode charging feature allows you to charge the device using a USB device or via an AC adapter. You will also get a comfortable gripping with the ergonomic design with a sleek curve in the middle.
---
Pros
45-minutes of runtime
Touch Switch Technology
Dual charging mechanism
Budget-friendly nature
Incorporates LCD  Digital Display
2-years of manufacturing warranty
Cons
Poor manufacturing services
Blades get tangled with hair
---
Philips S1121/45 Cordless Electric Shaver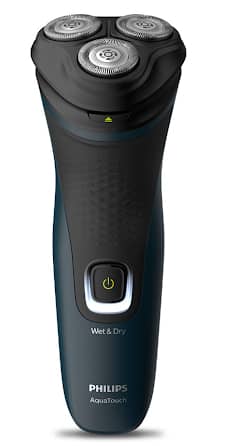 The next one on the list is Philips cordless electric shaver. No other brand can compete with this model due to the stylish and attractive design, build quality to match the customer's requirements. This wet and dry device cuts hair up to 30% close to the skin.
Apart from features and functionality, Philips reviews, ratings are good and make the user buy without any dilemma. Also, the manufacturer offers good services to the customers. You will also get a full money refund within 30-days if you receive the damaged product.
---
Pros
Non-slip rubber handle
Easy to wash and maintain
Battery operated rotary type
Blade system with 3 directional floating heads
Ergonomically designed Convex shaving system
Cons
Excess noise production
Experience skin rashes and cuts at times
---
Panasonic ES-SA40-K44B Wet and Dry Men's Shaver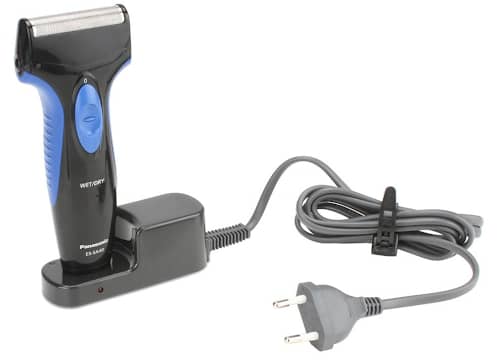 Panasonic is a reputed brand across the globe for offering items like premium quality front load washing machines, refrigerators, AC, microwave ovens, TVs, and more. You can get them at low prices without compromising on the quality.
Enjoy a refreshing shave without damaging the skin with a Panasonic shaving kit. It has come with many features like Japanese blade technology and pop-up trimmer to match the customer's requirement. Compared to other branded models, you can fully charge in 8hours and provide optimum runtime. The waterproof design lets you wash and keep it in good condition to enhance its lifespan.
---
Pros
8800 RPM motor speed
Japanese blade technology
Wet and dry shaving modes
Lightweight and easy to handle
Pivoting head with slide-up trimmer
Cons
Poor design quality
Generates more noise than other models
---
SYSKA SH0300 Rotary Dry Shaver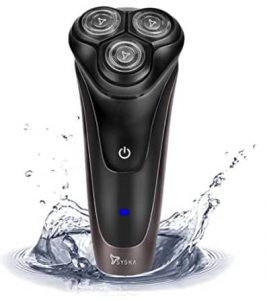 Syska Electric Shaver is a top-rated electric shaver that offers users a high-quality shave. Compared to other popular models in the list of top 10 shaver kits, it has a fast and easy charging system that can be used anywhere.
When you purchase this model online, you will also get a shaver, cleaning brush, protective cap, travel pouch, user manual, and warranty card. The high-end 360 rotary shaving technology helps you achieve accurate precision in all the directions. Moreover, the German engineered blades with dual tracking system gives you a fine trim. On the whole, what we like the most about Syska brand shaver is that it offers 40-minutes of runtime with just 2 hours of battery charging.
---
Pros
Dual track blade system
Made of durable stainless steel material
Simple and easy to use nature
3D floating head for smooth shaving
Pop up trimmer with protective cap
Cons
Not a great choice for sensitive skin
Disappointed with battery performance
---
AmazonBasics Electric Shaver for Men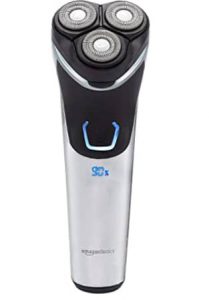 AmazonBasics is a globally thriving brand that produces quality yet durable products within the budget. So far, AmazonBasics have manufactured vacuum cleaners, portable stands, speakers, inverter ACs, yoga mats, soldering kits, and a lot more stuff.
The AmazonBasics Electric Shaver for Men is a great option for those who are looking for an affordable electric shaver. It has a variety of features that make it ideal for both personal and commercial use.
Now you can have a smooth and comfortable grooming experience with the Amazon Basic electric shavers. What we like the most is that you can perform 10-shaves with a single charge as it makes use of a lithium ion battery. It can be charged using an adapter or USB.
---
Pros
Rotary head type electric shaver
Comes with rechargeable battery
45-minutes of cordless shaving time
LED display with power indicator
Cons
Damages quickly if used incorrectly
---
Things to Look while Buying Electric Shavers Online
When it comes to choosing an electric shaver, a lot of brands come into your mind. It's not easy to pick a model for your skin type. So, here we've given a comprehensive guide that explains key parameters like type, wet and dry technology, price, and warranty details that you need to consider while shopping online.
Types of Electric Shavers
Men have different skin and facial hair types. Depending on personal preferences, you can choose from the following models:
Rotary Electric Shavers
The rotary shaver comes with 3 or 4 rotating heads with round edges for smooth and even shaving under the jaws and neck areas. They spin in a circular motion and offer a comfortable shave using flexible heads. It best suits those who have thick or coarse hair and are willing to use it on weekends.
Pros
Suitable for both men and women
Supports thick and coarse hair type
Cons
Cause allergies and irritation for sensitive people
Foil Electric Shavers
Foil shavers use thin and sharp blades which move in fourth and back. It may typically consist of a thin layer of foil with 1- 4 oscillating blades which offer a close shave as required. It is best suitable for those who want to grow their hair slowly.
Pros
Suitable for short and thin facial hair
Offers smooth and precise shavings
Work well on sensitive skin people
Cons
Difficult to shave on counter areas
Comparison of Foil and Rotary Electric Shavers
| | |
| --- | --- |
| Rotary Electric Shavers | Foil Electric Shavers |
| Suitable for thick and coarse hair | Suitable for fine hair |
| Used weekly or twice in a month | Eveready use |
| Bit expensive models | Comes at affordable prices |
| Clean with a damp cloth | Have to wash after every usage |
Power Source
Electric shavers can be operated using different power sources and each of them has unique specifications that help to last longer. Have a look:
Battery Type Electric Shavers are good to use at homes and other places because the machine works as long as the batteries are in working condition.
Corded Electric Shavers are quite impractical these days because the power cord moves in the way you shave the beard. You may even experience discomfort while body shaving as long as you connect to the power supply.
Rechargeable Electric Shavers is trending now because of the fast shaving and easy to handle nature. It doesn't result in any side effects and works only when you plug in the device into the charging unit.
Charging Station and Battery
Most of the electric shavers available today are cordless and need to be recharged for a fixed duration before use. However, the problem of batteries getting discharged with frequent usage can be a daunting task. Hence, you should opt for a model that has a high battery performance. Some machines allow you to use them while charging too.
Also, check whether the charging station is of durable quality to support all types of batteries and supply even power. If you receive a poor-quality station then complain to the authorized service centre to replace it with a new one.
Wet and Dry Technology
Get the option of both wet and dry modes that are available in a majority of devices today. All you need to do is by using foam or gel for better results. You will also get accessories for smoothing trimming and clean the device without hassle.
Waterproof Design and Easy Gripping
The modern electric shavers come with a waterproof design to access easily in water, or rain. The comfortable gripping makes it easy to handle and move freely as per the requirement. So, it is recommended to choose a razor that is 100% waterproof and washable.
Ergonomic Design Blades
Whether you choose a rotary or foil type, it's important to use fine quality blades. Once they expire, you need to replace them frequently. It is because the bacteria and rust that forms on the blades diminish its lifespan. So, it's important to look after the blades for optimum shaving performance.
LCD Display and Indicator
LCD display and the indicator show whether the battery is full or low. Some top-notch models have come with advanced options like setting the trimming time as per your requirement. This can help you prevent running out of charge unexpectedly.
Price and Warranty Details
Finally, we end up with price and warranty details. If you are the one who can afford high prices, go with advanced models that come with smart options like protection, timer, display, indicator, etc., for convenience and comfort. If you stick to a limited budget, prefer basic models which offer a smooth and efficient shaving experience. Also, check for warranty services provided by the manufacturer to minimize the repairing costs.
Final Verdict
In a nutshell, Philips Wet and Dry Electric Shaver is our top pick from the list of electric shavers in India because it supports all types of skin. Moreover, it comes at affordable prices and also has good reviews and ratings.
If you are still confused in choosing the brands, read our buying guide that helps to make the informed choice. Which brand do you like the most? Are you using any of the above-mentioned models? Please share your doubts and queries with us in the comment section given below. We will clarify them as soon as possible.
Happy Shopping!
Electric Shavers – Frequently Asked Questions
Which are the best electric shaver brands for men in India?
Phillips, Havells, and Braun series are the popular brands for men to buy in India online.
How long can I use an electric shaver with a single charge?
You can use an electric shaver for 10-times on a single charge if you buy from premium-quality brands.
Is an electric shaver safe to use?
Yes! Electric shaving kits are 100% safe to use when done in the right way. They are made of rotary heads, German engineered blades to give long-lasting performance.
Which electric shaver is best: wet or dry?
Electric shavers can be used as both wet and dry modes as they are designed keeping both the parameters in mind. Further, it helps to minimize the skin irritations.