Indian households are so dependent on maids that women of the home even put up with their tantrums. Why, who is going to do the piles of dishes lying on the sink? What if we told you that you can invest in a dishwasher, place all your dirty dishes in it, and lo and behold! You can clean, hygienic and shining dishes smiling back at you without any manual labor. That's a dishwasher for you, and today we will take you through the best dishwashers in available in India.
Being a new concept in the Indian kitchens, a dishwasher is not very common as of now but more and more households are opting for it. It is gaining ground as it gives freedom, convenience, hygiene, and a healthy lifestyle. Buying a dishwasher for your home is not so easy though – given the limited knowledge on the appliance and the many apprehensions of the Indian consumer. But the fact is, a dishwasher is a wonderful addition to your kitchen, saving you time and energy and not burdening you with electricity bills. Plus, you get the confidence to take cudgels up against your maid!
10 Best Dishwashers In India for 2022
Last update was on: May 21, 2022 6:21 pm
Since the concept of dishwashers is new in India, there are not many brands offering them. Not to say that you don't have a choice, but to say that it is limited. We have researched all the best brands of dishwashers in India and come up with the below list. It will help you in deciding the best one for your home.
Bosch 12 Place Settings Dishwasher (SMS66GI01I, Silver Inox)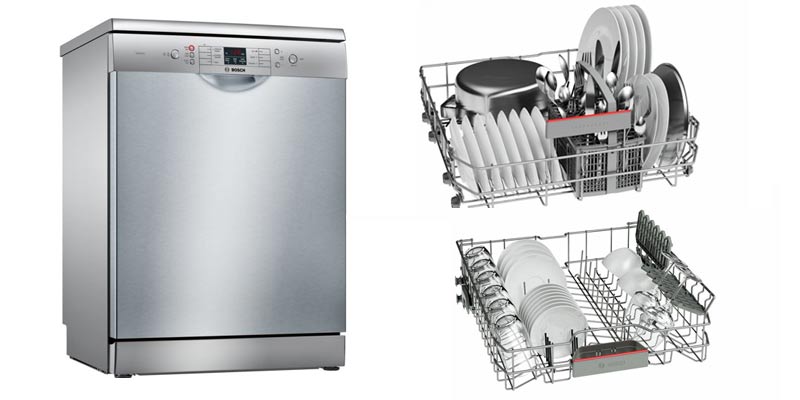 The top-selling dishwasher in India is Bosch's SMS66GI01I is fully electronic, free-standing, stainless steel made with Polinox inner tub, dosage assist basket and glass care system. The racks are foldable as well. Even your heavily soiled kadhais, cookers, and pans will come out sparkling clean. Features include-
It offers effortless cleaning of utensils with no need of pre-rinsing the utensils before loading the dishwasher. Simply scrape the leftovers and load the dishwasher.
The dishwasher comes with 12 place settings and 6 wash programs including the Intensive Kadhai, Express Sparkle, Auto and Quick.
You can set the timing for the washing of utensils with the electronic delay timer
It also offers a half-load function wherein you can use the dishwasher even if utensils are less. No need to wait for more utensils for complete load
EcoSilence Drive feature ensures lower consumption of electricity while giving you high cleaning efficiency
The water, when heated up to 70 degrees kills 99.9% bacteria giving you hygienically washed utensils
The dishwasher is aesthetically designed, safe to use and also has the child lock facility for those inquisitive kids.
Siemens 12 Place Settings Dishwasher (SN256W01GI)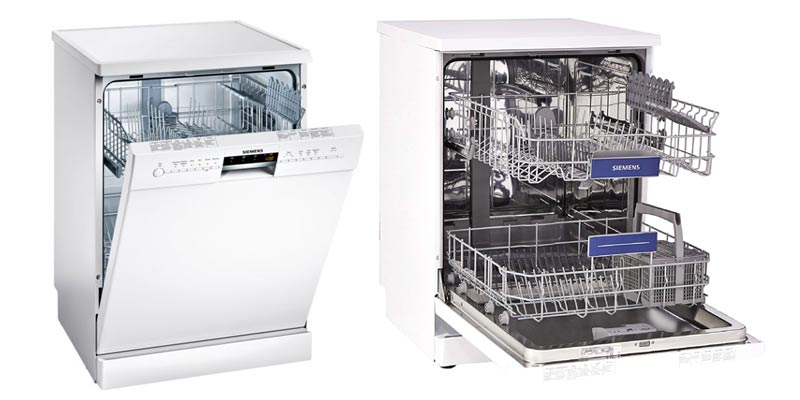 Attractive designs and innovative functions make Siemen's dishwashers a popular Indian choice. The German-engineered brand brings together speed, efficiency, and convenience to offer you a hygienically cleaned dish load every time.
This is a SpeedMatic dishwasher that delivers clean results in less time with newly-improved 6 wash programmes and 12 place settings
Conveniently set the timer of the dishwasher to wash the dishes as per your schedule
It has an adjustable upper rack and 2 folding plate racks with a cutlery basket that allows you to use maximum space as per requirement
Comes with a HygienePlus function that keeps the temperature of 70 degrees during the final rinse for ten minutes eliminating 99.99% of bacteria and germs
Save water and electricity by washing utensils even when the load is less
Comes with EcoSilence drive and Stainless steel/polinox interior inner tub
IFB Neptune VX Fully Electronic Dishwasher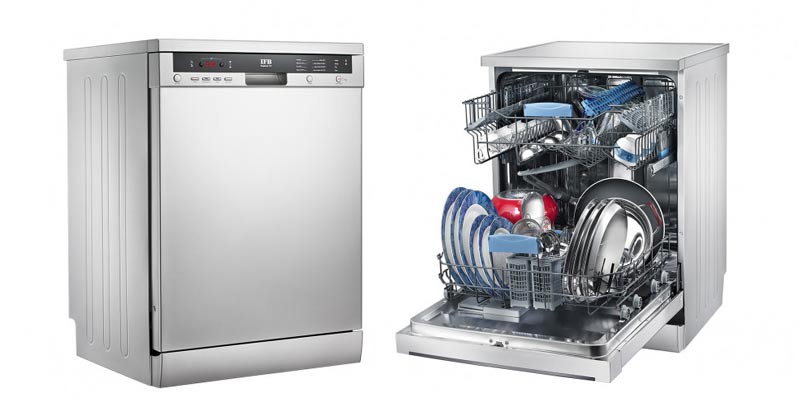 IFB home appliances have a long-standing reputation of being efficient, modern and classy. IFB Neptune VX Fully Electronic Dishwasher lives up to your expectations and even gives you more. It is free-standing, front loading, smartly designed for the Indian kitchen and takes care of all your kitchen utensils woes.
It has a Jet washer mode which can clean less greasy utensils like mugs, plates, tea making utensils milk pots, etc. in just 18 minutes
The racks and shelves of this dishwasher can be adjusted in height, allowing you a lot of flexibility for bigger vessels or lesser load
You can use either the upper rack, or the lower one, or both together depending on the load. It can operate on a flexible half-load mode too.
In places where the water supply is hard, the appliance comes equipped with a water softening device that can soften hard water to 60 dh giving you efficiently washed dishes.
The steam drying feature vaporises all the moisture from the utensils leaving behind no marks or streaks but just perfectly cleaned utensils.
Faber 12 Place Settings Dishwasher (FFSD 6PR 12S)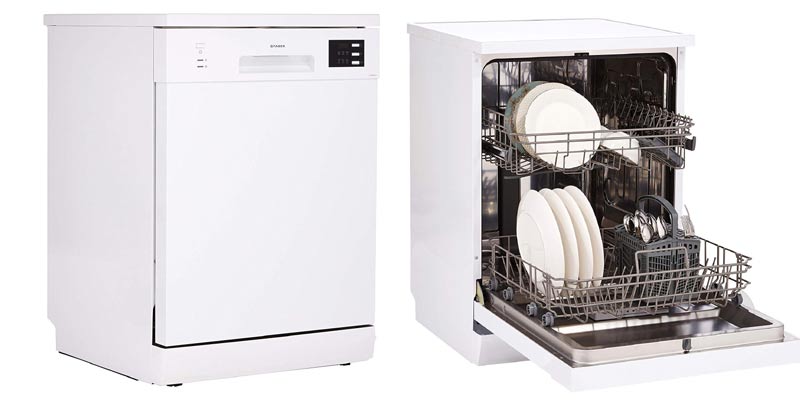 When it comes to kitchen appliances, Faber has been a market leader with a history of innovative concepts and designs resting its pillars on quality, durability, and technology. Faber's FFSD 6PR 12S dishwasher is also no different – it offers a host of features such as-
A 12 place capacity so that bigger dish loads also get cleaned easily
6 wash programs including glass for delicate glassware and intensive wash for those masala stained kadhais and other utensils
The delay start function enables you to start operations as per your schedule
It also has the half load feature – no need to wait for the whole dish load to start cleaning.
Height adjustable upper racks & foldable racks make it easy to load the dishes as per your requirement
It heats water to 69 degrees and takes care of tough stains, dirt, bacteria, and germs so that you not only get clean utensils but also hygienic ones
It is also environmentally friendly and saves water
IFB Free-Standing 12 Place Settings Dishwasher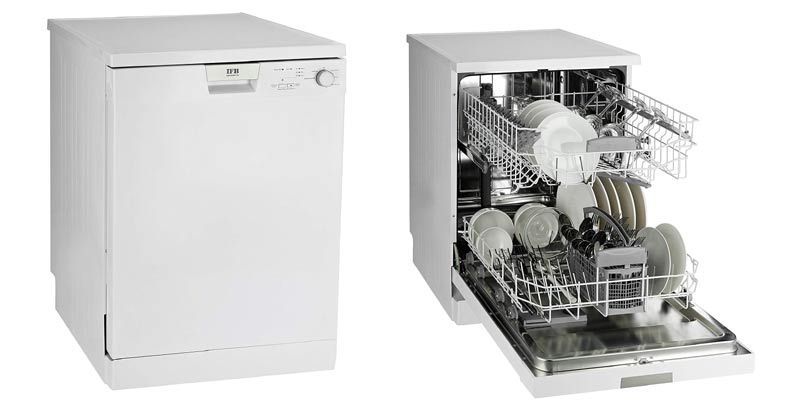 Another one from the trusted house of IFB, this is one of the top dishwashers in India with as attractive a price as the features. It is front loading, fully automatic, natural drying dishwasher that looks elegant in its white colour and clean design.
Whatever you need to wash- tall glasses, round cups or big pots and pans – the adjustable racks and baskets help you make use of the space as per your requirement
This is an eco-friendly dishwasher – makes use of less water, less detergent and saves big on electricity bills with A++ energy efficiency
Fewer utensils can be washed with the half load feature easily
It has a built-in device that softens hard water so that detergent can get dissolved easily and you get utensils that look spotless and are hygienically washed
Bosch 12 Place Setting Dishwasher (SMS40E32EU)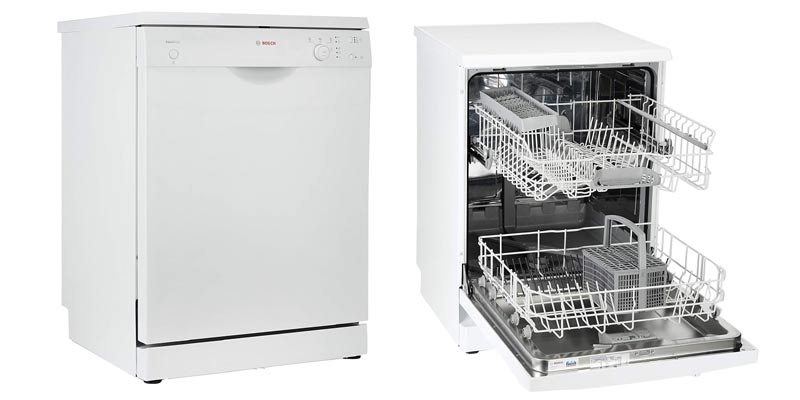 Bosch is known for its quality and innovative products, and this is one of the most popular dishwashers in India because of the attractive features it offers at an affordable price. The dishwasher is aesthetical, cleanly designed and easily matches with your kitchen interiors.
Just scrape off the food leftovers, and load the dishes – no pre-rinsing of utensils is required
The Electronic Delay Timer enables you to pre-select the program for the desired time you want the dishwasher to run
Half-load option makes it easy to clean fewer utensils with the same efficiency and hygiene
The EcoSilence Drive ensures low power consumption thereby saving you on electricity bills and still provides high cleaning efficiency
The dishwasher cleans all Indian cooking vessels with oils, masalas, and other stains with high efficiency
You always get hygienically washed utensils with this dishwasher – it heats the water up to 65 degrees C.
BPL 12 Place Settings Dishwasher (D812S27A)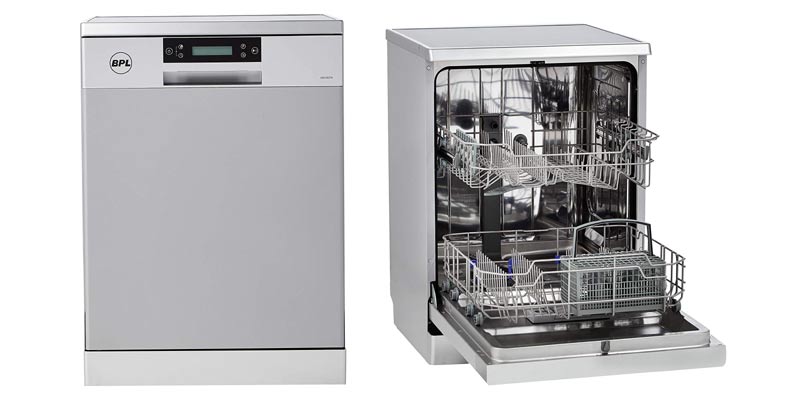 If you are looking for Indian brands of dishwashers, at an affordable price, and you would love BPL's D812S27A which has been designed and engineered keeping Indian cooking styles in mind. With a contemporary design, clean look and an aesthetic sense, it will blend in easily with your kitchen interiors.
Clear LED displays to make sure you can conveniently make use of its various features
Loaded with 8 wash programs it suits different types of utensils and cooking pots used invariably in Indian kitchens and cleans them efficiently
A 12 place setting makes it easy to clean many utensils at a given time
Racks can be folded conveniently to accommodate vessels of various sizes
Fewer number of utensils can also be cleaned with the half-load function
Unless you have pots with burnt foods, there is no need to pre-rinse the utensils at all
LG Free-Standing 14 Place Settings Dishwasher (D1452CF)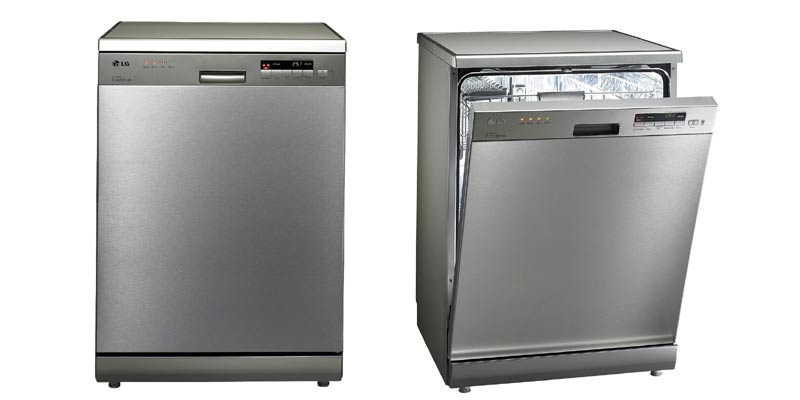 LG has been a brand to reckon with when it comes to home appliances. Loaded with sophisticated technology, better flexibility, and more space, it is one of the preferred brands of dishwashers in India
No matter what type of utensils or dishes you want to load in – with LG's unique Smart Rack™ the system the tines can be adjusted to easily load them all
Offers 5 wash programs and 14 place settings
The Inverter Direct Drive Motor allows efficient transfer of energy. It optimizes its spray intensity for every load to offer highly energy efficient results
The LED display is easy to read and follow and allows you to use the features conveniently
Not only you get an efficiently washed load every time, but you also save on power and energy
It has one of the lowest noise levels of just 45 dB which ensures it is the last thing you hear
So these are the top dishwashers in India – that actually suit the Indian kitchens. If you are looking to buy the best dishwasher in India, then you can easily choose from this list. Purchasing and getting them installed is quite easy, plus the new-found freedom is worth the price.
Considerations When Buying A Dishwasher In India
To help you decide on purchasing a dishwasher, here are a few points that serve as a dishwasher buying guide to make the best possible choice-
Size of the family – Crucial and most important factor would be how many loads you would need to wash a day. Smaller families can go for 8 or 10 place settings while bigger ones can opt for 12 or 14 place settings.
Technology and features – Most dishwashers work on similar technologies, but a few offer some better features such as a steam dryer or no need to pre-rinse. Basis your preference, you can choose and select
Look and built – You can opt for built-in dishwashers or portable, free-standing dishwashers depending on your preference. There are not a lot of colour options to choose from but the ones available should easily blend in with your decor scheme
Wash programs and speed – Depending on the type of utensils you use, check for the wash program that supports them. For example, if you use a lot of glass vessels then look for one that has a wash cycle for glass specifically. Time is also an important consideration here.
Hard water compatibility – If your area gets hard water supply, then it is important to invest in a dishwasher which can convert the hard water. This will help the detergents to dissolve better and give you clean and spotless utensils
Energy and water efficiency – Again, an important consideration. Check for energy efficiency ratings and water consumption levels according to your requirement
Other features such as safety, child-lock, door lock indicator, LED readability, etc can also be considered when buying a dishwasher.
The best dishwasher for you would be the one that offers you comfort, choice, hygiene, and convenience. Say good-bye to maid woes and invest in a dishwasher now.