Perhaps the most commonly used electrical appliance in all our homes is the quintessential ceiling fan. With tropical climate conditions like India's, switching on the fan has become a subconscious reflex. Ceiling fans have the dominant share in the fan market in India. Also, just like people, fans come in different shapes and sizes. So, choosing the right one can be a bit confusing. Hence we bring forth this article on the best ceiling fans in India.
The 11 Best Ceiling Fans in India 2023
Last update was on: March 25, 2023 6:04 pm
Here is the list of the best Indian ceiling fans, we have done the research so you don't have to.
Atomberg Efficio 1200 mm Ceiling Fan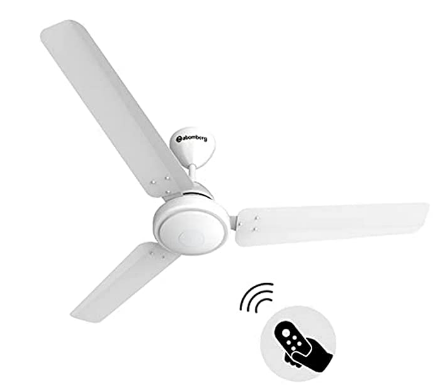 One of the best ceiling fans within Rs. 4000, Atomberg Efficio Ceiling Fan with remote control and BLDC motor saves both on your monthly electricity bills and budget. A product designed and manufactured by IIT Bombay Alumni, it is a result of engineering with efficiency. However, if you are still not sold on this, here are some Atomberg coupons & offers.
Benefits:
With zero humming noise and a BLDC motor, this fan runs like butter.
Very low power consumption even when operating at full speed.
The blades are made of aluminium, so you don't have to worry about rust. Additionally, the 1200 MM blades circulate cool air to the entire room (144 sq ft. room).
It also has a remote that can be used to set a timer, control speed, and put the fan on sleep mode, or boost mode.
Orient Electric Aeroquiet 1200mm Premium Ceiling Fan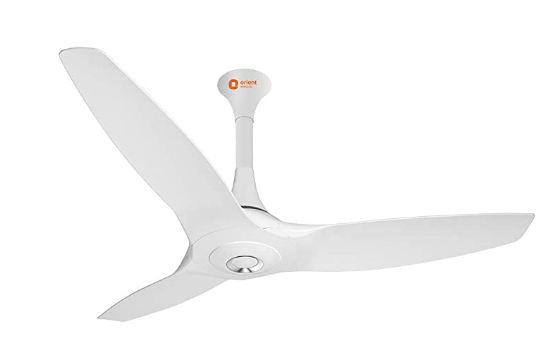 Orient fans have been around for as far as I can remember. This high-speed ceiling fan from the brand is of premium quality and makes a great decorative piece with a powerful motor and spectacular aerodynamics for superior performance.
Benefits:
A great design to start with, this fan has a perfect combination of a high-efficiency motor that results in maximum airflow.
The aerodynamically designed blades are quite advanced as they ensure silent operation with maximum air throw. The blades are rust-free as well.
The fan comes with an 8-pole heavy motor with a double ball bearing for a smooth and silent function even at high speeds.
It's very energy efficient, the fan will save you 40% of energy consumption when compared to other fans.
Havells Nicola 1200mm Ceiling Fan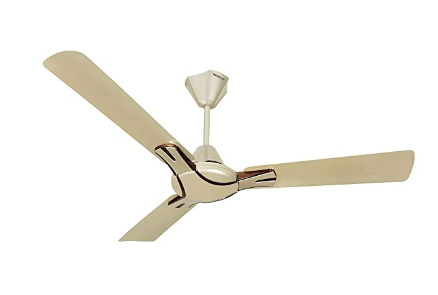 If looks could kill, then a Havells Nicola fan could do it. An aesthetically pleasing design and performance to match is rare, but Havells have done it. It scores equally well on durability, reliability, and longevity. The colour combinations will complement the interior of your rooms, and it is improbable that they will not get noticed. To add a cherry on top here are some Havells offers & discounts.
Benefits:
A highly efficient motor ensures a steady and impressive airflow, and you can feel air circulation in every corner of your room.
It has a unique canopy design and uses 68 watts of power.
Even at low voltages, the fan performs considerably well.
The design is contemporary and fits in any modern interior. The blades are robust and made of stainless steel, so rust is not an issue.
You can get this three-blade fan in different configurations suiting your room size such as 600 mm, 900 mm, 1200 mm and 1400 mm.
Crompton Uranus 1200mm 72-Watt Ceiling Fan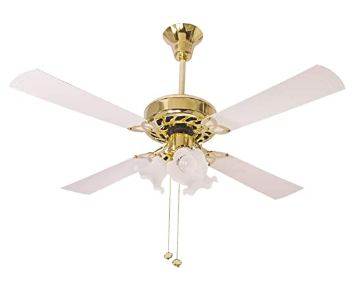 A stunning fan from the trusted brand Crompton will add a touch of royalty to your home. Aesthetics and utility with performance come into a balanced play with Crompton Uranus range of fans.
Benefits:
Committed to silent, efficient performance without compromising on the elegance factor, Crompton Uranus throws air consistently across the whole room.
With four blades, the sweep of this fan is pretty wide, and you get a cool breeze even in the corners.
The three lampshades are a work of superior artistry & have a 320 RPM motor that works efficiently in disseminating air.
There is a 4-speed setting option with a sturdy hanging rod. The power consumption is 72 watts.
Usha Diplomat 1200 mm 74-Watt Ceiling Fan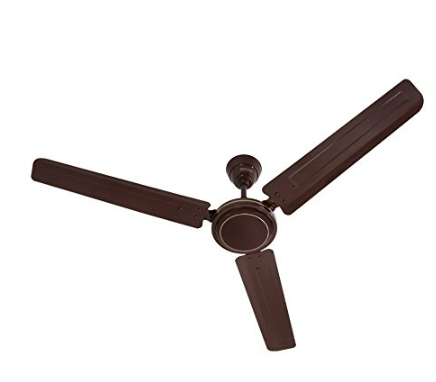 Usha has gained the reputation of being the most popular and best ceiling fan brand in India. A household name in India, Usha has been a leader in the industry and is undeniably one of the most economical and durable brands in India. Usha Diplomat is an affordable product without compromising on performance.
Benefits:
Usha Diplomat is for the simpleton – it is a three-blade classic design fan coated with powder for that glossy and attractive look.
The blades are placed at a high lift angle and provide a consistent and broader air throw. It can even perform reasonably well on low voltages as well and has four-speed settings.
Usha's products are reliable and durable, so that's one thing less to worry about. It consumes a power of 74 watts with a 1200 mm sweep.
Luminous Dhoom 1200mm Ceiling Fan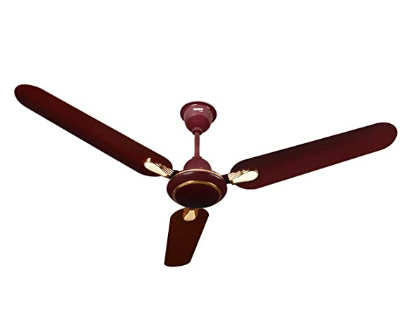 Another best high-speed ceiling fan on this list is Luminous Dhoom 1200 mm. Affordably priced with a slight designer touch, Luminous Dhoom scores equally on parameters of price, looks, and performance.
Benefits:
Your search for a fan with a clean and straightforward design with a touch of theatrical at an economical cost will end with Luminous Dhoom.
The blades are aerodynamically designed to provide maximum airflow and are non-corrosive. You also need not worry about the fan's performance when the voltage runs low.
The motor is powerful and can generate 380 RPMs even at low voltages.
The airflow is extensive, and you feel the cool breeze at all corners of the room. Also, it's arguably the best ceiling fan under 2000 Rs.
Crompton Hill Briz 1200mm Ceiling Fan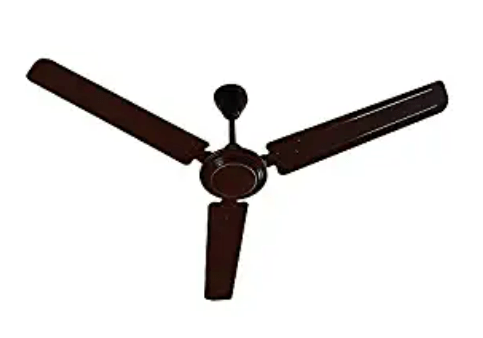 Crompton is not a designer brand, but it has a wonderful fan for the minimalistic lover too. Another affordable fan in the segment that is both reliable and durable, you will love it if you are a fan of simple things and high performance. The price tag is also quite economical as the ceiling fan is under 2000 Rs.
Benefits:
With a powerful 370 RPM double ball bearing motor, you get cool air widely distributed at a consistent speed across the entire room.
It has three smooth tip aluminium blades offering a sweep of 1200 mm.
The design is simple, and the power consumption is 75 watts.
Easy to clean, lightweight and with a durable hanging rod, this is an ideal fan if you are looking for fans on a budget.
Bajaj New Bahar 1200mm Ceiling Fan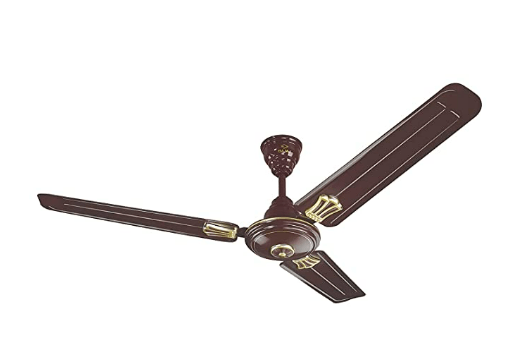 Bajaj ceiling fans stand out with their superior style, performance, durability, and affordability. People will buy a Bajaj product without blinking an eyelid, and that is the reputation the brand commands. It does not only offer the product in an affordable range but also has a wide variety of premium designer ones as well. Here is some extra Bajaj discount on this product.
Benefits:
Air delivery and speed are two factors that the fan is renowned for.
The blades are ribbed and bent at the ends for maximum air throw and the motor functions on a quick start torque mechanism, making it a powerful one.
The blades are rust-free and powder-coated for a glossy and classy look.
It consumes a power of 73 watts. Also according to reviews, this is one of the best ceiling fans under 2000 Rs.
Crompton HS Plus 48-inch 53-Watt Power Saver Ceiling Fan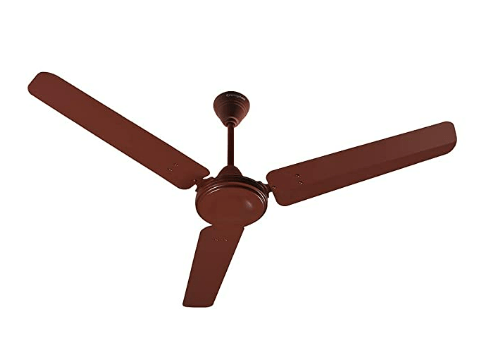 If power saving is on your list, but you do not want to go heavy on your pocket either, then Crompton's HS Plus is the best ceiling fan under 3000 Rs. It comes with a BEE 5 star rating. A minimalistic design and simple looks complement this power-saving fan saving you both when buying the fan and on future electricity bills.
Benefits:
This fan has a robust and durable structure with rust-free blades.
It provides better air circulation, and a double ball-bearing motor with 320 RPM power makes this fan the obvious choice.
It operates on 53 watts of power. Even at low voltages, the fan performs well and does not make any noise.
It comes with five-speed settings to make you get a cool breeze as per need. The blades are ribbed and work on 1200 mm.
Orient Electric I-Tome 1200 mm BLDC Ceiling Fan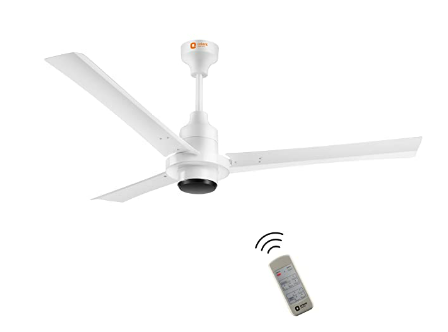 A ceiling fan is considered to be best under the range of Rs. 4000, with its highly stylish looks and excellent performance, is the I-Time from Orient.
Benefits:
The aerodynamically designed fan with a superbly powerful BLDC motor delivers excellent performance even when running continuously.
With a power consumption of just 32 watts, your electricity bills will be low with this fan. Good news, right?
It comes with remote control as well to make controlling speeds an easy affair.
It has a five-year warranty, so investing in this premium fan has its benefits.
ACTIVA Apsara 1200 MM Ceiling Fan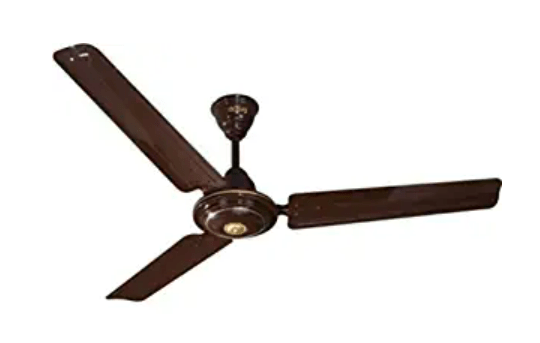 The last one to make the list of best ceiling fans in India 2023 is the Apsra from ACTIVA. Not to be confused with the scooter, but just like the scooter, this ceiling fan is the best choice of ceiling fan under 1500 Rs. Be it the bedroom or living room it seamlessly fits into every decor.
Benefits:
Available in 2 versatile colours to choose from, this high-speed ceiling fan can run at a speed of 390 RPM.
The aerodynamic blade design accommodates superior air through.
The X-flow technology provides better air-flow coverage in the room.
Energy-efficient with a 5-star energy rating.
The price is very economical and provides a bang for your buck.
Choosing the best ceiling fan for your home or office is a daunting task, but the list above will make it easy for you to choose the best ceiling fan. All the products mentioned above require minimal maintenance and deliver excellent performance. Choose the product from the list of best ceiling fans in 2023 and enjoy cool air in the hot summer months. However, if you want to buy something more portable, here is the list of the best tower fans in India.
About Ceiling Fans | Ceiling Fan Buying Guide
When buying a ceiling fan, make sure to look out for these 3 features:
1. Blade size
Depending on the size of the room, you can easily choose the right blade size. For bathrooms, storerooms, and porches (or any room under 75 sq.ft.), go for a blade size of 29-36 inches. For kitchens and small bedrooms (or any room between 76 and 144 sq.ft.), go for a blade size of 36-44 inches. For dining rooms and medium-sized bedrooms (between 144 and 225 sq.ft.), go for a blade size of 44-50 inches. For master bedrooms, drawing rooms, and halls (between 225 and 400 sq.ft.), go for a blade size of 50-72 inches.
2. Design and workmanship
A fan should be as pretty as it is functional. As it takes up a large space of your ceiling, you wanna make sure that the design is innovative. At some companies, you can even design your own fan with the help of their associates.
3. Additional features
If you're going to be investing in a fan, then it'd also be good to look for some bonus features. Remote controls, lighting fixtures, decorative medallions, and down rods are some of the features you can look for.
Questions that you might have
Which ceiling fans are best in India?
Answer: There are several factors that go into making the best fan. For instance, you have to consider the blade size, design and the additional features that come with it. However, these are the best quality ceiling fans:
Atomberg Efficio 1200 mm Ceiling Fan
Orient Electric Aeroquiet 1200mm Premium Ceiling Fan
Havells Nicola 1200mm Ceiling Fan
What are the best ceiling fans with lights?
Answer: Adding lights to the ceiling fans does make it a lot more aesthetically pleasing. These are the best ones:
Crompton Uranus 1200mm 72-Watt Ceiling Fan
Orient Electric Aeroslim 1200mm BLDC motor Smart Ceiling Fan
Crompton Jupiter 1200 mm
Crompton Nebula Ceiling
Havells Florence Underlight 1200mm Ceiling Fan
Orient Electric Underlight Woodwind 1300mm Ceiling Fan
Who makes the best ceiling fans?
Answer: Fans dominate the Indian air cooling market with several great brands. Here is the list of best ceiling fan brands:
Crompton
Orient
Havells
Bajaj
Luminous
Activa
For ceiling fans how many blades are best?
Answer: 5 Blades
The number of blades in a fan can have differing effects on the fan's motor but the more blades a fan has the quieter it is. These fans are best suited for your house or libraries.
Which ceiling fan is best at a low price?
Answer: Here are the best ceiling fans with the lowest prices: