With modern smartphone OEMs ditching the traditional 3.5 mm headphone jack, the need to own Bluetooth earphones is on the rise. These wireless headsets are much more convenient to use and carry when compared to their wired counterparts.
If you are on the lookout for the best Bluetooth earphone within a price range of Rs.2000, we can recommend a few brands that can provide better value for your money. Let us dive right away into the list of best Bluetooth earphones available under Rs.2000 to help you enjoy an immersive hands-free experience.
Top Bluetooth Earphones Under Rs. 2000 in India for 2021
1. boAt Rockerz 255 Sports Bluetooth Wireless Earphone with Immersive Stereo Sound and Hands-Free Mic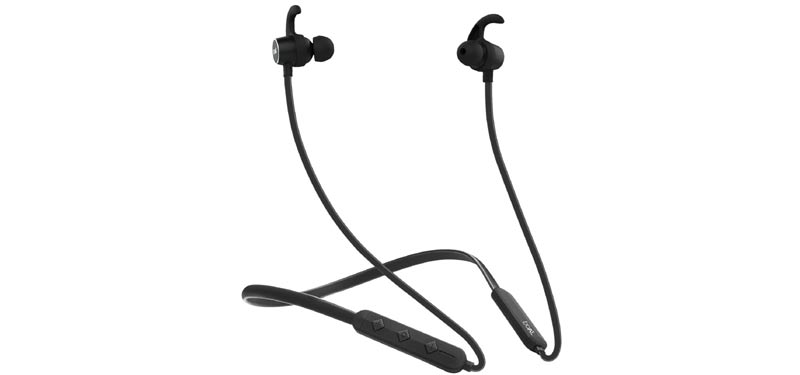 Featured on the first position on our list is the boAt wireless earphone in black designed with fins and magnetic ear tips that help it to fit in your ear snugly even while jogging or working out. Marketed as a "pedometer earphone", this device with free access controls can maintain perfect records and track of everyday activities. This lightweight Bluetooth earphone has a lightweight design and can pump out music in HD sound with deep bass.
This Bluetooth earphone with Mic supports the latest Bluetooth 4.1 version and is equipped with powerful Qualcomm CSR 8635 Chipset. The boat Rockerz device with sturdy metal housing comes with inline controls for adjusting volume, skipping track and for activating Smartphone assistants like Cortana, Google Now or Siri. The 100 mAH battery reaches full charge in 10 minutes and has 6 hours of play-time.
Price: Rs. 1399
2. Realme Buds Wireless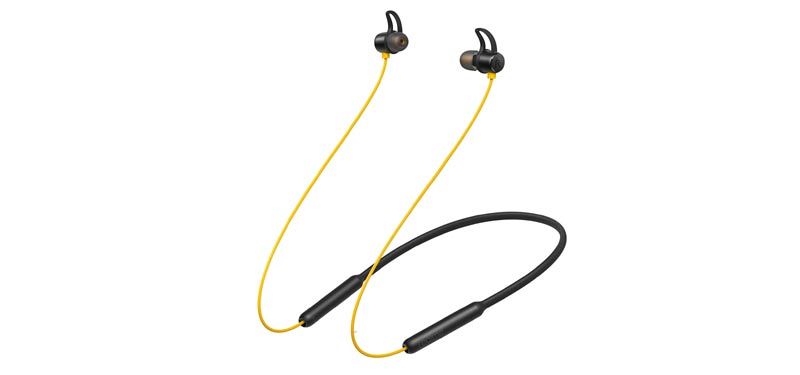 If you wish to experience exceptional audio quality with a high-end bass effect, then this wireless earphone tuned by Alan Walker is the right choice. The stylish neckband of silica gel looks sleek with clutter-free string crafted from memory titanium-nickel alloy and sweatproof earbuds make it highly durable. Featuring a huge 110 mAH battery and a bass driver of 11.2 mm, this Bluetooth device can play for 12 hours in a single charge.
Powered with Bluetooth 5.0 and backed by Japan Daikoku technology, this Realme earphone assures premium audio experience. The users of this device can be assured of a seamless connection, as it comes with the Magnetic Fast Pair feature. The 3-button remote with inline buttons helps you have better control over calls, music, and access Smartphone voice assistants.
Price: Rs. 1749
3. pTron Bassbuds in-Ear True Wireless Bluetooth Headphones (TWS) with Mic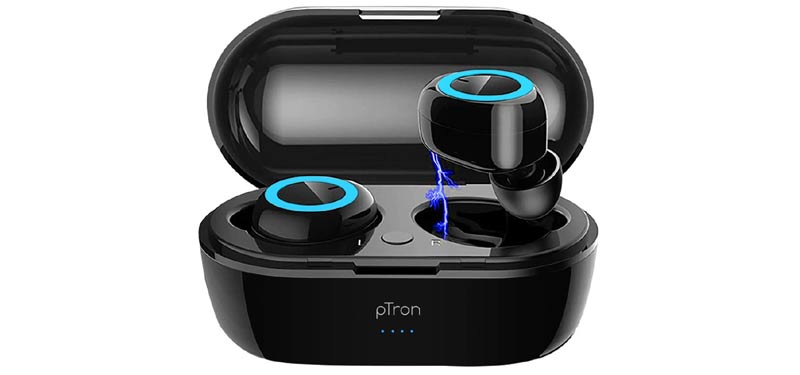 Specifically engineered with advanced acoustic components and Bluetooth 5.0 technology, this pTron wireless headphone can produce the best sound quality with high clarity bass notes. Featuring an ergonomic design to fit perfectly, this device with 4 gm earbuds can be worn all day. With a single charge for 1.5 hours, this wireless earphone can deliver a talk time of 5 hours and music playback time of 6 hours.
The pTron has a wireless range of 10 meters and assures seamless connectivity on a wide range of devices. Powered with TSW technology, the earbuds of this hands-free device can satiate your music appetite. It is offered with a portable charger and storage case of 400 mAH to enjoy a standby time of 100 hours.
Price: Rs. 899
4. boAt Rockerz 255 Sports Bluetooth Wireless Earphone with Immersive Stereo Sound and Hands-Free Mic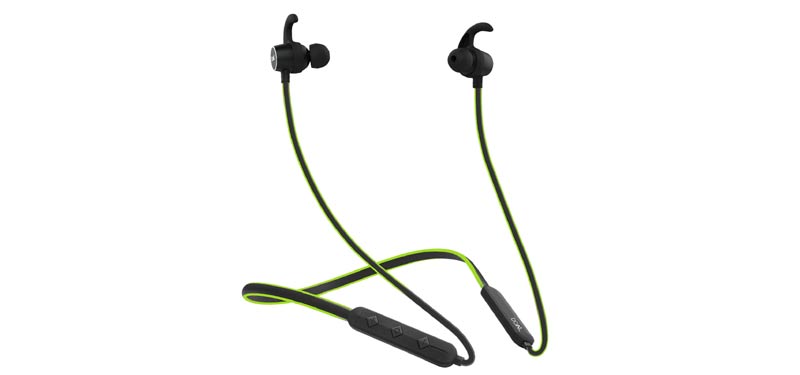 This funky looking wireless device in neon green and black can be a perfect mate while running or hitting the gym. Flaunting an ergonomic design with a wing-like structure over the magnetic earbuds, this Bluetooth earphone has the perfect length to comfortably sit at the back of your neck.
To ensure the users of optimum sound quality, boAt has powered it with a potent Qualcomm CSR 8365 processor. The device houses a battery with 110 mAH capacity to deliver a play-time of 45 minutes with 10 minutes charging time. Touted as the "pedometer earphone", this wireless device comes with a mic and inline controls to hike or lower volume, skip music track and to get connected with Smartphone assistants.
Price: Rs. 1424
5. pTron Bassbuds Lite in-Ear True Wireless Bluetooth Headphones (TWS) with Mic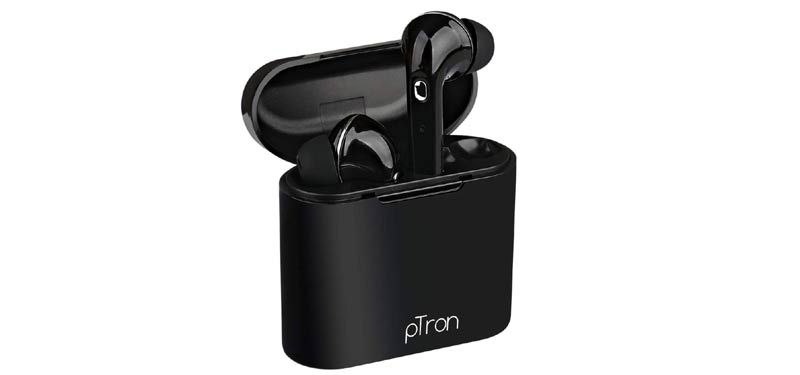 The earbuds of pTron device are powered with the advanced chip-set and wireless technology to provide the best audio quality with no loss to assure powerful audio output. Enjoy stable connectivity with the advanced Bluetooth 5.0 wireless technology that offers low power usage and quick device pair-up. The Hi-Fi stereo sound of this earphone assures clear calls and clean music with distortion-free bass.
With a single charge of 1.5 hours using the 400 mAH on-the-go charging case, this Bluetooth earphone can play music for 6 hours and make calls for 5 hours. With a 10 m connecting range, this wireless headphone can instantly connect and maintain connections precisely.
6. boAt Rockerz 255 Sports Bluetooth Wireless Earphone with Immersive Stereo Sound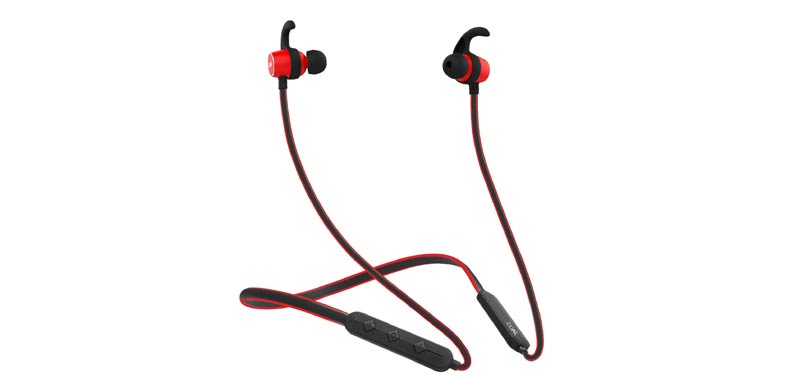 Redefine your style quotient with the boAt Rockerz 255 Sports Bluetooth Wireless Earphone that comes in the eye-grabbing raging red shade to compliment your workout clothes. Equipped with 10 mm drivers and state-of-art Bluetooth 4.1 CSR 8635 chipset, the device is all set to transmit true music with HD sound quality.
Sporting a lightweight design, this wireless headphone articulates music reproduction with deep bass and enhanced frequency response. The cVc noise cancellation technology powers the Bluetooth wearable device to deliver fabulous music experience by suppressing the noise around you. It requires 1.5 hours to reach full charge and has 150 hours standby time with 6 hours of talk time.
Price: Rs. 1499
7. Mivi ThunderBeats Wireless Bluetooth Earphones with Mic – Gun Metal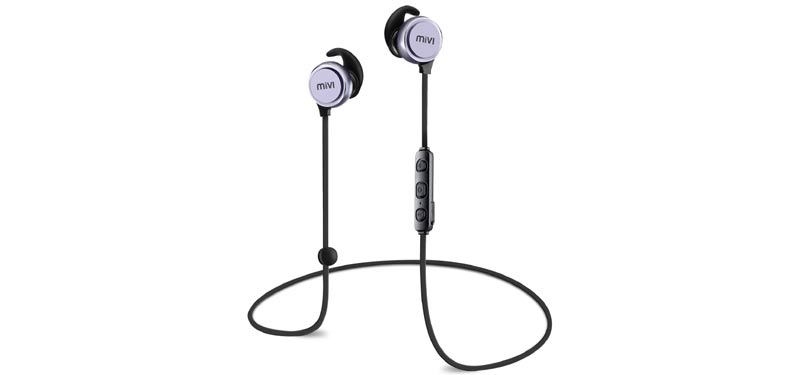 This Bluetooth earphone offered by Mivi is a stylish device that flaunts a rugged body crafted out of premium gunmetal to withstand wear and tear in the long run. The earbuds with an adjustable clip and magnetic locks help it remain in the same position even while you are performing workouts. It comes with three sets of ergonomically designed earbuds to offer the best fit.
It is easy to skip to the next song, change volume level or take calls with the 3-button remote. The power of Bluetooth 5.0 technology enables the earphone to allow connectivity up to 30 feet range and can pair up to 2 devices simultaneously. Plus, it has a playtime of 7 hours.
Price: Rs. 1329
8. pTron Bassbuds Lite in-Ear True Wireless Bluetooth Headphones (TWS) with Mic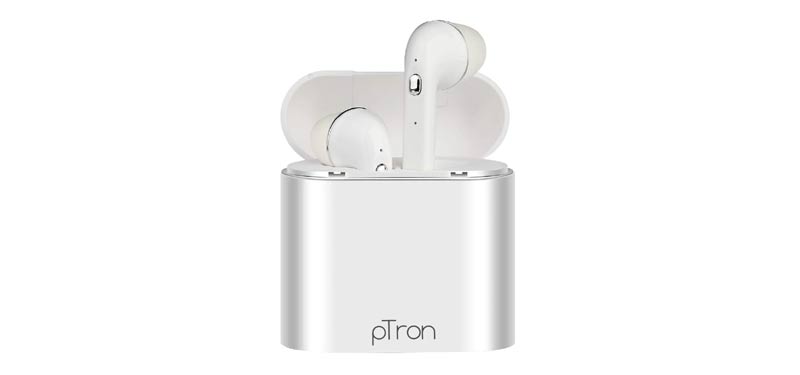 pTron has launched the Bassbuds Lite series of Bluetooth powered headphones as an extension of their Bassbuds TWS series. This wireless earphone in white with a compact 400 mAH charger is capable of offering a 5-hour talk time and music play-time of 6 hours with one full charge. It sports a comfy in-ear design, mic and comes with dynamic drivers of 10 mm that makes it grab a place among our list of best Bluetooth earphones.
As the Bluetooth 5.0 technology powers up the device, it utilizes very little power and connects with other devices at blazing speed. It allows hands-free call control and activation of online voice assistants with its Smart multifunction button. It has an open wireless range of 10 m and HD rendering technology to assure optimum sound quality.
9. pTron Tango in-Ear True Wireless Headphones (TWS) with Mic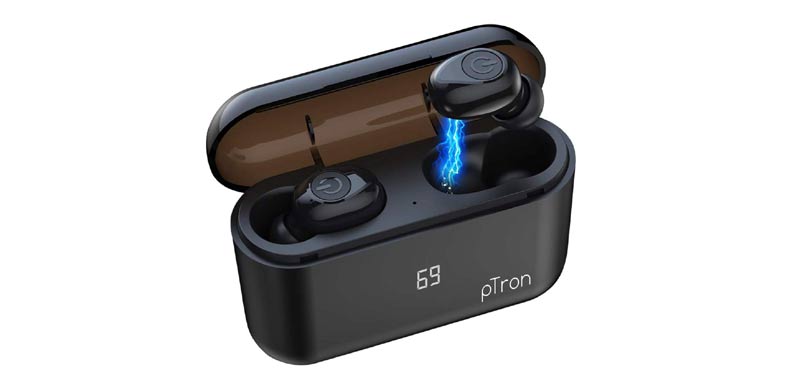 The Tango series of mini earphones with Mic is a perfect choice to get handsfree experience on all Smartphones. This Bluetooth 5.0 technology-powered device comes with super light earbuds that weigh just 3 gm each to fit inside the ear perfectly. The noise cancellation feature and highly balanced stereo sound cuts down the external noises while delivering clear music.
Playing the next song, accepting or rejecting calls is a simple task with the one multifunction button control. It comes with charging and storage case with an 1500 mAH battery that provides a stand-by time of 120 hours and play-time of 3 hours. The USB port that is built inside the device helps you recharge your mobile phones.
Price: Rs. 1599
10. Xmate Mana in-Ear Wireless Bluetooth Headphones with High Bass & Mic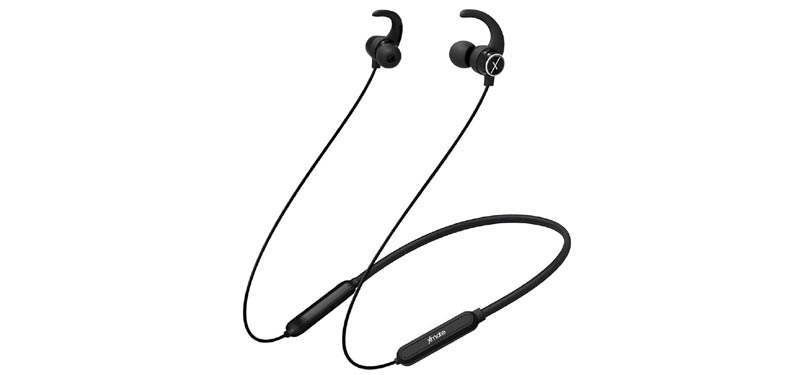 The well-known accessories brand, Xmate has introduced the new range of affordable wireless headphones with neckband under the name, Mana. This lightweight wireless device flaunts a comfortable, ergonomic design with sweatproof ear hooks made from flexible silicone. The ear tips with soft gel can hold it inside your ears even if you are engaged in yoga, sports or workouts.
It comes with cVc noise reduction 6.0 feature to deliver calls and music with crystal clear clarity. The Bluetooth 4.2 version assures a 10 m transmission range for uninterrupted connectivity. This Xmate device requires 2 hours to charge and the Li-polymer battery with 180 mAH capacity offers 7 hours of play-time along with a standby time of 100 hours.
Price: Rs. 799
Final Verdict
Apart from delivering high-quality audio, these Bluetooth wireless earphones are equipped with special features, such as call answering ability and in-line controls. Plus, you need not spend a lot to own one of these compact wearable devices, as they are offered at affordable prices. You can even get them at low prices by applying the jbl coupon code while making a transaction for your desired earphone.