The Flipkart Big Billion Days are announced! And they're filled with crazy deals and a line of products we never saw before.
Big Billion Days happen once in a year and this year it is held between 3rd October to 10th October 2021. We are delighted to announce to you that there are unbelievable offers on everything from smartphones to hard drives, washing machines, smart speakers, and the latest gadgets and accessories to beds, sofas, and decor items. A lot is in stores for beauty and grooming too. So ladies and gentlemen, put your rubber shoes on, as some of the deals might shock you.
Flipkart Big Billion Days Offers 2022
This time Flipkart has aggressively priced their products making it a budget shoppers dream. In this article,
We throw light on some of the hottest products and offers.
Will tell you how to make the most of the Flipkart Big Billions Sale.
Tell you some quick tricks and tips so you can benefit more from the Sale.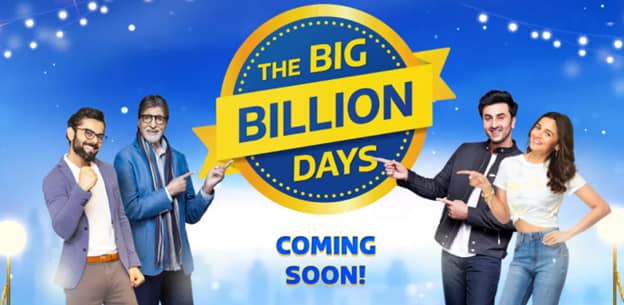 So, get ready. Let the Flipkarting begin!
| | |
| --- | --- |
| Category | Percentage Savings |
| Electronics and Accessories | Up to 80% off |
| TVs and Appliances | Up to 80% off |
| Fashion Items | 60 – 80% off |
| Furniture and Mattresses | Up to 85% off |
| Flipkart Brands | Up to 80% off |
The Flipkart big billion days Sale will be made live on 3rd October 2021, midnight. You can explore the endless options across all the categories like smartphones, washing machines, furniture, and more. With the increase in demand for digital payments, you can even get huge discounts by utilizing the offers and deals of flipkart big billion days from our store.
Now it's the time for you to open the app and your favorite items to the cart. You can even set the notifications to receive an alert message regarding new product launches and hottest deals.
What's in Store For You?
Electronics and Accessories to Buy
The never-before prices on speakers, cameras, DSLRs, laptops, smartwatches, headphones, and more will fill you with excitement. These are awesome quality products from major brands like MI, Phillips, Acer, Lenovo, Nikon, JBL, and many more. Buy the latest tech out there. And there's no other time to do so than the Flipkart Big Billion Sale. They've butchered the prices so we feel good. There's up to 80% to use in the electronics and accessories section.
Do you want to save even more on electronic appliances during the Flipkart Big billion Day sales? Check out the latest coupons from JBL brand where you can cut down the expenses up to 60%.
LED TV
Item
Description
Specifications
Offer

MI 4X 43-Inch

Go for the MI 43-inch model if you are looking for a smart TV under 30,000/-. You can conveniently place it on the stands or hand on walls for your comfort.
2.4 / 5 GHz Wi-Fi Support

3 HDMI & 2 USB Ports

178° Viewing Angle

34,999

29,999

MI 4X 50-Inch

Binge-watch your favorite content with the MI 50-inch smart TV. It has got all the features that you can expect while watching with family members.
Ultra 4K HD LED TV

Vivid Picture Engine

Dynamic Noise Reduction Filters

41,999

38,999

MI 4X 55-Inch

Buy a 55-inch smart LED TV online to enjoy the immersive visuals at home. You can monitor the TV with a smartphone or remote for better feasibility.
Android Support OS

60 Hz refresh rate

Dolby Audio, Stereo Sound

49,999

44,999
Bluetooth Headphones
Item
Description
Specifications
Offer

Boat

Do you love listening to music all the time? If yes, you should buy Boat bluetooth headphones that come at decent prices.

8-hours of playback time

10 meters wireless connection range

Bluetooth 5.0 connectivity option

2,499

1,199

OnePlus

Are you finding difficulty in carrying wired earphones while traveling? Now it's time to switch to OnePlus earphones that are designed to overcome the tangling of wires.

Noise cancelling mechanism

17-hours of playtime

Low-latency mode

2,190

1,999

Dizo

Dizo bluetooth headphones come with active noise cancellation, integrated chip, and transparency mode to offer seamless experience.
Dual mic noise cancellation filters

Water-resistant bluetooth headphones

Operate in transparency mode

4,999

2,999
Home Appliances & TVs: Home-Wali-Feeling
If your washing machine or TV is old, broken or simply needs an upgrade, this is the best time to buy a new one. On Flipkart's Big Billion Days, you get jaw-dropping prices on home appliances that include many top quality products like washing machines, ACs, geysers, mixers & grinders, TVs and much more. And you get exclusive Flipkart benefits if you buy them during the sale like cool exchange offers, discounts, rewards and a lot more. There are crazy discounts on high-end brands like Samsung, LG, Crompton, Flipkart brands and more. There's up to 80% off that you can grab right now.
Home Appliances
Mixer Grinder
Item
Description
Specifications
Offer
Bajaj GX1 Mixer Grinder
The mixer grinder from Bajaj is perfect for the Indian kitchen as it can perfectly mix the batter, make masalas and a variety of chutneys.
3 jars: 1.2 ltr, 0.8 ltr, 0.2 ltr
500 Watts
3 Speed control
Stainless steel jar
Multi-functional blades

3505


2099
EMI starts from Rs 110
Butterfly Rapid Mixer Juicer Grinder

The Butterfly mixer grinder, black in colour, has a stylish design and a transparent juice jar. Other than juices, you can easily make chutneys, and can also perform mincing and wet drying.
4 Jars
750 Watts
3 Speed knob
Auto switch-off.

5499


3149
Prestige Atlas
The Prestige Atlas which is in White and Blue in colour will add a touch of aesthetic to your kitchen. With a powerful motor and sturdy handles, the mixer grinder will get your job done effortlessly.
3 Jars: 1.5 L, 1 L, 0.3 L
550 Watts
Anti-skid base

2995


2349
Washing Machines
Item
Description
Specifications
Offer

LG

LG top-load washing machine comes with an inverter motor and a turbo-drum to effectively remove the stubborn stains on clothes.
6.5 kg dynamic drum capacity

Advanced inverter technology

Corrosion-resistant motor

18,490

15,490

Whirlpool

Bring home Whirlpool top-load washing machine to overcome the problem of manual cleaning of clothes. It comes with smart features to make the cleaning task easy for you.
740 rpm of spin speed

Incredible 12 washing programs

Agipeller type washing mode

16,800

12,990

Samsung

Samsung 6.5 kg top load washing machine ensures spotless cleaning with the quick wash programs, dynamic drum, powerful filtration, and inverter technology embedded in it.
Pulsator type washing method

Warranty – 2 years and 5 years on motor

Safety lock and water check sensors

21,500

15,990
Refrigerators
Samsung Direct Cool (with Base Drawer)
The Samsung Direct Cool Refrigerator comes along with a base drawer and an eye-catchy look, thanks to its vibrant colour. It is a great option from Samsung which is affordable and can keep your food fresh for longer.

Specifications:
Single door
198 L
4 Star
Stabilizer
Tough glass shelves

Warranty:
1-year product warranty, and
10 years on the compressor.
Offer: 19990
16750

Samsung Elegant Inox, RT28A3453S8/HL

EMI starting @ Rs 846 per month
Exchange up to Rs 12000

The Samsung two-door refrigerator is an exciting addition to your home kitchen. With attractive features like 12-hour power cut protection and energy-saving alarm, this refrigerator is a great modern appliance for today's refrigerating needs.

Specifications:
Double Door
253 L
3 Star
Digital Inverter Compressor
12-hour power-cut durability
Energy saving alarm

Offer:
28990
24390

Whirlpool Frost Free Convertible

EMI starts @ Rs 945 per month

The refrigerator has adaptive technology with a 6th sense built in where you can store different types of food. It has the load-sensing and weather sensing tech due to which your food will remain fresh, no matter what!

Specifications:
Double Door
265 L
3 Star
Digital inverter
Toughened glass shelves
Built-in stabilizer

Warranty:
1-year product warranty, and
10 years on the compressor.

Offer
31150
27240
<>Best Saving tip
Product
Discount
No Cost EMI
AC
Up to 60%
YES
Redeem via Super Coins
Refrigerators
Up to 55%
YES
Exchange offer
Kitchen Appliances
Up to 75%
–
Redeem via Super Coins
Iron, water filter etc.
Up to 70%
YES
Super Coins offer/ Exchange offer
Washing Machine
Up to 55%
–
Exchange Offer
TVs
Up to 65%
YES
Exchange Offer
Mobiles and Tablets Available at the Best Prices, Ever
Why use a phone with a broken screen, dysfunctioning battery, or simply an outdated one when you can upgrade it with so much ease in the Flipkart Big Billions Sale. Get your hands on super attractive smartphones that are packed with excellent features like a high megapixel camera, long-lasting battery, OLED display, wide-angle camera, and also astrophotography. You heard that right. And guess what! Mobiles at the sale are at 30% discounts even the biggest ones.
Mobile phones
Mobile phone
Description
Specifications
Offer

Redmi Note 9 pro

Redmi Note 9 is one of the most loved phones by the brand Redmi. It lies in the affordable range of phones and is power-packed with features including high-end cameras and long battery life.
128 GB ROM (Expandable)
4 GB RAM
6.67" Full HD+ Display
5020 mAh Battery
Qualcomm Snapdragon 720G processor
16 MP Selfie Camera
48 + 8 MP Rear Camera
Actual price: Rs. 17990

Get Up to 20% off with Amex Network cards

New price: Rs 14392

Redmi Note 7 Pro

The Redmi Note 9 Pro is a great choice for people who want to invest in an affordable yet quality phone from Redmi. The phone has a large display and a high MP camera among other features.
4 GB RAM
128 GB Storage
4000 mAh Battery
Quick charging
6.3 HD+ Display
48 + 5 MP rear Camera
13 MP Front Camera
12816

10% off on ICICI bank credit Mastercard (first-time transaction)
EMI starting from Rs 445

Redmi Note 9 pro max

Redmi Note 9 Pro Max comes with better features at a great price point. With long-lasting battery life and a bigger display than Redmi Note 9 Pro, this feature-packed device also has a beast front cam mode.
6 GB RAM
128 GB Storage
6.67" Full HD+ Display
32 MP Front Camera
5020 mAh Battery
Qualcomm Snapdragon 720 G processor
20990
10% off
First-time transactions with
Baroda debit Mastercard
ICICI bank credit mastercard
EMI is available from Rs 728 per month

Vivo Z1X

For Vivo lovers, the brand's Z1X is coming soon on Flipkart. The phone has a large display, an excellent MP front cam and Vivo fast charging along with a 712 AI processor which is perfect for the price range.
6 GB RAM
64 GB Storage
32 MP Front Cam
Rear Cam: 48+8+2MP
Qualcomm Snapdragon 712AIE
6,38" Display
Flash Charge

19990


16990
EMI starts from Rs 589
Exchange up to Rs 15000!

iPhone 11

Experience the smooth performance of the iPhone at a never seen before price in the Big Billion Days. With a Rs 3000 flat discount, you can get extra 5% cashback during the sale.
64 GB ROM
6.1" Display
Rear Cam: 12+12 MP
Front Cam: 12 MP
Smooth functioning

54900


51999
EMI starts from Rs 1778
5% cashback on payments made through Flipkart Axis Bank credit card.
Other popular phones to check out
Note 10 Plus – Sold Out
iPhone XR – Sale price: Rs 42999
Poco X3 – Sold Out
Vivo Z1 Pro – Sale Price: Rs 14990 (Coming Soon)
Realme 7 – Sold Out
Redmi Note 9 pro – Sale Price Rs 15945
iPhone SE – Sale Price Rs 32999 (Red, White and Black)
Poco M2 Pro – Rs 14999
Watches
Item
Description
Specifications
Offer

Casio

Do you want to look modern with high-tech gadgets? Start using the Casio watch that is perfectly designed for men. You can view the time in analog and digital formats as well.
Durable and stylishly designed

Analog and digital clock

Suitable for men

13,995

Fossil

Fossil is a popular brand among analog watches for the premium quality design and long-lasting performance. It is well-known for offering authentic models in different colors and patterns to match your outfit.
Simple and elegant design

2-years of branded warranty

Offers authentic and vintage look

9.995

3,998

Fastrack

Fastrack analog watches are a perfect choice for those who want to look stylish wearing a formal outfit. They design models for men and women considering the budget constraints.
Available in black, brown, and silver colors

Economical to buy

Best budget analog watch for men

2,095

1,676
Smartwatches
Item
Description
Specifications
Offer

boAt

If you are looking for a device for fitness tracking, buy a boAt smartwatch. It comes with a 1.3-inch touchscreen display with an activity tracker to monitor fitness levels.
Water resistance metal body

Touchscreen smartwatch

Heart-rate and sleep monitoring

5,990

 

2,999

OnePlus

Keep track of your sleep and heart rate with the OnePlus fitness smartwatch. You can connect with a smartphone and get notified for calls and messages.
AMOLED display

1-year of manufacturing warranty

Suitable for both men and women

2,799

 

2,499

Redmi

Redmi smartwatch comes in a sleek and stylish design to attract customers. However, it also has high-end features to track your health daily.
In-built GPS system

10-days of battery runtime

Available in black, blue, and ivory colors

5,999

3,999
Laptop Offers
HP 14S DY25O1TU

EMI Starting from Rs 6999 /-

Exchange up to Rs 15650 /-

Get the HP laptop, one of the best from the company, and a best seller right now. The laptop is extremely thin and lightweight and is a powerhouse of best in class features including 11th gen, a widescreen and MS Office.

Specifications:

Core i3 11th Gen
8GB RAM
256 GB SSD
Windows 10 64 Bit
14" Display
HP Support Assistant

Offer : 45892
41990

Lenovo IdeaPad 14 IML 05

EMI Starting from 6665
Exchange

The Lenovo laptop is an amazing option for students looking for a daily driver. Along with a wide display and decent storage, the lappy comes with an 'MS Office and Student 2019' installed.Specifications:
Core i3 10th Gen
8 GB RAM
256 GB SSD
Windows 10 64 Bit
14" DisplayOffer: 

52290


39990
DELL Vostro3401
 

EMI available from Rs 6230

Exchange upto Rs 15650

Another offering from the reliable brand, DELL, and one in its VOSTRO series that is loved by many customers, is coming soon on Flipkart. The laptop is a storage powerhouse and comes with high-end graphics.

Specifications
Core i3 10th Gen
8 GB RAM
1 TB HDD
14" Display
Black

Offer : 38777
37379

Gaming Laptop: MSI GF63 Thin 10UC-607IN Gaming Laptop

 EMI stars at Rs 13999

2 Years Warranty

 

 

MSI is Gaming!

The MSI Gaming Laptop, Coming Soon on Flipkart, has a powerful design. It comes with power packed specs and a wide screen making it perfect for your gaming sessions.

Processor: Core i5 (10th Gen)
RAM: 8 GB
SSD: 512 GB
Screen: 15.6"
Color: Black

Game specs:

4 GB Graphics
NVIDIA GeForce RTX 3050
Switching the laptop On = Game On!
Rs 83990
Exchange Offer on mobiles by Flipkart
These include iPhone XR, Samsung devices, and even Motorola Razr – the new age folding phone. Other than that, you can buy devices from any of the coolest and latest brands out there like Realme, Poco, Apple, Mi, Oppo, Vivo, Honor, Motorola, LG, ASUS, and so on. There's something for everyone in the Flipkart Sale as the phones range from a price point of Rs. 500 to Rs. 125000.
Save with No Cost EMI!
Join the Flipkart Smart upgrade plan with which you can save an extra 30% on phones with No cost EMI. So if you want to upgrade simply to a feature phone or want to buy a 5G flagship device, check it out at the Flipkart Big Billion Sale starting soon.
Bank offers that will sweep you off your feet
SBI credit (Yono) and debit cards will get an extra 10% discount on all purchases in the Big Billions Sale. Enough to clear the wishlist for a few years for sure.
Big Billion Fashion Sale: Redo your style with the latest trends
Flying Machine, Lee, Highlander, Puma, Adidas, you name it; there are thousands of clothing and footwear brands and 20L+ styles in the Flipkart Big Billion Days. There's even more style inspo that you can get. You never have to look boring any time as the range of apparel and western outfits for men and women both will give you enough to wear a new one every single day for the rest of the year in Indian and western wear both.
Worrying about the prices? You get an extra 10% discount on Fashion apparel if you buy it on the first day!
Beauty & Baby products As That Smile Is Precious
Beauty products, toys, and food items that start from Rs 79 are available for delivery. There's fragrance, sports items, bathing essentials, grooming kits, and lots more. So head over to the Flipkart Big Billion Day Sale 2021 and enhance that million-dollar smile on your baby, and yourself. It's your chance to happiness in the dreadful year of 2021 by indulging in a little treat. And what can bring the happiness back if not an exclusive make-up kit or a grooming set? Oh, Wait! There are more exciting deals to grab from the Flipkart Sale.
Why spend blindly when you can get a deal!
Spin the Deal Wheel and unlock opportunities to save, get super coins, or feast on limited stock items. The sale is so exciting that you have options to choose from single products or combos. You guessed it right! Combos will get you more savings.
Furniture and Home essentials For Unbeaten Coziness at Home
Your house should look as beautiful as you are from both inside and out. So decorate it by utilising this one time chance from Flipkart in the form of its mega sale 2021. The sale has hundreds of options in beds, sofas, nightstands, study tables, and anything that you can think of for your home. Moreover, the stunning prices in home essentials will surely stupefy the home-maker in you.
Travel Deals: Time To Execute Your Trips
Chalo Dilli, Goa, Manali, or literally anywhere you like by stealing the travel deals on Flipkart Big Billions 2021. Discounts are doubled and benefits are quadrupled. 2X% off on flight bookings! What else can a travel junkie ask for? This is the best time to even advance book your tickets. Take advantage of the Flipkart Sale and plan your holidays. There are many discounts on different airlines for you.
Get VIP treatment by becoming a PLUS member
Plus members are not just given that name by Flipkart for nothing. They're super lucky and get the best of everything.
Become a PLUS member and what are the benefits?
Shop as you would regularly
For every Rs 100 spend you get 2 Super Coins
When you collect 200 Super Coins, you are automatically promoted to being a PLUS member. It's free!
Then continue shopping and add to the thrill of it with exclusive benefits available only for PLUS members. Some of these are

fast delivery,
early access to sales
Extra discounts
Preference for Customer Care
If you pay via Super Coin, you get 10% discount on that order. What are you waiting for?
Moreover you can exchange the coins for reward and be better winners during the sale.
You can check your Super Coins in your Rewards Store.
For PLUS members, The Big Billion Sale will start from 15th October itself at 8pm.
Big Billion Days Early Access
The early access is ON, Shopaholics! Head over to the Flipkart Big Billion page here and sign up for the royal treatment!
No-Cost EMI, Even on Debit Cards!
This exciting feature of Flipkart Sale waives off the interest fees by giving a discount on the exact amount of interest applicable to that order. So invest in making your life better by grabbing the big-ticket items which you need to pay via the EMIs option and save on the interest rates.
Maha Price Drop, Crazy Deals, Flash Sale and Rush Hours
The Big Billion Sale will have a Maha Price Drop feature where there will be an extra 20% off on products and new deals will be introduced every 8 hours. These deals are called 'Crazy Deals' and they will happen at 12 am, 8 pm and 4 pm every day! Moreover, there is a Rush Hours feature where users will get to witness the lowest prices of the sale until 2 am on the launch date.
And if you want to check out more savings options for Flipkart, here is a list of coupons for you to use while you shop to save more.