If you thought that only fat or overweight people were body-shamed you are wrong. Underweight, thin and skinny people are also often ridiculed for their weight. No matter how many hours you work out in the gym gaining muscle weight is not as easy as it may look. And that is where weight gain supplements or mass gainers come into the picture. Weight gainer supplements coupled with regular workouts are a boon for people who find it hard to gain weight despite all possible efforts.
As a general thumb rule, we all know that in order to lose weight we need to burn more calories than what we consume. Similarly, to gain weight, body, and muscle mass the calorie intake has to be more than what one burns, right? No, actually, this is partially right because if you keep on increasing calorie intake you will end up having a potbelly and all calories will rest in your body as fat. That is definitely neither healthy nor recommended.
Unless you are burning a certain number of calories, you may not get the results that you are looking for. Having a tailored diet plan and an exercise routine is a must. It's also important to keep a check on what you consume so you gain muscle mass and not end up getting fat. Weight gain supplements help boost your nutritional intake by giving you high-quality calories to support intense training you may be undertaking. Protein supplements provide you with the additional dose of nutrition you may not be able to consume through your diet otherwise. The supplements can be easily bought online. They come in different sizes and packaging. Depending on the type and the quantity, the costing of the item can change. Thus we also recommend you to use offers to buy weight gainer supplements and save a chunk of money. You can enjoy plenty of discounts on various types of Mass gainers.
This brings us to our next question – which supplements should one buy?
List of Top 10 Best Weight Gain Supplements in India for 2022
Last update was on: June 27, 2022 8:24 am
Best Weight Gainer Supplements
Optimum Nutrition (ON) Serious Mass Weight Gain Powder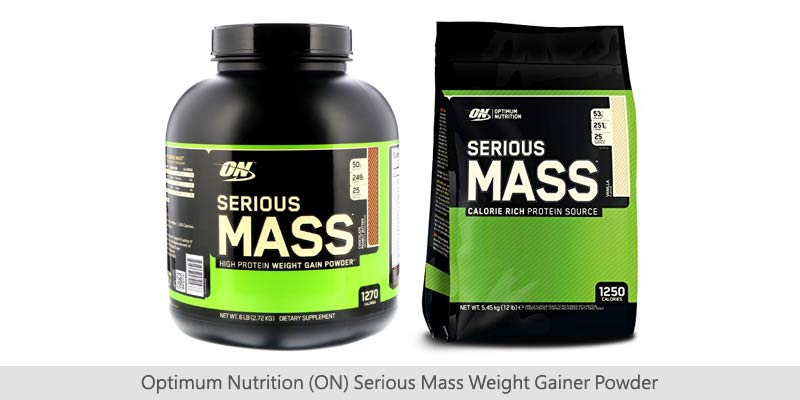 Weight: 2.72 Kgs
Calories: 2,773
Optimum Nutrition (ON) Serious Mass Gainer Powder helps both in muscle gain and weight gain.
Comes in various flavours like banana, vanilla, chocolate and chocolate peanut butter.
Optimum Nutrition (ON) Serious Mass Gainer is a non-vegetarian high calorie weight gain powder with carb protein ratio of 5:1.
In a single serving it offers 1250 calories when mixes with water and 1640 calories when made into a shake with low-fat milk.
It provides 50 grams of mixed proteins and 250 grams of carbohydrates without any added sugar.
Contains Glutamic acid, Glutamine, and Creatine along with essential minerals and vitamins.
Amway Nutrilite Protein Powder Pack – 500 Gm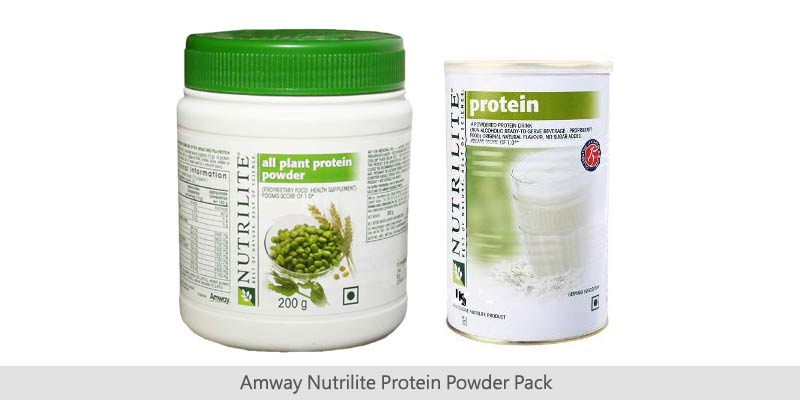 Weight: 500gms
A vegetarian product, plant based protein powder sourced from soy, wheat and yellow pea.
Amway weight gainer helps in gaining lean muscle instead of fats
Provides 40 calories and 8 g of protein per 10 g serving.
Supplies 9 essential amino acids which can't be produced in the body and must be obtained from outside
Unflavoured and does not contain sugars
Sinew Nutrition Elevate Mass Gainer with Digestive Enzymes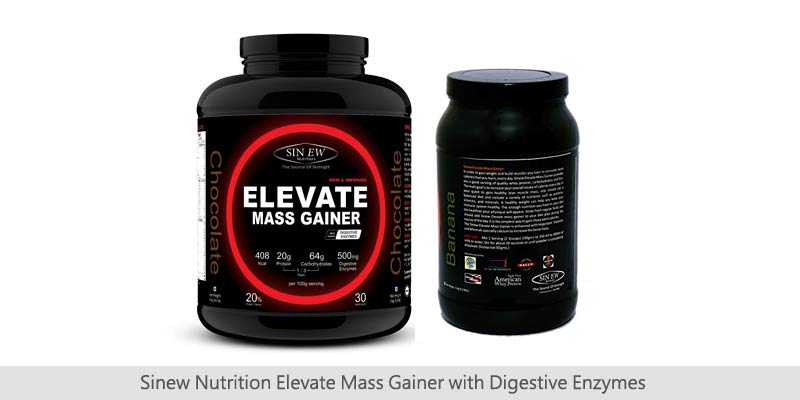 Weight: 1 Kg
Calories: 64g carbs, 20g proteins/servings
Sinew Nutrition Elevate Mass Gainer provides carbohydrates & protein in 3:1 ratio (64g of carbs | 20g of proteins) per serving.
It is enriched with digestive enzymes and provides you with 2 grams of fiber per serving.
Contains glutamine and glutamine peptides, essential minerals and vitamins making it an excellent post workout drink.
It provides 388 kcals per 100 grams of serving which is equivalent to 3 scoops.
Has a special lump free formulation – mix it with water, milk or juices it readily and smoothly dissolves leaving no residue.
MuscleBlaze Mass Gainer XXL with Complex Carbs and Proteins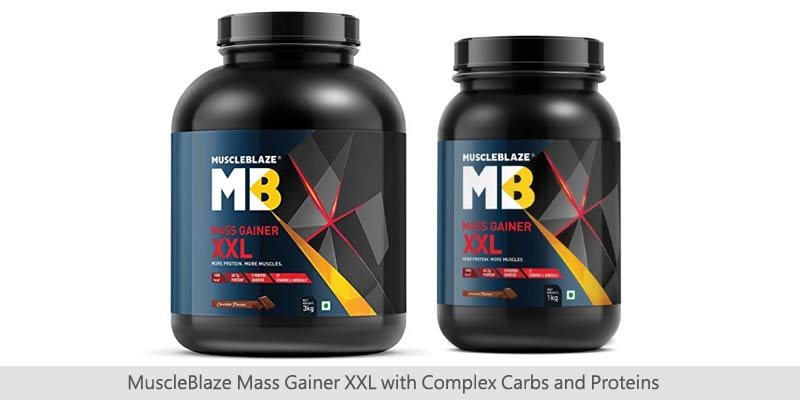 Weight: 1 Kg
Calories: 60.7g proteins + 177.8g carbs/3 servings
MuscleBlaze Mass Gainer XXL with Complex Carbs and Proteins is a veg product. Proteins are sourced from 5 different sources.
It provides with 60.7g Proteins and 1000 Calories in 1:3 ratio in 3 servings
To boost absorption of nutrients, MuscleBlaze Mass Gainer XXL is enhanced with DigeZyme.
It is further enhanced with 27 vital minerals and vitamins that help in making muscles and prevent fatigue post intense and heavy workout sessions.
It comes in 4 flavours – chocolate, café mocha, cookies and cream and plain vanilla.
Fires up your metabolism and prepares your body for strenuous, intense workout sessions.
Universal Nutrition Real Gains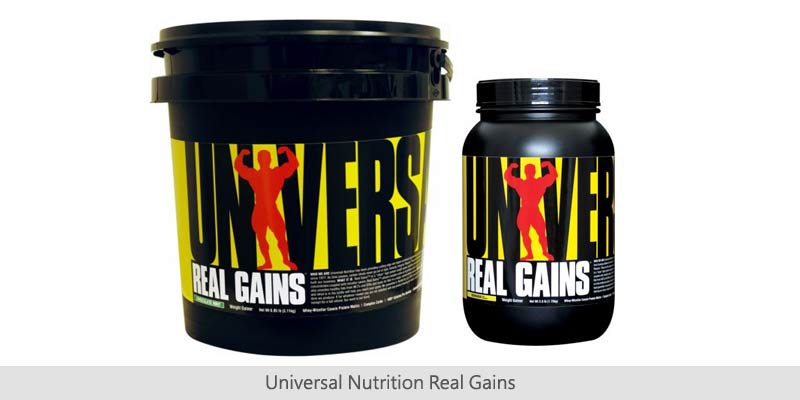 Weight: 3.1 kg(6.85 lbs)
Calories: 602 calories/155 gms
This is a gluten free pre-and post-workout mass gainer powder.
155 grams serving size (3.5 scoops) provides with 602 calories
Universal Nutrition Real Gains Mass Gainer Powder has lower cholesterol, fat and sugar content.
Although it offers a great taste and a rich amino acids profile, it lacks where vitamin profile is concerned.
It helps in increasing your metabolism rate and also beneficial to build muscle weight.
Labrada Mass Gainer – 6 lbs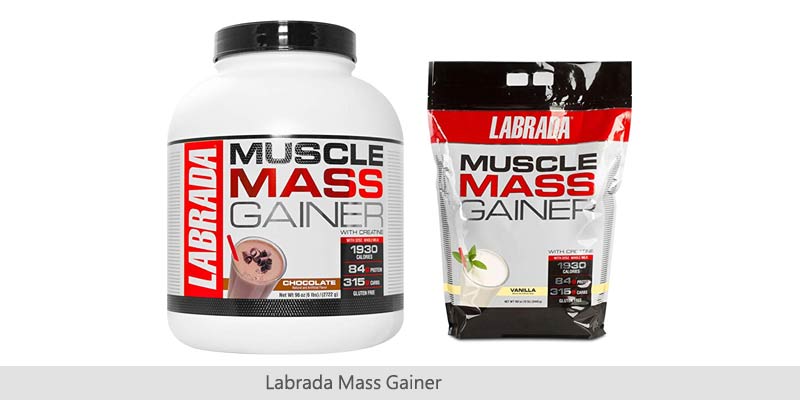 Weight: 2.72 Kg
Calories: 1930 calories + 84 gms protein + 350 gms carbs
It offers highly concentrated 1930 Calories and 84g Protein when mixed with 32oz (0.94 litres) of whole milk.
This is a gluten and sugar free mass gainer.
Includes 17g of branched amino acids which aid in building muscle and help your recover from post workout sessions.
Labrada Muscle Mass Gainer is a high-calorie bodybuilding shake fortified with muscle building protein, carbohydrates, creatine monohydrate and essential nutrients.
Suitable for people who are on the move and cannot gain weight.
It comes in 3 delicious flavours – vanilla, chocolate and strawberry.
High Voltage Mass 1000 Weight And Mass Gainer Supplement 2.5 K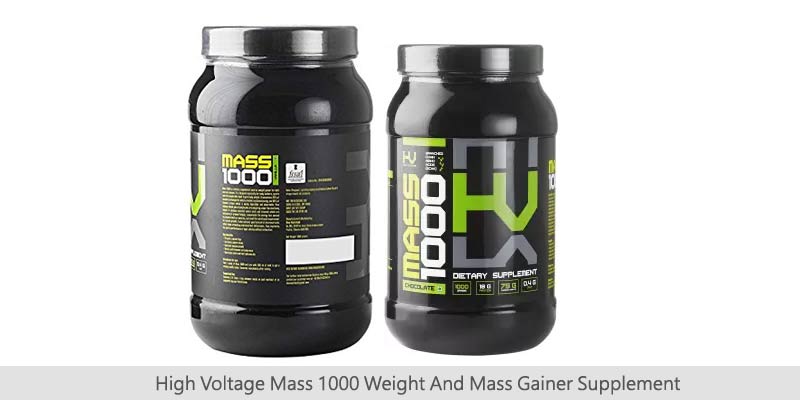 Weight: 1 kg
Calories: 454 calories/120 gms
Flavor: Vanilla, Chocolate
A top gainer protein powder, it works to increase muscle mass performances, muscle recovery and muscle endurance.
High Voltage Mass 1000 Weight And Mass Gainer Supplement gives you 454 calories, 21.6 grams protein and 90 grams carbohydrate when 120 grams serving size is consumed.
The protein to carb ratio is 1:4, suitable for people who are looking to gain serious muscle mass.
Contains 18 grams of whey protein and no fat.
The product contains an additional 3.5 grams of fiber to aid easy digestion
Can be consumed as a pre and post light workout session, recommended servings are 4 in a day.
Comes in two flavours – chocolate and vanilla – High Voltage Mass 1000 Weight and Mass Gainer is imported all the way from US.
MuscleTech Mass Tech Performance Series – 7 lbs, 3.18 kg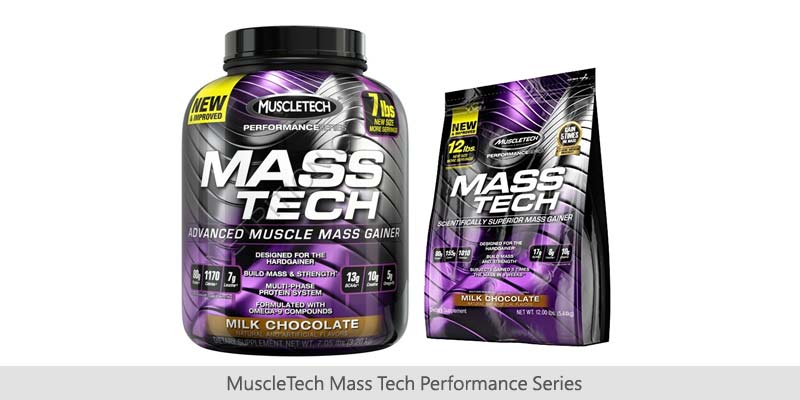 Weight: 3.18 kg
Calories: calories/155 gms
Flavor: Vanilla, Milk Chocolate
MuscleTech Mass Tech Performance Series – 7 lbs is suitable for hard gainers and people who are unable to gain weight despite many efforts.
It helps to build mass and strength.
You can get as many as 1010 calories, with 80 grams proteins and 156 grams of cabohydrates in a serving of MuscleTech Mass Tech Performance.
A serving size is 235 grams (5 scoops) with 16 Oz skim milk.
Contains 10 grams creatine and 17 grams BCAAs to help you increase strength faster.
Comes in 4 flavours- milk chocoloate, vanilla, strawberry and cookies and cream.
MuscleBlaze Weight Gainer – 1 kg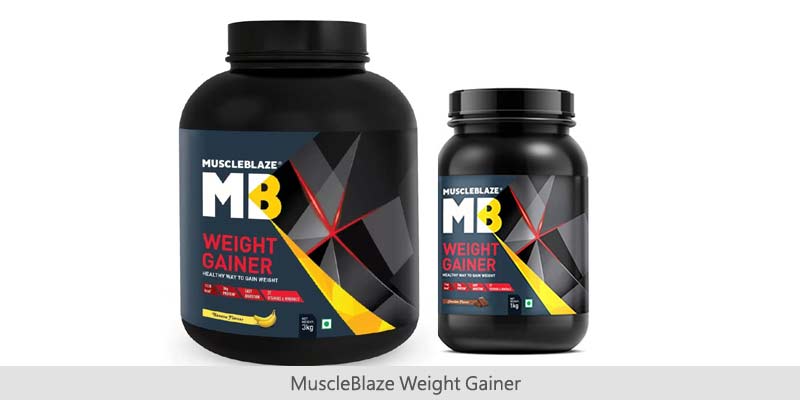 Weight: 1 kg
Flavor: Banana, Chocolate, Kesar Pista Badam
Suitable to be used as a weight gainer for both men and women.
Provides optimum energy to the body thanks to the balanced blend of high quality proteins, carbohydrates, fats, vitamins and minerals.
MuscleBlaze Weight Gainer powder contains supports healthy weight gain and is preferred by fitness enthusiasts and body builders equally.
Offers 1146 kcals, 36 grams proteins and 27 essential minerals and vitamins.
Contains fiber to support easy digestion.
A single serving size is recommended as 100 grams, mixed with 300 mL of milk
Women are recommended to have 2 servings a day while men are advised for 3 servings a day.
Available in 3 delicious flavours – banana, kesar pista badaam and chocolate.
Endura Mass Weight Gainer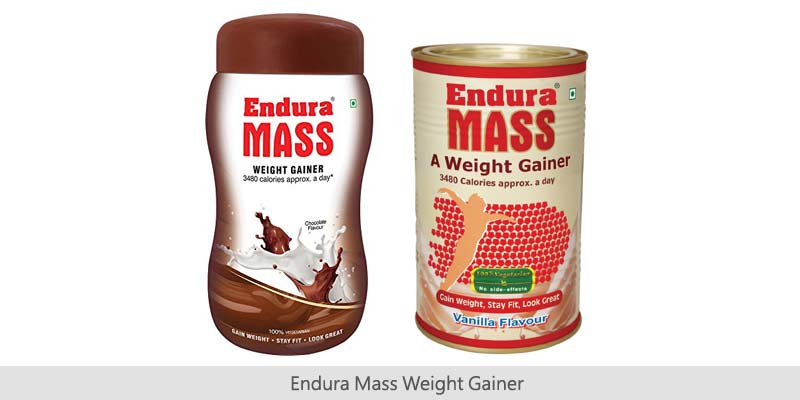 Weight: 500 grms
Flavor: Vanilla, Banana, Chocolate
Endura Mass Weight Gainer is a gluten free, non GMO, vegetarian weight gain powder in India.
Can be used by both men and women for healthy weight gain.
It contains 74 grams of carbohydrates and 15 grams proteins.
This also contains dietary fiber <1 gram to aid digestion.
It is available in 4 different flavors- chocolate, strawberry, vanilla, banana
Tips for buying weight gain supplements
What are weight gain supplements?
To gain weight you need to consume more calories than you consume from a clean diet. But managing 6 meals a day can be tiresome and unfeasible for most of us. If you are someone who has a very high metabolic rate, leads a busy lifestyle or can eat only as many calories as you burn the chances of you gaining weight without a weight gain supplement are quite negative. You need to invest in a good quality mass gainer that has more calories than normal protein supplements and provides you with quantified macros, fats, proteins, and carbohydrates in an easy to make, convenient, cost-effective and quick shake.
Although the terms are used interchangeably, ass gainers and weight gainers are quite different in their structural composition, especially when it comes to the carbohydrates and protein ratios. Mass gainers have a ratio of 1:3 for carbs and proteins while weight gainers have 1:5 ratio. This is basically the differentiating factor between mass gainers and weight gainers.
Key points that'll help you in your mass gaining journey
As you know by now, gaining mass is a result of many factors. Here we'd like to provide a few pointers that'd help you stay focused.
Designate a duration and accordingly prepare your mass gain plan
Create a supplement intake routine as per your objective
Never skip gym. No matter what!
Perform smart exercises in consultation with your gym trainer
Work around what you have. Have realistic expectations that you set with your professional gym trainer
Create a motivation board to never loose motivation for what you are doing
If you looking to gain weight, do not rely on just the best mass gainers or weight gainers alone. You have to supplement these weight gainer powders with daily work out and intense exercises to get desired results. You need to discuss this with your gym trainer who can guide you on what mass gainer or weight gainer you should consume depending on the type of calories being offered and the level of weight you need to gain.
Never consume mass gainers on your own. The above list of weight gain powders in India consists of very effective brands that can be unhealthy for you if not taken under guidance.