How many of you love your two-wheeler rides but dread wearing the full-face covering heavy helmets? We are sure most of us do! What if we tell you that without compromising the safety, you can opt for chic open face helmets provided you are not riding on high speed? Does it sound great? Open face helmets or half-helmets are comfortable to wear and remove, and let enough air on your face during those summer months and suits people who use motorcycles or scootys to travel short distances daily.
Two-wheelers have made our lives so comfortable and easy for many reasons. They aren't easy to ride, and they can also help you maneuver traffic deadlocks with ease and speed. Plus the cost factor- most two-wheelers (except for high-end motorbikes) are budget-friendly. But then, two-wheelers are two-wheelers, and you always run a risk of falling and hurting your head. This is why helmets are a must for anyone riding a scooty, motorbike, scooter, etc.
Most of us shy away from wearing the full-face covering helmets, especially when we have short distances to cover. Add the hot sultry days to the equation and wearing a helmet sounds tedious and uncomfortable. But guess what? You don't have to compromise safety (or style) even when the sun is hot, or you have to go a few kilometers. You can opt for trendy, comfortable and stylish open face helmets that not only save your head if you have an accident (God forbid!) but also keep you cool and secured for your ride.
Have a Look at Top 10 Open Face Helmet Brands In India for 2022
Last update was on: January 20, 2022 7:04 pm
Best Open Face Helmet Brands
Studds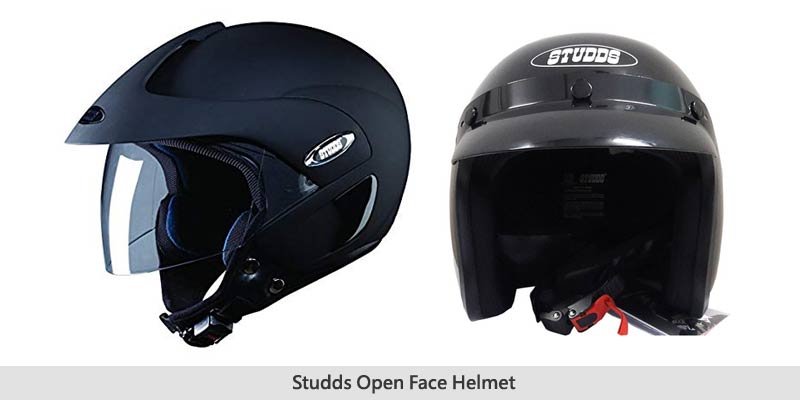 Going wrong with Studds Helmets is hard! They are impressive, colorful, trendy and come in various styles. Safety is also not compromised as they are all ISI marked. Their open face helmets come with removable and replaceable liners and high-quality UV resistant Polyurethane paints. You can get some of the best open face helmets from the brand. Helmets like Studds Downtown Open Face Helmet, Studds Ninja Concept Economy Open Face Helmet are quite popular and fall in a decent price band.
Rating: 4.4, 4.3
Overall Reviews: Good
Buy Now
Steelbird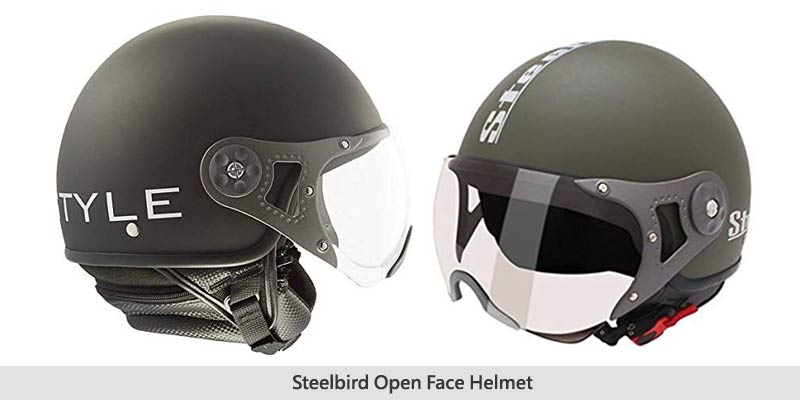 Based in Delhi, Steelbird offers youth-oriented designs in open face helmets that look attractive and come in great colours. Priced economically, Steelbird also offers attractive features like anti-scratch, anti-fog visors and anti-glare protection in its helmets. They also carry ISI certifications to showcase its safety front. Check out Steelbird SB-27 Style Open Face Helmet, and you will love how light it weighs when it offers so much protection.
Rating: 4.1/5, 3.8/5, 4.2/5
Overall Reviews: Good
Buy Now
Vega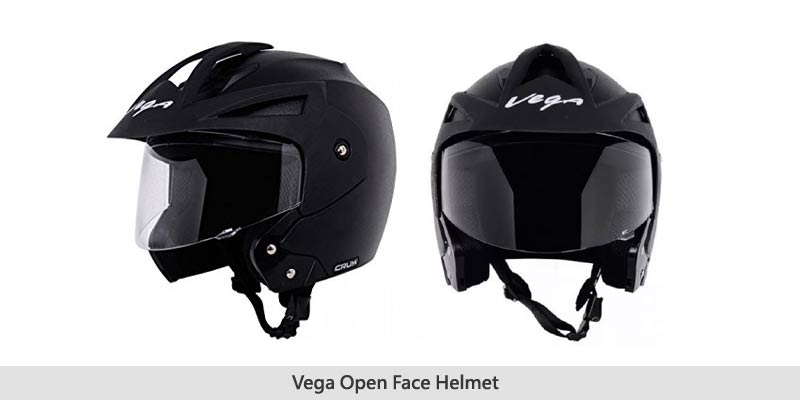 Vega is popular with lady riders. However, they do offer superior helmets with top-notch designs and safety features for both men and women. They come on lovely colors, and good ventilation to the rider is one area they have considered a lot while designing their open face helmets. Their products are pre-certified by ISI and DOT that brings self-confidence to the rider. Vega helmets boast of sleek designs, comfortable fit and attractive features at economical prices. Vega Cruiser Open Face Helmet with Peak and the Pink Vega Verve Open Face Helmet For Women are two popular open face helmets by Vega.
Hotdeal Market Riderwear Helmets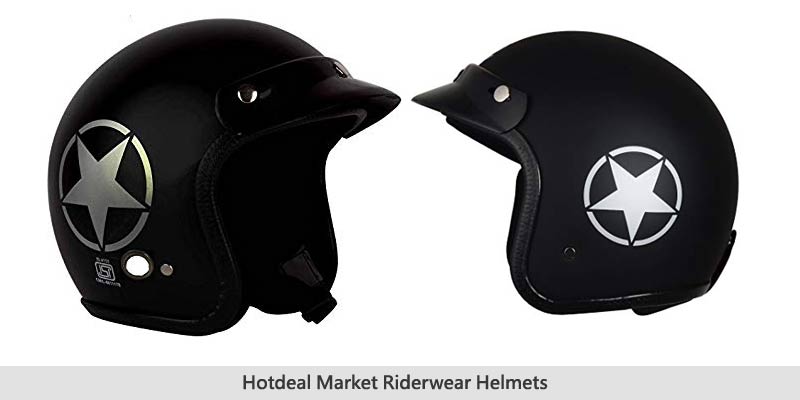 Hotdeal Market Riderwear range of open face helmets are designed fashionably with attractive features. They are a low profile chopper biker Open Face helmet that fits closer to your skull and gives a snug fit. They come with a durable steel quick-release buckle to wear and take it off easily. The chin straps are padded and adjustable with an anti-bacterial cushioned comfortable interior. Economical and yet stylish is the USP of Hotdeal Market helmets. Check out Hotdeal Market Riders wear PU Leather Open Face Helmet (Black) and Hotdeal Market Open Face Leather Star with Black Tinted Polycarbonate Visor.
JMD Helmets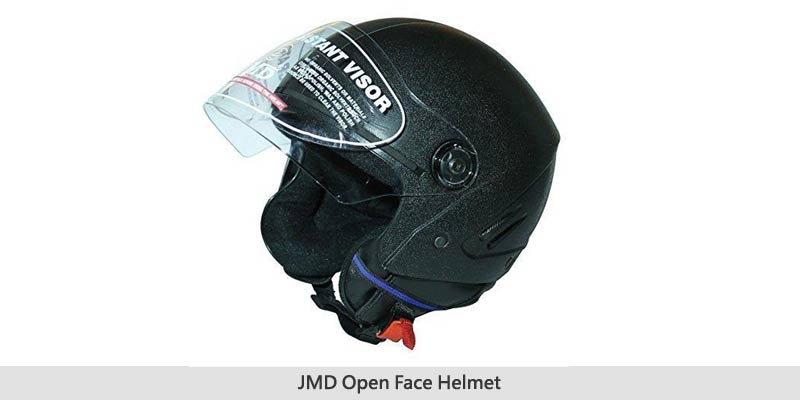 JMD Helmets are known to be durable open face helmet designed for enduring protection. They have specific models for both men and women riders and come in attractive colors when it comes to appealing womenfolk. Lightweight, made with robust materials, equipped with features like a scratch-resistant visor, adjustable and easy to remove the strap, sufficient ventilation, etc. make it a preferred choice of open face helmets. Some models even come with a free anti-pollution mask if bought online. Do have a look at JMD Helmets Modern Open Face Helmet.
Royal Enfield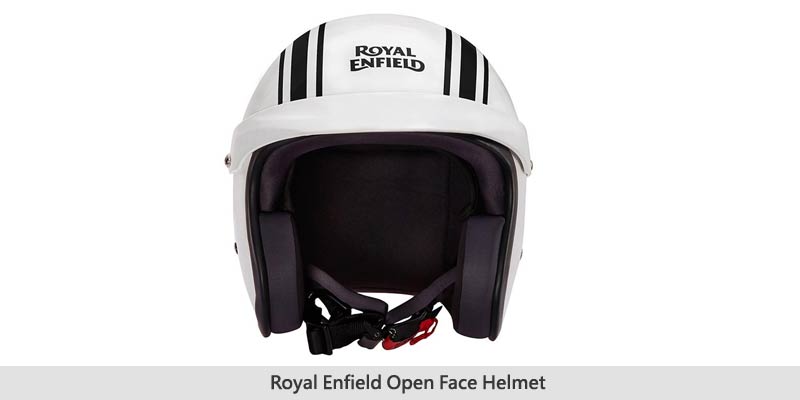 The motorcycle helmet brand that oozes style and comfort along with high-end safety features is Royal Enfield. Royal Enfield's open face helmets are ISI, and DOT certified and are built tough after rigorous tests and trials. They are specially designed to offer all-day comfort to riders so if you ride a lot; this is your best pick. The aesthetics are classic, fit is secure, and you can try various sizes to find the perfect match for your head. Helmets from Royal Enfield are super easy to maintain as well. Though priced higher than the usual range of helmets, you can't beat the brand value it offers.
Sunny Helmets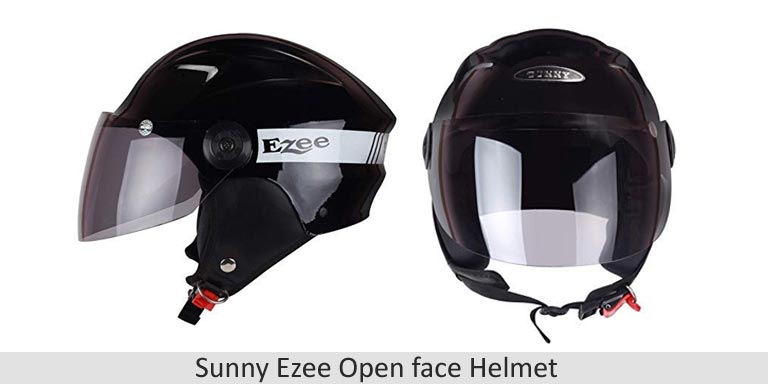 Sunny Open Face Helmets are available in unicolor and graphics options with sleek designs and come at very affordable prices. However, all of them are not ISI certified so you will need to check individual models for their safety standards. They usually opt for riders who ride rarely and that too very short distances. Nevertheless, safety is an important criterion and though the designs and colors would appeal to men, women, boys, and girls, do check the material and make of the helmets. You may like Sunny New Ezee Half face Helmet for Men Women Girls, and Boys scooty and Bike Helmet and Sunny Ezee Open face Helmet Clear Visor
Fuel Helmets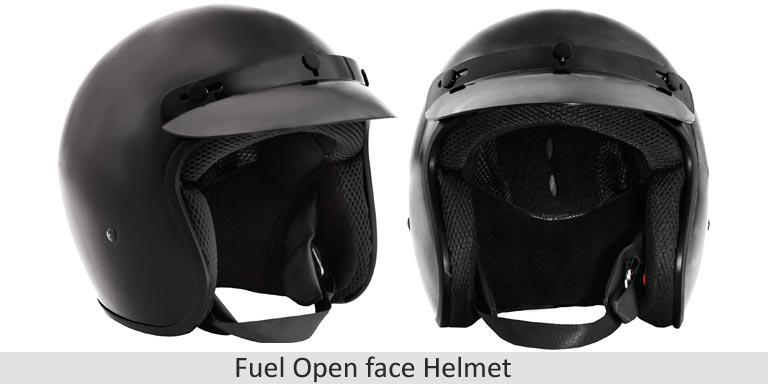 A high-end helmet brand, Fuel Helmets are DOT FMVSS N218 approved, lightweight and made of robust materials to withstand any shock. They boast of Extra Large Eye Port to accommodate goggles and come in many colors though black is dominant in all styles. Fuel open face helmets are built for speed, comfort, and safety. Fuel is one of the best helmet brands in India across all genres, so if the price is not the deciding factor, you may like to have Fuel Helmets SH-WS0015 Open Face Helmet with Shield, Gloss Black, and Fuel Helmets SH-OF0015 O5 Series Open Face Helmet.
Autofy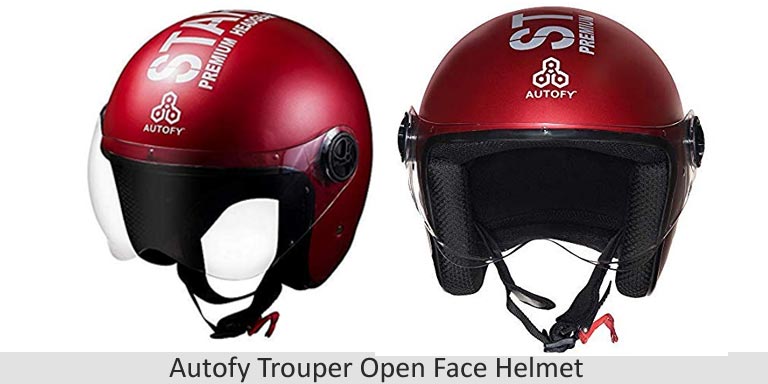 Autofy open face helmets come with the latest designs in use and ISI 4151 certification to ensure your security. Sturdy and robust materials are used to make Autofy helmets wide-open advanced protection and safety to the riders. The helmets are carefully engineered keeping safety as one of the most important parameters. Features like a quick-release locking mechanism and a wide-open front for a complete view when riding are the brand's USPs. Autofy helmets are also very lightweight – making your driving experience a real pleasure at affordable prices. Check out Autofy Habsolite Ecco Star Front Open Helmet.
THH Helmets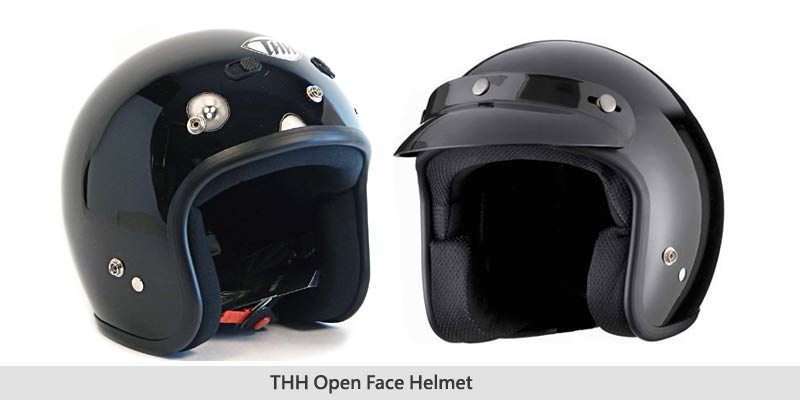 One of the best open face helmet brands in India that come with ISI and DOT safety certifications is the range of THH helmets. THH refers to Tong Ho Hsing, and their products are of international standards that undergo various quality and safety tests to bring you the best in the range. The outer materials of THH helmets are strong to sustain any impact in case of a crash. THH helmets come in attractive colors and would appeal to men and women alike. A popular model is the THH T-314 Military Green Courage Open Face Helmet.
Helmet Buying Guide – 5 Points To Consider
There are a few things that you must think through before investing in any helmet – full-face or half helmet. The top 5 points to consider are –
1. Safety criterion
There is no denying the fact that full-face covering helmets are the best wherein safety is concerned. However, many helmets are made up of cheap materials that easily break off if you are caught in an accident. Polycarbonate, carbon fiber, fiberglass composite are some common building materials for a helmet that make it strong to bear an impact. Also, always look for safety standards – an ISI mark, a DOT certificate, and other certification ratings.
2. How often will you use a helmet?
Someone who rides rarely will not be inclined to invest in an expensive high-end helmet. However, someone who hits the highways regularly or commutes long distances makes a lot of sense to invest in a sturdy, strong and good quality helmet that even comes with a better visor.
3. Features that you want in your helmet
Some common features that you may consider when buying a helmet include its weight, material, and comfort features like integrated sunglasses, wind reduction measures and communication provisions to add to the whole experience of wearing a helmet.
4. Size and head shape
It is impossible to buy a good helmet unless you determine your head shape. A helmet that fits snugly on one rider's head may be loose or uncomfortable for another. Some shapes that are commonly available with helmet manufacturers are-
Long Oval – This shape suits people with heads that are shaped longer front-to-back but narrow sideways.
Intermediate Oval – This is the most commonly available helmet shape. It refers to a head that is more round, runs shorter front-to-back and is wider sideways
Round Oval – This shape resembles an oblong head that is longer sideways rather than longer front-to-back.
Overall comfort and safety of a helmet depend on choosing it in tune with the head shape.
5. Price
Price is often the deciding factor when buying a helmet. The more expensive helmets offer better protection, more comfort, and additional safety features. It does not imply that you cannot get a good and safe helmet at a decent price – you sure can if you weigh your needs and the options available carefully.
So this is our list of the top and best open face helmet brands in India. Style, safety, comfort and price all are essential aspects when buying the best open face helmet so you can consider these brands when considering to purchase an open face helmet. Let us know which one you did go for!